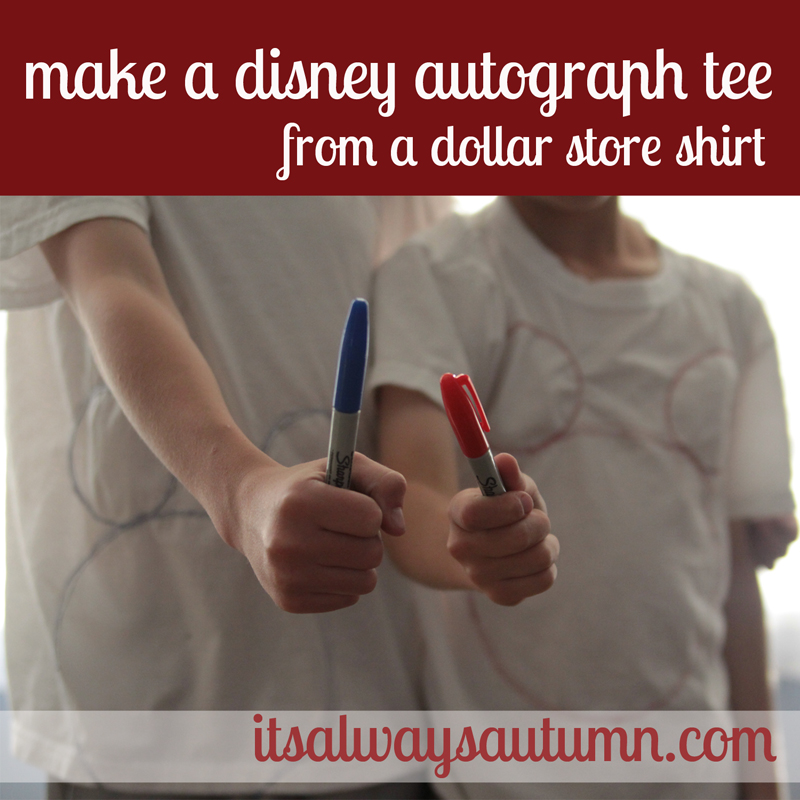 When you're at Disney, it's really fun to get autographs from all the different characters. Lots of people make or purchase autographs books, which make a fun keepsake. We've never done autograph books before, but the kids are interested in getting autographs when we go this year. My sister gave me the idea to take a plain white t-shirt and get autographs on that – then when the kids come home they can wear their cool Disney autograph t-shirt around to remember the trip. So I picked up some plain white tees at the dollar store, along with some colored Sharpies, and decided to sew a Mickey design on each shirt to make it a little more exciting.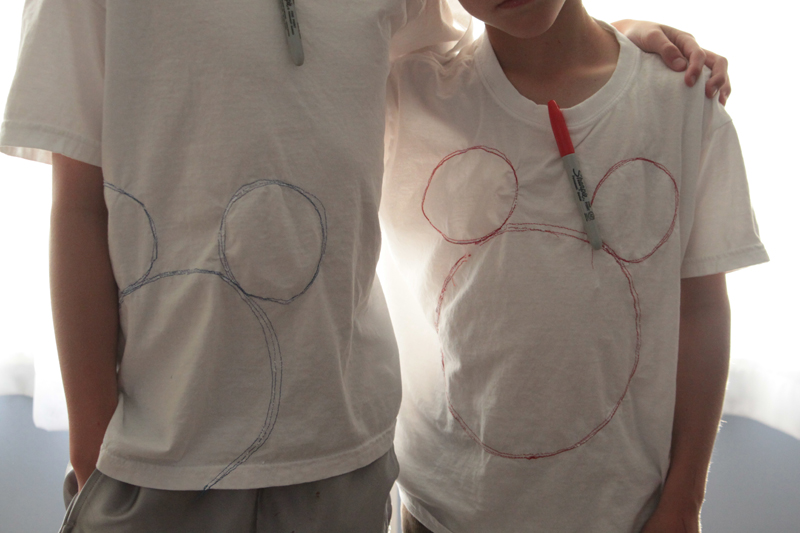 Sewing the Mickey design is super easy, and I've included a tutorial below. But first, here are the things I consider necessities from the dollar store when you're headed to Disney. After all, if you're spending a couple thousand dollars on a Disneyland vacation, it's worth it to spend $20 more to make sure your vacation goes well.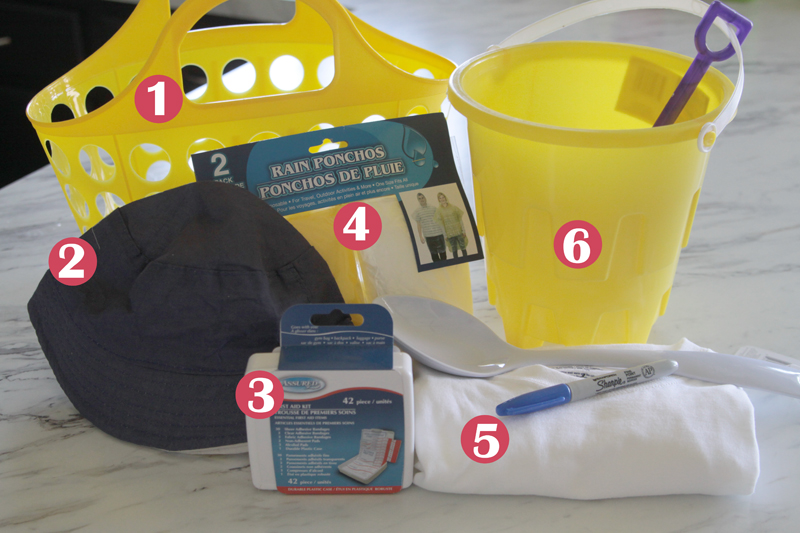 1. Plastic basket/organizer. These flexible little baskets are perfect for coralling with things you'll need easy access to in the car (diapers, wipes, hand sanitizer, water bottles, etc.). Fill one up and keep it near the driver's seat to make sure these things don't go rolling all over the car. Stick some plastic sacks in there as well, just in case someone gets carsick.
2. Sunhats. Beat the heat and save your skin with lightweight, easy to pack sunhats. You can find sunscreen at the dollar store as well (although I prefer the spray kind for easy application).
3. Pocket bandage kit. You can find bandaids at Disney, but who wants to spend time looking for them? You can be assured that even if no one trips and falls during an excited sprint to see a character, at least someone will have blisters from walking around all day, so bandaids are a must. Pop open the handy case and drop in some painkiller as well, just in case you get a headache.
4. Ponchos. When it starts raining the park clears out. People run for cover, and many just leave. So if you're prepared with ponchos for everyone you can get on more rides during a light rainshower than just about any other time at Disney. Take a poncho for everyone and one more to throw over your stroller – they hardly take up any room, and if it doesn't rain you might still want to wear ponchos on some of the wetter rides.
5. Plain white t-shirt and colored Sharpies. For some, half the fun of Disneyland is meeting all the characters and getting their autographs. If you're going to spend the time to go autograph hunting, you ought to have a better way to display them than a book. Instead, carry around a plain white t-shirt and a Sharpie. Wrap the shirt around a guidebook or wipes case and hand it to the characters to sign. After a couple of days, you'll have a pretty awesome Disney momento that can be worn over and over again. It'll look even cooler if you start with a easy stitched Mickey design (tutorial below).
6. Buckets and ladles. If you're headed to Disneyland, chances are you'll hit the beach while you're there. Since the Pacific is so cold, kids won't spend much time swimming – they'll prefer to play in the sand. Throw some dollar store buckets in the back of the car (or pick some up at the dollar store next to Disney) for instant sand fun. Note: the little shovels that come with the buckets are pretty flimsy, so pick up some large plastic kitchen ladles for digging delight.
Other handy stuff: Bubbles are perfect for entertaining a busy toddler in the hotel while everyone else is getting showered in the morning. Small toys and coloring books are helpful for car or plane ride. And don't forget a few packs of batteries for those handheld electronics.
Alright, ready for the t-shirt tutorial? This is easy!
Wash and dry your shirt before you begin. Use a plate and a cup to trace a Mickey design onto a sheet of plain paper (or tape two sheets together to make a larger design). Pin the paper onto your shirt, wherever you want the design to be. Use lots of pins.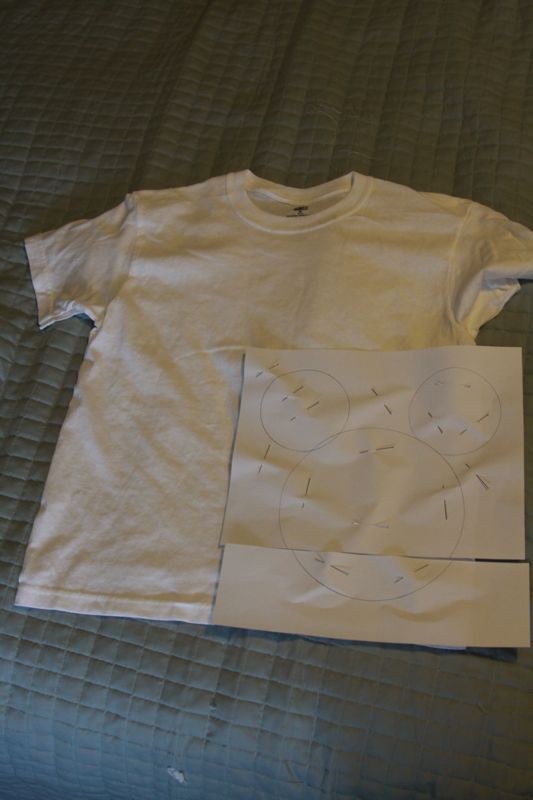 Thread your sewing machine with a bright colored thread (I used red because I bought a red Sharpie) and start stitching, right through the paper, along the traced design. Use a straight stitch and a medium tension. The paper will help stabilize the thin knit and make sure it doesn't stretch out of shape as you sew. I sewed all the way around the large circle once, then around each ear circle a few times, then the large circle again (I think I actually went around each circle three times). You'll have to scrunch up the paper a bit as you go around the circles – don't worry about it, it will turn out fine as long as you make sure the fabric right in front of the presser foot isn't bunched up as you sew.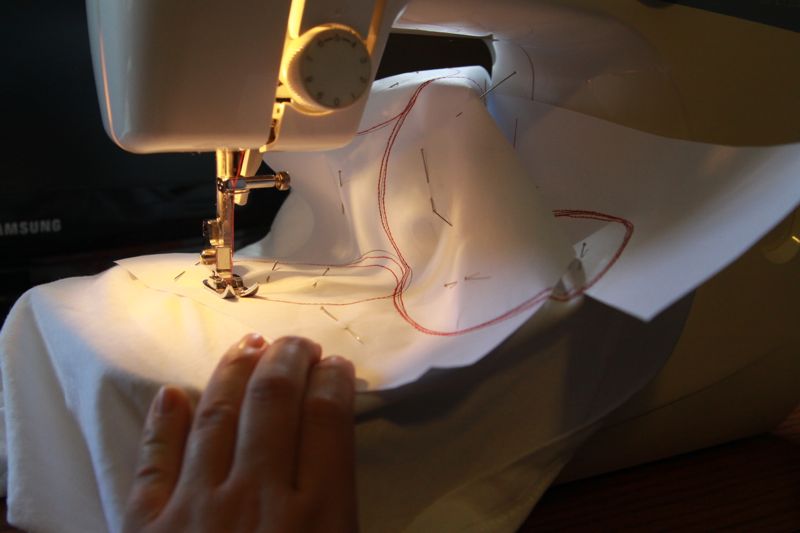 Gently rip the paper off the t-shirt. It will come off pretty easily because the needle has perforated it so many times. Some paper will stick in between your sewing lines. Just soak the shirt in water for 10 minutes and the leftover paper will rub off easily. Wash, and you're ready to go get autographs!