If you visited So You Think You're Crafty last week, you saw my entry into the Halloween themed competition, but I'm sharing it here today along with some instructions for printing and mounting a large b&w print.
When I was ten or eleven years old, my parents bought me a paperback copy of The Tales and Poems of Edgar Allan Poe. I started with "The Tell-Tale Heart" and by the time I got to the end of the story I was completely hooked. Seriously, it was cool. A guy murders an old man, buries him beneath the floorboards, and then is driven crazy when his guilt tricks him into thinking he can hear the dead man's heart beating beneath his feet. Awesome, right?
As I got a little older I started to appreciate Poe's stories and poems for more than just their macabre coolness. I liked that Poe could be creepy without actually being gross, and I began to fall in love with the language. Enter "The Raven":
"Once upon a midnight dreary, while I pondered weak and weary, over many a quaint and curious volume of forgotte lore…"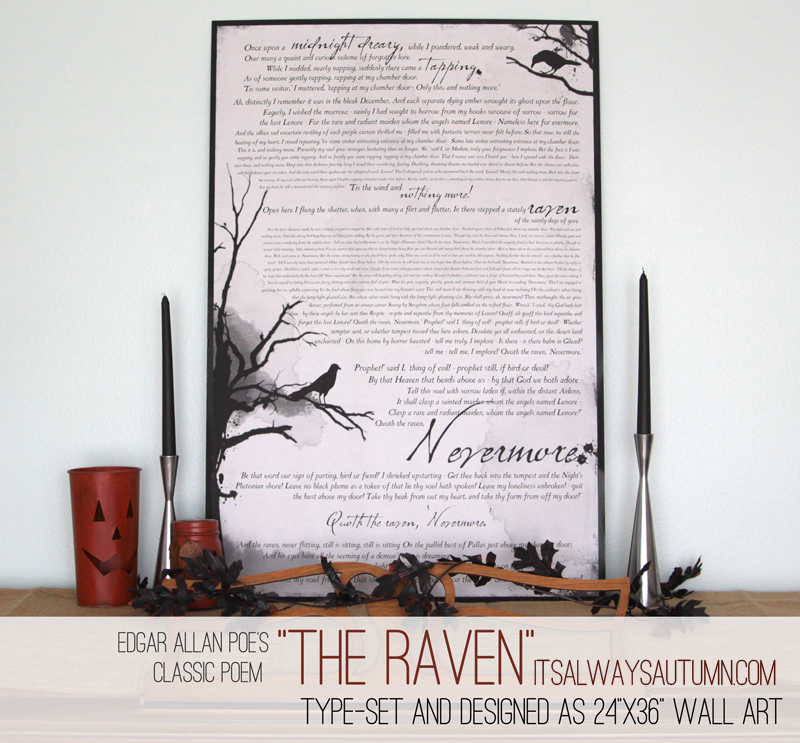 For my Halloween-themed craft I designed a 24×36 inch print that showcases the eerie poem "The Raven." I used antique fonts and a variety of free digital brushes (tree, bird, ink splat, watercolor, and distressing) to create a literary art piece that makes a perfect Halloween decoration.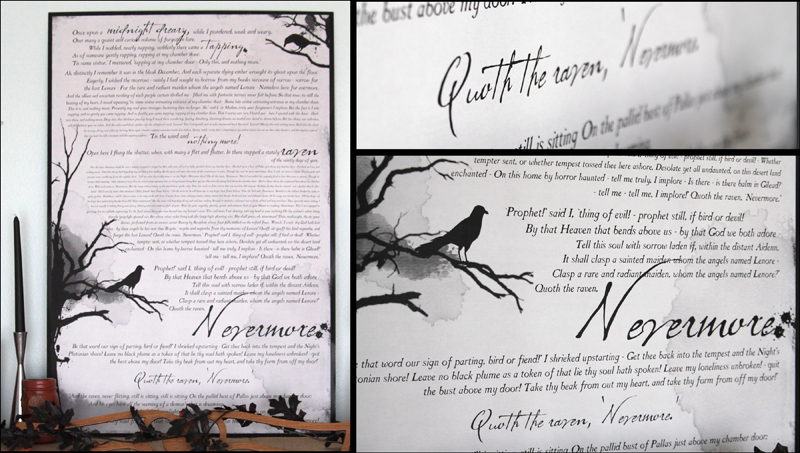 In order to fit the entire poem on the print, I varied the font size on different lines, at one point taking the font down two points each line, then back up to create a size-ombre effect.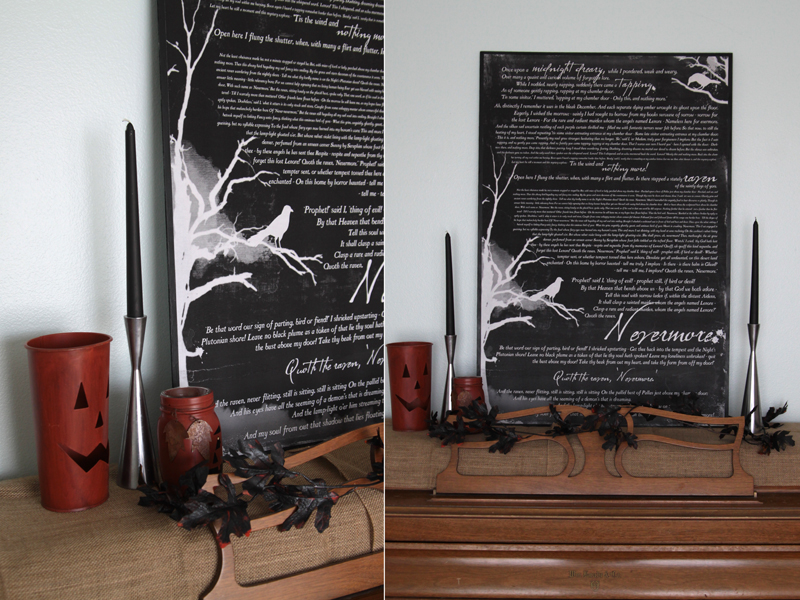 I printed the piece out at Staples as an engineering print, which only cost $3.50. Since it was so cheap, I inverted the piece (so the background is black and the type is white) and printed it that way as well. Both versions are adhered to the front and back of a 1/8 inch piece of MDF from Home Depot (under $5), so I can choose to display either side. I completed my Halloween scene with candles and a string of leaves from the dollar store (both painted black) and a few pumpkin accessories.
[credits: Fonts: Caslon Antique Italic and CK Maternal; brushes: Eerie Pack by Wyckedbrush, Crow Brushes by Zememz, Ink Splats by Shoefly, Dried Blood Splatter by Vexingart, Stains Brush by Aridane, Edgedestroys5 by Wedgewolf; Digital Overlay: House of 3; Software: Adobe Photoshop Elements 6.0]
Here's process for putting the wall hanging together:
Most stores like Staples or Office Depot offer engineering prints, which are black and white prints on fairly thin paper, for extremely reasonable prices. My print was 2 ft wide and 3 ft tall and only cost $3.50. I purchased a 2x4ft piece of MDF at Home Depot and had them cut a foot off the top, so it ended up 2×3. when I brought my print home, it was actually a little smaller than the board, so I painted the edges of the MDF board black to create a little border (just used craft paint here).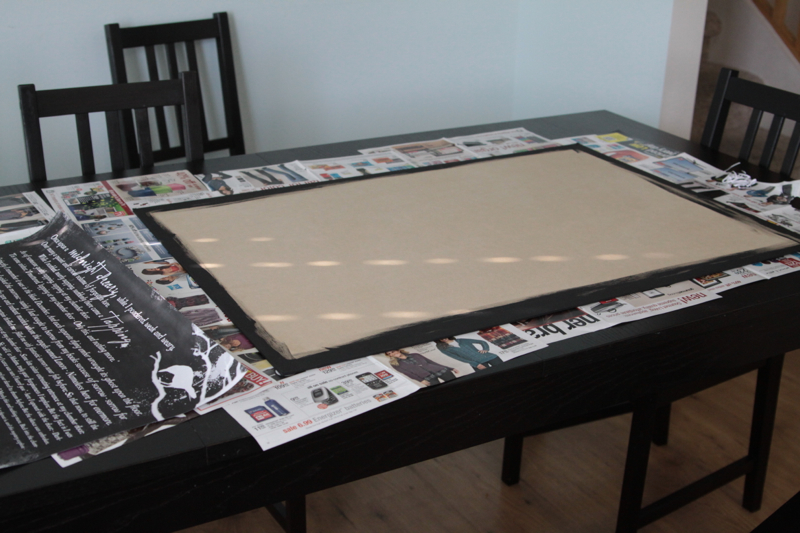 Next, I centered my print on the MDF, making sure I had a consistent border width on all sides. I put a stack of books on one side of the print to make sure it didn't move around.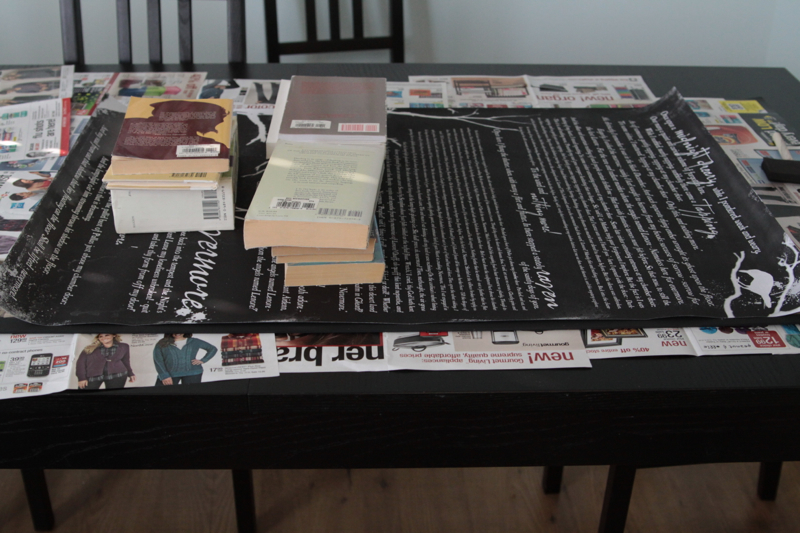 Then I lifted up the right side of the print so I could put adhesive down on that half of the MDF. (I used mod podge for the black background print and spray adhesive for the white background print and spray adhesive is much easier to work with here!)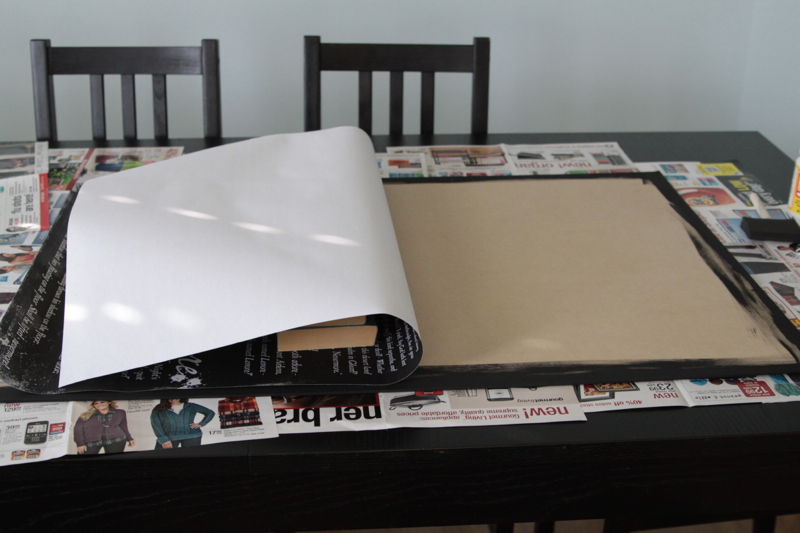 I pressed the right half down on the adhesive, making sure to press everywhere to get a good bond to the MDF. Then I moved the books and lifted up the left side so I could adhere that side in the same way.
Thin MDF is great for projects like these – it's super lightweight so it makes it really easy to hang, and it's not very expensive. Check the "hobby wood" section of Home Depot for it.