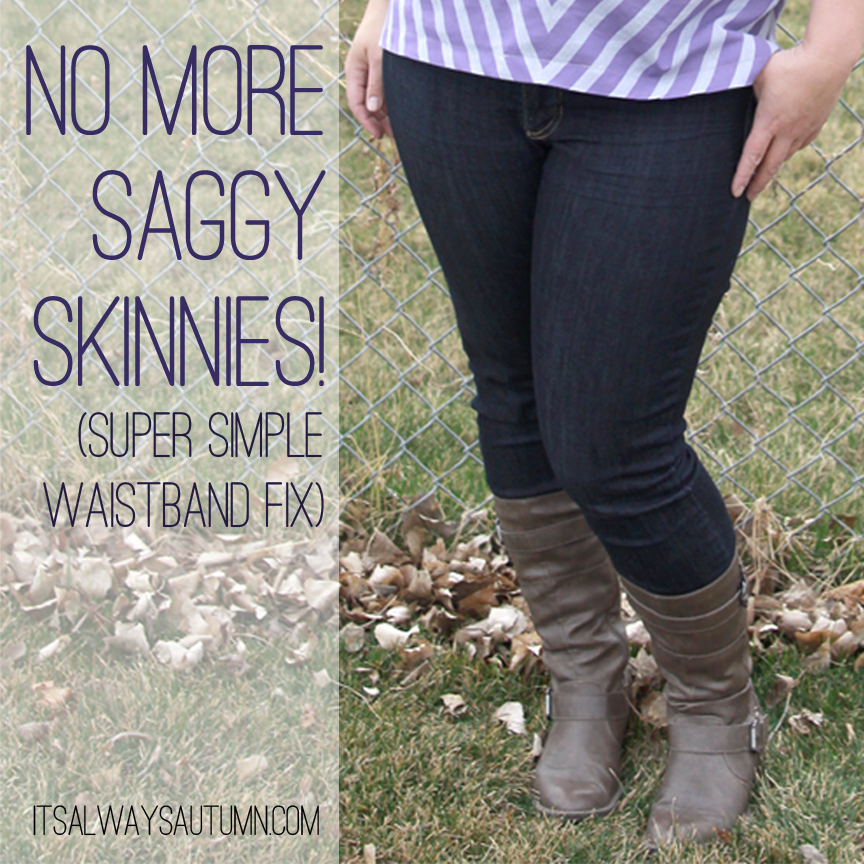 It took me a while to jump on the skinny jeans bandwagon. I'm just not sure they actually look good on me, seeing as it's been a reaaaaally long time since my pants size saw single digits. But I love the look of skinnies with boots, so I finally decided to break down and buy a pair ('cuz I look how I look, and that's just fine, right?). PROBLEM: Due to a generous backside, skinny jeans that fit fine in the waist are way too tight in the hips and thighs, and skinny jeans that fit in the hips and thighs are too big in the waist. The smaller ones are uncomfortable and the larger ones look and feel like they are about to fall off, which makes for a saggy backside. Plus the back waistband gapes away from my body. Ick and ick. Anyone else ever had this problem?
Here's the easy solution: buy the larger (more comfortable) pair and slip a little elastic into the waistband in the back of the jeans. I know, we're supposed to hate elastic waist pants, but I've reached the point in life where elastic's ok if it means I can get through a day without constantly tugging the waist of my jeans back up. Plus, I never tuck shirts into jeans anyway, so no one's ever going to know the elastic's there.
It's super, super easy. And so very worth it. All you need is 10 inches of so of 1 inch elastic and two colors of thread – one that matches your jeans, and one that matches the topstitching on your jeans. (And a denim or heavyweight needle! Never try to sew on jeans without one unless you like breaking things.)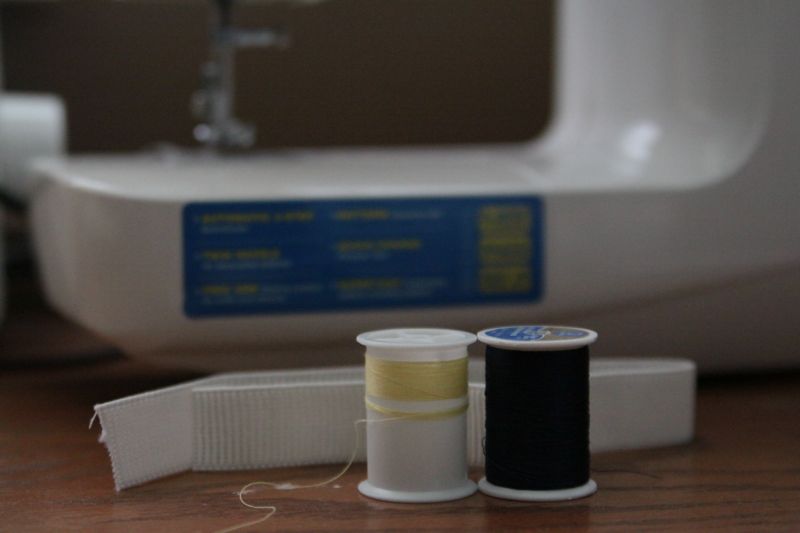 Start by grabbing a seam ripper and unpicking the lower line of stitching on your jean's waistband in the areas shown below: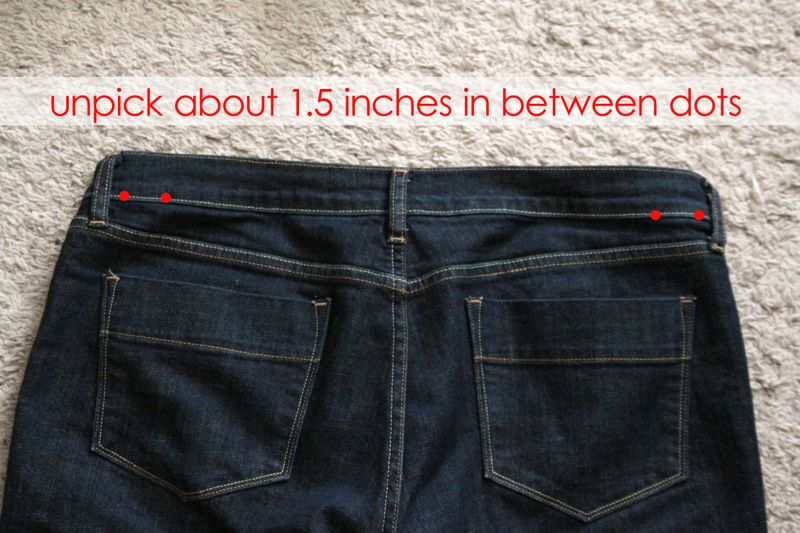 Thread a safety pin through one end of your elastic…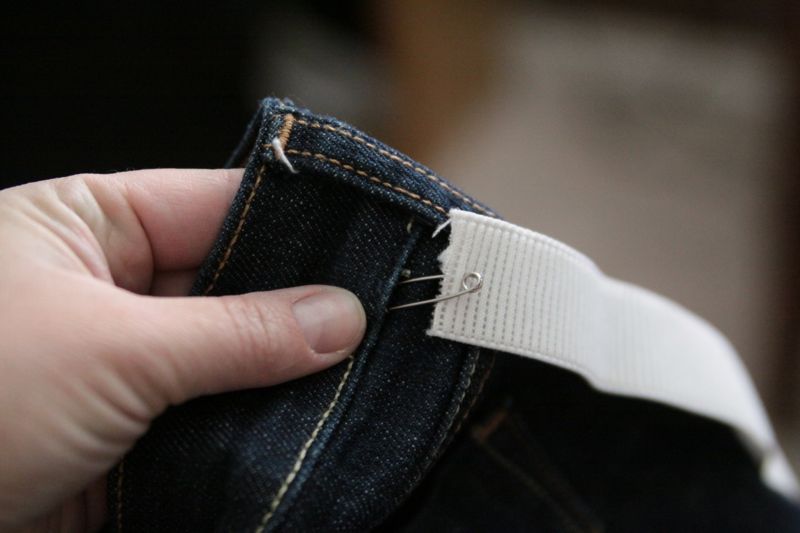 …and thread the elastic up into the waistband and back down the other unpicked spot, like you see below. Try on your jeans and pull the elastic to tighten until the back of the jeans sit flat against you and the waist feels comfy (remember to sit down to make sure you aren't pulling it too tight).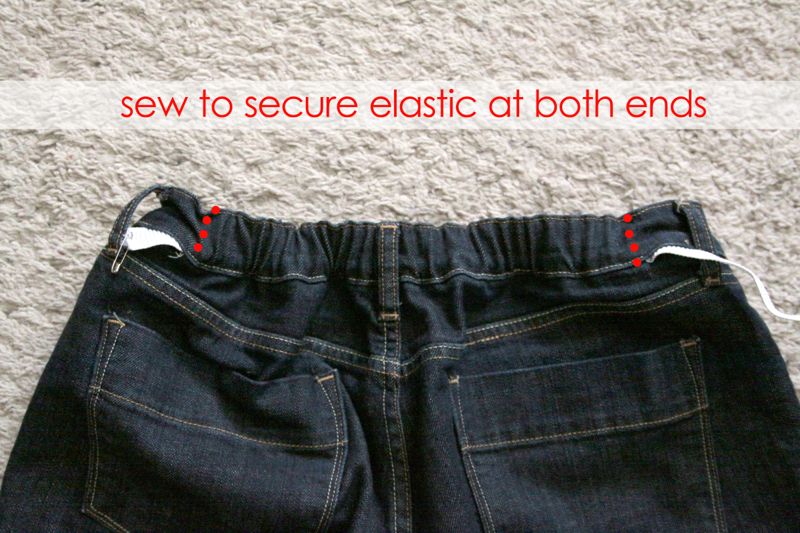 Once the elastic is as tight as you'd like, sew a line up and down three or four times at each end to secure the elastic. Use the thread that matches your jeans for this. As you can see in the photo below, you can barely see the stitching, and it's even less noticeable once the jeans are on.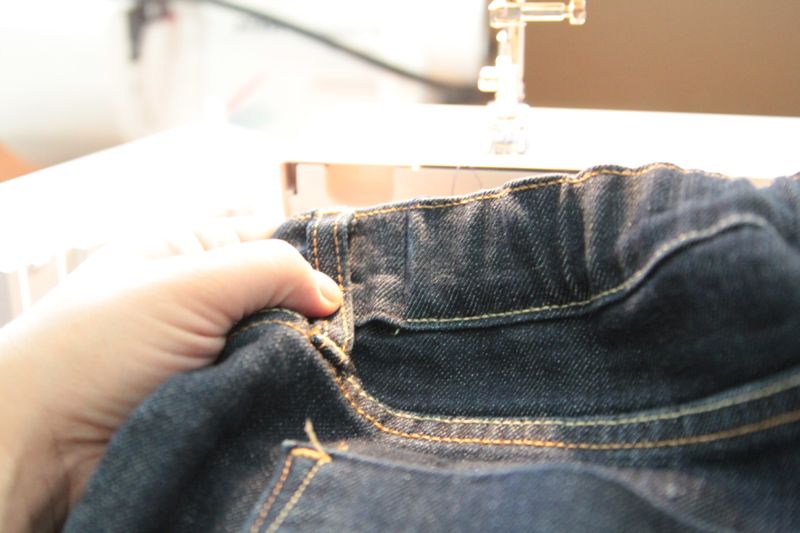 Once the elastic is secure, you can trim of the excess of each side, switch out to the thread that matches the topstitching you unpicked, and sew back over that part to close the waistband back up. If you look really closely you'll probably be able to tell that your stitching is a little smaller than the rest of the topstitching, but no one else will every notice.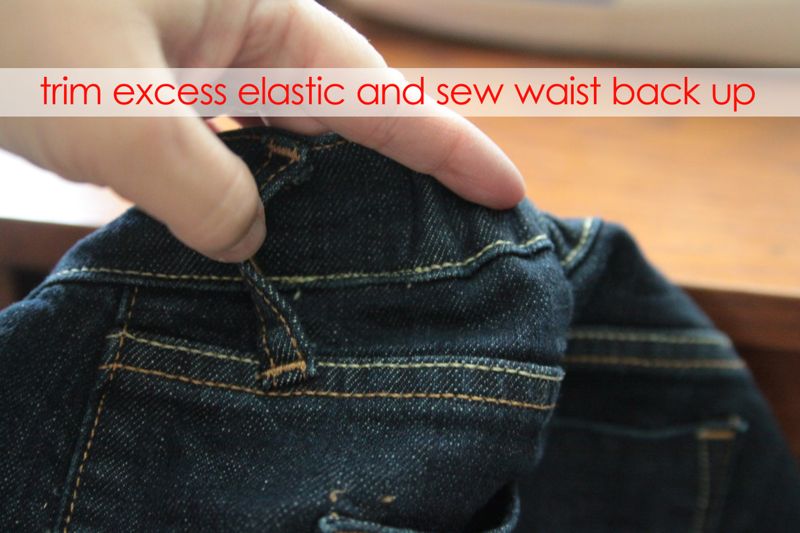 Now my skinny jeans stay where they're supposed to! Here's to fall weather and boot season!