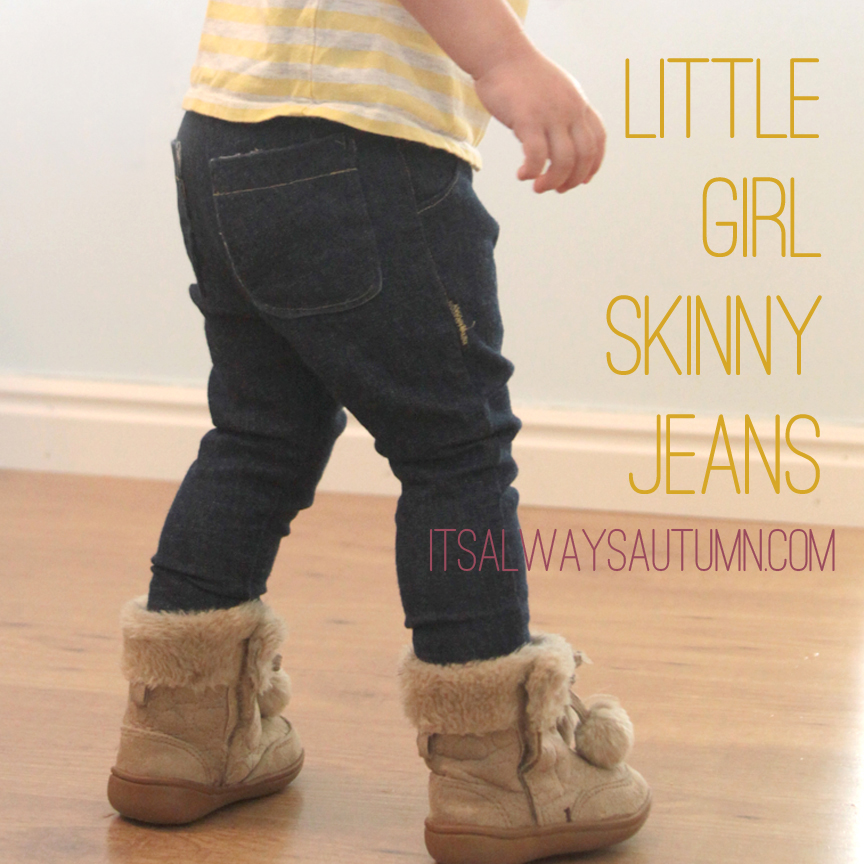 Well, since I jumped on the skinny jean bandwagon I figured my daughter ought to as well. She already has a pair of little boots that she loves, so she just needed some skinnies to go with them.
But I'm cheap. Really very cheap. So I didn't run to Target and drop $15 on baby girl skinny jeans. I made my own our of a pair of clearance shorts I bought a few summers ago, back when I thought I'd magically loose two pants sizes. Ok, I didn't actually think I'd loose that much weight, and the shorts were only $1, so I bought them even though I knew they'd probably never fit. Turns out that was a good decision, because now I had plenty of stretch denim for a pair of baby girl skinnies.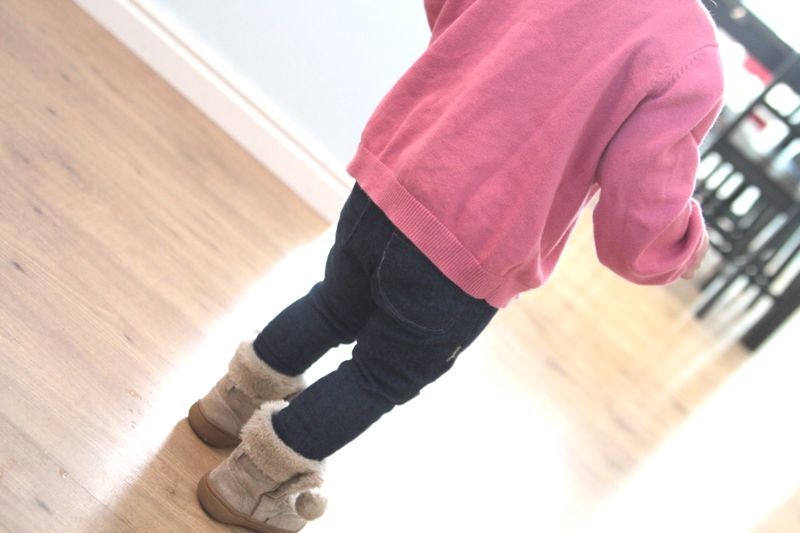 Of course, as well as being cheap, I'm kind of lazy. I've seen people who make their own jeans and I'm always impressed that someone would go to that much work – pockets and zippers and button flys, oh my! Jeans are not a simple sewing project. But these little skinnies are. They're basically leggings, with a few details thrown in to make them look more like real jeans. But again, they're basically just leggings, so if you can make leggings, you can make these! Here's how.
Start by cutting out your jeans pieces using a leggings pattern or a pair of existing leggings as a guide (note: I didn't use a pattern AND I cut my pants too narrow at the ankle – so just remember they need to be wide enough at the ankle to get over the foot! I punted later on in the process to fix this, but YOU won't need to because you'll be smarter than I was at the get-go).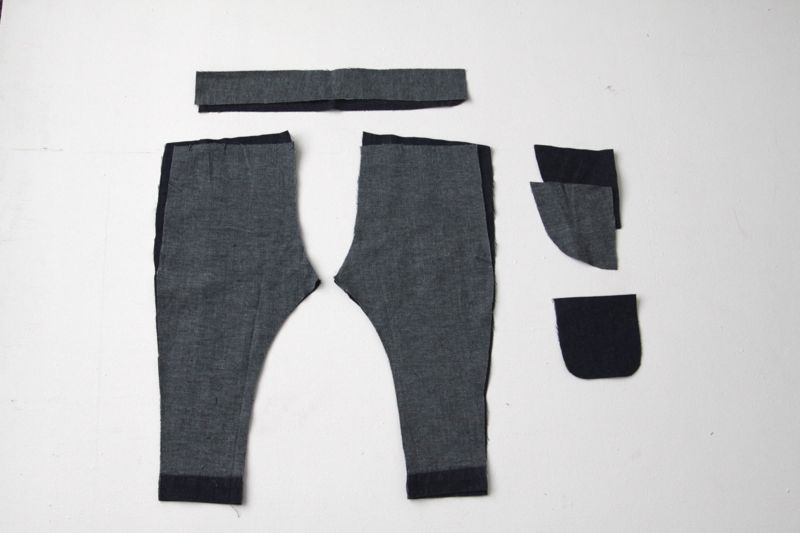 You can cut your pants pieces tall enough at the waist to fold over and create an elastic waistband casing, or you can cut a separate waistband to add on to them like I did. Also cut out two front pocket liner pieces (top right in the photo above) and two back pocket pieces (bottom right in the photo above).
I made faux front pockets because they're easy and most baby girls don't stuff things in their pants pockets anyway. To do so, simply cut a pocket curve from each front pants piece, like you can see below. Fold that curve under about 1/4 inch, then place it on top of a front pocket liner piece and stitch using gold thread. Trim the tops of the liner pieces so they match up with the rest of the pants front piece, and you've got your faux front pockets.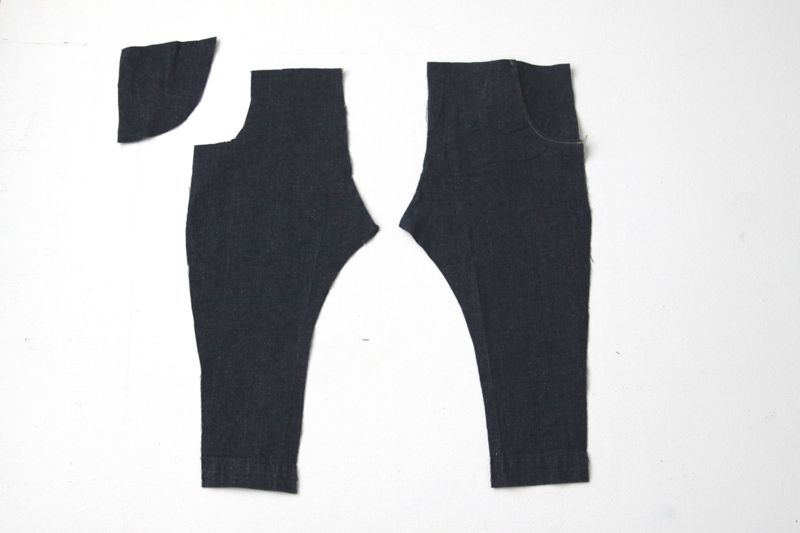 Once the pants are on, no one will notice the pockets aren't real.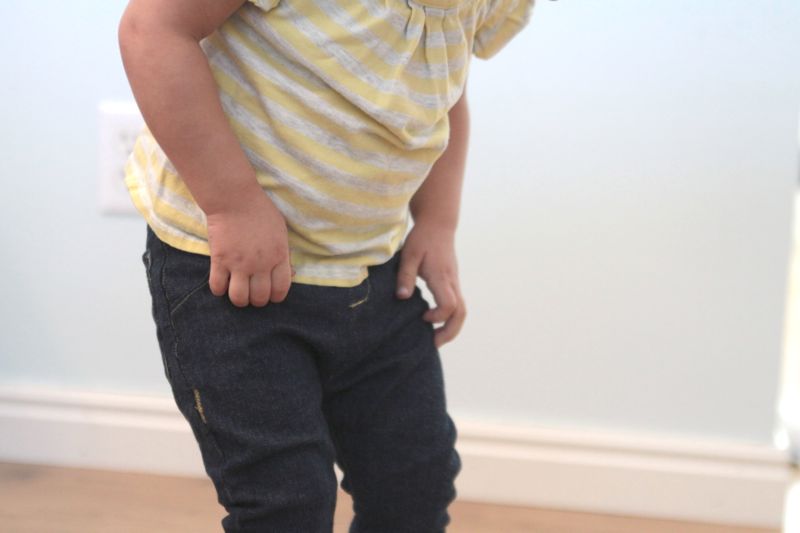 Next, add working back pockets. Cut two more pocket pieces out of interfacing. Place each pocket piece RST with an interfacing piece (which means if your interfacing has a fusible side it will be away from the denim piece at this point) and sew all the way around. Clip a hole in the interfacing and turn the piece inside out. This gives you a pocket with a nice finished edge. Sew across it about an inch from the top with gold thread, then sew the sides/bottom of the pocket to the back pants piece as you can see below.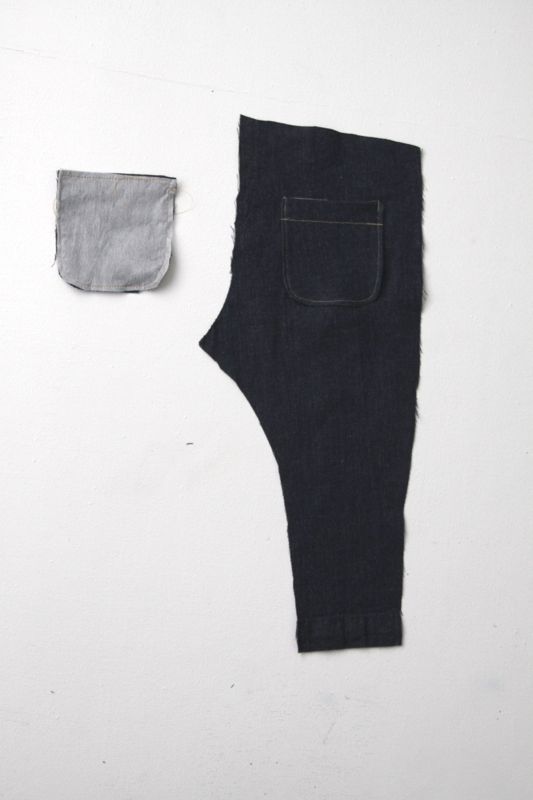 Cute little bum pockets!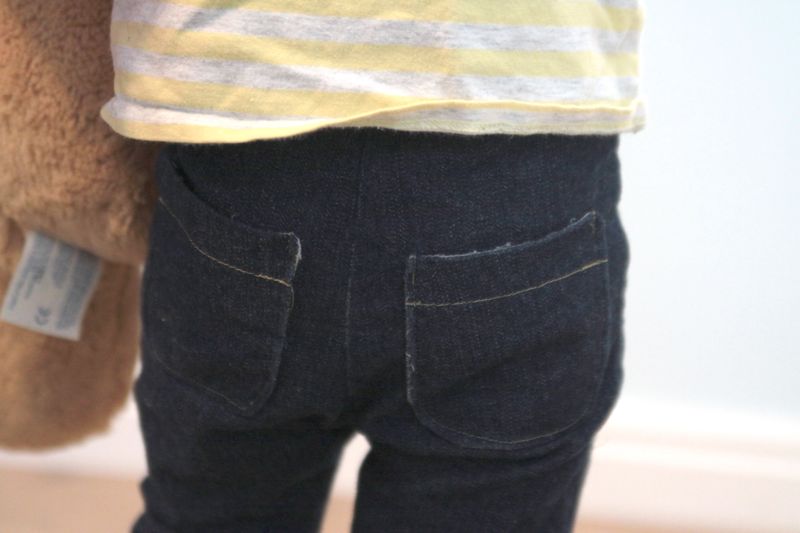 The rest of the jeans construction is pretty normal, with the addition of a few small details. I sewed the front pieces to the back pieces at the side seams first, then sewed down each side with gold thread, just like you see on grown-up jeans. (The side vents at the ankle were added to make sure she'd be able to get her feet through the super narrow ankles I accidentally cut.)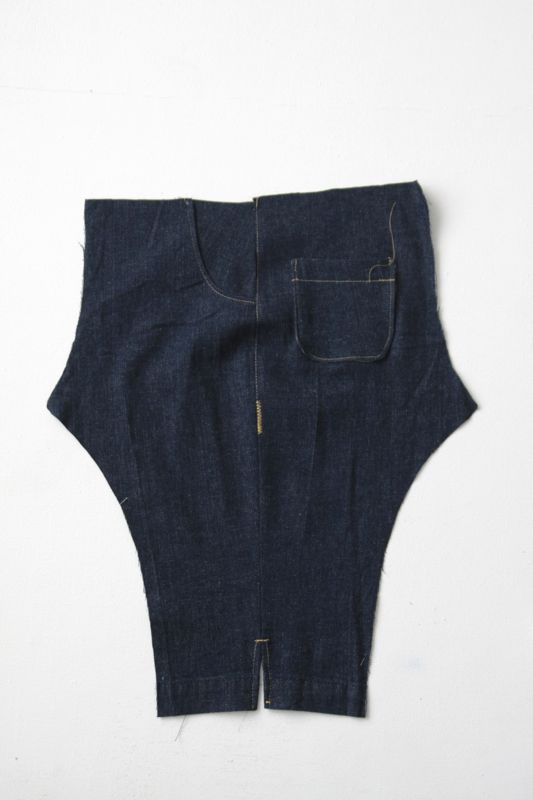 Once the two legs were sewn together, I also added some stitching in the front to suggest a zipper fly.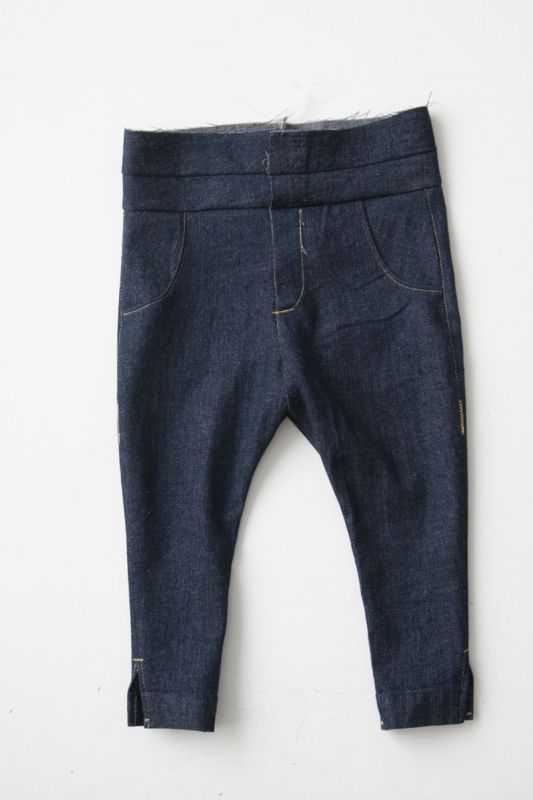 Then once the waistband was sewn on and elastic run through it, I added a big yellow button in front to finish off the look.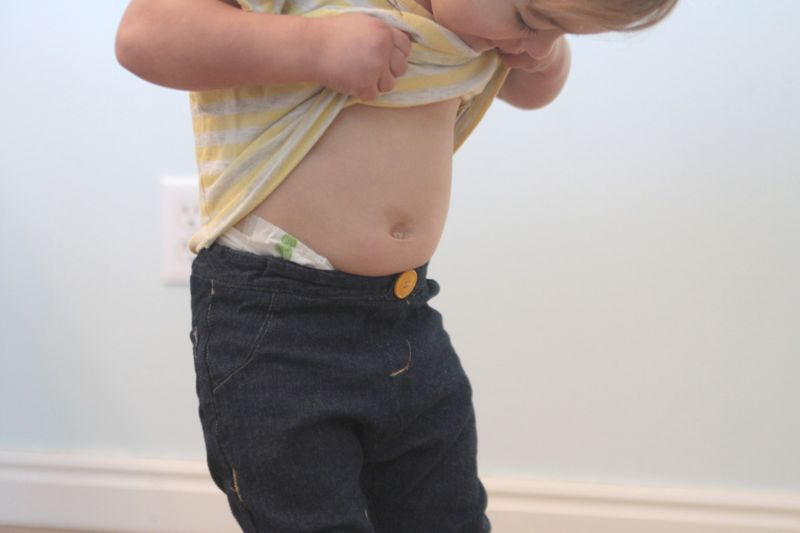 Since I cut my pieces from an existing garment I just used the existing hem, but if you didn't you'd want to hem the skinnies at this point.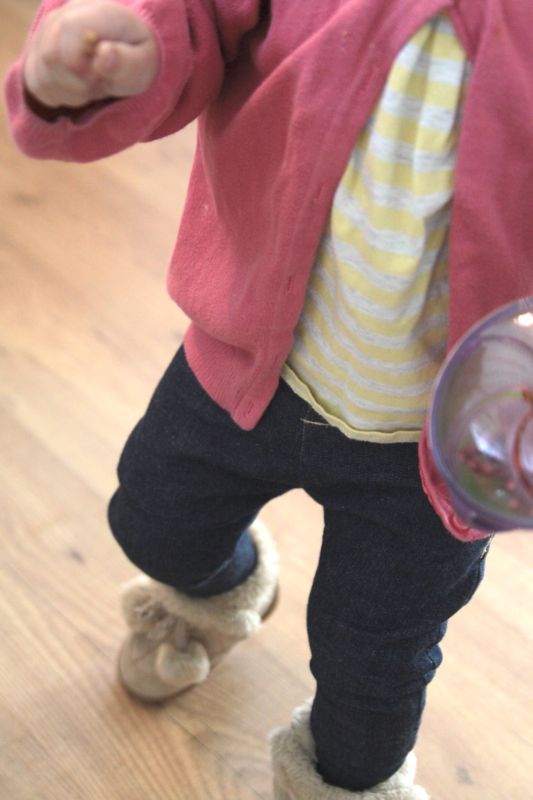 Mini skinnies!