Seeing as the calendar has somehow fast-forwarded itself to November, I've decided it's time to introduce pie to my recipe index here on the blog. Now, I don't generally believe in pigeon-holing desserts into one season or holiday (I'm an equal opportunity dessert eater), but you have to admit that Thanksgiving just kind of screams pie. But I'm not a huge fan of pie in the most traditional sense, so in the next week or two you'll find pie updates on some of the old classics: pumpkin, apple, and chocolate. And since this is my blog, and 95% of the desserts I make are chocolate, that's where we'll start.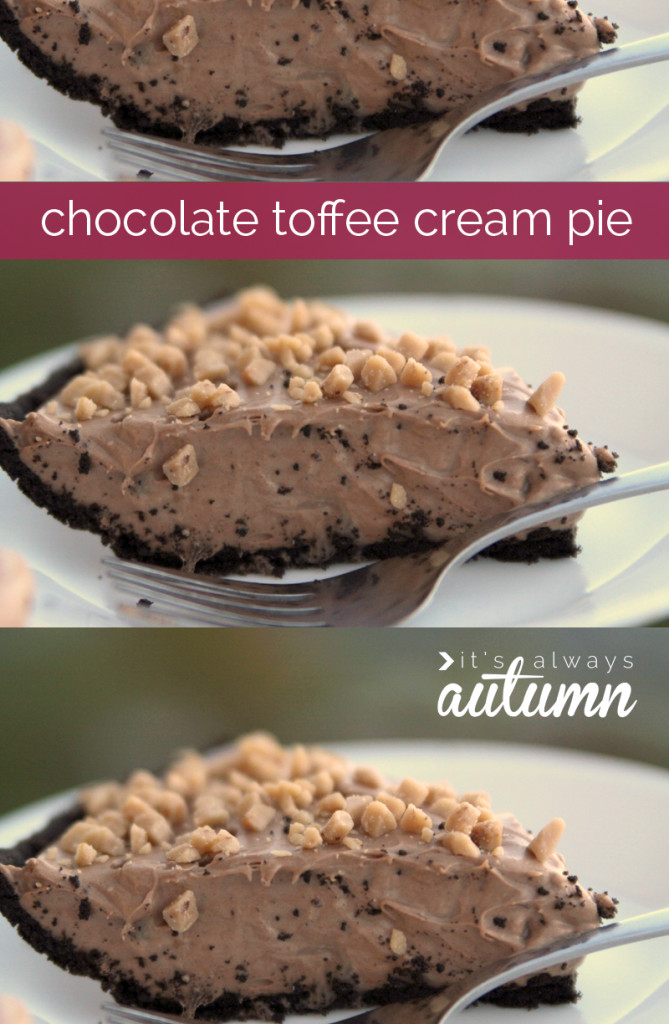 I pilfered the recipe for this Chocolate Toffee Cream Pie from a Mrs. Field's Cookie Favorites cookbook. It's not your usual chocolate cream pie, all light and fluffy and occasionally not even very chocolaty. No, this is smooth, rich and creamy, with a hint of a cheesecake flavor and a toffee crunch. And we're skipping the boring traditional pie crust (and the work that goes along with it) and using an Oreo crust instead.
My husband and older kids devoured this pie (ok, I might have helped a little). The younger ones, on the other hand, weren't big fans of the cream cheese flavor, so that's something to keep in mind when deciding if you're going to make this pie or just drool at the computer screen. If you like chocolate, toffee, and cheesecake, you can't go wrong here. And if you don't like chocolate, toffee, and cheesecake, well then…I guess I can be friends with you anyway.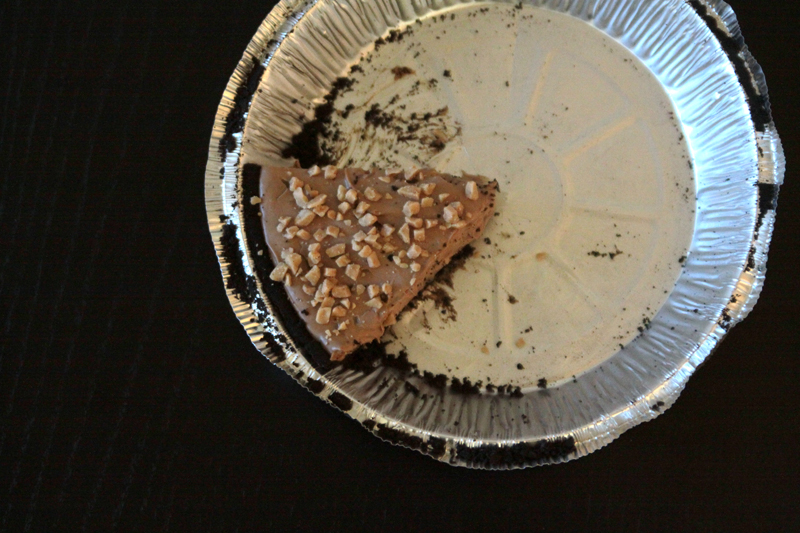 And by the way, this pie is easy! It only takes about 15 minutes to put together and then it can chill in the fridge until you are ready to serve. Perfect!
Milk Chocolate Toffe Cream Pie
from the Mrs. Fields Cookie Favorites cookbook
1 prepared Oreo crust
6 ounces milk chocolate (which is 1 C of milk chocolate chips)
3/4 C heavy cream
8 ounces cream cheese, softened
1/4 C brown sugar
1 T (yep, that's right, Tablespoon) vanilla
3/4 C toffee bits
Coarsely chop the milk chocolate (if you aren't using chips) and place in a small bowl. In a small saucepan, bring 1/2 C of the cream to a simmer. Pour the hot cream over the chocolate, cover, and let stand 5 minutes. Then stir until smooth. In a medium bowl, beat the cream cheese, sugar, and vanilla until smooth. Beat in the remailing 1/4 C cream. Gently beat in the cooled chocolate mixture. Fold in 1/2 C of the toffee bits. Pour the filling into the Oreo crust and sprinkle with remaining 1/4 C toffee bits. Chill at least 2 hours.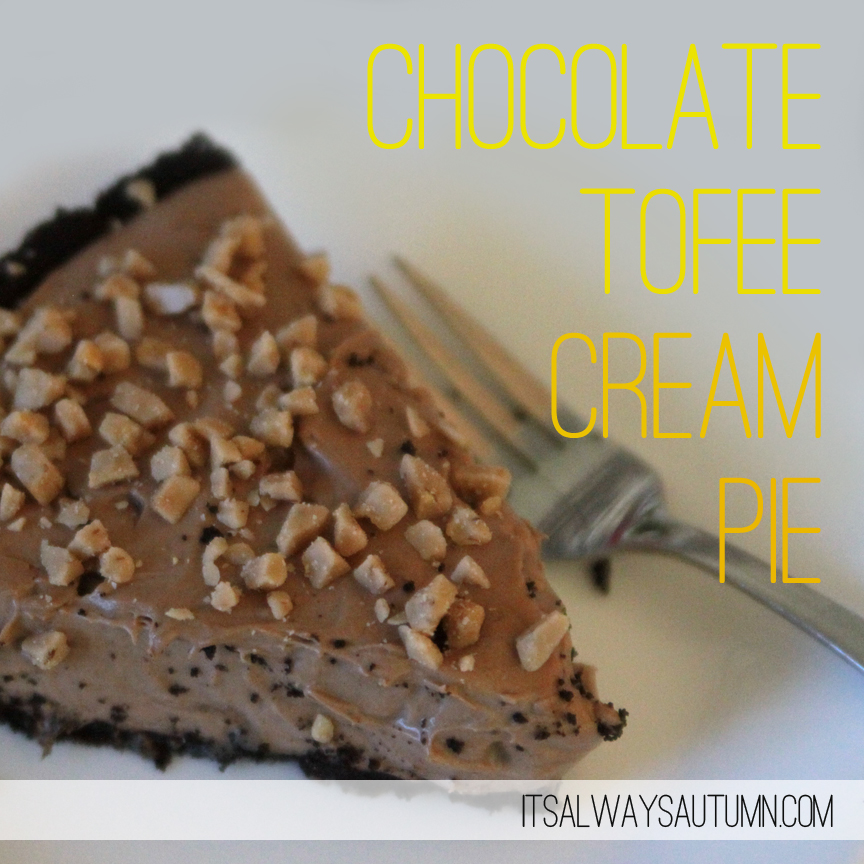 Linking to some of these parties:
Monday: Skip to My Lou | Brassy Apple | Craft-o-Maniac
Tuesday: Tip Junkie | Ladybug Blessings | Sugar Bee Crafts | The Blackberry Vine | Hope Studios | Funky Polkadot Giraffe | Not JUST a Housewife | Homework Today's Assignment: Be Inspired | Shwin and Shwin
Wednesday: Handy Man, Crafty Woman | Southern Lovely | Sew Much Ado | SNAP | Someday Crafts | The NY Melrose Family | Printabelle
Thursday: Somewhat Simple | House of Hepworths | Momnivore's Dilemma | The Shabby Creek Cottage | Yesterday on Tuesday | Fireflies and Jellybeans | The Taylor House
Friday: Chic on a Shoestring Decorating | The Shabby Nest | Stuff and Nonsense | Naptime Crafters | It's a Hodgepodge Life | At The Picket Fence | 504 Main | Blissful Bucket List
Weekend: Tatertots and Jello | Family Ever After