***This is the second installment in my lessons from the nativity series, where I'm sharing some activities I'm doing with my kids this Christmas season. We're talking about what we learn from different characters in the nativity story, then making ornaments to go along with what we discuss. I've included scriptures, songs, discussion questions, and step-by-step tutorials for making each ornament. Find them all here: angel | star | manger | Baby Jesus***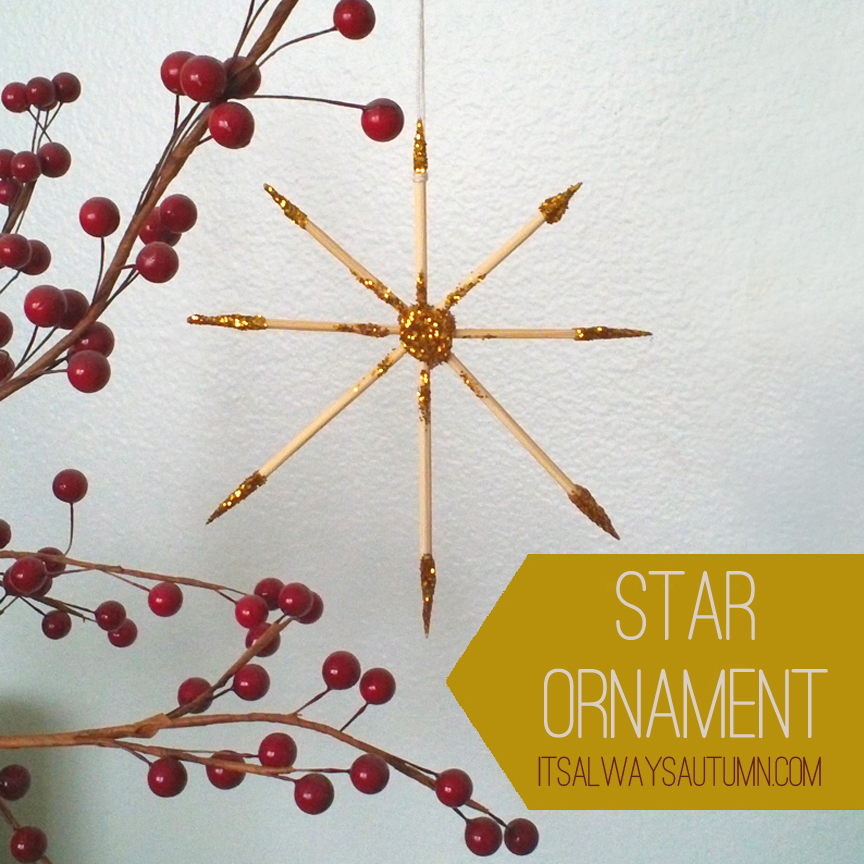 The star teaches us to BELIEVE.
Scripture (from Matthew chapter 2):
1 Now when Jesus was born in Bethlehem of Judæa in the days of Herod the king, behold, there came wise men from the east to Jerusalem,
2 Saying, Where is he that is born King of the Jews? for we have seen his star in the east, and are come to worship him.
9 When they had heard the king, they departed; and, lo, the star, which they saw in the east, went before them, till it came and stood over where the young child was.
10 When they saw the star, they rejoiced with exceeding great joy.
(from The Book of Mormon, 3 Nephi Chapter 1):
5 But there were some who began to say that the time was past for the words to be fulfilled, which were spoken by Samuel, the Lamanite.
6 And they began to rejoice over their brethren, saying: Behold the time is past, and the words of Samuel are not fulfilled; therefore, your joy and your faith concerning this thing hath been vain.
7 And it came to pass that they did make a great uproar throughout the land; and the people who believed began to be very sorrowful, lest by any means those things which had been spoken might not come to pass.
8 But behold, they did watch steadfastly for that day and that night and that day which should be as one day as if there were no night, that they might know that their faith had not been vain.
9 Now it came to pass that there was a day set apart by the unbelievers, that all those who believed in those traditions should be put to death except the sign should come to pass, which had been given by Samuel the prophet.
19 And it came to pass that there was no darkness in all that night, but it was as light as though it was mid-day. And it came to pass that the sun did rise in the morning again, according to its proper order; and they knew that it was the day that the Lord should be born, because of the sign which had been given.
20 And it had come to pass, yea, all things, every whit, according to the words of the prophets.
21 And it came to pass also that a new star did appear, according to the word.
Song: With Wondering Awe (LDS Hymns 210) and Samuel Tells of the Baby Jesus (LDS Primary songs 36)
Discuss: What do we believe in? Do we continue to believe even when it is hard? Would we be willing to travel for years to find Jesus? Are there "stars" that help us believe today?
Craft: Begin by downloading the printable PDF pattern found here.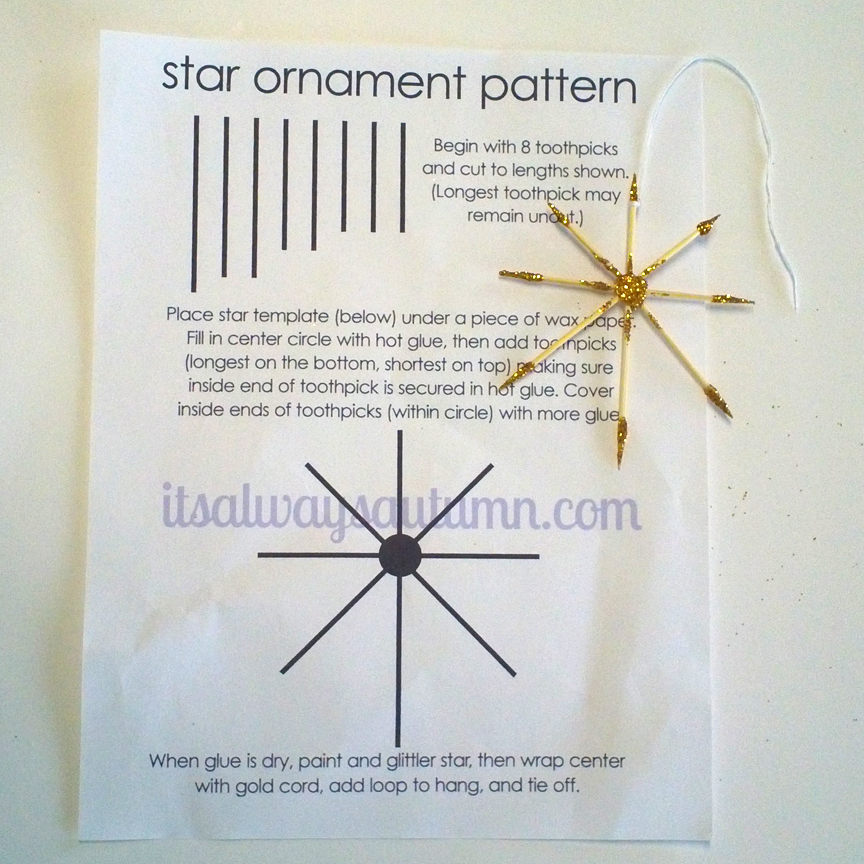 You will need: toothpicks, glue, glitter, hot glue gun, and string. Assemble as shown below: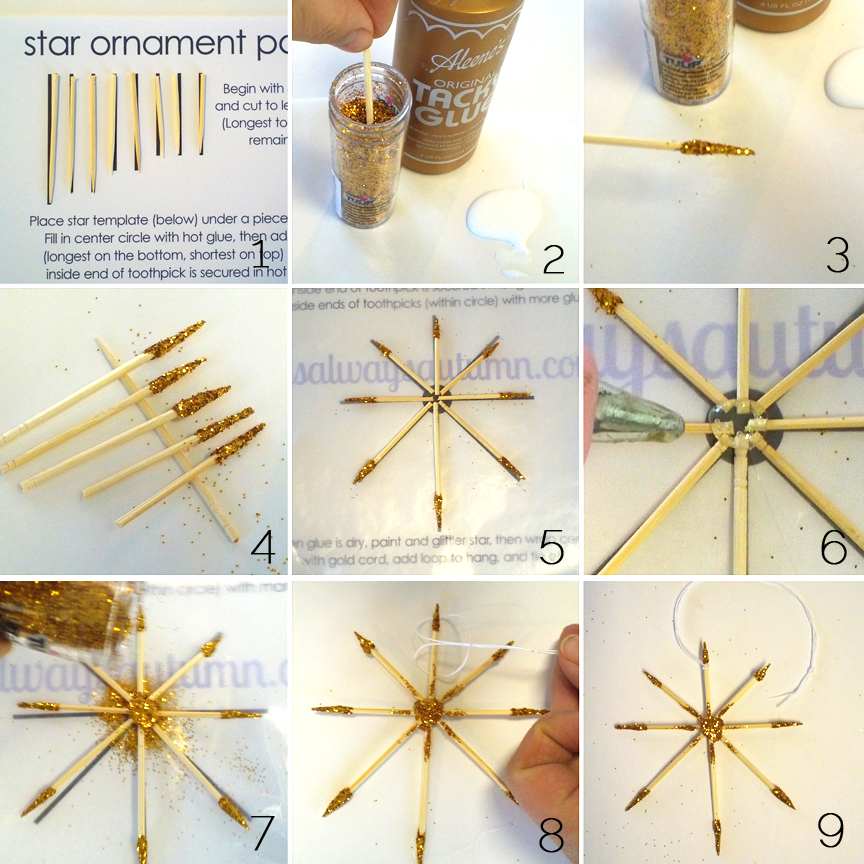 1 – Cut toothpicks to lengths shown on pattern (longest toothpick may remain uncut).
2 – Dip pointed end of each toothpick into glue, wiping off excess, then into glitter.
3 – I just glittered the ends of my toothpicks, but you can do the entire thing if you'd like.
4 – Let toothpicks dry for about 15 minutes until you can handle them without glitter falling off. Pour excess glitter back into container.
5 – Place a piece of wax paper or plastic wrap on top of star pattern, then place toothpicks on top of it as shown. Ends of all the toothpicks should be nearly touching.
6 – Carefully squeeze a small amount of hot glue onto toothpicks (inside circle shown). Be sure each toothpick has some glue on it, but try to keep the glue in a circular shape.
7 – Immediately shake glitter on top of glue circle. When glue is dry (2 minutes or so), peel off the wax paper, flip over, and do the same thing to the other side.
8 – If desired, use finger to spread a little more glue (not hot glue!) on toothpicks and shake a little more glitter on. Tie loop on the end of the shortest toothpick.
9 – Finished!