Years ago we spent one year in Madison, WI. We loved many many things about Madison, but one of the best parts was quite how beautiful the fall leaves were – there were reds of every variety, bright, deep, rich, etc. My oldest three boys were all between 2 and 4 years old, so I was always looking for simple activities to do with them. One day we took a walk and collected the prettiest leaves we could find, then came home and glued them onto an inexpensive wreath form. Our leaf wreath lasted beautifully for weeks and the kids loved that they'd helped decorate our home. That was seven years ago, and we made leaf wreaths again yesterday morning before church.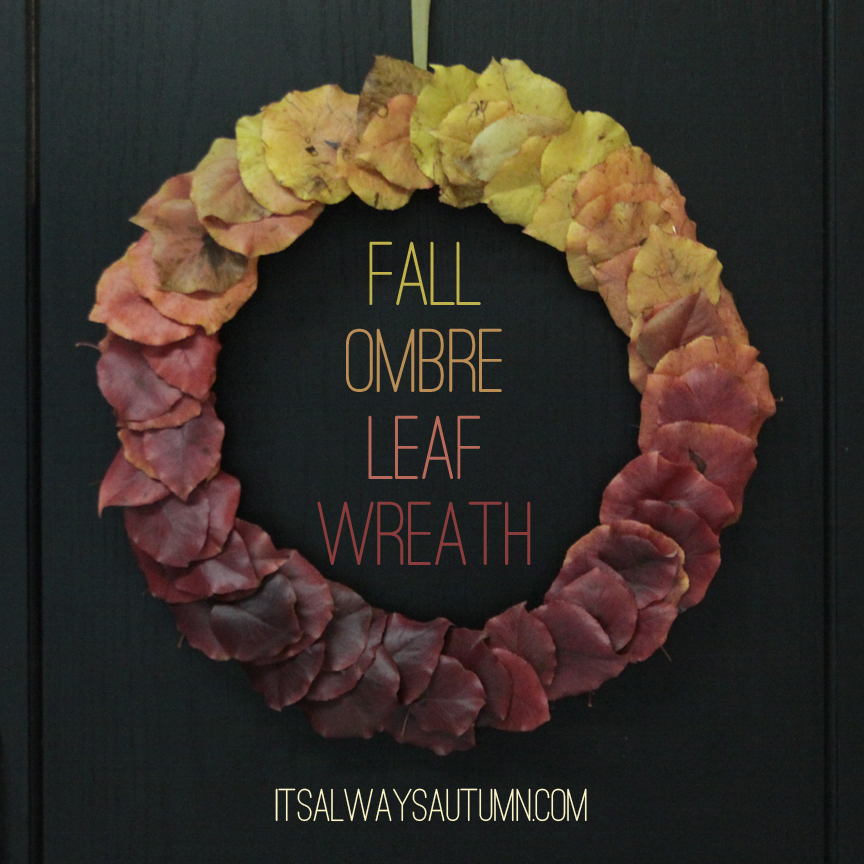 You don't really need a tutorial for this – it's pretty darn simple – but I do have some tips, so read on.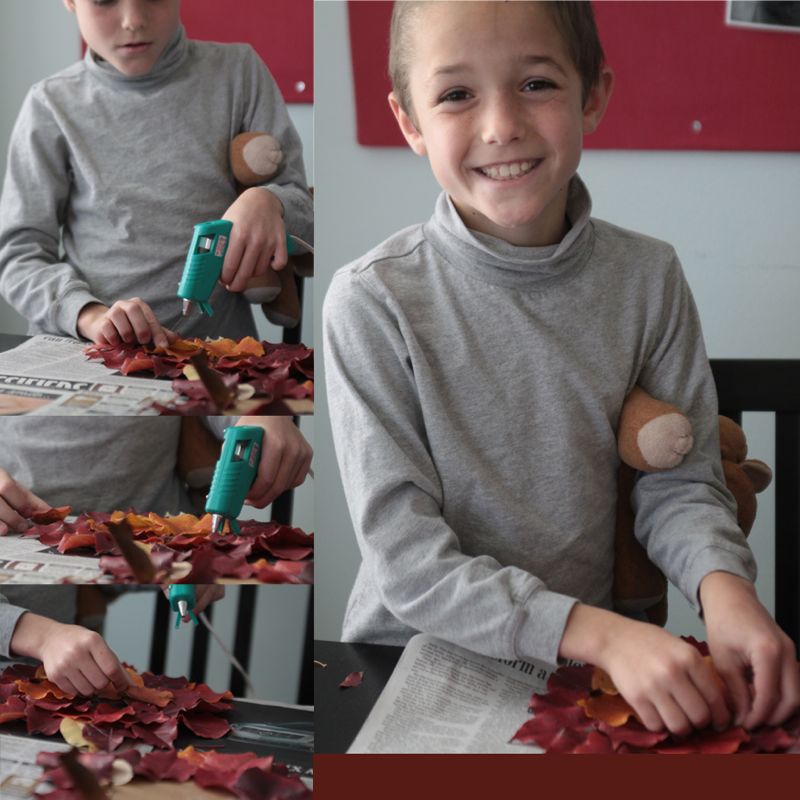 All ages of kids can participate in this craft. My 11 yr old wasn't super excited about it, but my nine year olds and my four year old had a blast making their own wreaths. Even the baby had fun gathering leaves and helping to sort them out.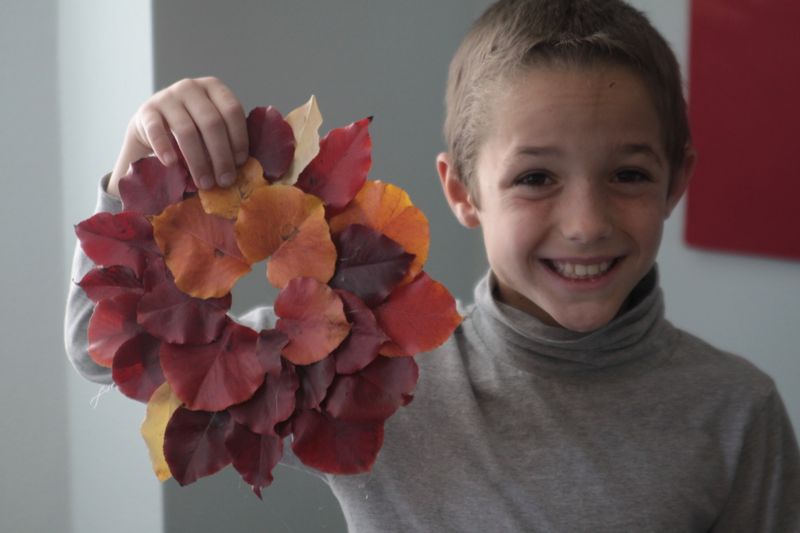 Start by finding good leaves. All fallen leaves are not created equal. Look at the leaves on the ground beneath a tree – are they all brown and brittle or have they kept their color and texture pretty well even after falling? The ones that still look pretty on the ground are the leaves you want to use. Chances are they'll stay nice for at least a few weeks so you can enjoy your wreath.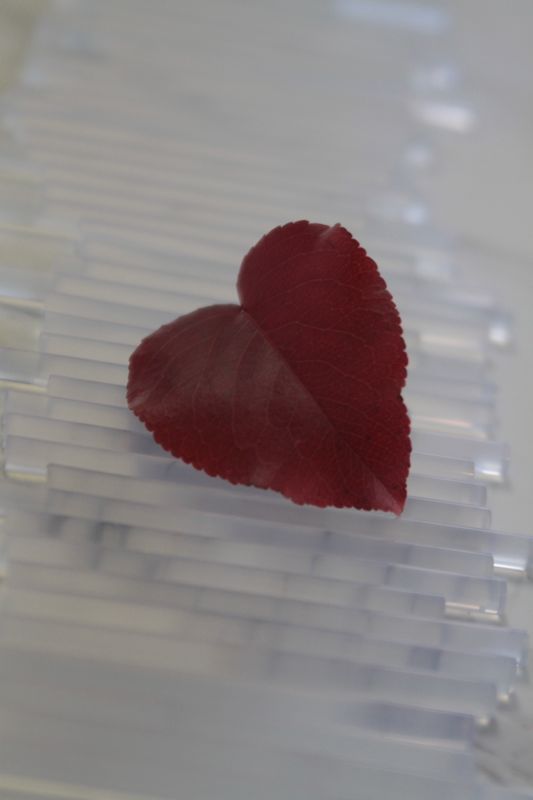 Look for pretty colors. I wanted to make an ombre wreath so I looked and looked until I found a tree that had leaves in a few different colors – yellow, orange, and red, then I started collecting. Our leaves came from a flowering pear in the kids' great-grandma's front yard. Since we knew the owner of the tree and could ask permission, we went ahead and grabbed a few yellow leaves right off the tree so we could get lots of color variation (but when we go on walks to gather leaves we only take leaves off the ground).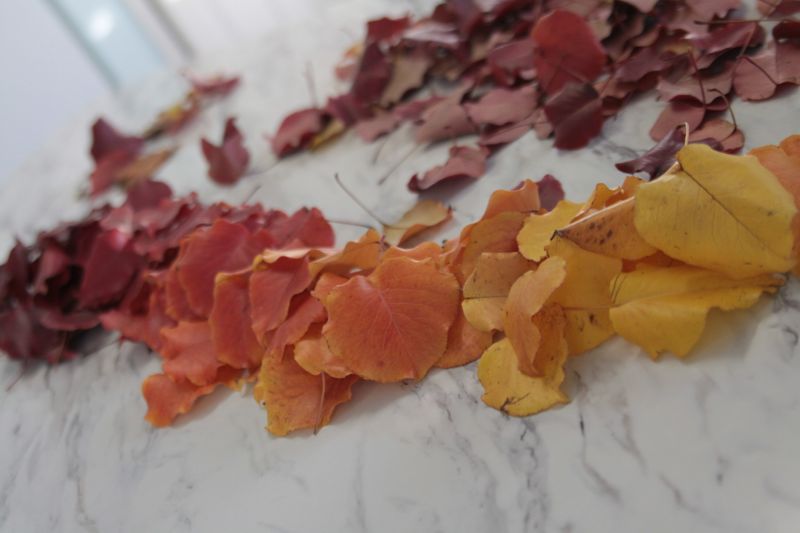 Purchase or create a wreath form. I used a wreath form from the dollar store for my wreath, but I had only bought one and each child wanted to make their own wreath – so I cut out wreath forms from the side of a big goldfish box and they turned out great.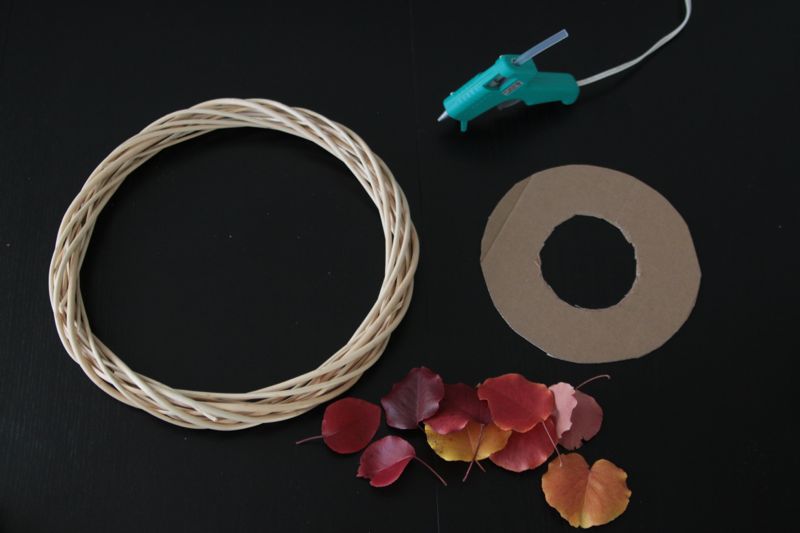 Get some glue. We used hot glue for this project since it bonds so quickly, but you could probably use craft glue if your kids are patient enough. I have a mini lo-temp hot glue gun and the glue does not get hot enough to burn anyone, so I feel comfortable letting my older kids use it by themselves. They also helped their little brother with his wreath by putting a dot of glue in the right spot and then letting him pick a leaf and press it down.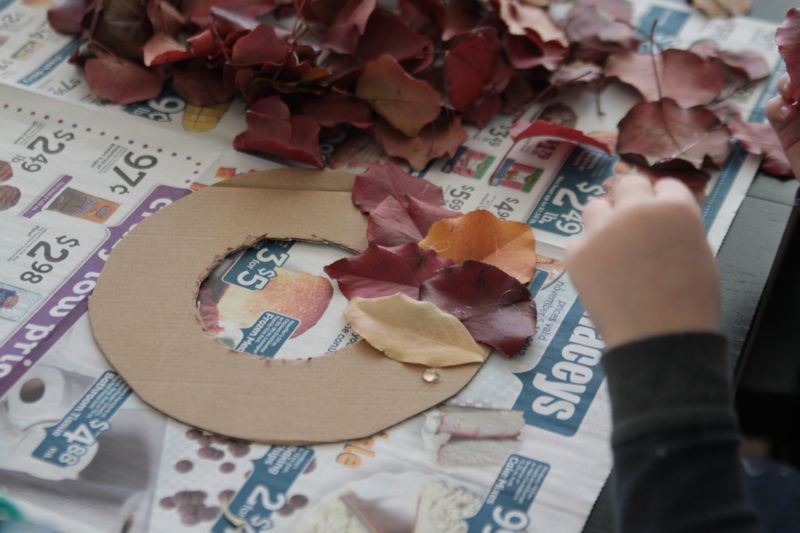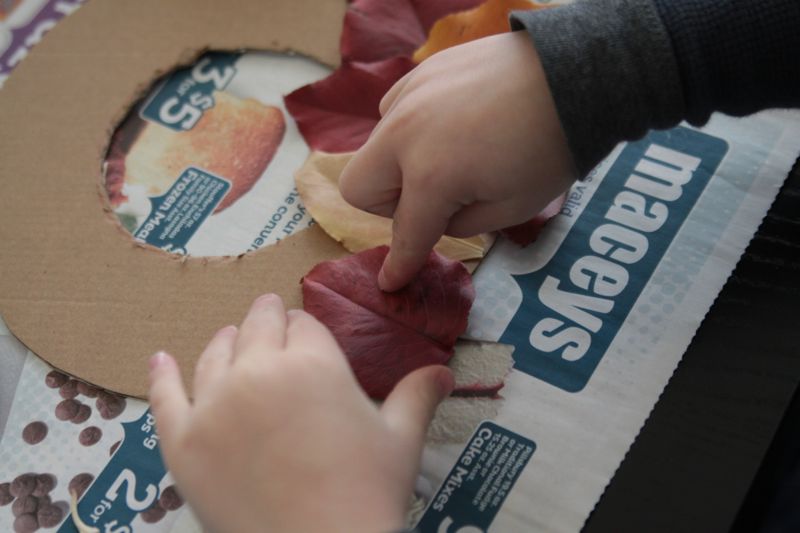 Let the kids do their own thing. I had orginally assumed we'd all work together to make one wreath, but then I realized I had an idea I wanted to try out (ombre) that the kids might not be interested in, so it worked better to let them each make their own wreath. I got them started and then let them add leaves however they wanted without giving any advice, so they got to enjoy making their own creation instead of just doing what I told them to. Their wreaths turned out beautifully and I think I like theirs better than I like my own!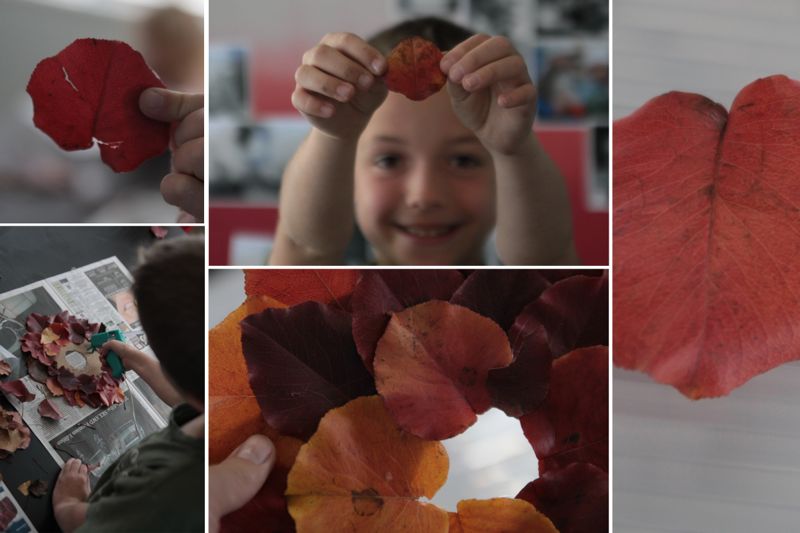 Here are the kids' final wreaths: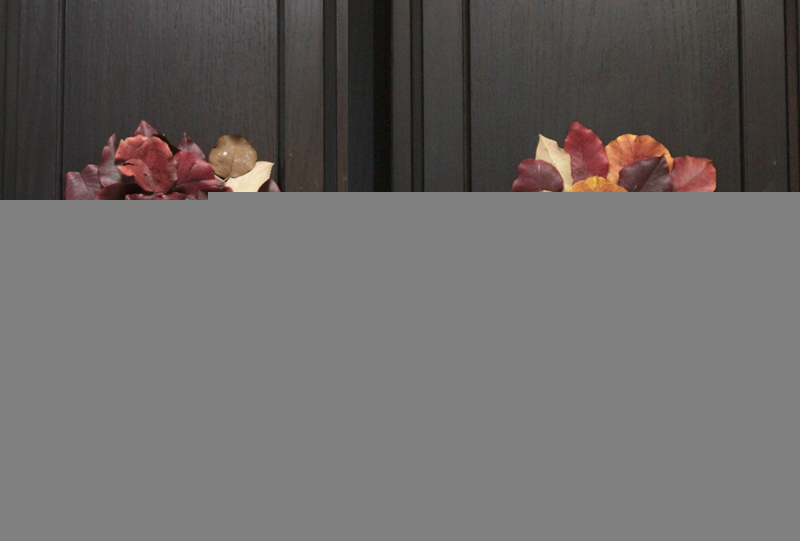 And here's my ombre wreath in progress: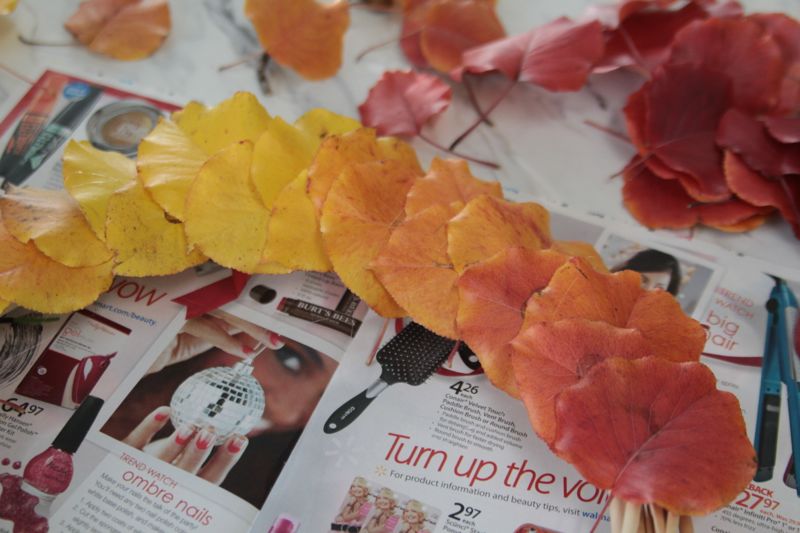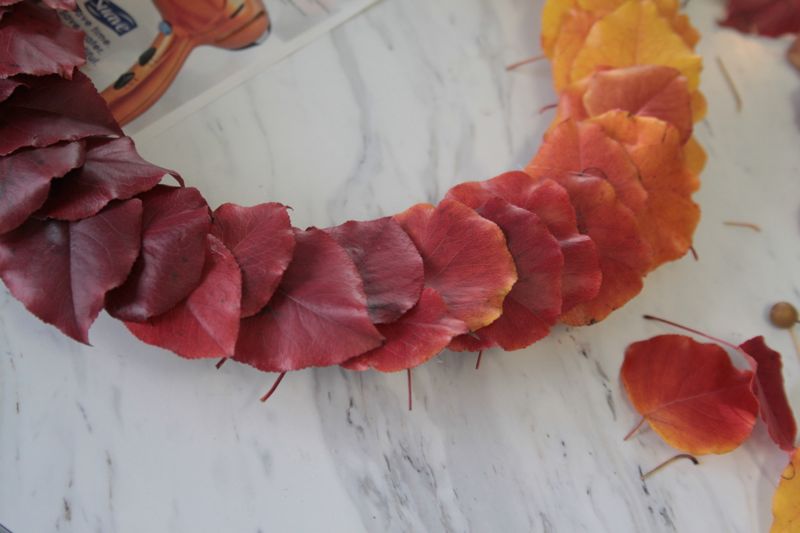 And finished: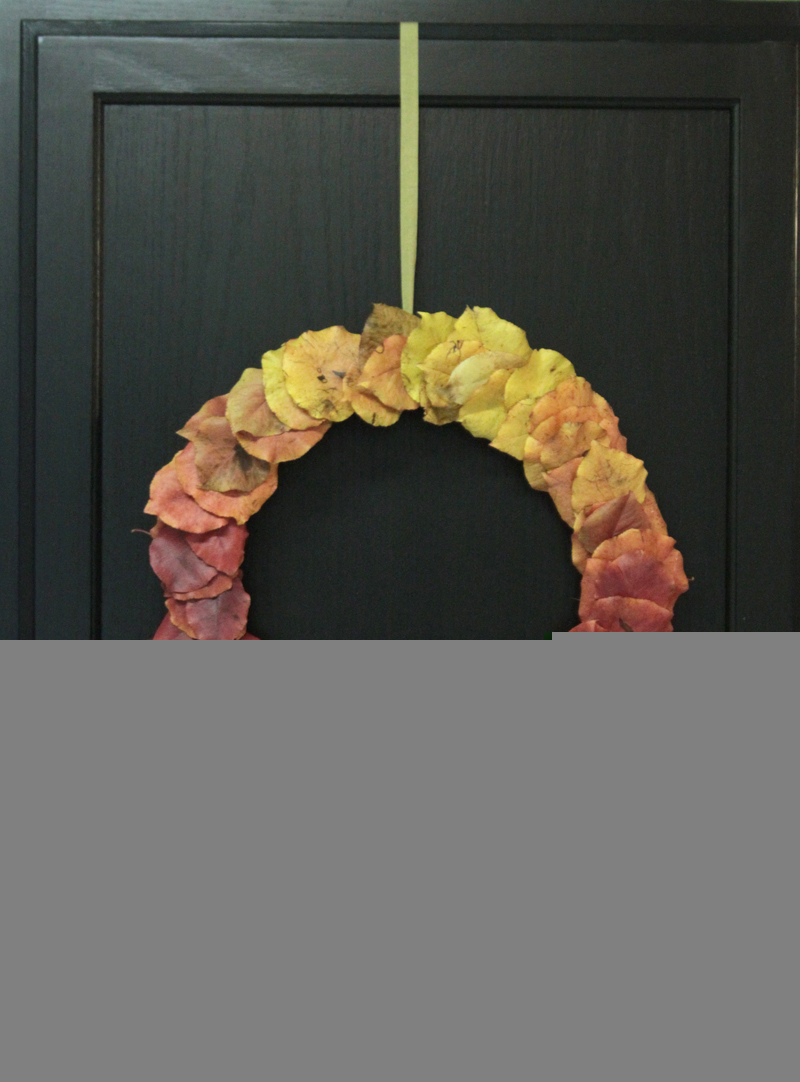 We hung up our wreaths inside on the kitchen cabinets, where they look great and won't get buffetted by the crazy wind we get here. Hopefully they'll last until Thankgiving, but if not, oh well! I only spent $1 on the whole project and the kids and I spent a happy hour together on a lazy morning.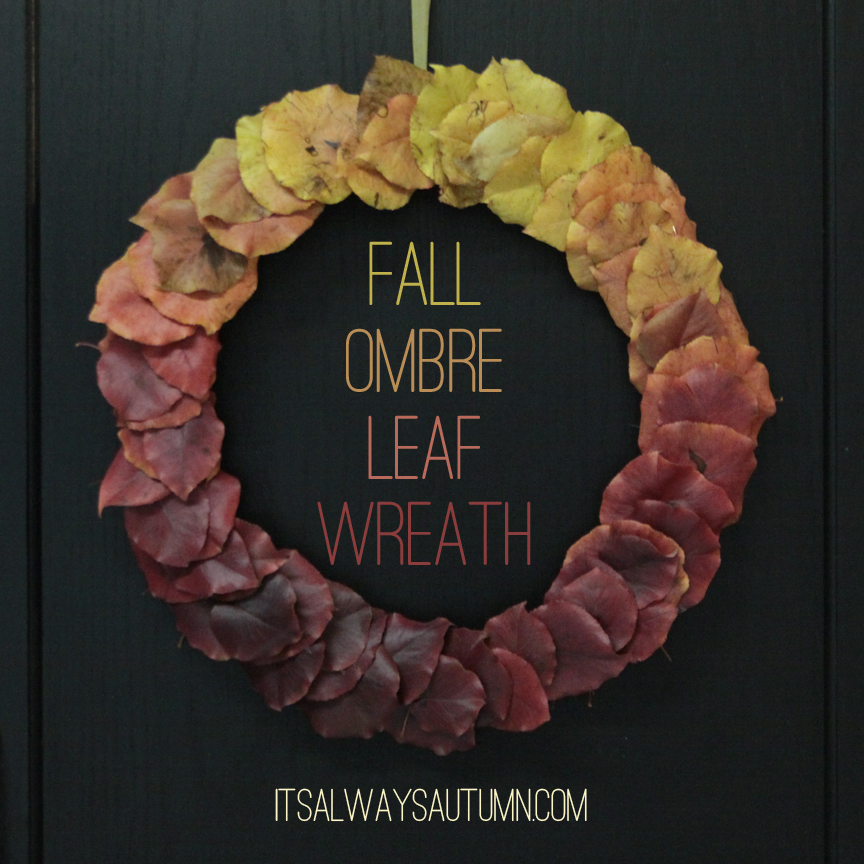 Like this post? Follow It's Always Autumn for more:
LINKING Tip Junkie | Sugar Bee Crafts | Today's Creative Blog | Naptime Creations | Lil Luna | SNAP | Someday Crafts | Somewhat Simple | House of Hepworths | The 36th Avenue | Whipperberry | Naptime Crafters | Tatertots and Jello | Little Inspiration | I Heart Naptime