You may have seen this project last week over at The Ribbon Retreat blog, as well as some additional bag toppers here, but I wanted to make sure everything got posted in one place, so here it is!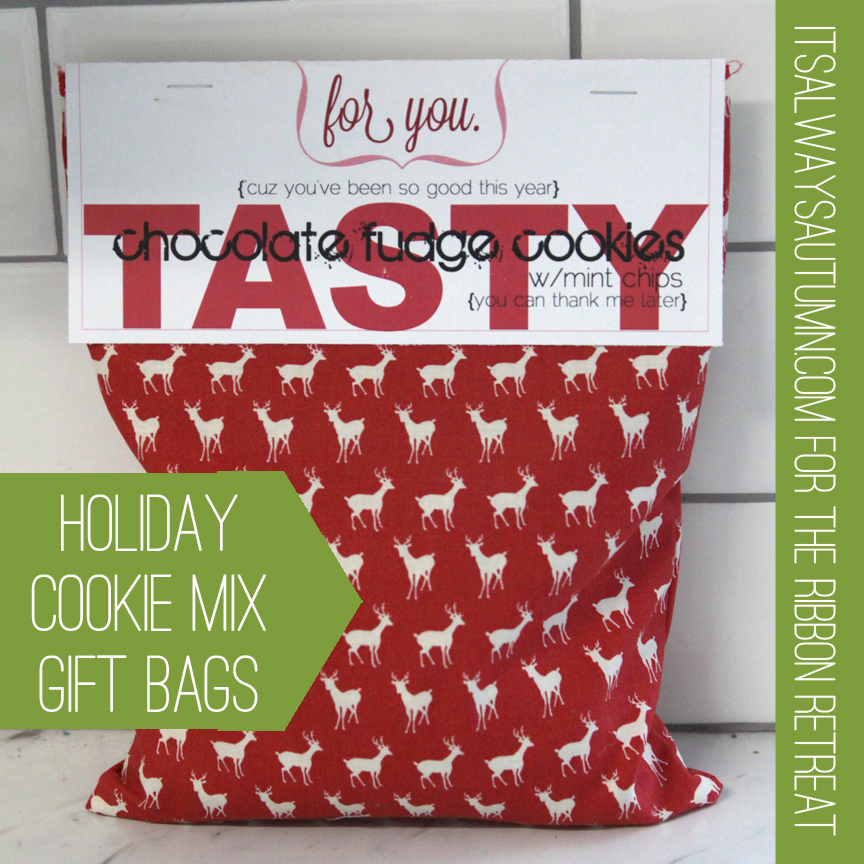 Well, we're down to T minus two weeks guys. Crazy or what? That means it's time to start rustling up gifts for teachers, neighbors, etc. Here's a very simple (and inexpensive!) project that looks like it took a lot of work that's sure to be appreciated: chocolate fudge mint cookie mix in a cute holiday sack.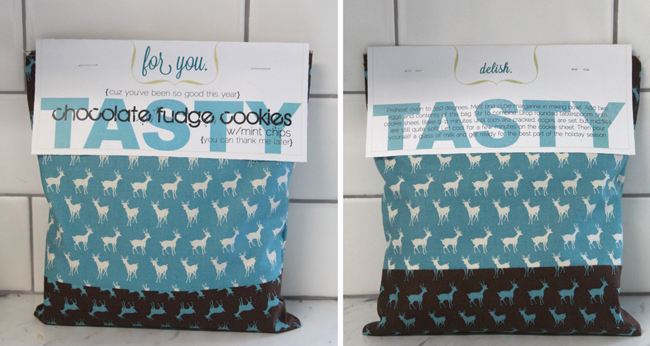 I love giving homemade treats to friends and neighbors during the holidays, but sometimes we receive so many treats during those few shorts weeks that some of them end up in the trash. Cookie mix makes a great gift because the recipient can make them whenever she wants – if she has guests showing up she can mix them together and have hot fresh cookies in about 15 minutes, or she can tuck the cookie mix away until January and bake them up then. And did I mention these cookies are really, really good? It's win-win for whomever you give these to!
It's win-win for you as well. You can make up the mix with just a few ingredients, then slide it into a simple fabric sack, print out a topper (12 varieties below!), and you're through! If you have lots of these to make you can do them assembly-line style and get a bunch of gifts taken care of in under an hour.
Here's what you need for each cookie mix: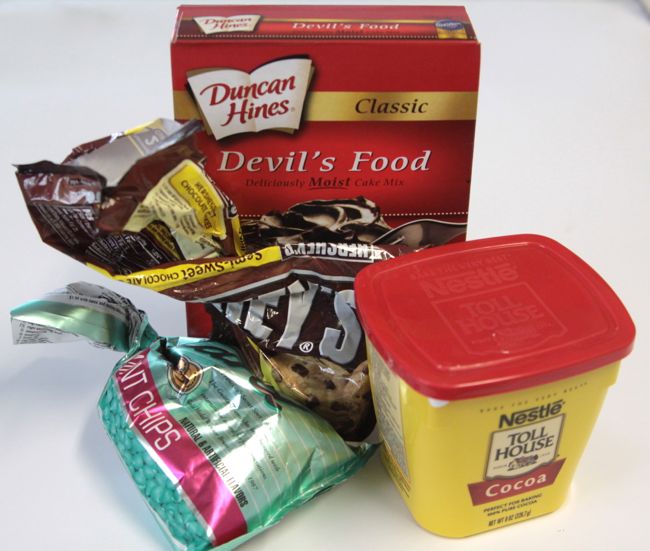 Pour the entire contents of one Duncan Hines devil's food cake mix into a QUART size ziplock bag. Add 1/3 C cocoa, 1 C semi-sweet chocolate chips, and 2/3 C mint chips (there are 2 cups of mint chips in each bag, so you can make three cookie mixes with one bag of mint chips). Zip up your bag and assemble a quick fabric sack.
I used fabric from Moda's Oh Deer Line (from the same layer cake I used for last weeks fabric ornament decals project) because I think it looks holiday-ish even though it's not Christmas fabric. (Go check out The Ribbon Retreat's selection of gorgeous fabrics!) For each sack, you need two rectangles measuring 10 inches tall and 8.5 inches wide.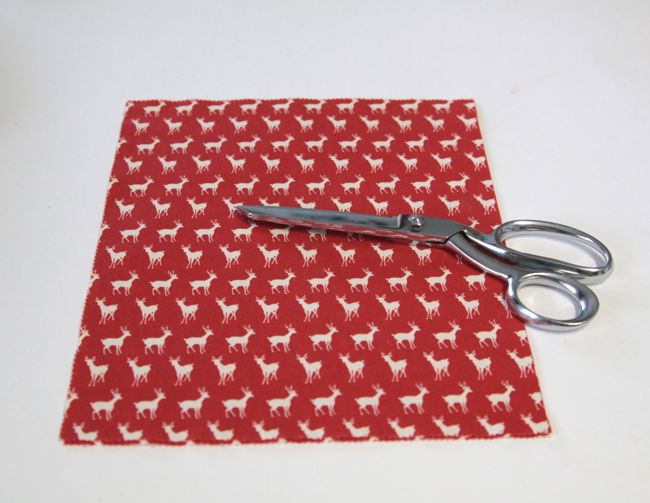 Lay the rectangles right sides together and sew down one long end, across the bottom, and back up the other long end, leaving the top open. Cut across the top with pinking shears if desired to prevent fraying (not totally necessary). Clip the bottom corners of the sack and turn right side out.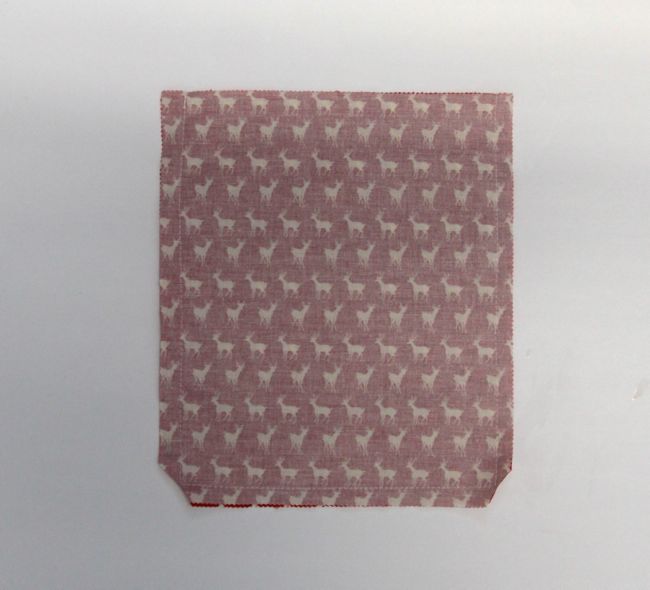 Slide your cookie mix right inside…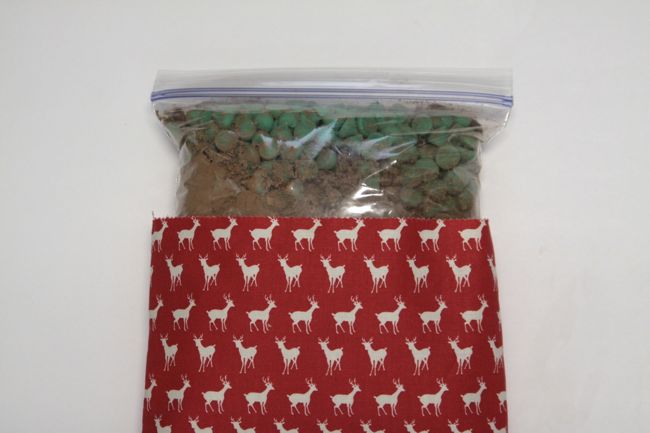 …and print out the topper of your choice (all found below). Find the "tasty" versions pictured below right here: blue | green | red | yellow.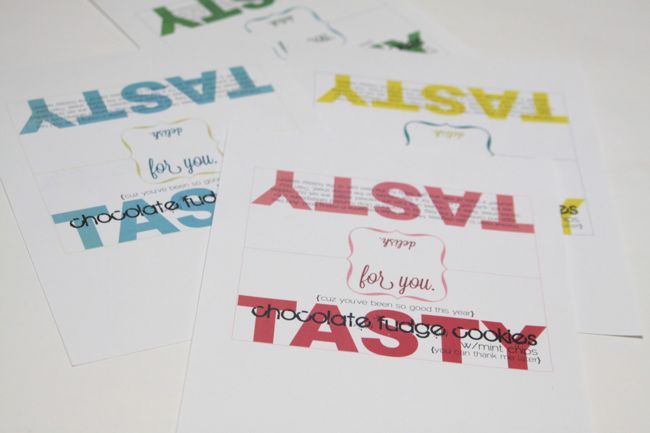 The toppers have a thin rectangle around the edge – use a trimmer to cut just outside the rectangle, then fold in half, slide over the fabric sack, and staple to secure. You could also punch holes and thread ribbon or twine through and tie in a bow to secure.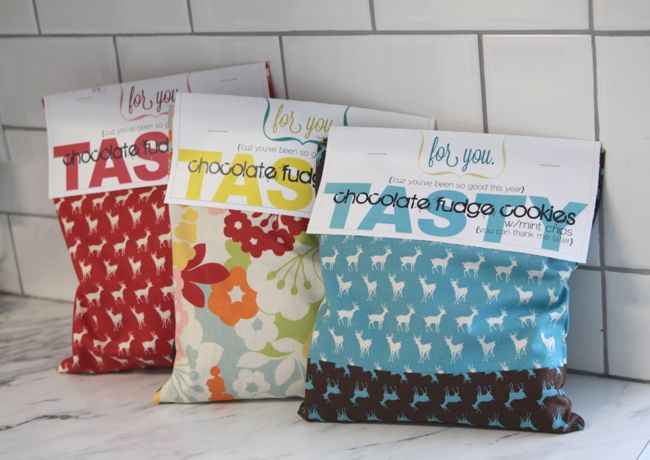 Each topper has a sentiment on the front and the super easy directions for baking the cookies on the back (all the recipient has to add is margarine and two eggs!). If you're interested in seeing what the cookies look like all baked up, click here for a photo of the Reese's version of these cookies.
And here are the toppers! Each topper is made to fold over the top of the cookie mix gift bag and has a holiday sentiment on the front and simple baking directions on the back. Click on the links below the photos to be taken to the topper of your choice, then right click it to download: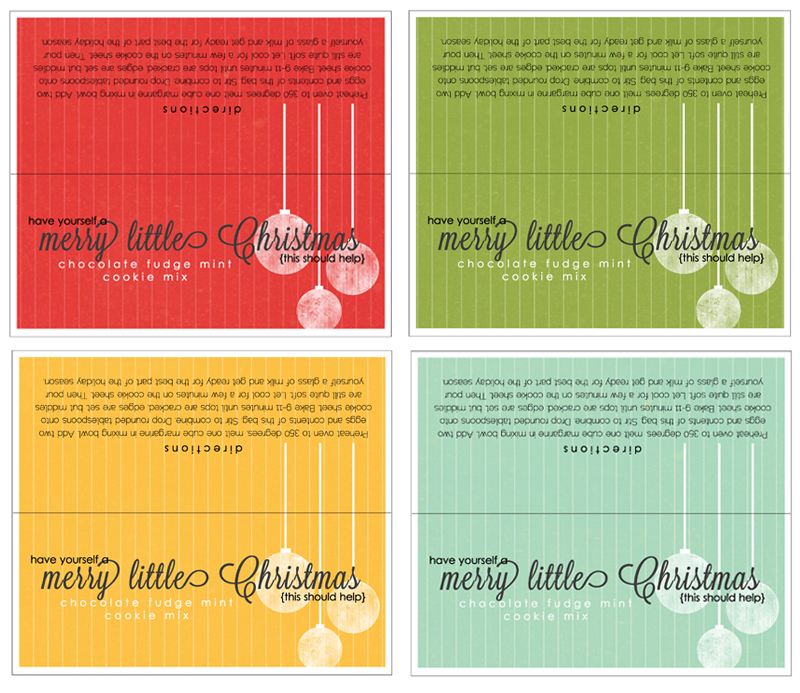 Merry Little Christmas topper: red | green | yellow | blue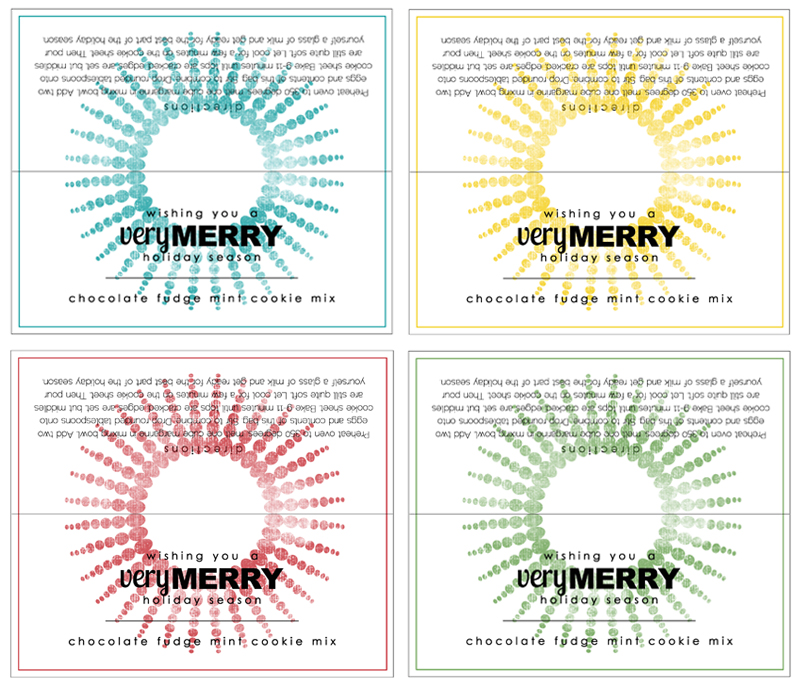 Very Merry topper: blue | yellow | red | green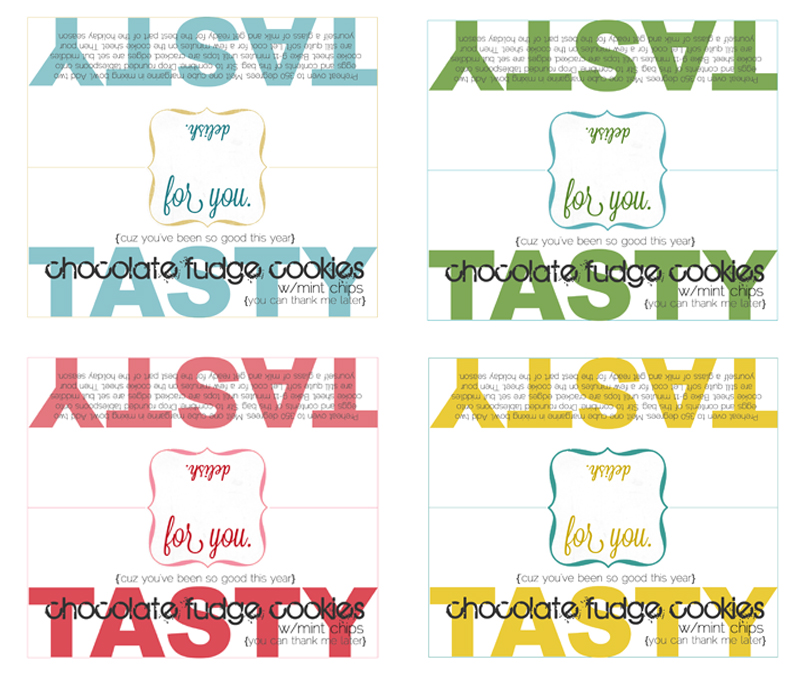 Tasty topper: blue | green | red | gold
Cookie mixes are fun to give so the recipient can bake up a batch of treats whenever she or he wants, but if you want to do you own baking, check out this post for free printable templates for four different individual size treat packages: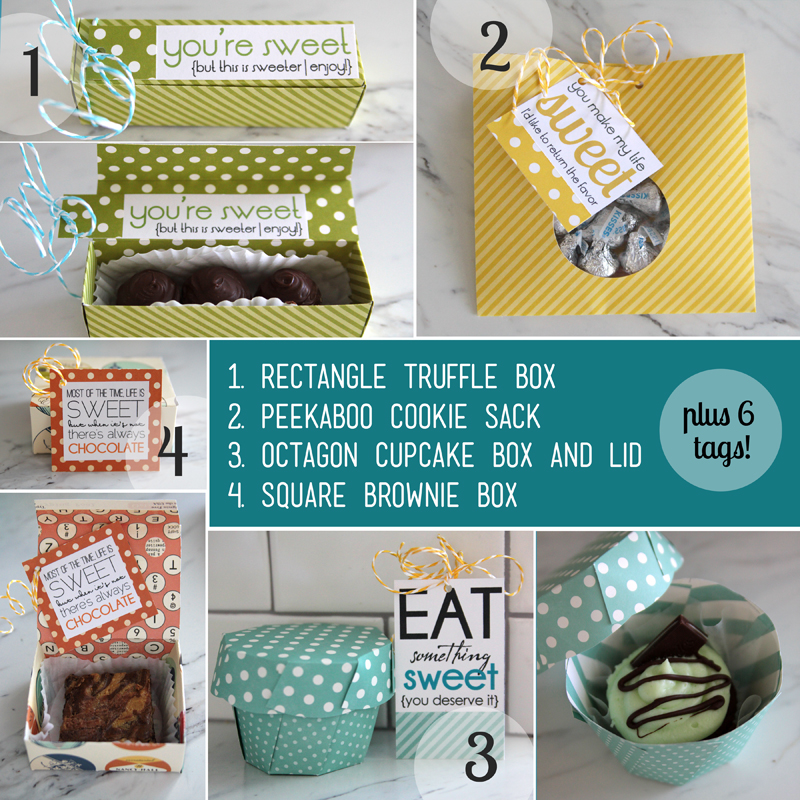 Happy gifting!