Scrapbooking involves a lot of decisions: which pictures to use, how many to use, what color background paper, where to place the photos, what the title should be, where the title should go, what to journal about, what sorts of embellishments, how many, etc. I don't generally get too worried if a certain layout is taking me a while to make because I enjoy the process and I'm not trying to get as many layouts done as possible in a certain amount of time. I think scrapbooking is as valuable a hobby as any other, and it's important to be happy with what you produce. But with that said, I'm usually of the opinion that if it looks pretty good (good enough is good enough!) you should glue it down (or save it in Photoshop) and move on. Sometimes you have to stop moving things around and just decide a layout is done.
I was working on a layout for an article I wrote in the Jan/Feb 2012 issue of Creating Keepsakes magazine, and I decided it was done when I got to here: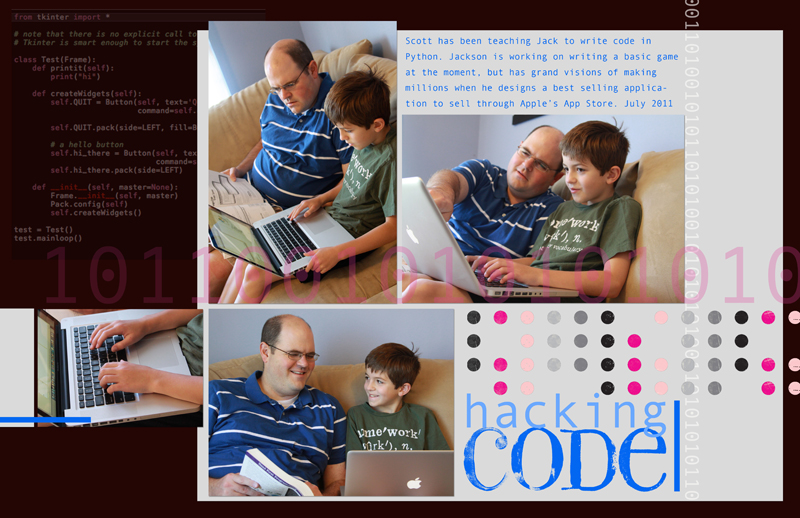 I sent it off to the editor, crossed it off my to-do list, and moved on to the next item. For a few minutes. I kept looking back at the layout, feeling like something just wasn't quite right. So I made three fairly quick changes that (in my opinion) really improve the overall layout.
First I decided the dark background had to go, so I swapped it out for a lighter grey. My new background color is very similar to the color of the computer in the photos, so it feels tech-y.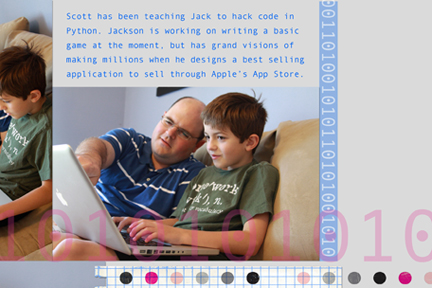 Next, I decide the title font needed to send out a tech-y vibe as well. What I had before was too old fashioned – it felt too much like book text. So I replaced it with a new font that felt much more futuristic.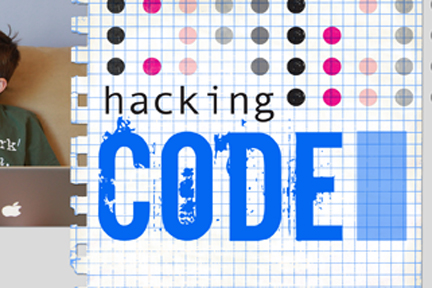 Finally, I decided I needed one more detail. I searched for the Apple Computers logo on the internet, pulled it down into Photoshop Elements, and added it in the bottom left corner (which was previously just empty space). I also layered a low-opacity copy of the hands on the keyboard photo in the background of this area.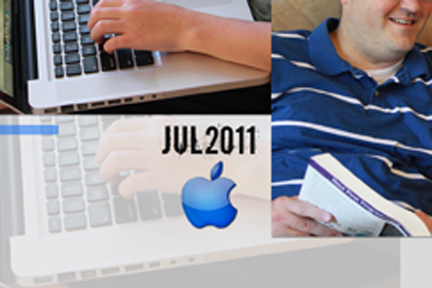 I think these three quick changes really improve the quality of the layout, giving it more of a graphic, tech-y feel.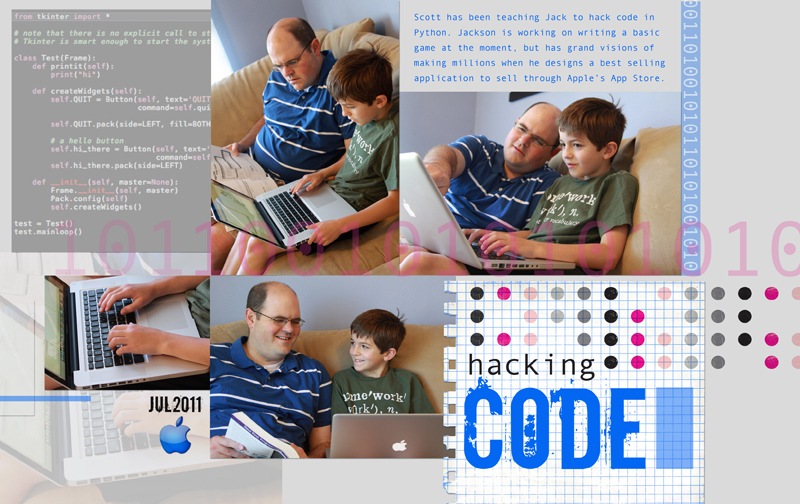 Layout as seen in the Jan/Feb 2012 issue of Creating Keepsakes magazine.
And here's the before and after: