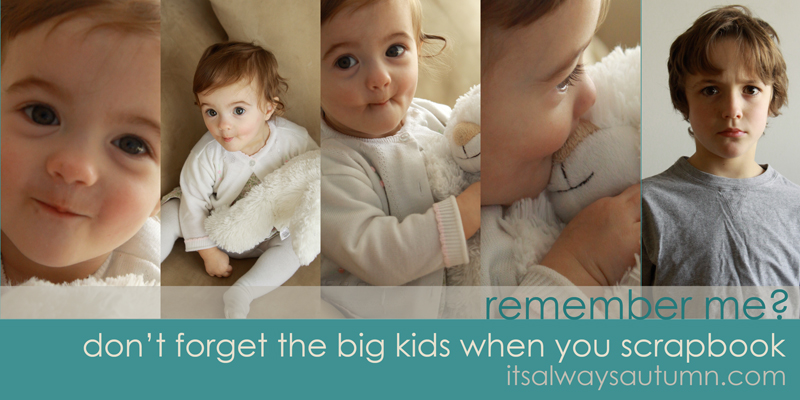 So when it comes time to sit down and work on a scrapbook page, it's pretty easy to get completely enraptured by pictures of your littlest one giving kisses to her bunny. I mean, who doesn't want to sit and move these photos around on a page?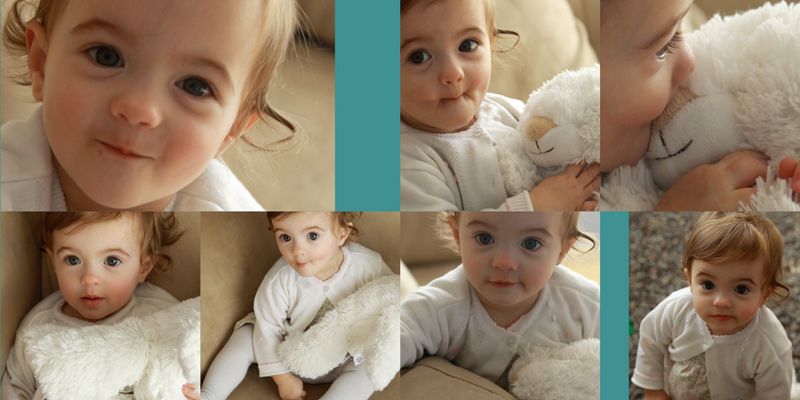 But if all you do is take pictures of the baby and make scrapbook pages of her, your husband might start accusing you of loving her better than all your big kids, as a joke of course. But then your big kids might overhear your husband accusing you of loving the baby best, and they might start wondering why you haven't taken any pictures of them lately. (Actually, they'll probably just be relieved you haven't ordered them to stand in that spot and smile FOR REAL lately, but it's possible they could start feeling a little left out.)
Then you'd have to explain that of course you don't love the baby best, you just spend the most time with her since she's home all day while the big kids are gone at school. And with all the baby milestones to document, there's a myriad of scrapbook pages just waiting to happen, while the big kids just keep doing the same stuff they've been doing for years. But since your husband isn't likely to buy that explanation, here are some ways to make sure you don't forget the big kids when it comes to your scrapbook:
1. Find a new story to tell about the same old activity. Maybe your daughter is in the school play this year, just like she is every single year. But there are probably some new details this year – does she relate more to the character she's playing? Does she have an acting role model she loves? Did she get to help design the costumes? Even if she's been doing this for years, there's probably something different this year – and that's what you can scrapbook.
2. Make a "you right now" layout, asking your older child what she wants to remember about her life right now.
3. Have an older child fill out a quick survey or questionnaire (google survey ideas). You might be surprised by how "scrapbook-page-worthy" some of the responses may be.
4. Create a layout documenting your older kids' relationships with each other or with the baby of the family.
5. Make a follow-up layout to one you created years ago. Remember that layout you made about how loud your three little boys always were in the car? Make a layout focusing on what the same situation is like now.
6. Pay attention to what your older kids say the minute they walk in the door from school – that's when they're most likely to be ready to tell you what they've been thinking about. Make a layout recording what they said every day for a week.
7. Compare your child to yourself at the same stage of life. Do they play any of the same games you did? Are they astounded that you know the entire 'a jerk is a tug, a tug is a boat, a boat is in water, water is nature, and nature is beautiful' speil because you said it then and they say it now?
8. Find out what they've learned in school and make a layout about that. Or about their favorite book they've read this year. Or their favorite (or least favorite) subject.
9. Keep track of the silly details, like how many baseball cards are in their collection or how many times they practiced their piece for the piano recital. Or something even sillier, like how long it takes them to eat a 44 oz bag of Honey Nut Scooters.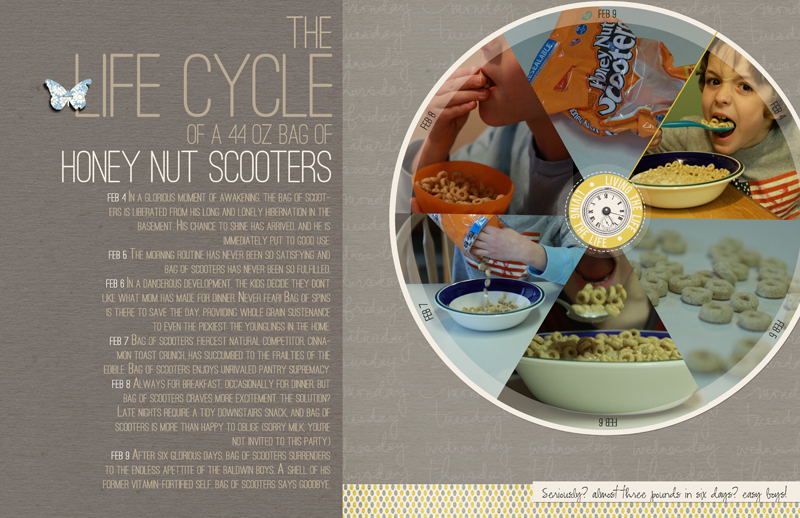 While you're at it, write up some silly journaling that will make them laugh: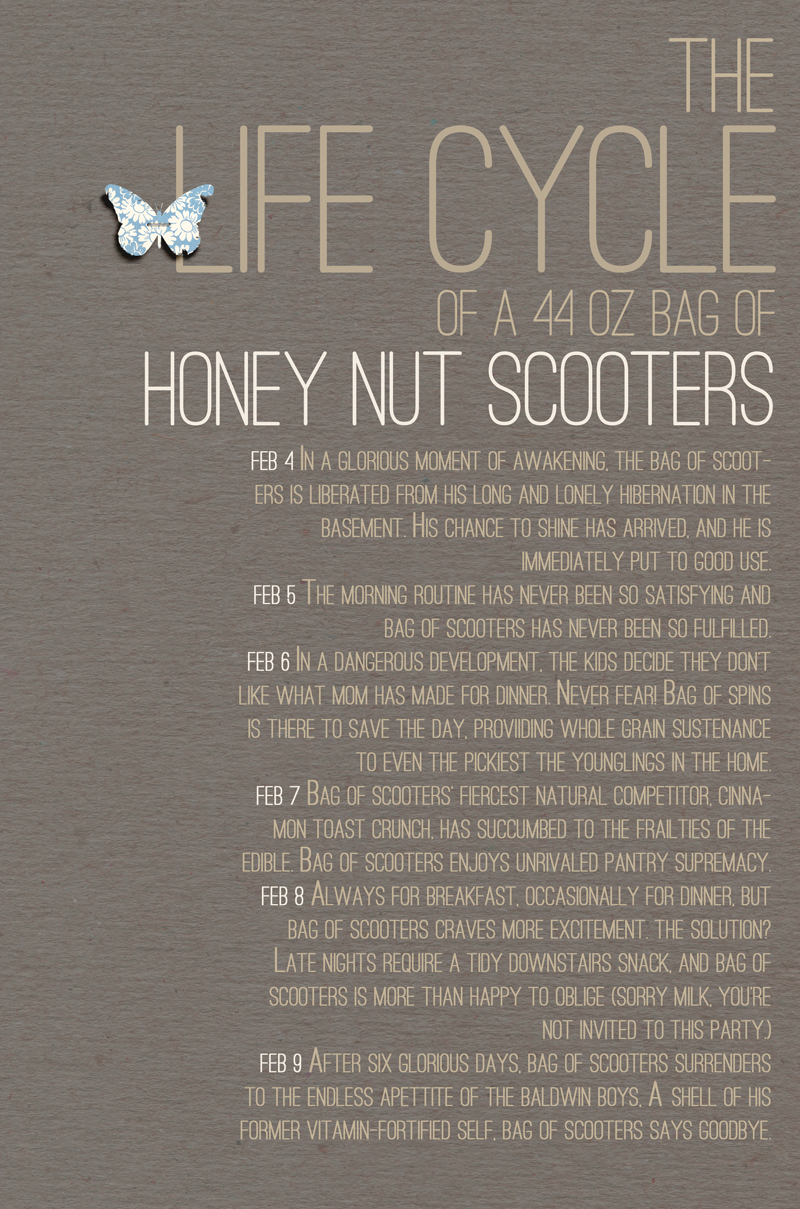 And be sure to get some equally silly pictures to go along with: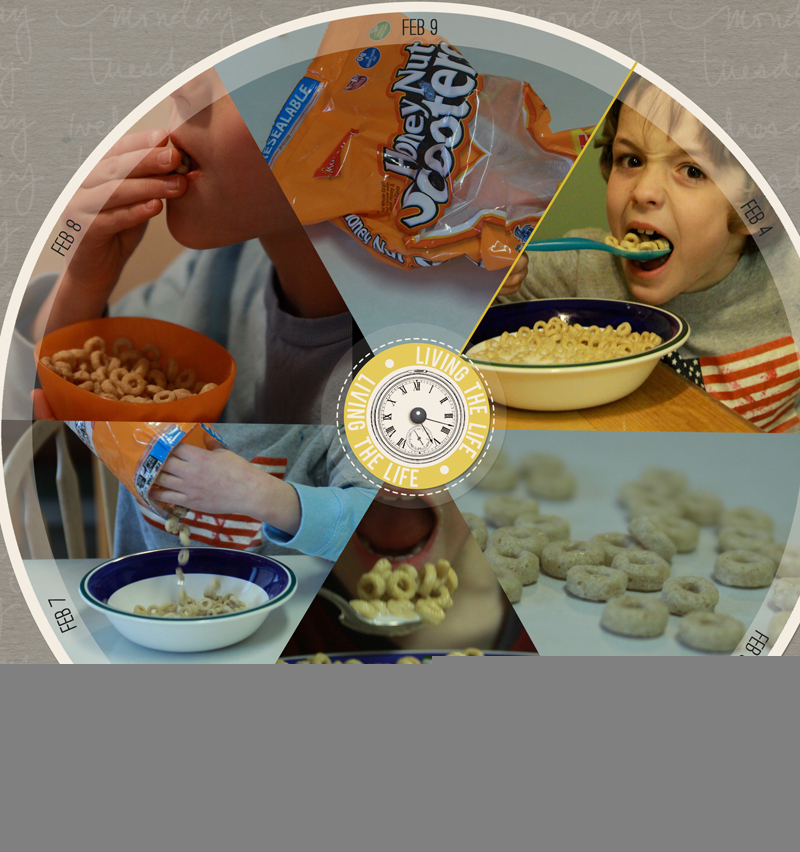 Just remember, don't forget the big kids in your scrapbooks. (And then go make that page about your baby girl.)