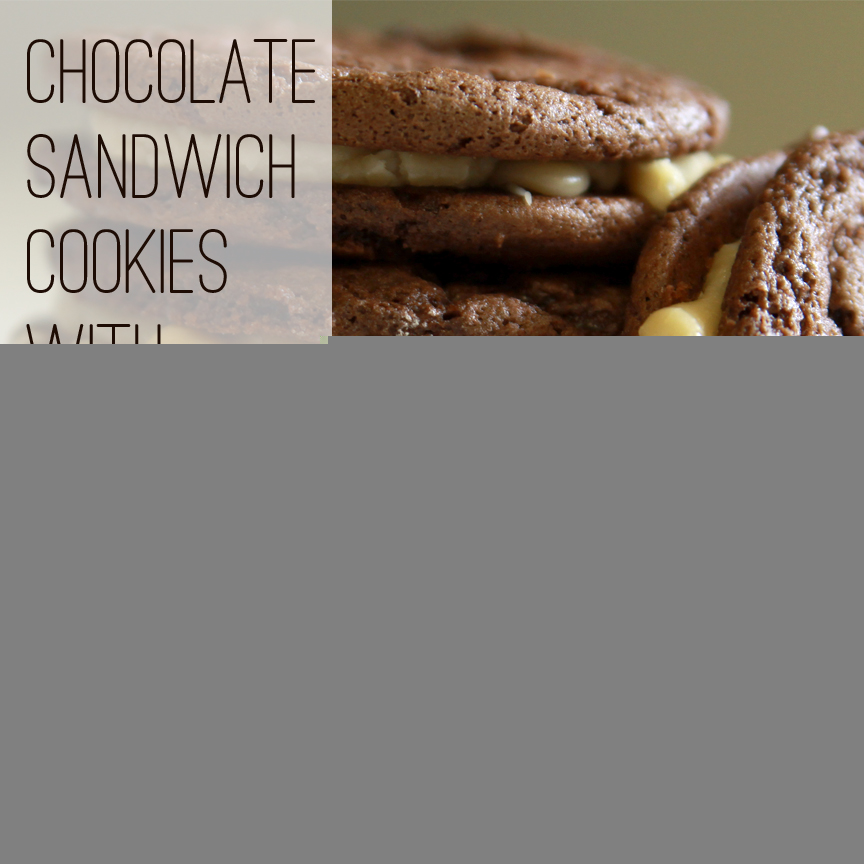 Alright, I'll admit it. I didn't come up with the recipe for these cookies. In fact, you might have already made these cookies from a cake mix before, calling them something like "homemade Oreos" and spreading canned cream cheese frosting inside them. I've done it, too, and they're really pretty good, especially when the cookie is just barely underdone, resulting in soft chewy tastiness. However, they're not divine, not by a long shot (I'm sorry, but I have yet to eat anything made with canned frosting that can properly be deemed divine). So I set out to make cake mix sandwich cookies that were divine, and of course I turned to my old friends, butter and brown sugar. And with the addition of a quick caramel cream filling, I turned homemade Oreos into something fantastic. Yum.
(Okay, so I didn't make up the frosting recipe either, some nice person on Allrecipes did, but at least I decided to combine the two things into something more wonderful than either could hope to be alone! Right?)
Start by mixing up your standard cake mix cookie: follow the cake recipe and OMIT the water. That means for two cake mixes (which will make 30 nice big sandwich cookies) you'll need six eggs and a full cup of oil. Stir it all up with a wooden spoon or some similar instrument.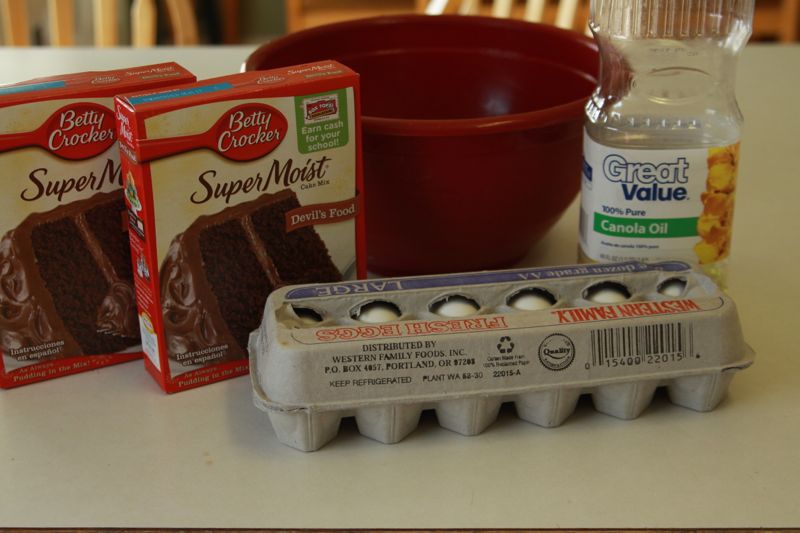 I love my cookie scoop, but it's just a little large for these cookies since they spread quite a bit when baking. So I filled it about 3/4 of the way full for each cookie.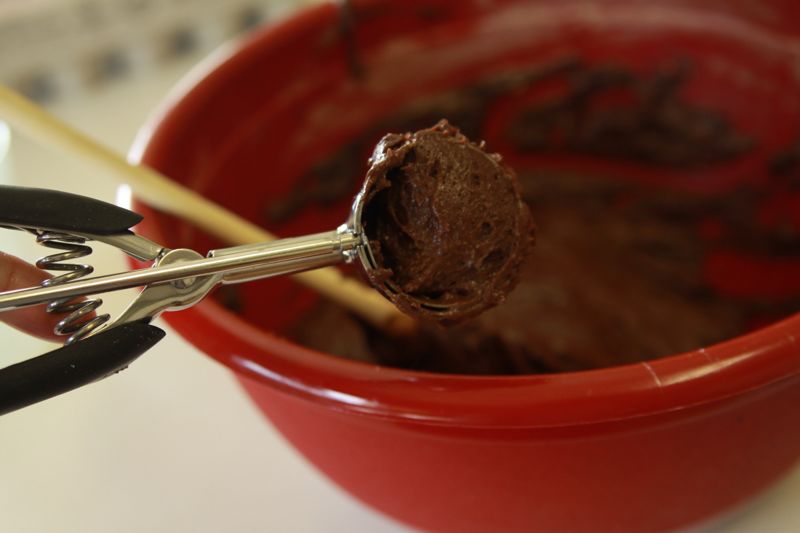 I squeeze fifteen cookies onto each cookie sheet, because that lets me make all 60 cookies on 4 sheets instead of 5, saving me at least eleven minutes. And sometimes eleven minutes is really important. But if you want to be sure none of your cookies will run into their neighbor and merge into a two-headed cookie monstrosity, you might want to stick to twelve cookies per sheet.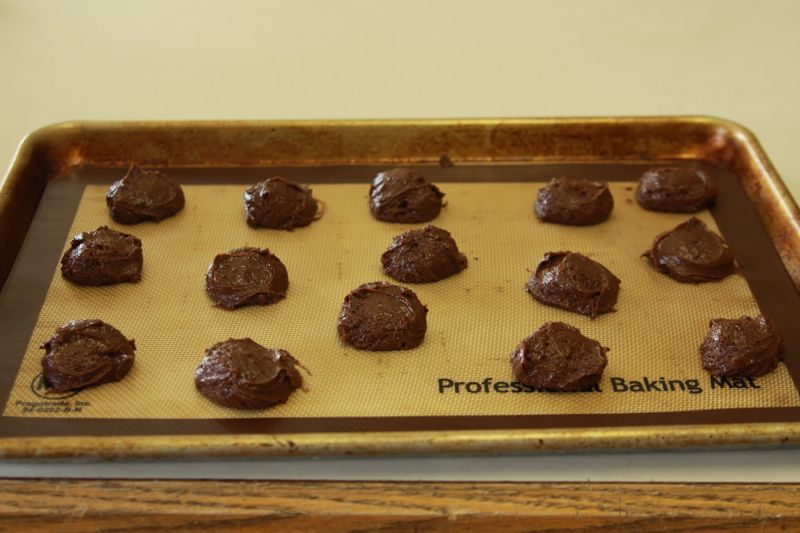 Bake your cookies at 350 degrees for about eleven minutes (if you're not using a silicone baking liner definitely grease your pan). You really want to watch these at the end. You can tell they are done when the tops are cracked and the inside of the cracks doesn't still look completely wet. But you really don't want to overbake them. And if you're either going to underbake or overbake, I'll pick underbaked every time. So just watch them, and when they look like this, pull them out.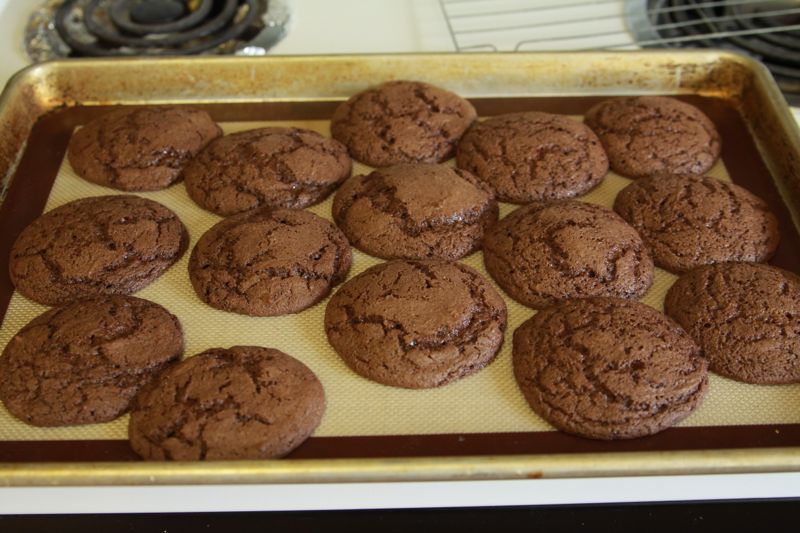 They'll need to sit for at least two minutes on your cookie sheet before you'll have a prayer of getting them off without completely squishing them. It's ok if they sit even longer. They will flatten a bit as they cool – that's ok! If they don't flatten, they're overdone and you should pull the next sheet out a little sooner. If you didn't overbake them, they'll remain very soft and tender even when completely cooled, so handle them carefully.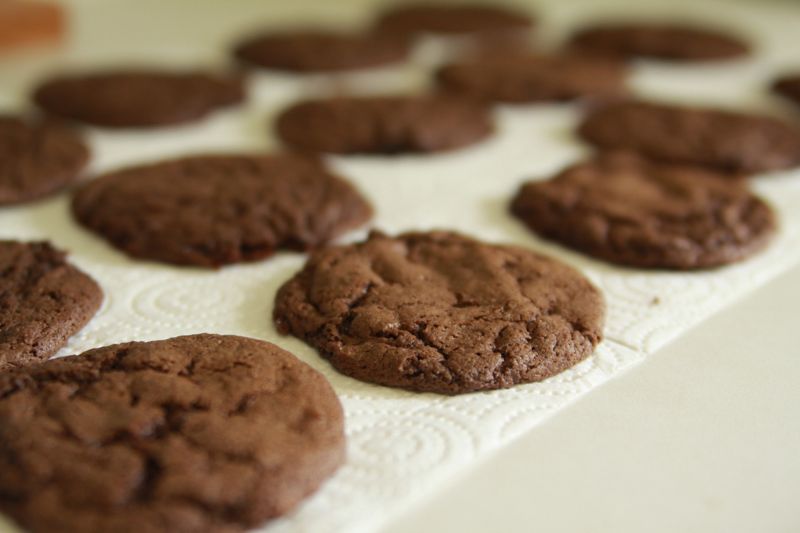 As the cookies cool, I like to lay out half of them (30) on two paper towel lined baking sheets to get them ready for frosting.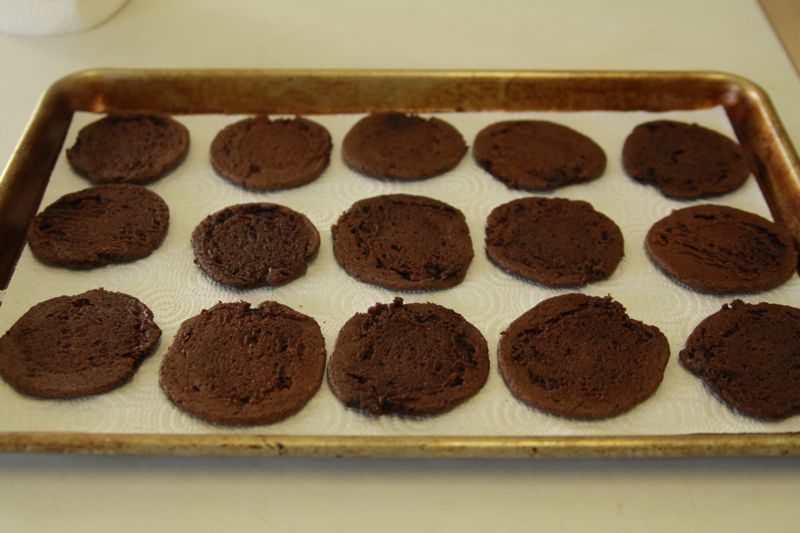 When your cookies are cool, making the caramel cream filling. You'll need butter, brown sugar, powdered sugar, milk, and vanilla, which I forgot to include in this picture. What I did remember to include is the awesome recipe box my mom painted for me when I was eleven and just learning to cook. Pretty cool, right?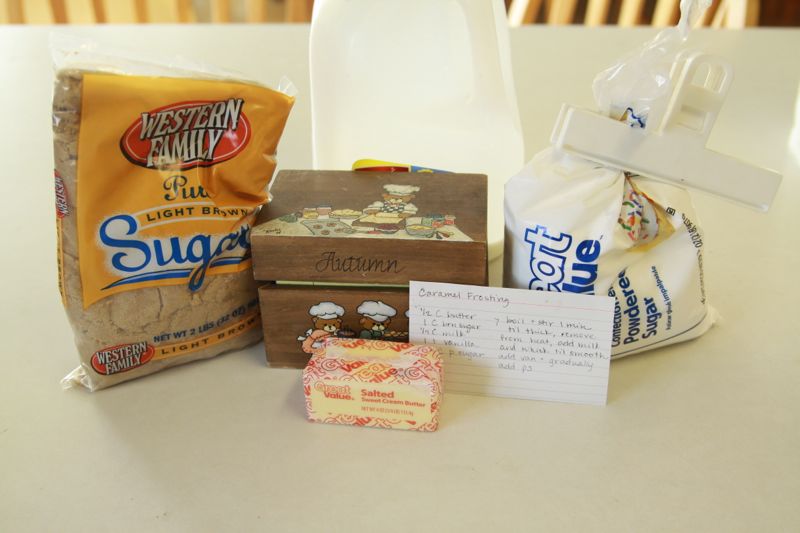 Start by melting one stick of butter and 1 C of brown sugar together over med-hi heat.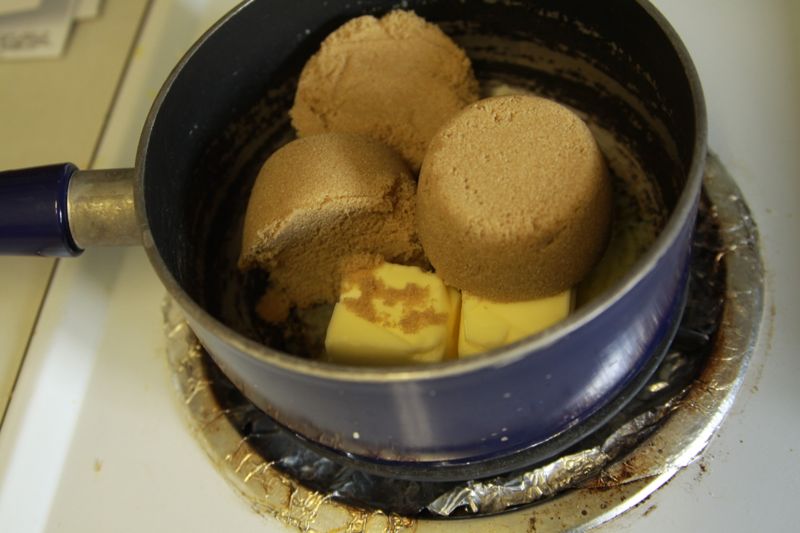 Stir it around as it melts, and as soon as it starts to bubble, set a timer for exactly 60 seconds. Continue to stir as it boils for one minute.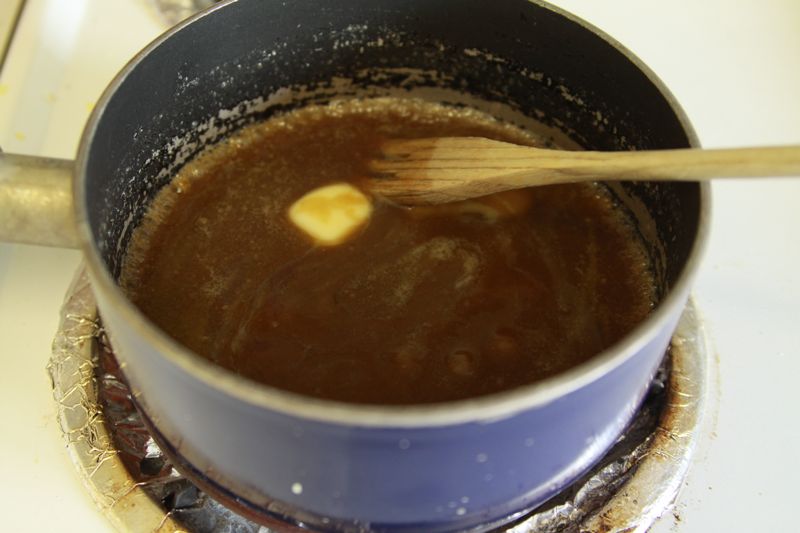 Remove from heat and whisk in 1/4 C of milk and 1 t vanilla. Then whisk in 3 1/2 C powdered sugar, stirring until smooth.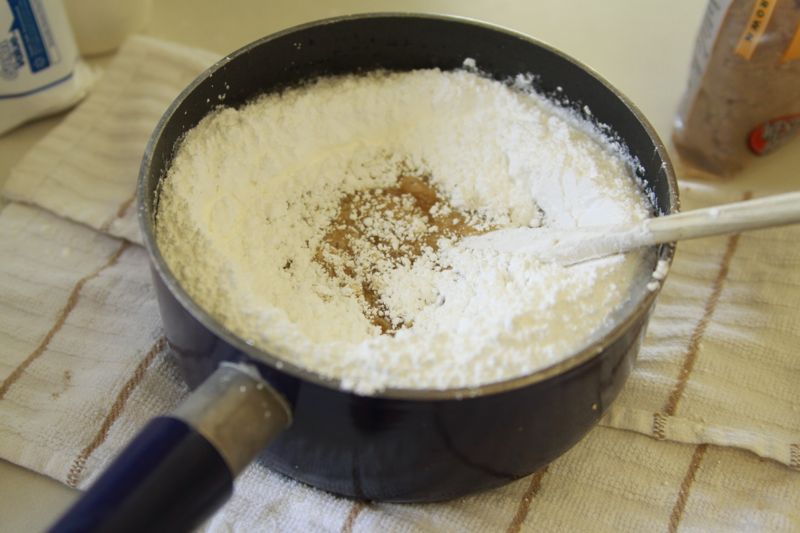 By now your entire kitchen will smell like caramel (aka heaven).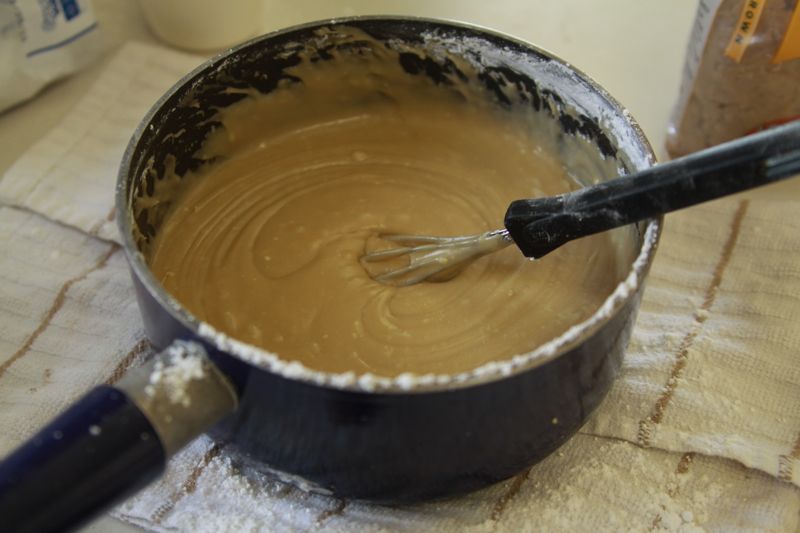 Your caramel cream frosting will be fairly runny right now, but it will firm up quickly once it cools, so try to work fast. Using a large spoon (large as in soup spoon not teaspoon), scoop up some caramel cream…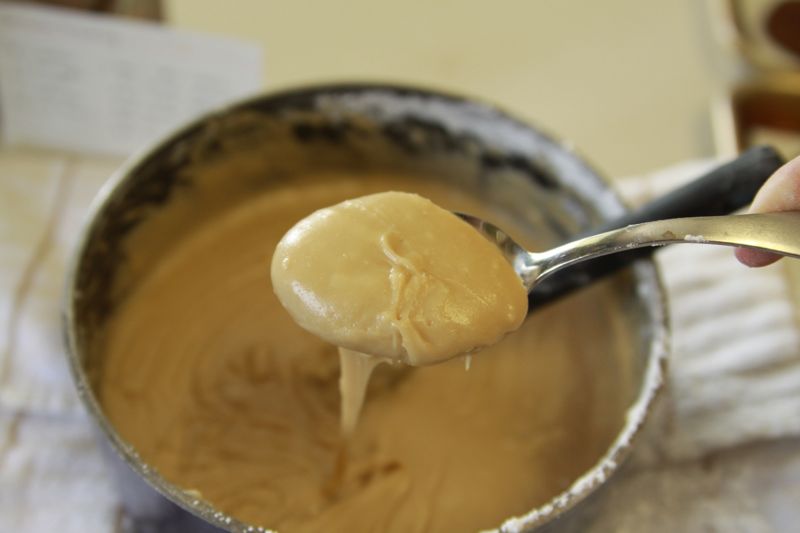 …and dump it onto one of the upsidedown cookies waiting for your on your cookie sheets.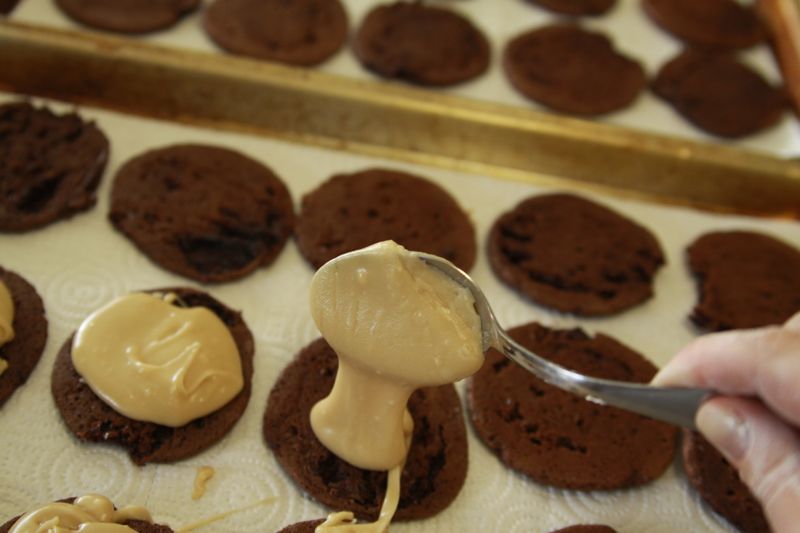 I love filling sandwich cookies this way (instead of picking up one at a time and spreading frosting on with a knife) because it's easy to see how much frosting you have left and use more or less as you go along.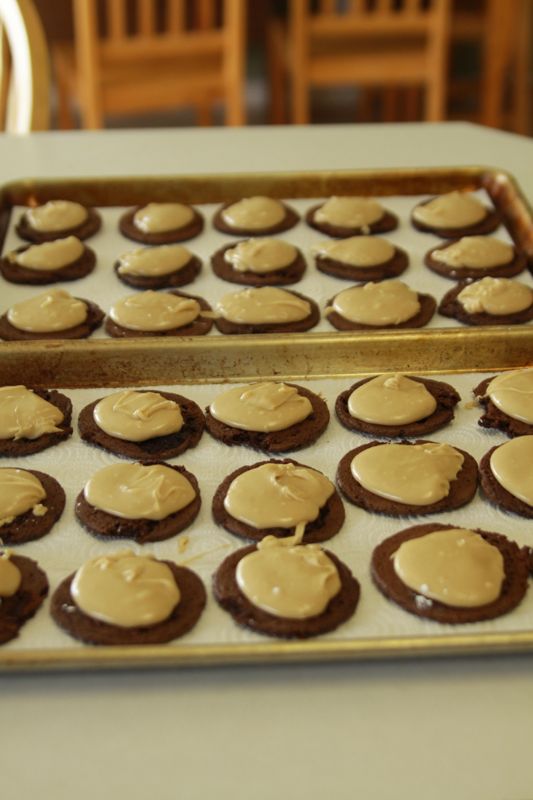 Then all you have to do is top each cookie with one of your remaining cookies, smooshing it down gently to squish the filling to the edges of the cookie.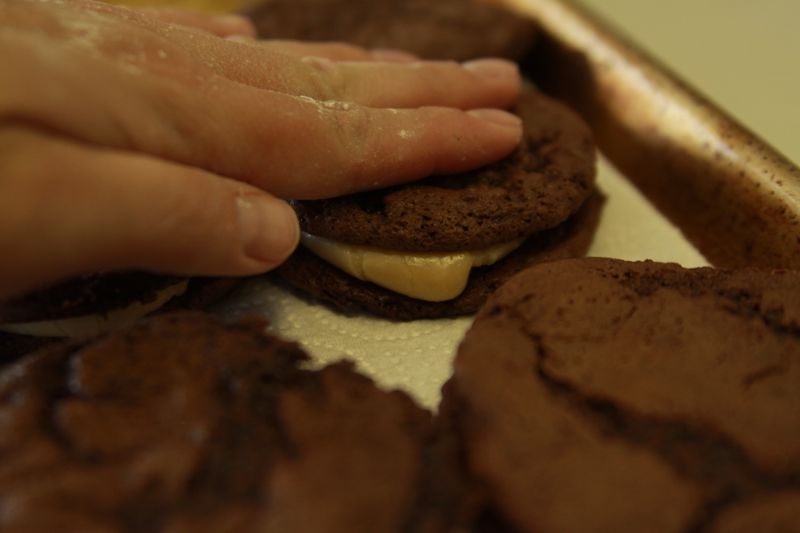 And then you can begin devouring one. Doesn't it look good?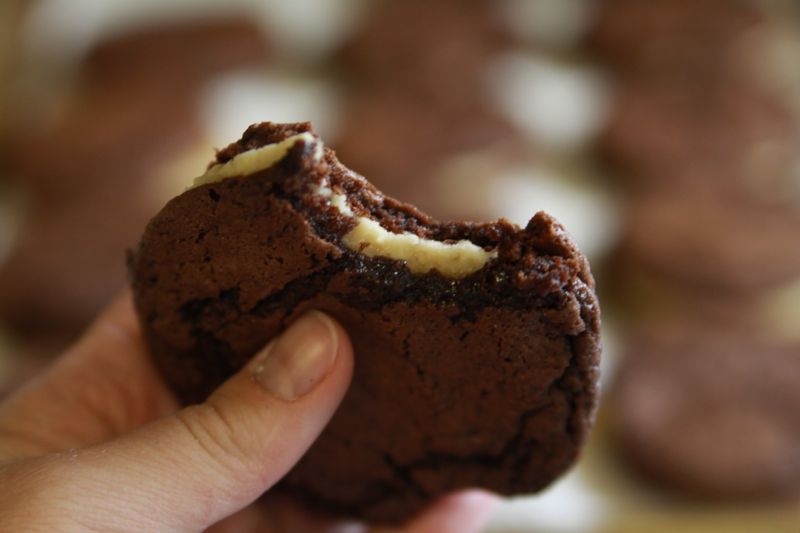 Yes please.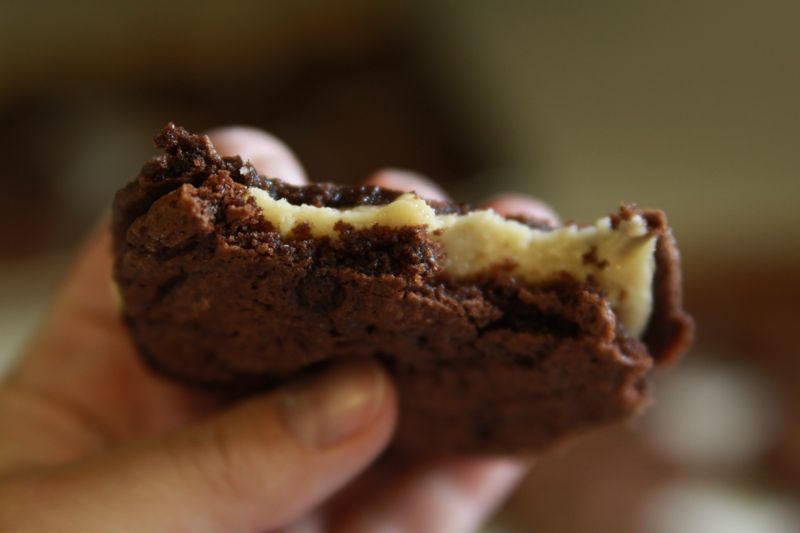 Chocolate sandwich cookies with caramel cream
Cookies:
2 boxes chocolate cake mix
6 eggs
1 C oil
Mix together with a wooden spoon. Scoop onto greased or lined cookie sheet and cook at 350 degrees for about eleven minutes, until tops are cracked. Let cool a few minutes on cookie sheet before removing.
Filling:
1/2 C butter
1 C brown sugar
1 t vanilla
1/4 C milk
3 1/2 C powdered sugar
Melt butter and brown sugar together. Stir and boil for one minute, then remove from eat and whisk in milk and vanilla. Whisk in powdered sugar. Frost cookies immediately, as filling will firm up as it cools.
Makes 30 large sandwich cookies