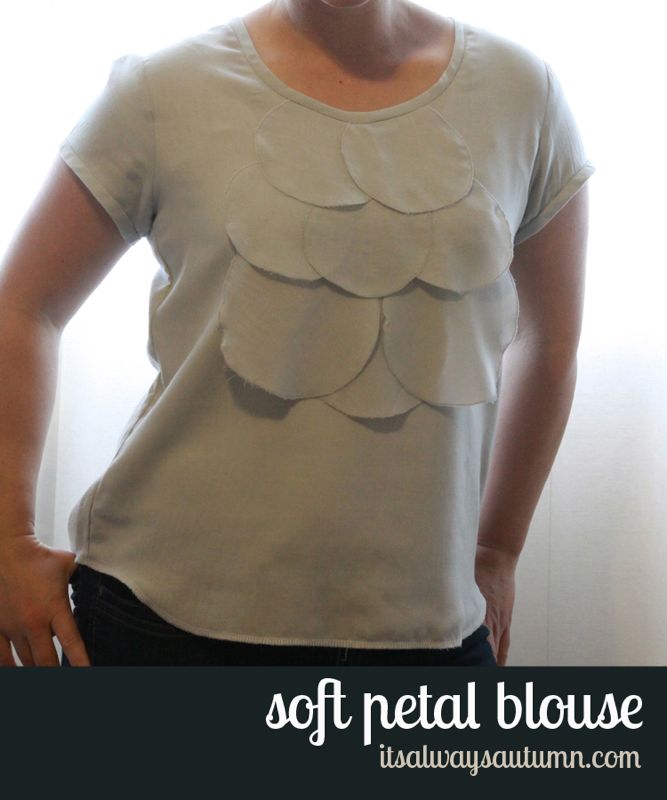 I've had an idea for a blouse running through my head for a bit now – a really soft, simple blouse with just a little shape and some circles, or petals, embellishing the front. I was looking for a simple, neutral color, and a light airy feel. I think I got it! Here's how:
I started by using an existing shirt as a pattern to cut the front and back pieces of the shirt. Since the fabric I chose was soft and sheer, I used a double thickness for the front and back. (Like the shirt I used as a pattern? Check out my
tutorial for making it
.)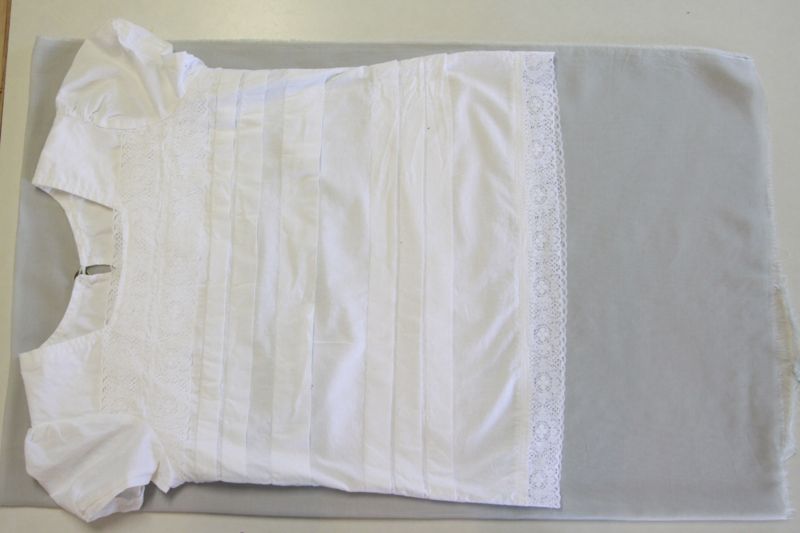 I actually cut a third piece to use at the top of the back since I really hate how those pesky bra straps seem to show through everything. The picture below shows the back and front, both folded down the center, as they started out. I cut a lower neckline in the front, opened up both the front and the back, and then stay-stitched around the neckline and armholes. Stay-stitching serves to keep these curved areas from stretching out of shape, and in my case it also served to baste the double layers together so it's easier to treat the two (or three) layers as one piece.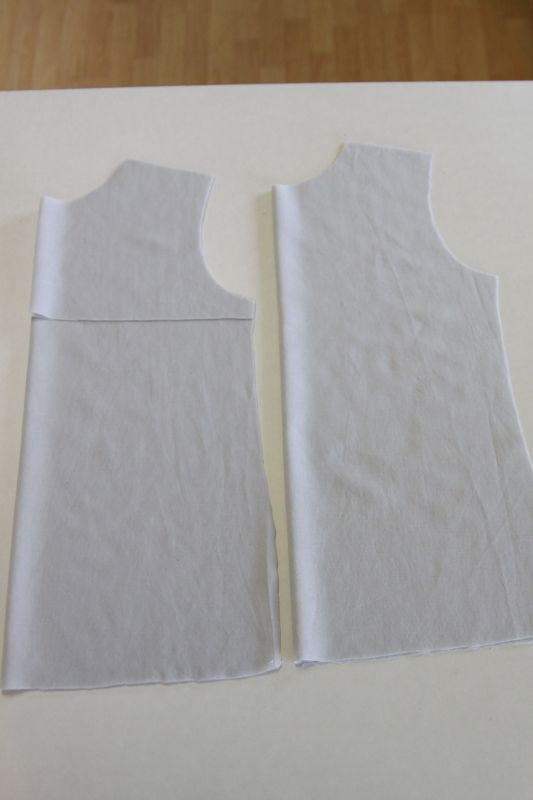 Next I started constructing the blouse by sewing the front and back together at each shoulder, and down each side. I tried it on, took it in a smidge at the waist to give it a little more shape, and then when I was happy with the fit I finished my seams with a serger.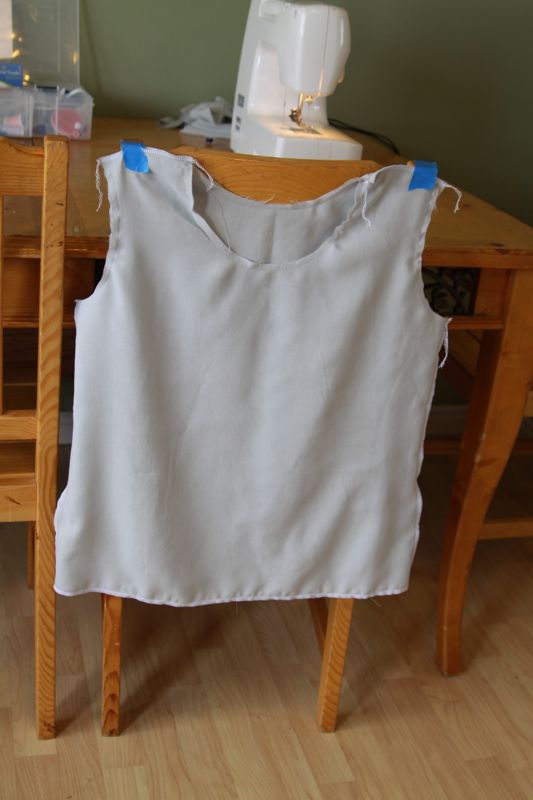 Next came the trickiest part: the sleeves. I always tells myself I'll just use a sleeve pattern from a commercial pattern to save myself the hassle of drafting a sleeve, but I never do (I guess I haven't found one I like well enough yet). I cut a short sleeve with enough width to make sure it's not too tight around my upper arms (I apparently have large upper arms – sleeves are always too tight for me).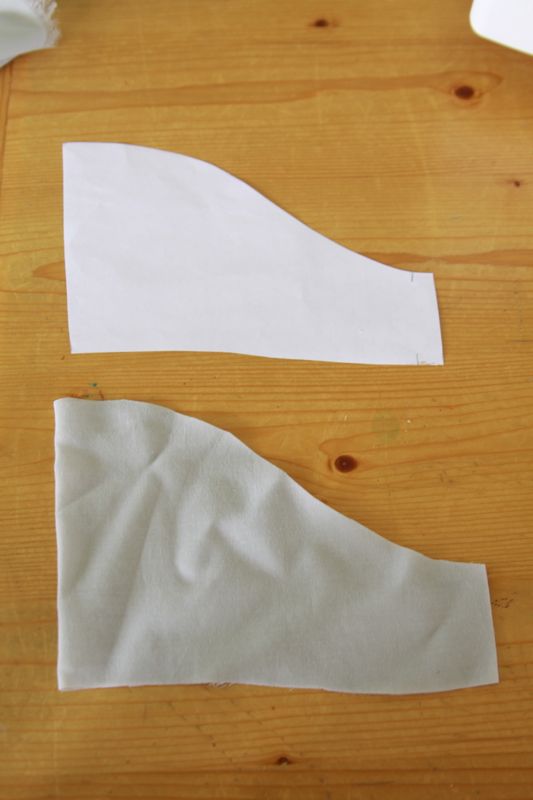 I traced myself a paper pattern of the sleeve I ended up using (after cutting, pinning the sleeve into the armhole, then unpinning and cutting some more to make it fit better). If you're smarter than I am, you'd just find a commercial pattern with a nice easy cap sleeve and use that whenever you're making a blouse. I did it the hard way, but in the end it worked. And here's where we've gotten to: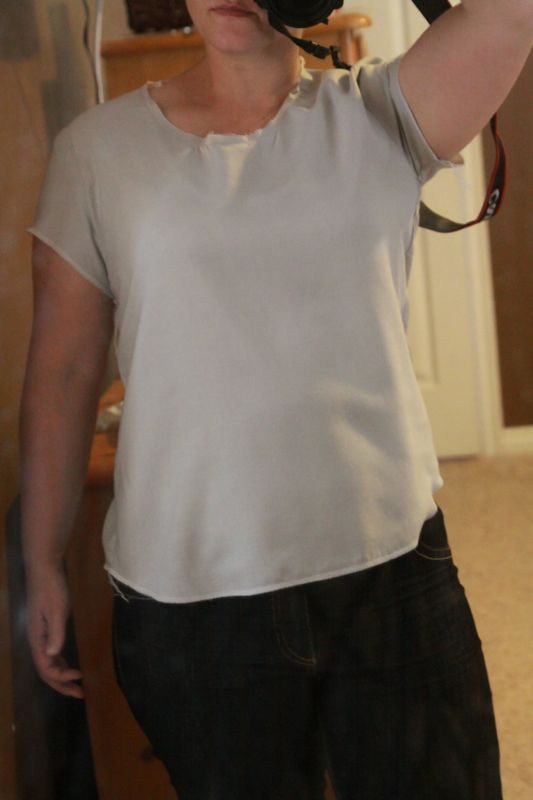 A fairly boring grey shell with cap sleeves and a completely unfinished neckline (that also happens to drape pretty nicely when I'm not holding a camera up to my face with one hand). I serged around the hem and bottom of the sleeves to keep the fabric from fraying anymore while I decided what to do next.
I grabbed some scraps of fabric and a small plate and traced some circles, then cut them out and cut them straight along one edge. By holding the circles up in front of me while looking in the mirror, I decided I wanted to use five small circles (or petals) and three slightly larger ones.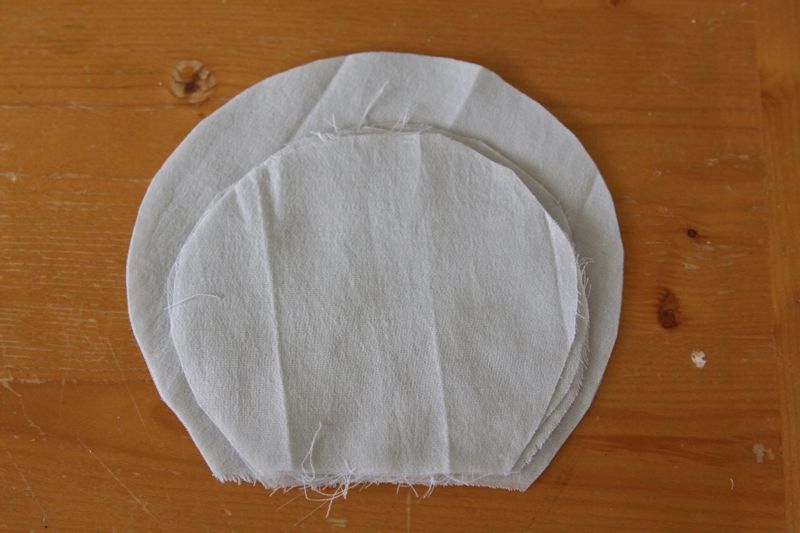 As I've mentioned before this fabric is very soft and sheer, which is one of the reasons I chose it to make this particular shirt (that and the fact that it was $1.50/yd at Walmart). I wanted the petals embellishing the front to be extremely light and airy. So the method of finishing them was a bit of a quandary. I didn't want to add a hem, which would take away from the lightness around the edge (even a rolled hem seemed like it would make them too stiff at the edges). But the fabric frays pretty terribly, so I couldn't leave them unfinished. Sewing two together then turning inside out wasn't an option either since I really wanted a single thickness only.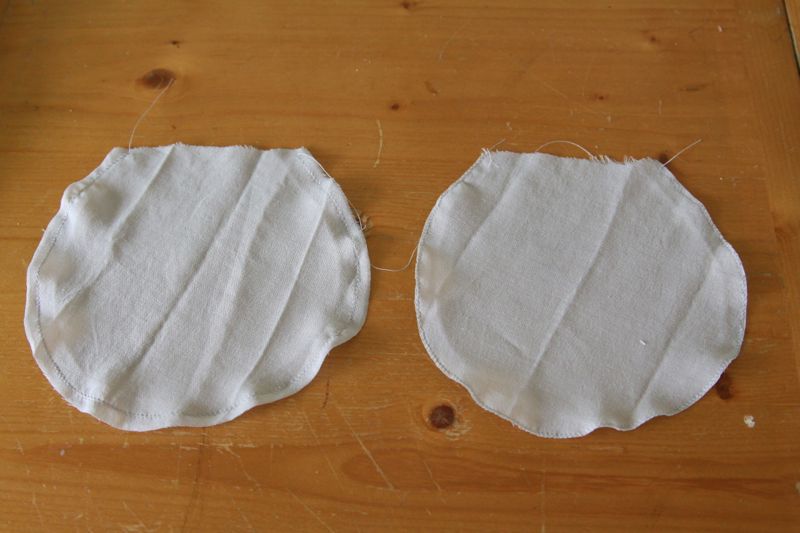 In the end I sewed a narrow zig zag about 1/4 inch away from the edge of each circle. Then I trimmed very close to the zigzag. When I wash the shirt I'm sure it will try to fray a little, but the zig zag stitch should put an end to that pretty quickly. I like how the zig zag edge gives just a little dimension to each circle without making them stiff. I think I'll need to wash it on delicate, which I don't usually like to have to do (laundry is my nemesis, after all), but I guess it's worth a little extra work for a pretty blouse.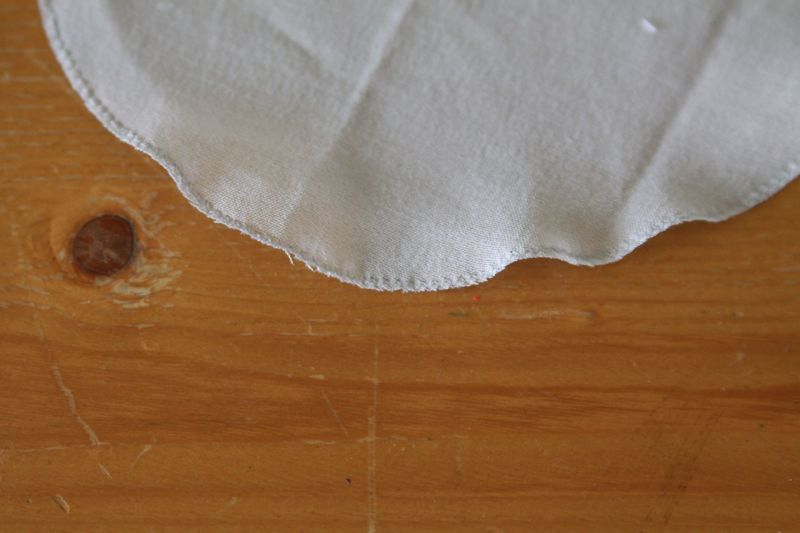 The next step was to pin the petals on the front of the shirt and then try it on to make sure I liked the position. I pinned the top two petals close enough to the neckline that they're top edges would be covered by whatever method I decided to finish the neckline with. I pinned the successive rows of petals close enough that each row of petals would cover the stitching on the row below it. I sewed the petals on using that same narrow zig zag, again trimming close to the zig zag after stitching.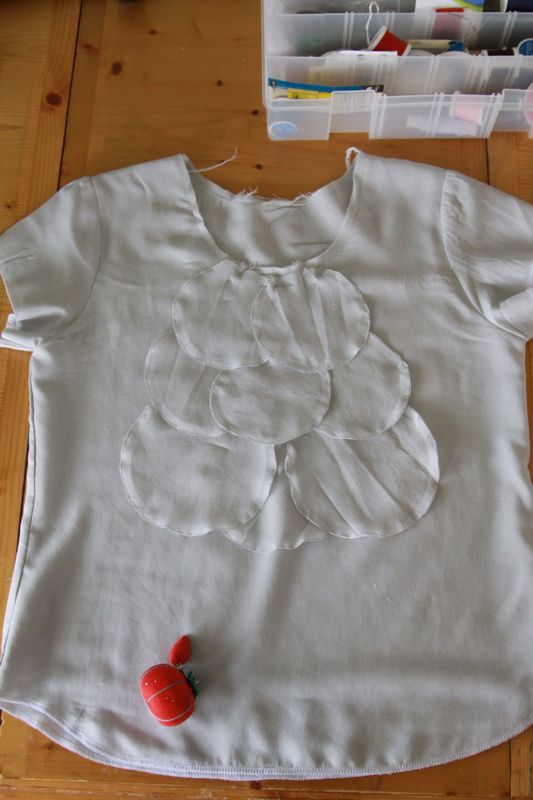 Once the petals were all sewn on I decided I quite liked the serged edge at the bottom hem, so I decided to leave it as is, just curving up the hem a bit at the side seams (sometimes I'm a little, shall we say, optimistic about the width of my hips when I'm making up a pattern – so bringing the hem on the sides aboves my hips gave the shirt a bit of much needed breathing room).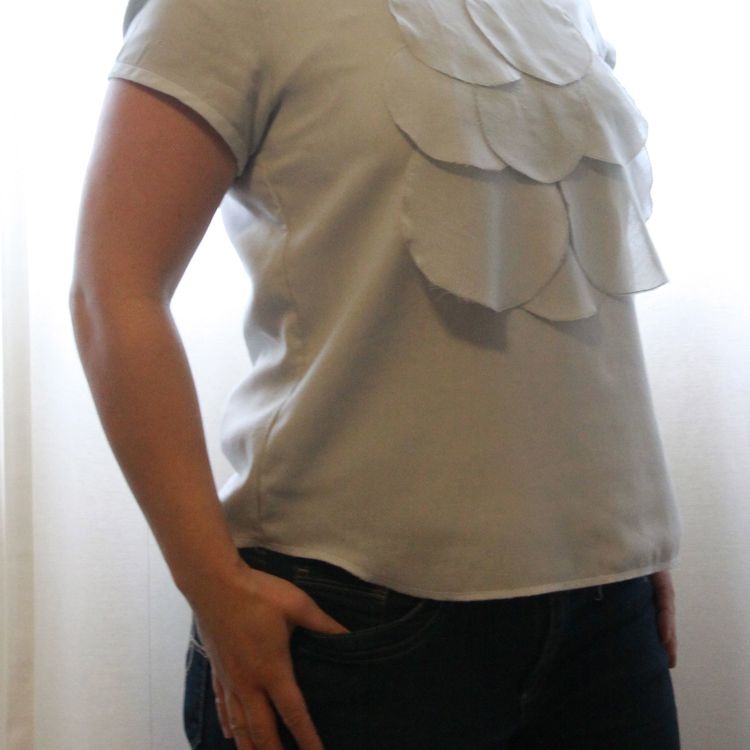 I decided to finish the neckline and armholes with bias tape made from the same fabric. Bias tape finish always looks so, well, finished to me.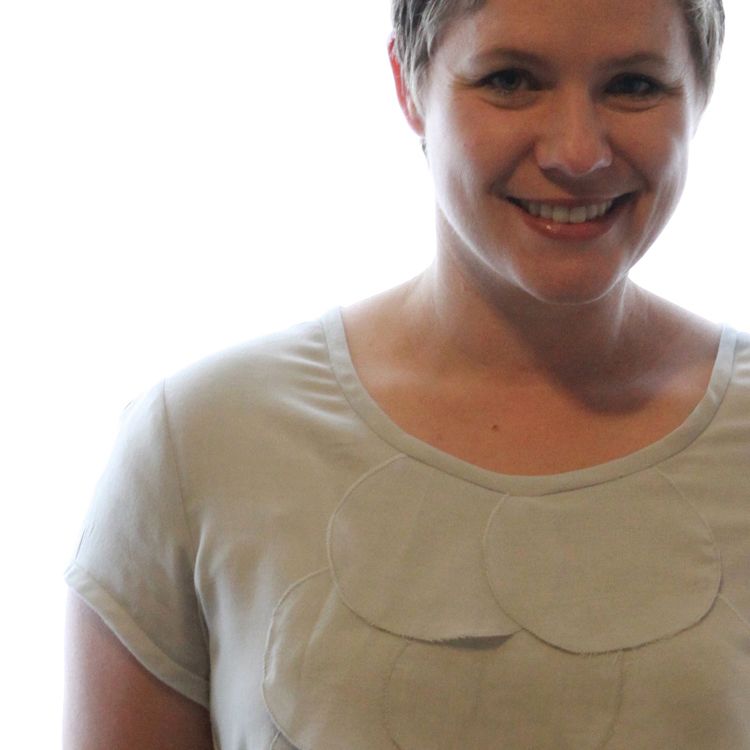 After clipping stray threads and a good once over with the iron, my soft petal blouse was complete.
I really like how light it is without being see through. I think the serged edges as opposed to a more finished edge keep it casual enough to wear with jeans (because that's what I wear most every day during the winter)…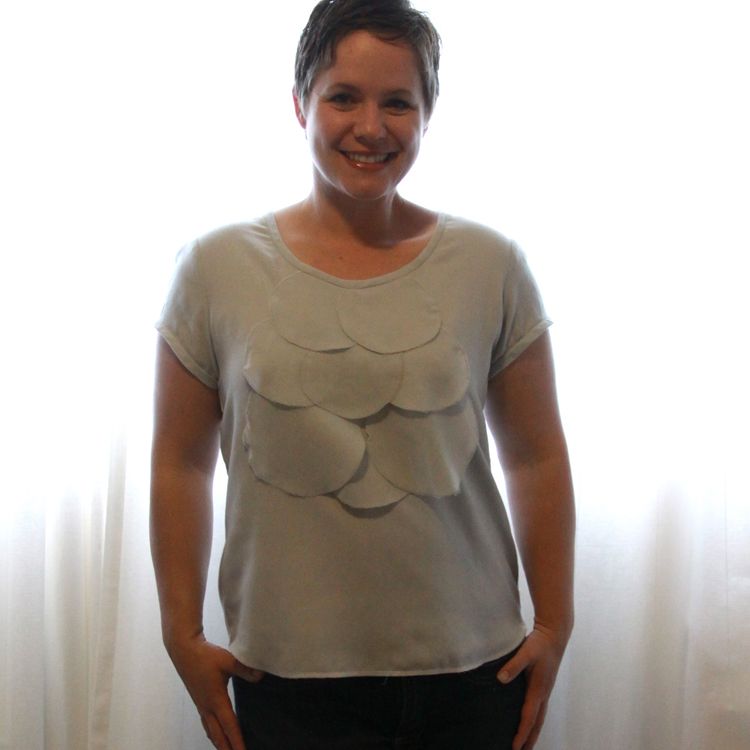 …but it also looks really cute with a skirt, which is what I wear almost every day during the summer.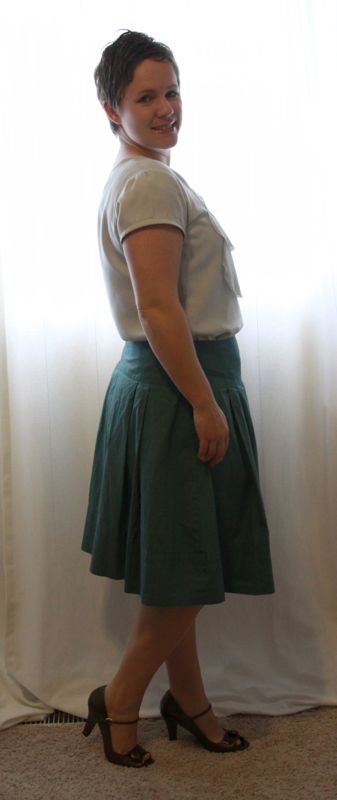 One light, airy, soft petal blouse.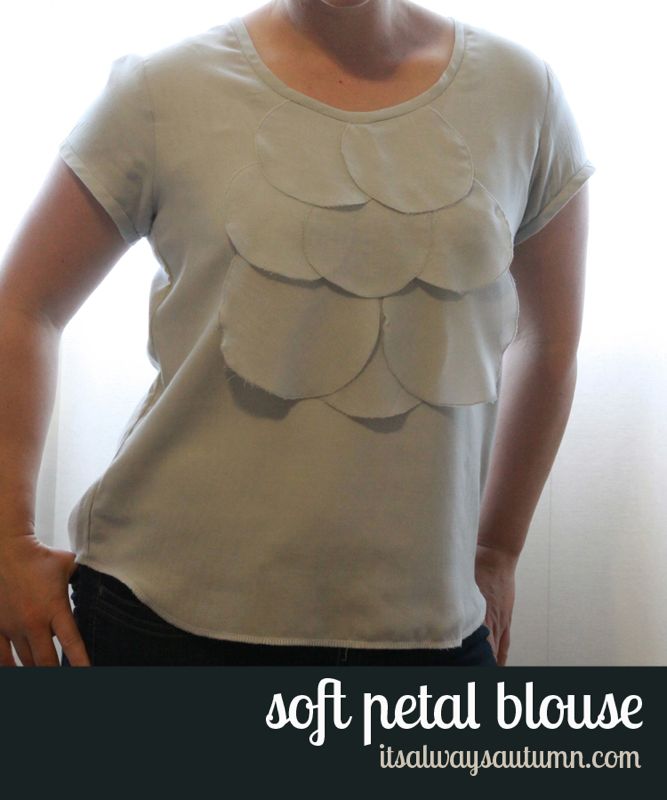 Linked up at: