The May/June 2012 issue of Creating Keepsakes hits newstands today, and CK's giving one of you a chance to win your very own copy straight from my blog!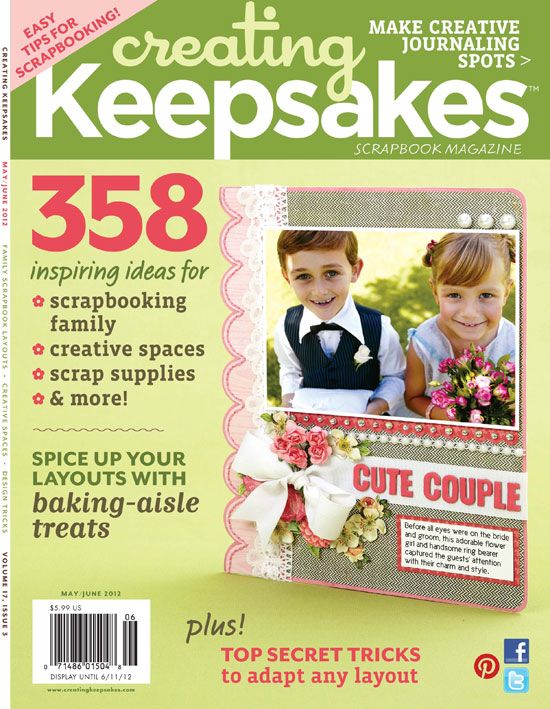 It's a fantastic issue, full of all sorts of tips and tricks. My favorite article of the issue is all about scrapbooking your family, which starts off with a layout by Cindy Tobey on which she uses baker's twine to create a really cool background (p. 44). And there are some great layouts in the reader gallery this month, including a Disney land layout by Jennie McGarvey that combines a clean design with fun pictures and a sophisticated mix of patterned papers.
I have a layout featured in the Tips and Tricks sections of this issue: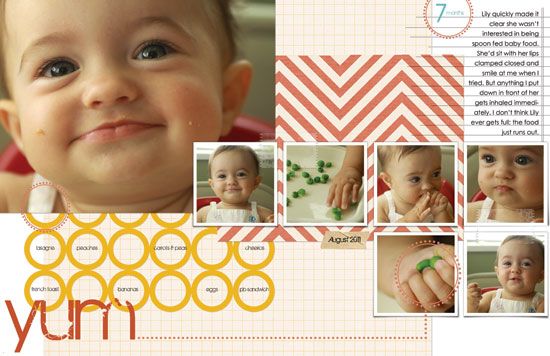 As seen in the May/June 2012 issue of Creating Keepsakes magazine. Copyright Creative Crafts Group. Posted with prior permission from the publisher.
Check out p. 20 to find my layout, then hop online to see all the extra features and downloads that go along with this issue, including the video I made teaching you how to make a chevron pattern from striped digital paper! (And in case you are wondering, yes I feel like a complete dork when I listen to myself on this video – not that I sit around all day listening to my own video, but you know what I mean, right?)
If you want to purchase your own copy, you can do so here.
But if you want a chance to win a free copy, leave me a comment! If you'd like an even better chance to win, leave me a second comment telling me which photo/post from my blog you have pinned on pinterest or liked on facebook. And if you want to be sure you never miss another post or CK giveaway from itsalwaysautumn, click on that supersized button on my sidebar to like my page on facebook.
And just in case you need more chances to win a free issue, check out these other blogs that are giving away copies as well!
Remember to check back in a few days to see if you've won!