First off, I'm guest blogging over at the Creating Keepsakes blog today, talking about using pinterest as a color scheme inspiration source. CK is "scrapbooking around the house" this week during the lead-up to National Scrapbooking Day, and today's room is the living room. I used images of gorgeous livings rooms on pinterest to create five different color schemes for use on your scrapbook pages. I also show you a layout I made about a recent family trip to Arches National Park using one of the color schemes.
But OF COURSE I had more pictures from our trip than I could fit on one layout, so I made another. I thought it might be fun to show you how I put together the layout from start to finish. It's a fairly simple layout, so it took me less than an hour to create.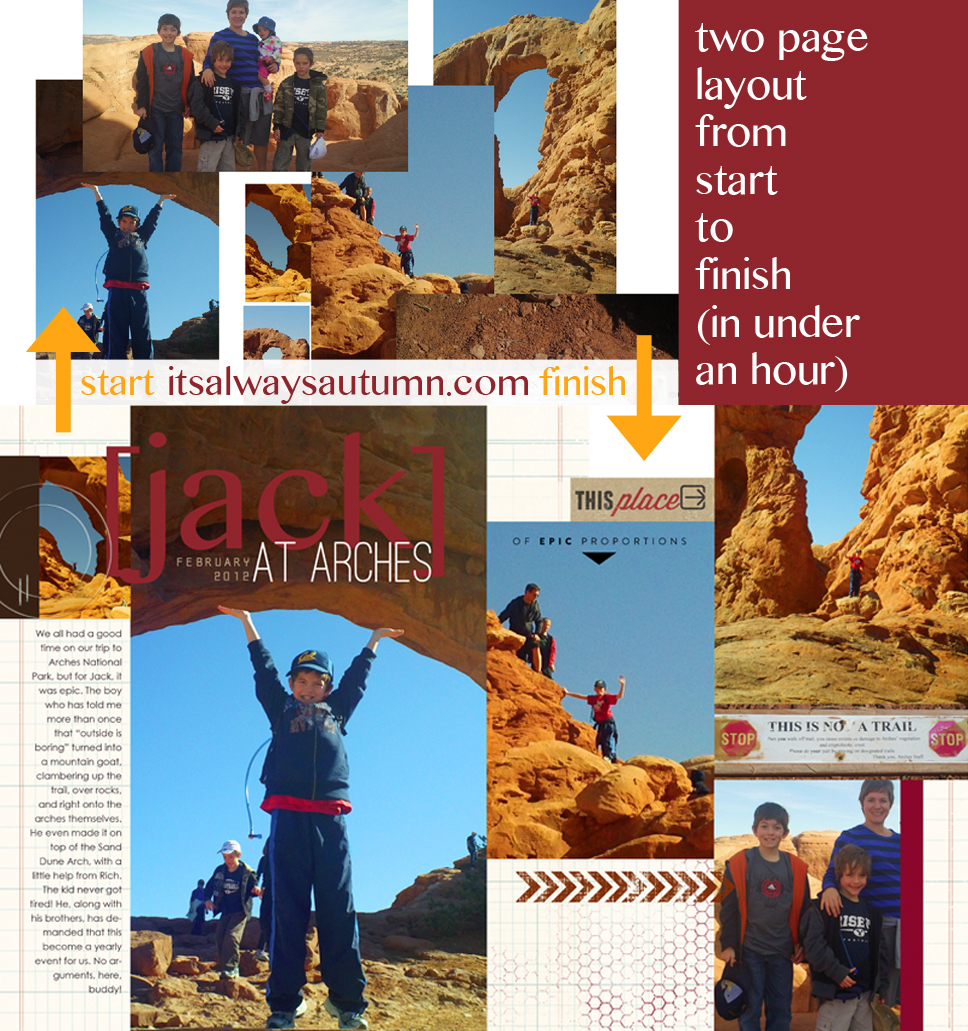 I always think it's fun to see how other people approach making layouts. Today's layout was created digitally in Photoshop Elements, but the process for putting it together is very similar to the process I use when I create paper layouts.
I always start with two pieces of white 8.5×11 cardstock laid out on my desk (on a 17×11 file opened in Photoshop). I like to throw my pictures down on the blank canvas and start moving them around to get an idea of where I want things.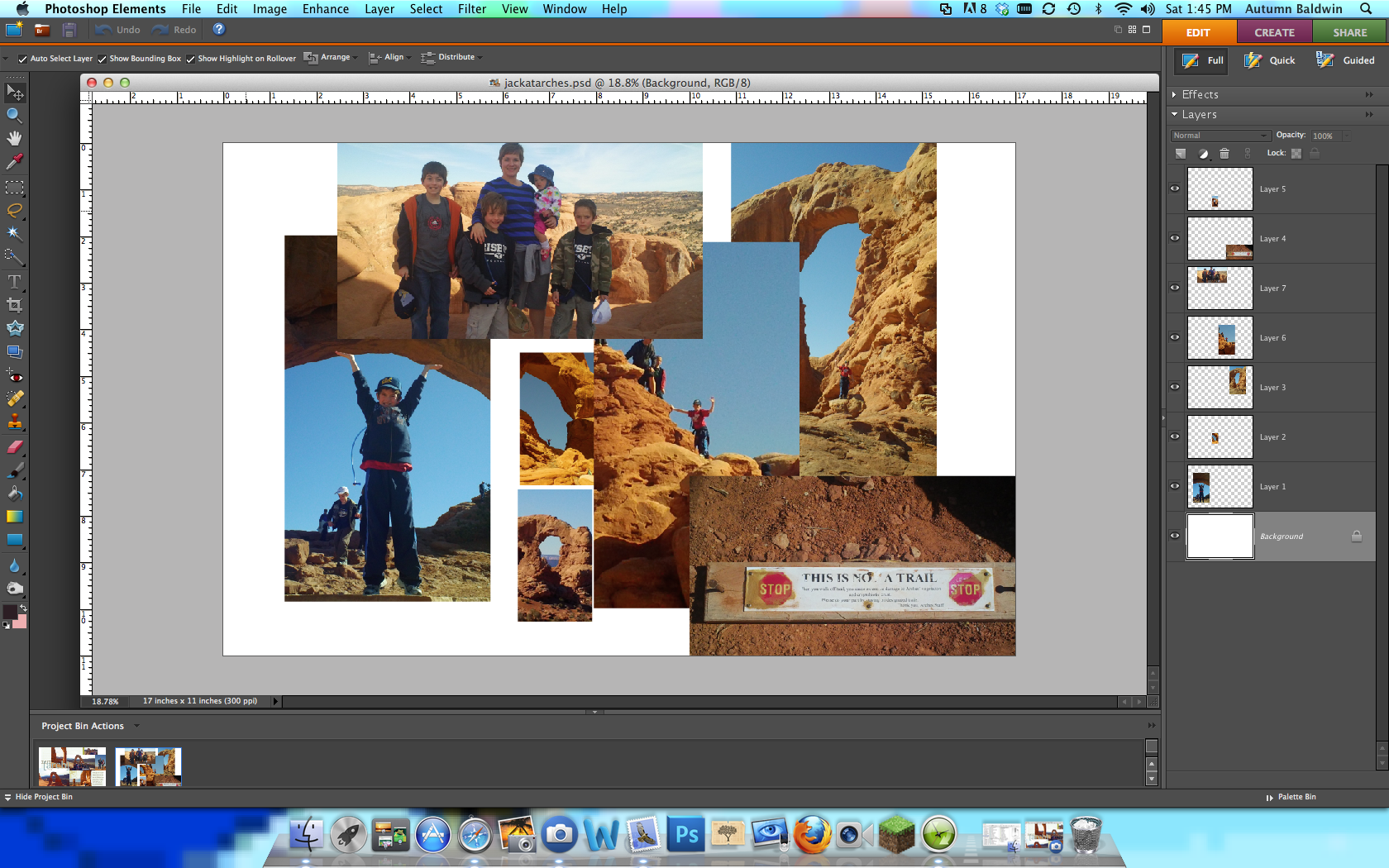 These were pictures I took using my kids' new digital cameras because I didn't take my camera. That's right, we went to the most scenic place in the entire state and I didn't take my camera. On purpose. (Tangent alert!) I love my Canon 50d, really love it. But when we're going somewhere that I know hiking and backpacks and kids and cliffs, etc., will be involved, I hesitate to bring it. And I've been known to get so caught up in getting "the perfect shot" that I sometimes loose the enjoyment of actually experiencing the moment. So I decided to leave my camera home for this trip.
And then my husband got to hear me gripe about the fact that I couldn't BELIEVE I didn't have my camera with me for two full days. But he was very patient, and explained that when we bought him an iPhone I wouldn't need to bring my camera along all the time because the iPhone takes great pics, etc. Hmmm….
Anyhow, I grabbed the kid's cameras and started shooting away. I didn't pay attention to the fact that they were set on super low resolution (some of the pics are only .4 MP!), which is why some of the photos I've dropped onto my blank page here are teeny tiny and will not survive any attempt to enlarge them. Oh well, I'll just have to deal with it. (Tangent over)
Back to the layout! So, as always, I start moving my photos around on the page until I get a sense of where I want them to end up. One thing I really LOVE about digital scrapbooking is that I can make them bigger or smaller during this process, which really frees up layout options. Here's where my photos ended up: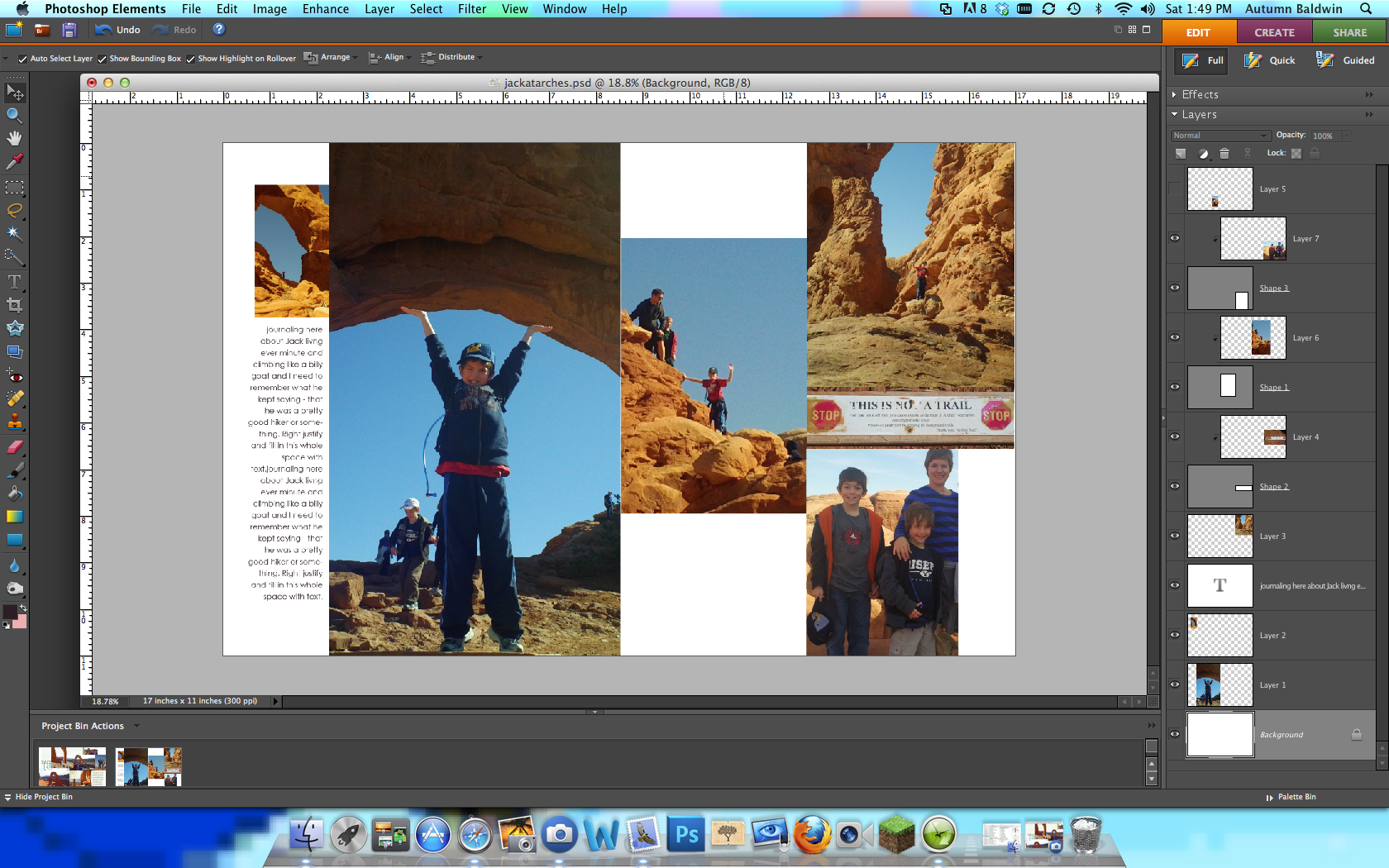 I also threw in some space-holding text (another thing I love about digital scrapbooking). It's not my actual journaling, since I hadn't written it yet, but I like being able to figure out where I want the text to go. I journal on 98% of my pages, because I think pictures ARE NOT worth a thousand words. They're great, but without the words, how much are you really going to remember?
Next I added a title and date. I usually play around with different fonts or alphabets for my title, but this one came together quickly because I used the same format and fonts I used on my other page about Arches (the one you can see today on CK's blog), and just changed the words. I also added a rectangle around the perimeter of the whole layout…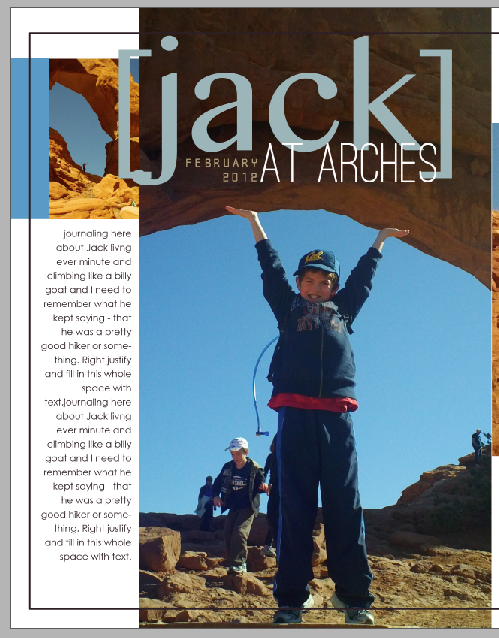 …which I ended up deleting almost immediately. It just wasn't working for me. I also ended up changing the title color as well.
Next, I decided the colors in the photos needed some boosting. I clicked on each one and opened the hue/saturation menu (control U). I boosted both the master saturation and the red saturation in each photo (although in the large photo I did go back and take the extra red out of Jack's face).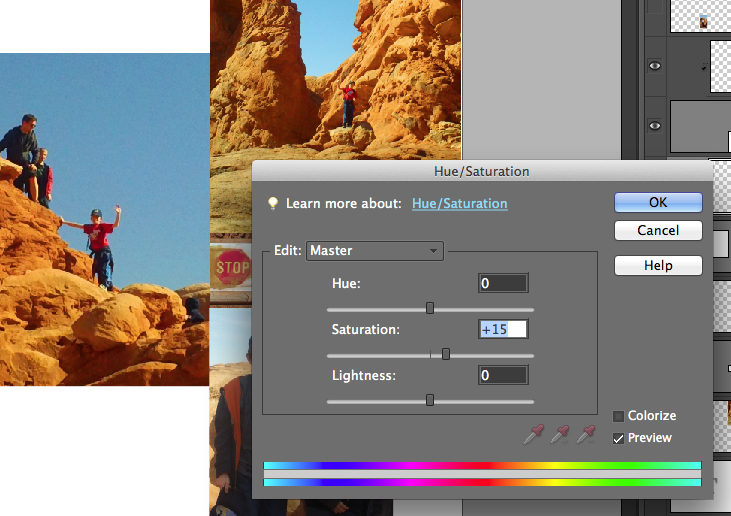 You might notice I've gotten this far on the layout without opening any additional digital supplies. I've always been a "simple scrapper" which means I usually don't use tons of supplies on any one layout. I actually use more supplies on my digital layouts than I do on paper layouts, partly because they are re-useable and therefore less expensive, and partly because I love how easy it is to try out different looks and supplies digitally. But I really wanted this layout to have more of a magazine spread feel, which means fewer embellishments AND no drop shadows (which I add on most of my digital pages). I like the flat look here.
When it comes to embellishments, my process is fairly similar whether it's paper or digital. Here's how it goes: I grab everything I think might look good and throw it on the page, move things around, and then eliminate stuff one by one. Here's the page after I've opened all the stuff I think might work: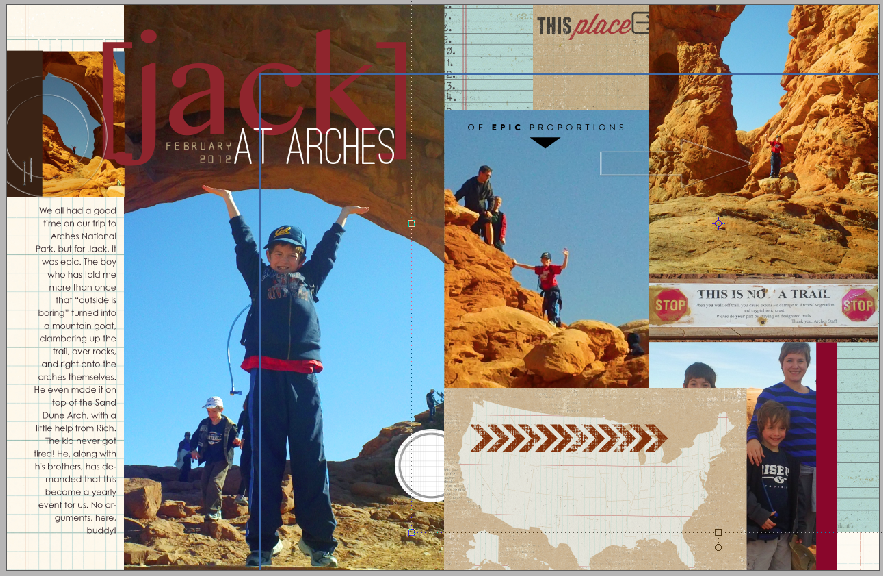 It's a bit of a mess. I play around for a few minutes with each element, deciding which gets to stay and which will go. The map card goes, as well as the round tag. The clear arrow goes, but the clear circle gets to stay, stapled over the tiny picture in the upper left. The blue ledger paper goes, but the cream ledger paper stays, with the opacity lowered a bit so it fades into the background a little. On some layouts I do this (opening up a bunch of supplies, then taking some off and keeping others) multiple times – today I only did it once.
Finally, switched out the place-holding text for some real journaling, made sure everything was lined up nicely, and saved the file as both a .psd (in case I ever want to come back and make changes) and a .jpg (for printing). Start to finish in less than an hour!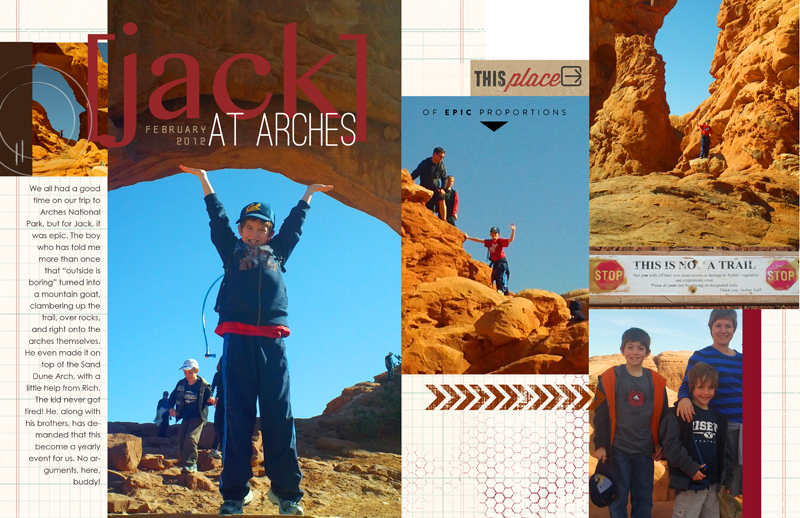 Supplies: staples, clear circle, texture: Karla Dudley; stamped arrows and tag: Robyn Meierotto; fonts: Century Gothic, Oriya MN; date stamps: Sahlin Studios; pp: unknown