Those of us on the Dream Team at Creating Keepsakes magazine have teamed up with Big Picture Classes to offer a fantastic 20-day workshop that will help you celebrate the ways you are living your dreams.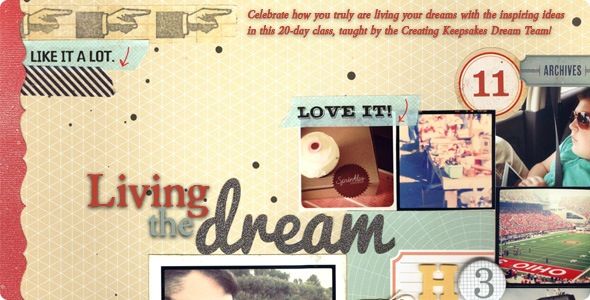 Here's the info from BPC's site:
How it works:
First you'll receive ten days of inspirational emails that will give you a photo prompt and a journaling prompt. This will help you really think about what your dreams are, and where those dreams started. During the next ten days you'll receive a handout from each Dream Team teacher that will give you the instructions and inspiration to complete a layout that documents the different ways that you're living your dream.
By the end of the class you'll have completed TEN layouts all about the ways you are fulfilling your dreams right now. Sounds pretty cool!
If you'd like to register for this online workshop, head here: Living The Dream at BPC
Or, if you'd like to WIN a free spot in the workshop, just leave me a comment! If you want more than one chance to win, just like the blog on facebook, or pin a picture from one of my posts, or post a link to the blog on your facebook page – then come back and leave me another comment.
Then visit these other blogs for more chances to win!
I'll post the winner on June 5th, so be sure to come back and see if you've won. Please note that each person may only win ONE spot to the class, so if your name is chosen on more than one blog then you'll get one spot and another winner will be chosen to fill the other spot.