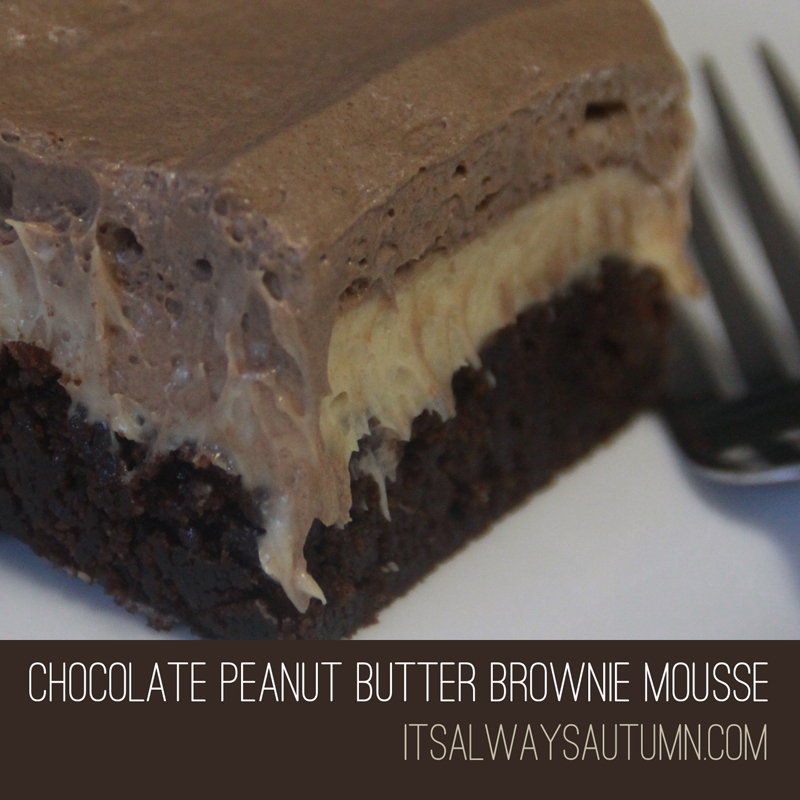 I asked my kids for help naming this dessert, since chocolate peanut butter brownie mousse seemed a bit of a mouthful, and after much discussion they have deemed it "The Colossus." I think they liked it.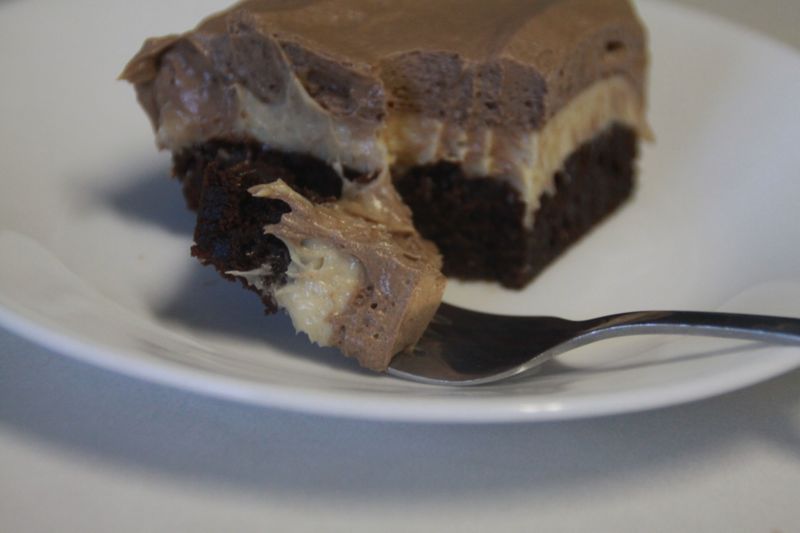 But really, what's not to like? You get a layer of chewy brownie, creamy peanut butter, and fluffy mousse in every bite.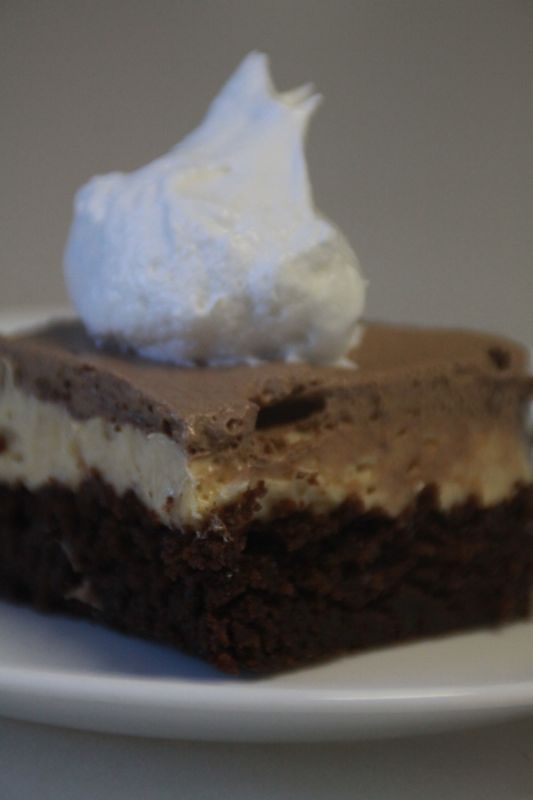 And when you top it all off with whipped cream, you get some of that too!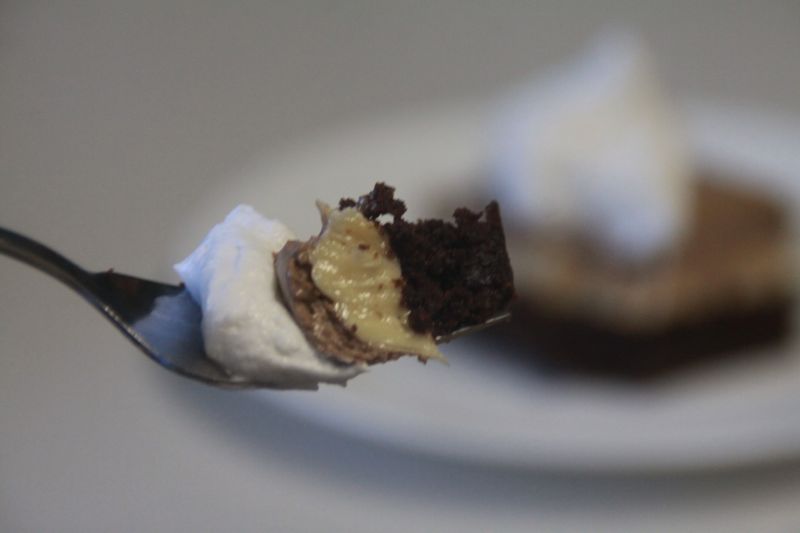 It's pretty fantastic, if I do say so myself. I have one disclaimer before I give you the recipe: I used Cool Whip, not real whipped cream, all through the recipe. I know some people think Cool Whip is of the devil, but you know, for all my baking snobberies I really don't mind Cool Whip. I kind of like it. And it's easy. And it's not nearly as bad for you as real whipped cream (cuz counting calories is obviously my main concern when I make desserts). Finally, the extra creamy Cool Whip really is extra creamy. So I apologize to any whipped cream purists out there, but for this recipe you need one of those big, 24 oz tubs of Cool Whip, which is enough to make the peanut butter and mousse layers and give you a little extra for topping. On to the recipe!
Brownie layer:
Mix up a family size boxed brownie mix (I prefer Duncan Hines) as directed on the package. Bake as directed until a toothpick inserted a few inches from the edge comes almost clean. Do not overbake! Allow to cool completely.
Peanut Butter layer:
8 oz package cream cheese
2 C powdered sugar
2/3 C creamy peanut butter
2 C whipped topping (such as Cool Whip)
Beat the cream cheese until smooth, then beat in the powdered sugar and peanut butter. Fold in whipped topping about a third at a time, using a spatula. Stop folding as soon as whipped topping is incorporated. Smooth over brownie layer. Make mousse immediately or refrigerate until you feel like making the mousse.
Chocolate Mousse Layer:
3/4 C semi sweet chocolate chips
3 T water
3 eggs yolks
4 t vanilla
2 C whipped topping
In a small saucepan, heat chocolate chips and water over med heat, stirring constantly, until melted and smooth. Crack egg yolks into a bowl and lightly beat them. Pour a small amount of chocolate into the eggs, whisking rapidly until mixed. Pour eggs into remaining chocolate in the pan, whisking constantly, and continue to heat. Cook and stir two minutes until slightly thickened. Remove from heat and mix in vanilla. Set aside to cool. When cool, fold in whipped topping a third at a time until completely incorporated. Spread over peanut butter layer. Chill for at least two hours before slicing and serving with whipped topping.
And believe me, it's just as delicious as it looks. And if you don't believe me, believe her: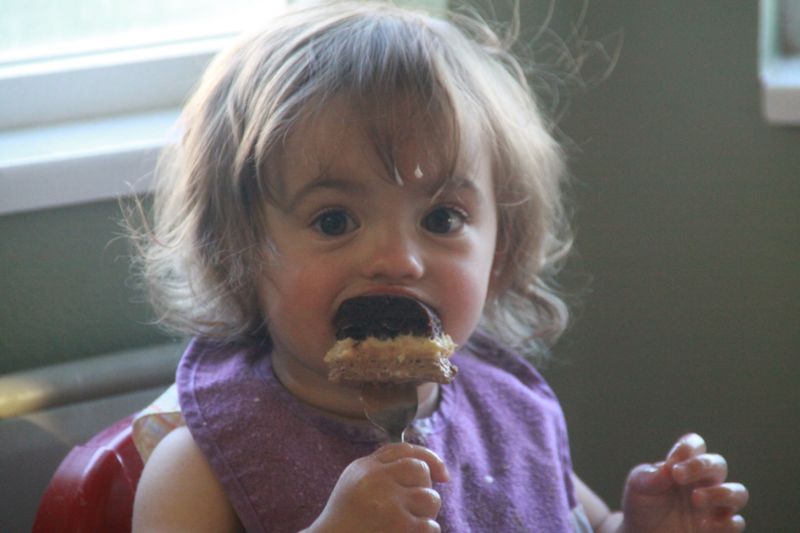 Yum.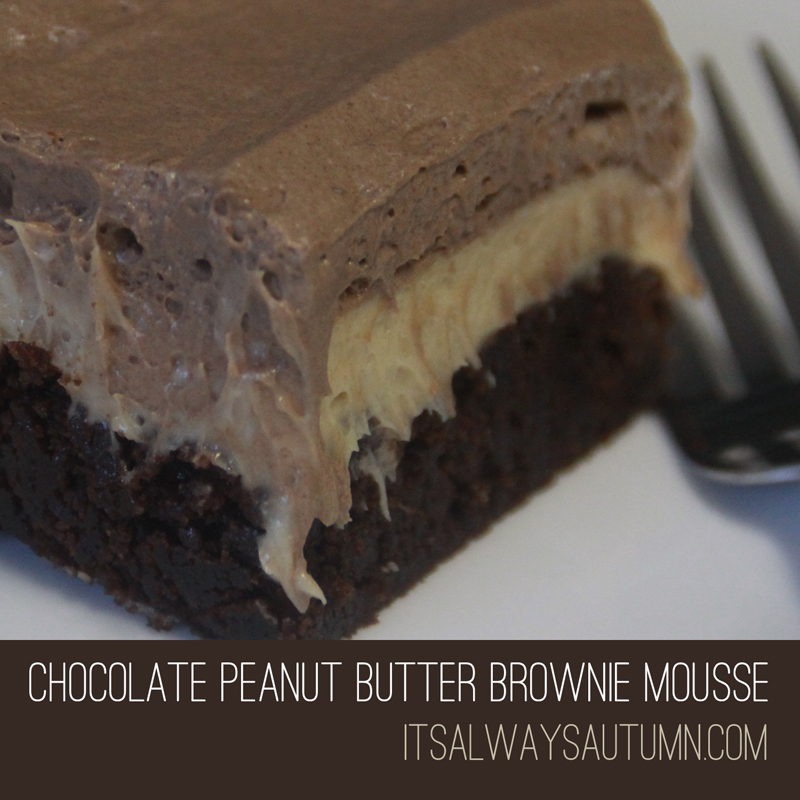 Linked up at: