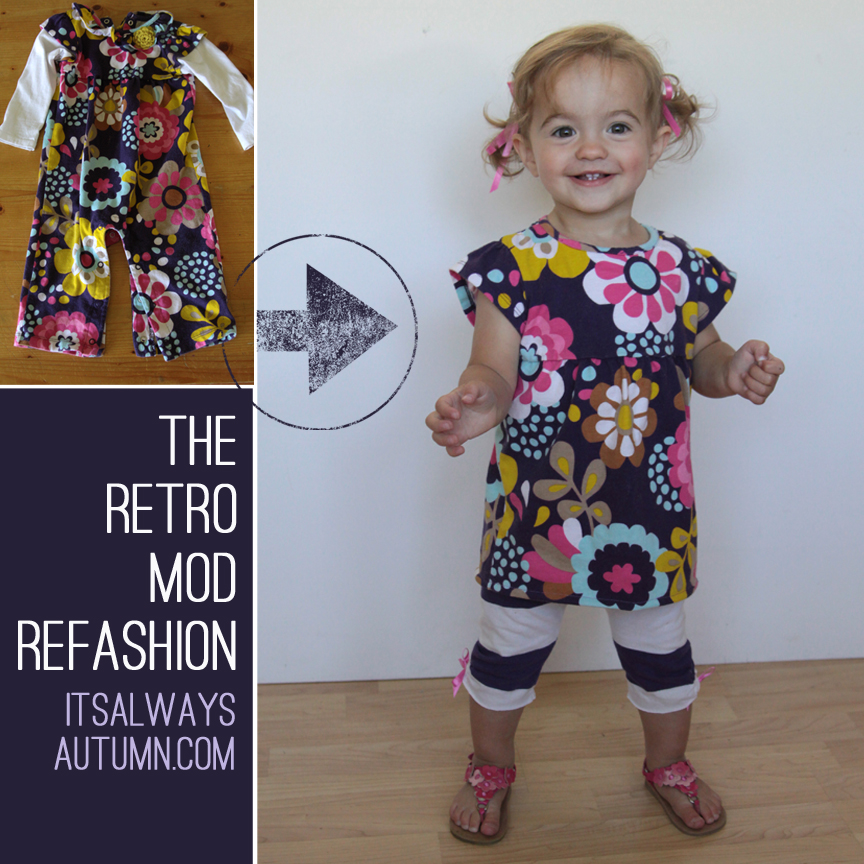 This was a really fun little refashion. I took something that was really rather ugly to begin with, removed the awful parts, added in a few fun twists, and ended up with an adorable outfit for my little girl. I'm calling it the retro mod refashion because the flower print of the tunic definitely has a retro feel, but pairing it with wide striped leggings helps modernize it a bit.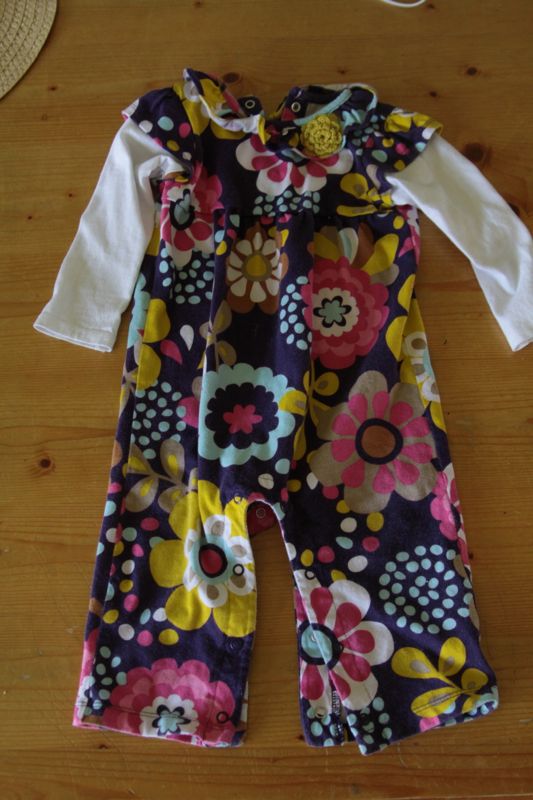 I started with this Carter's one piece jumper that I got on clearance for just a few dollars. I thought, "that print is a little crazy, but it's still kind of cute, right?" Wrong. When I put it on my daughter the huge ruffled collar completely overwhelmed everything, and paired with the crazy floral she ended up looking like a clown. It was ridiculous. But I still kind of liked the print – if only it weren't quite so head-to-toe overwhelming. So I ditched the ruffle and made the jumper into a tunic, then added leggings made from the sleeves I took off this shirt. Way better, right?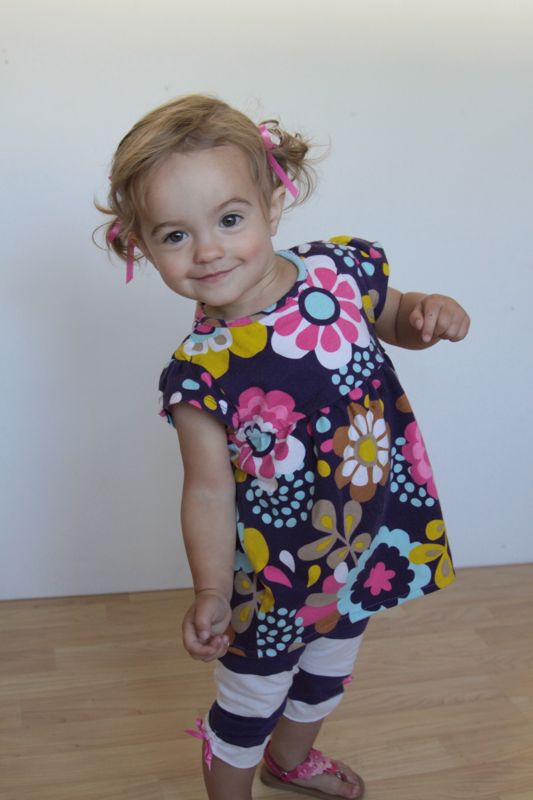 Here's the whole process:
First I unpicked the binding along the neckline so I could pull that ruffle off. I also took off the crocheted flower. I kind of liked the flower, but it's such a wierd mustard yellow/lime green color that it make the whole outfit look a little too seventies.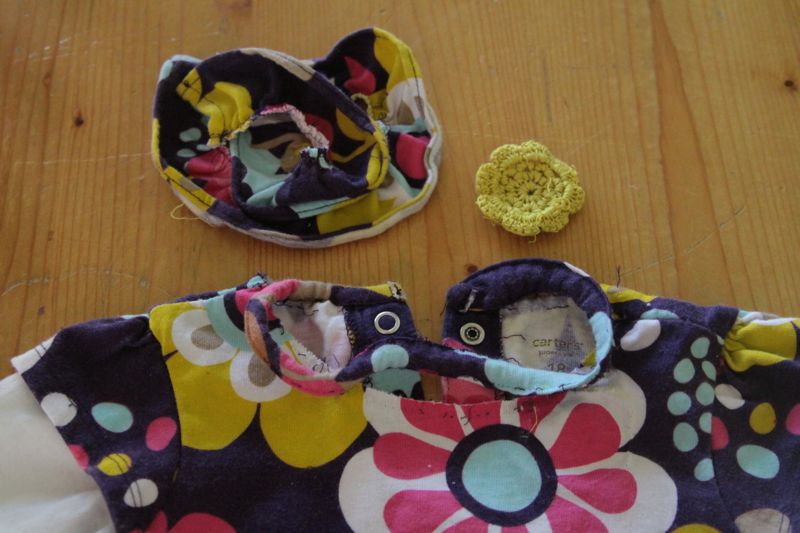 Once the ruffle was out, I pinned the binding back on and sewed in back into place.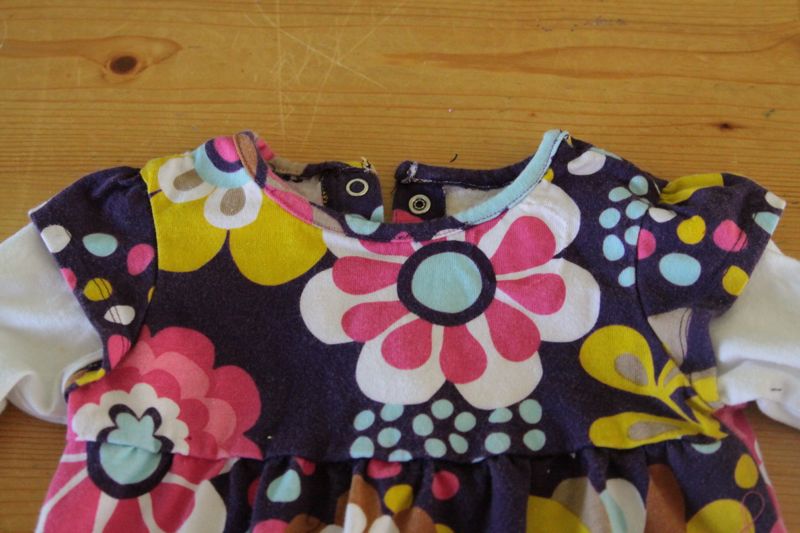 Then the long sleeves came off – which was really simple since the short sleeves on top of them were already hemmed separately. The pants came off as well, leaving a short sleeved tunic length shirt.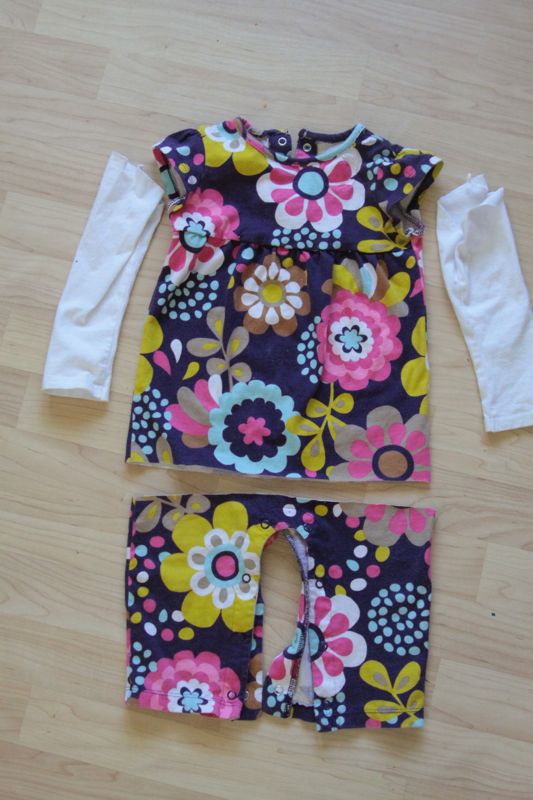 So much better, right? As a top the print isn't so overpowering. After a quick hem, the top was done.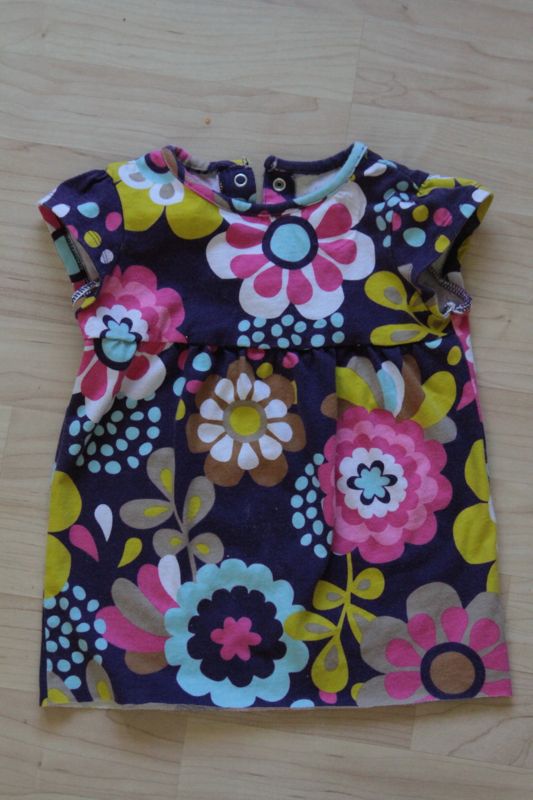 I was looking through my fabric scraps to see if I had any leftover knit I could use to make matching leggings, and I happened upon the sleeves from this top I refashioned a while ago. They matched perfectly! I cut out a quick pair of leggings…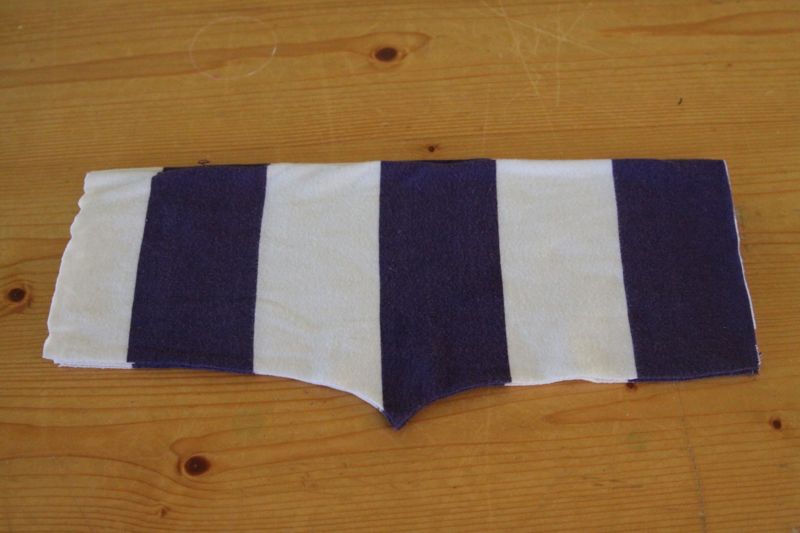 …and added bows that cinch up the sides sides in a pink that matched the top, just to pull it all together.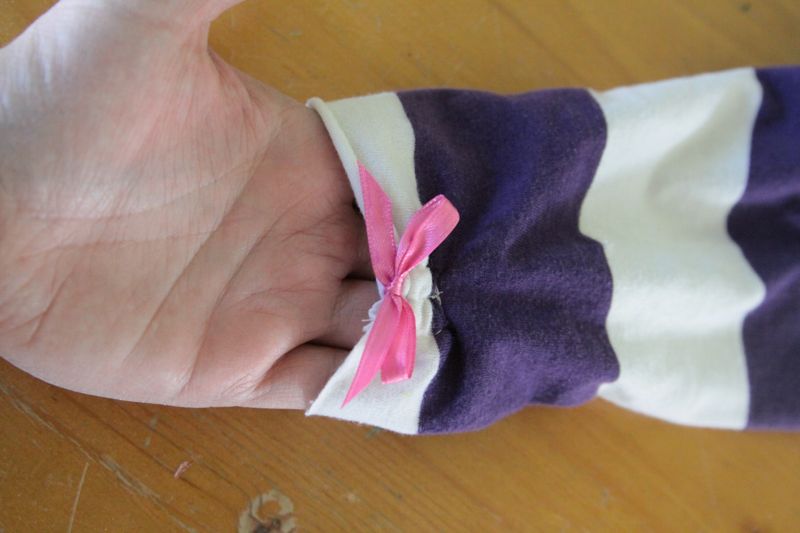 (Want to know how to make baby leggings out of sleeves? Check back later this week for a tutorial!)
And one more time, here's the finished product: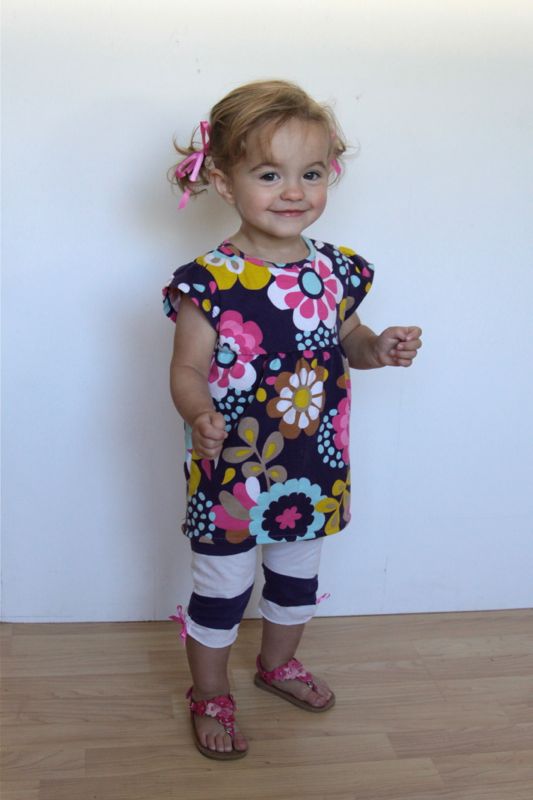 Perfect for running around. Or just running away from your mom when she's trying to take pictures of you.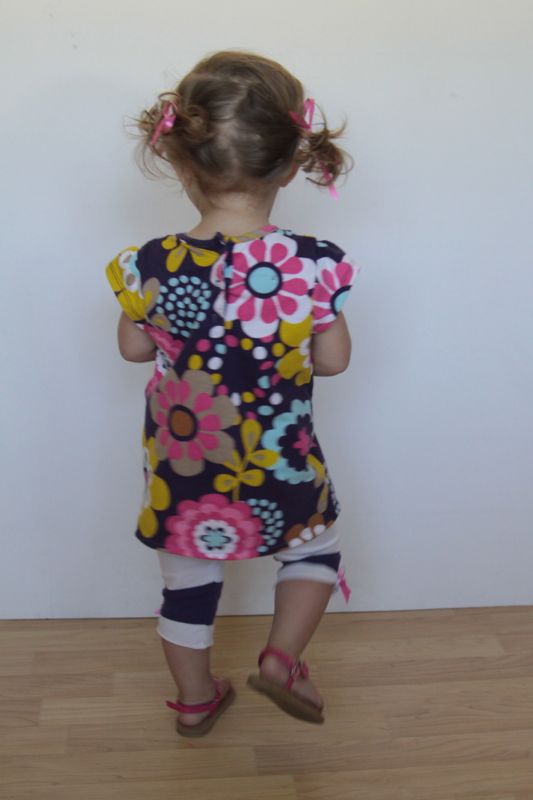 I love the little bows on the leggings.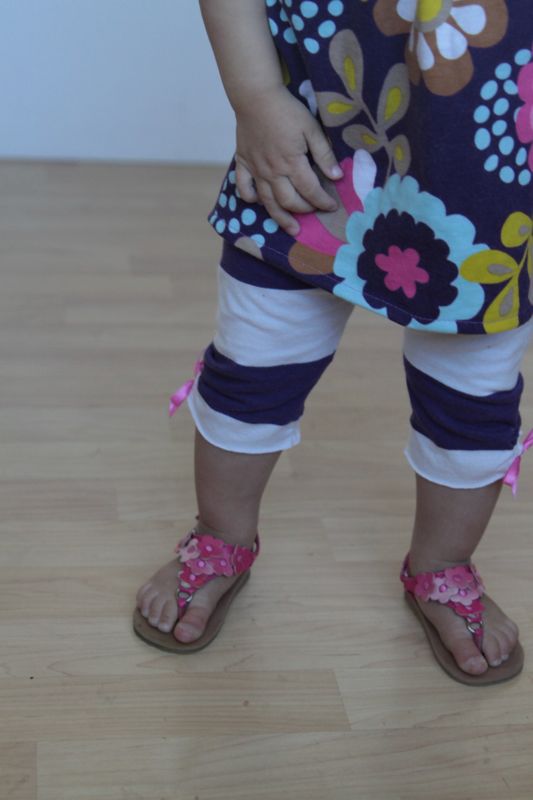 Actually, I love the whole thing. 'Cuz that little girl's pretty darn cute, too, right?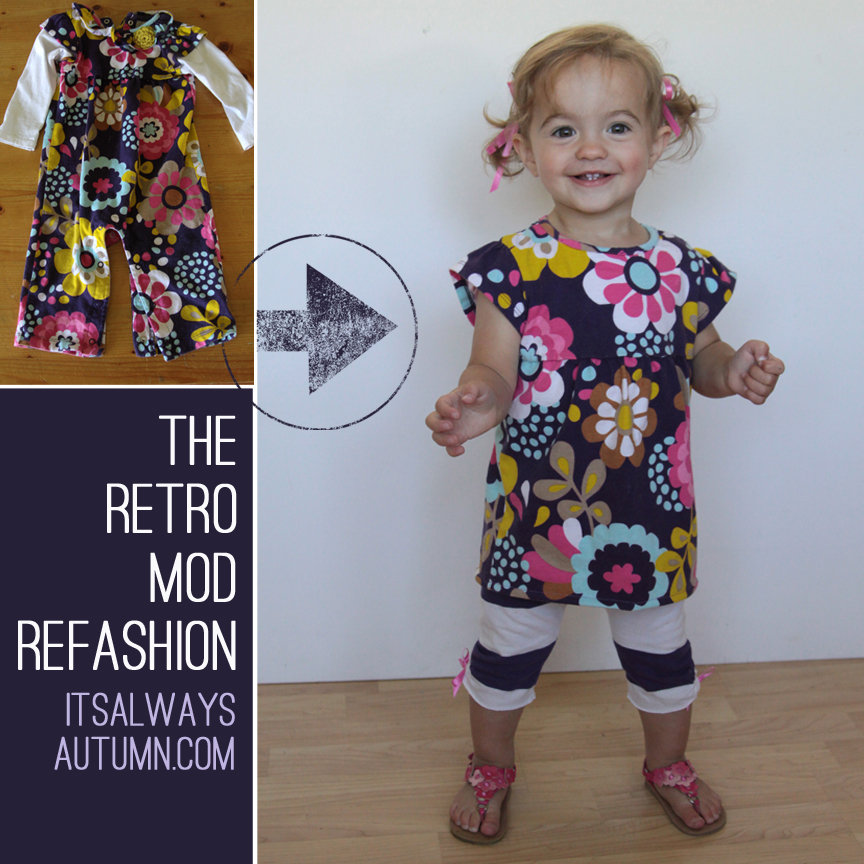 Linked up at: