Before I get started with today's tutorial, I want to let you know I have some non-sewing posts coming up next week. I'll have some fun quote printables available for download on Monday, and I'll be posting a three part series on how to pose and photograph newborns starting on Wednesday. So if sewing's not your thing, check back next week for some other fun stuff.
But if sewing IS your thing, or you feel like maybe it should be (because how hard can it be after all, right?), then feel free to continue reading. This shirt-to-skirt refashion for my baby girl really only took 15 minutes, making it the perfect project for the beginning seamstress. Or seamster. Whatever. I picked up the shirt at a garage sale for a quarter, but my daughter never wore it over the winter. Like many items of used clothing, after being washed a million times this shirt had shrunk up in length but gotten stretched out a little in width, making it kind of short and way too wide. But who wants to waste a whole quarter, right? So I turned it into a cute little tennis-style skirt with a yoga waistband (so easy! no casings, no elastic!) made from the sleeves.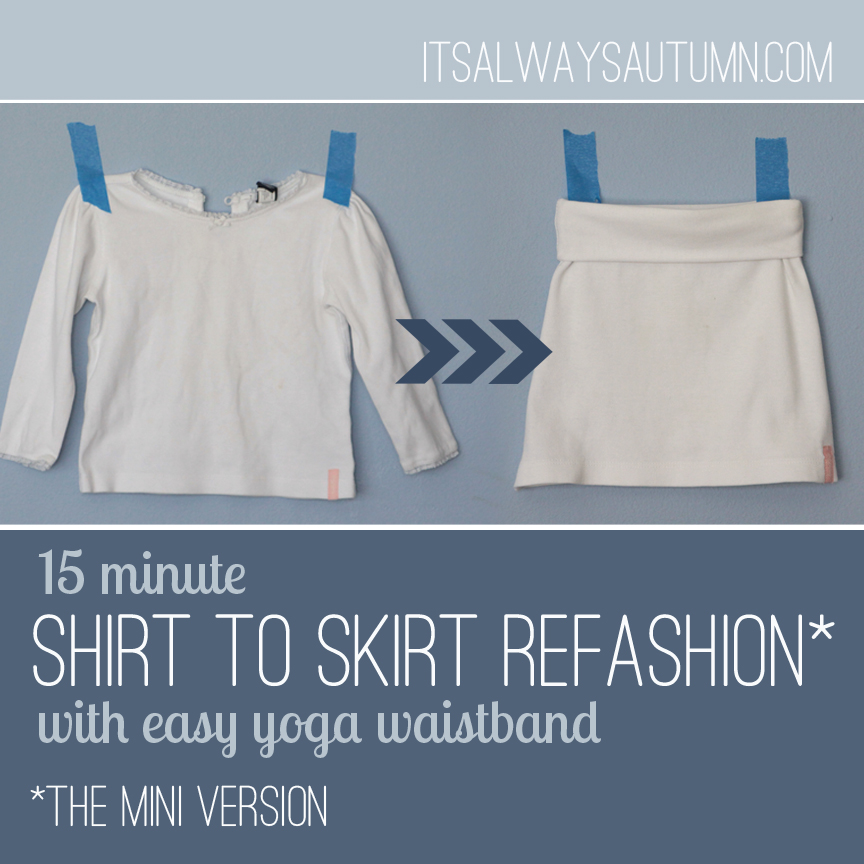 And you might have noticed I'm calling it the mini version. That's because tomorrow I'll be posting the grown-up (mommy) version of the same refashion! Check back for that, and read on to see how easy it is to turn a shirt into a skirt:
First things first: this will only work with a knit (stretchy) shirt. And the sleeves need to be long enough or stretchy enough to sew together into a waistband that will go around your intended recipient's waist. If the sleeves aren't long enough, look through your stash to see if you have any scraps of knit that would either match, or make a cute color blocked skirt.
When I sew on knits I generally use a long stitch and a high tension setting to make sure the machine doesn't stretch the fabric out as I sew.
Start by cutting the sleeves off the shirt, then cutting straight across under the neckline. If there is a button or two on the back of your shirt, you'll want your straight cut to be just below the lowest button.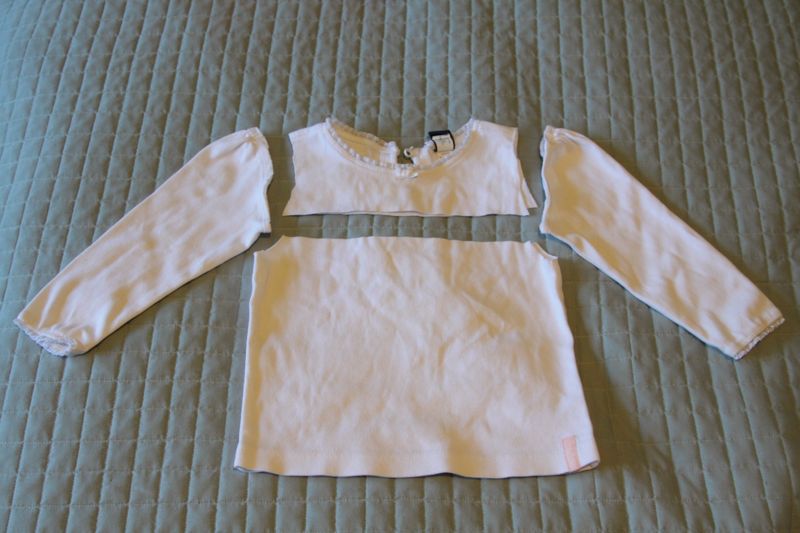 Now you'll want to turn the main piece of the shirt inside out and sew new side seams, starting where the arm curve meets the top of your shirt pieces, and then gradually tapering out into the old side seam near the hem. The photo below shows what your shirt/skirt looks like before the new side seam on the left, and after the new side seam on the right.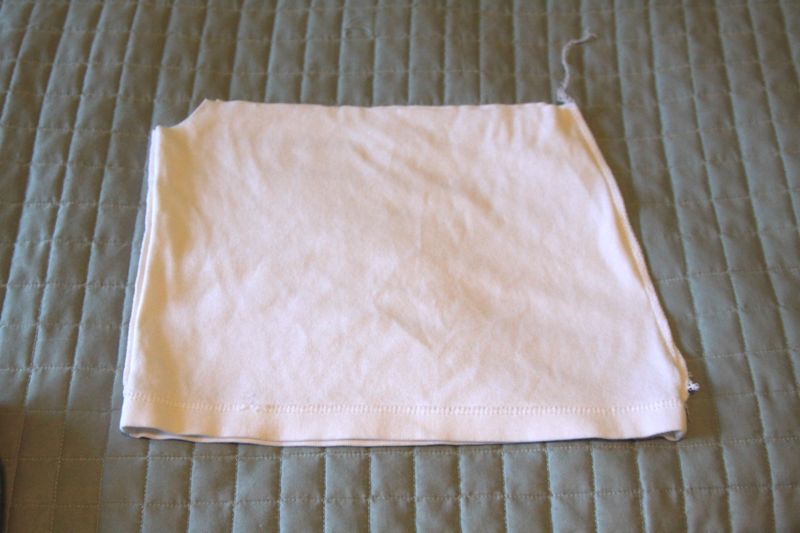 If you're into things like measuring, now would be a good time to try the skirt on your little girl. Check to make sure it's not way too long or way to wide. If it's too long, cut length off the top (we're going to keep that bottom hem intact to speed things up here). If it's lots too big around the waist, pin it to fit comfortably and sew new side seams, again tapering out to meet the original side seams near the hem.
If your baby girl is asleep (and of course she is because if she were awake you wouldn't be sewing) use a skirt or pair of shorts that fit her to determine if you need to take the skirt in at all. If you've started with a shirt that fits her fairly well, chances are the skirt is going to be just perfect because baby girls have about the same chest and waist measurements.
Now pull out those sleeves. Cut them into long rectangles, as shown in the photo below (leaving the fold at the top of the rectangle).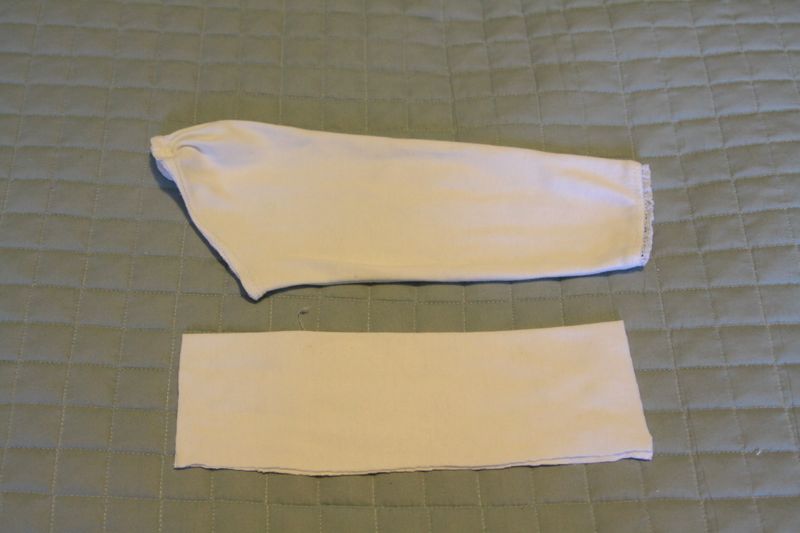 Open up your rectangles and lay them one on top of the other, right sides together. The rectangles will become the waistband for the skirt. How wide they should remain depends on how stretchy your fabric is. Since we've used sleeves here, the stretch will be mostly up and down, which means the fabric will be less stretchy side to side (if you were cutting a waistband out of fabric, you'd usually cut it with the stretch side to side). Since this waistband is NOT very stretchy side to side, you'll want it to be almost wide as the top of the skirt. If you are using material that IS very stretchy side to side, you'll want to cut it an inch or two shorter than the width of the skirt. Hope that made sense.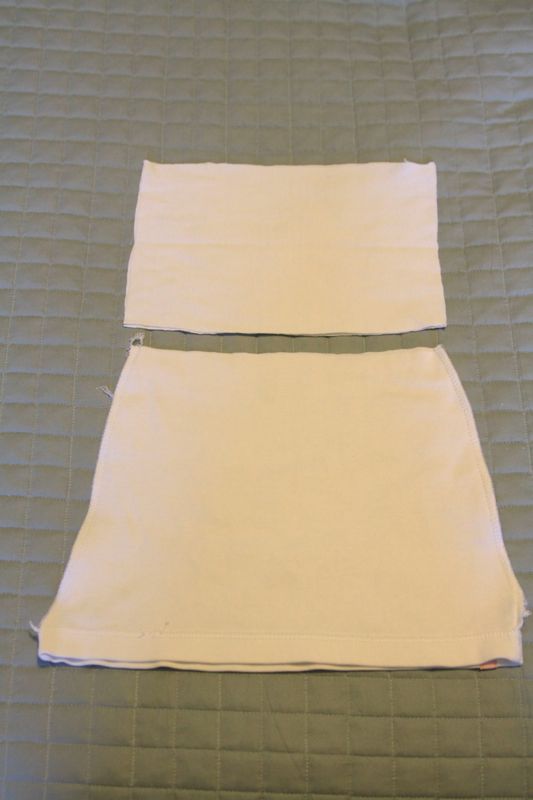 Alright, so you still have your waistband pieces right sides together, as seen above. Sew down each short side, making a ring or circle of fabric. Fold that ring of fabric in half with wrong sides together (so the seam allowances are not visible):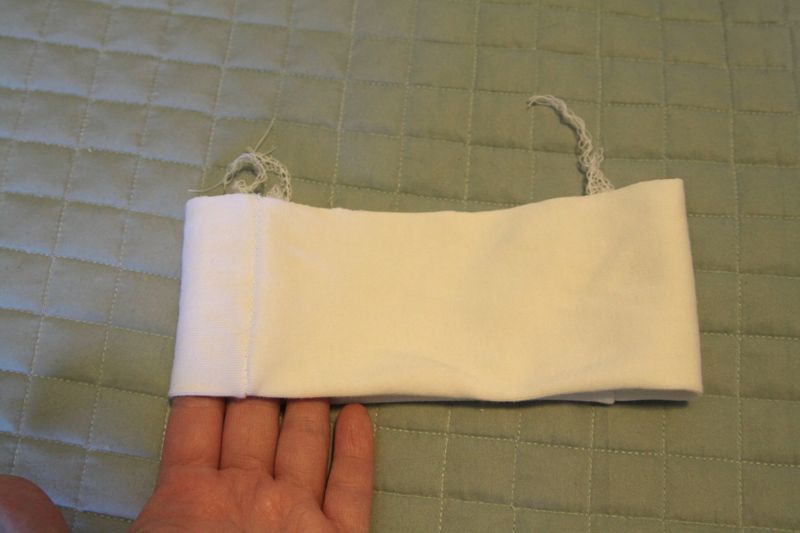 Now turn your skirt right side out again, and lower the waistband onto it, matching up the side seams and pinning. All the raw edges (two for the waistband, one for the skirt) should meet up at the top. Pin side seams, then pin center front of the skirt to center front of the waistband, and the same with the center backs.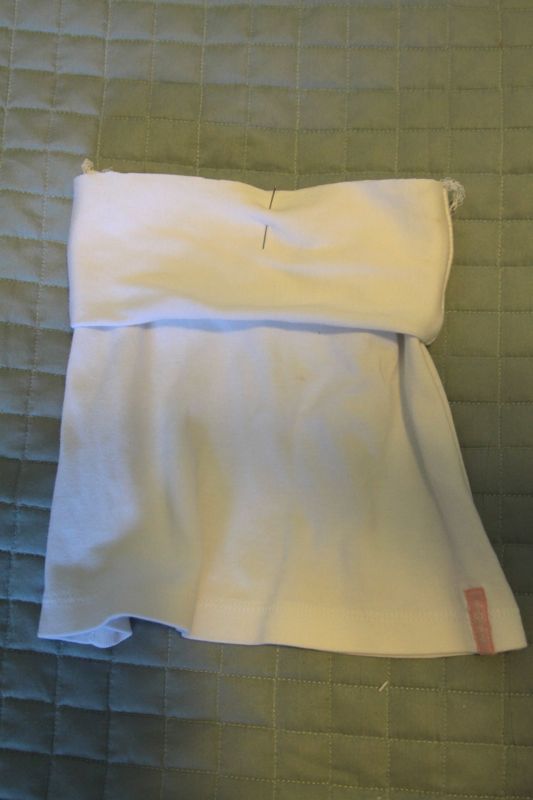 Since the waistband is not quite as wide as the top of the skirt, the skirt will bunch up a bit inside the waistband, like this: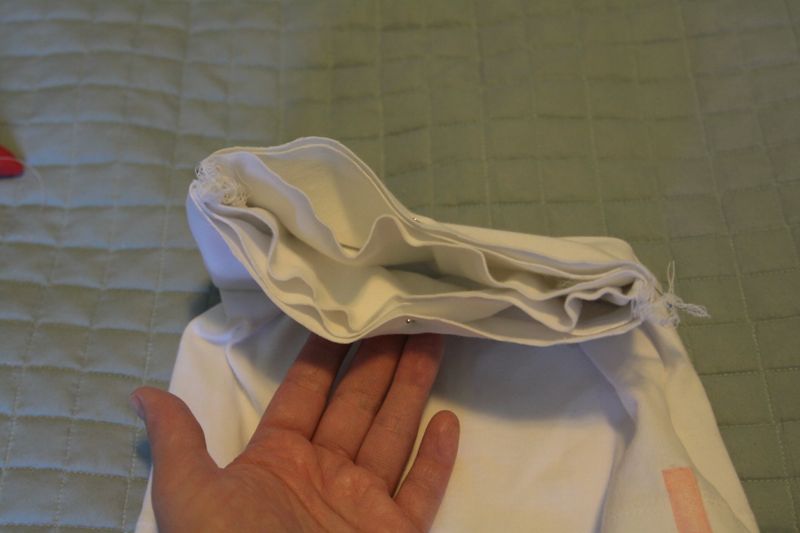 As you sew around that circle to attach the waistband to the skirt, you'll need to stretch the waistband fabric enough to smooth out the skirt fabric (confused? it's the same as the process used to attach the ribbing around the arms on the dress here.)
Once the waistband is attached, you're done! Just press your seams, fold the waistband down, and your shirt is now a skirt!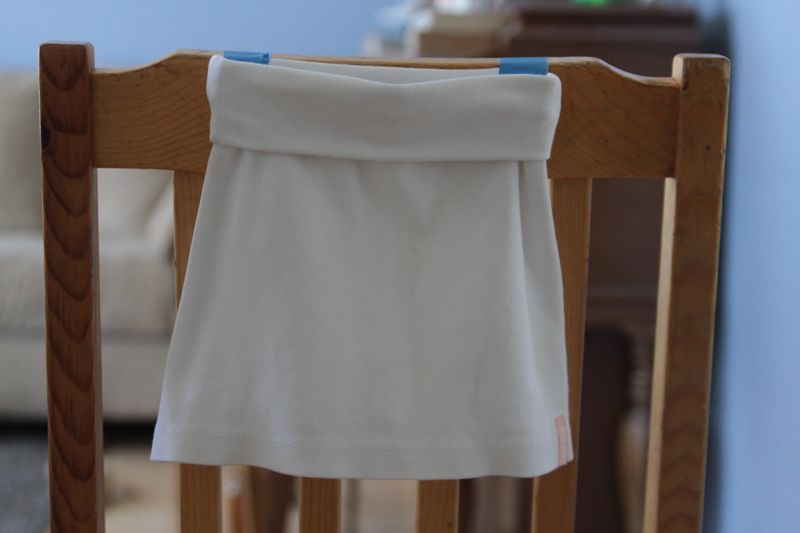 I went grocery shopping today and I can hardly believe how much food prices have gone up in the past year. That plus the fact that my kids are old enough to start consuming large quantities of food has me realizing I'm going to be spending more and more on groceries from here on out. So it was nice to come home and spend a few minutes making a cute little summer skirt for 25 cents.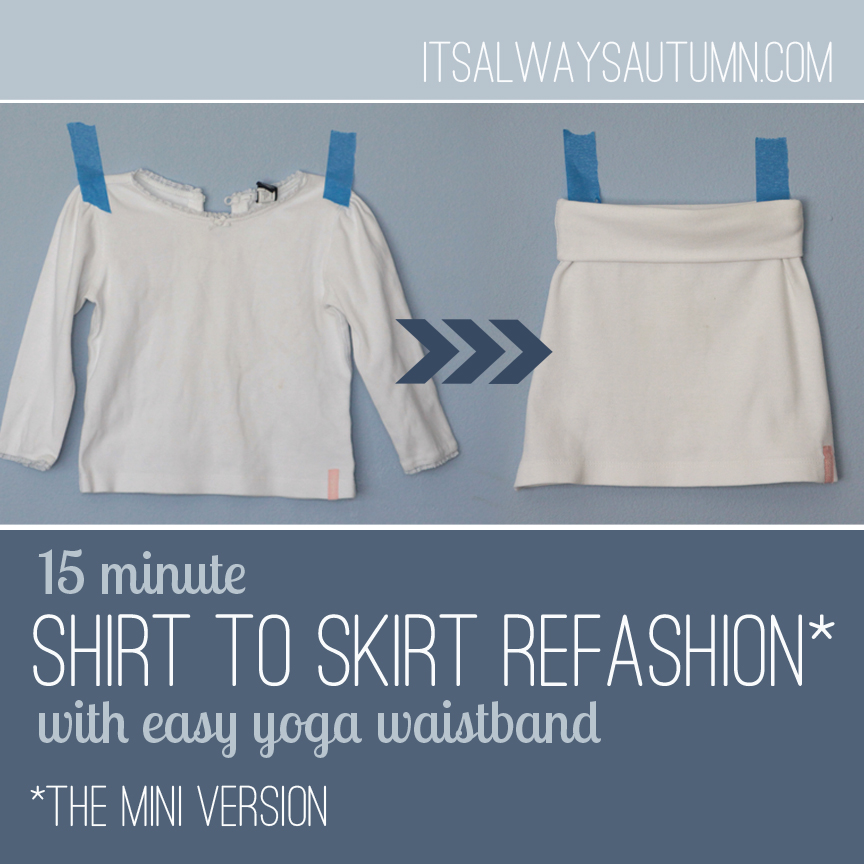 Remember to check back tomorrow for the mommy version!