Starting in a few weeks, I'll be competing in an online craft competition: So You Think You're Crafty.
Every week my fellow competitors and I will complete a project that goes along with the theme for the week. I think it's going to be fun! Right now round 12 of SYTYC is wrapping up, and I'll be competing in Round 13, which will start on September 10th. I was really excited about my audition craft, so I wanted to share it here as well as over there: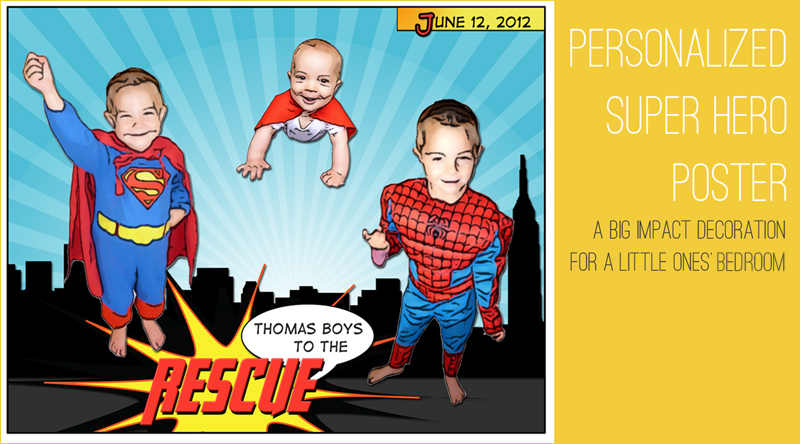 My sister wanted some sort of cool artwork for her little boys' bedroom. Since she has three little boys and they all love superheroes (I'm pretty sure the baby already thinks he's Spiderman), she was thinking about something with a comic book feel. She started searching online and found a site where you could submit a photo of your child and have his or her face Photoshopped onto a comic book drawing, then printed onto a canvas to hang up on their wall. It sounded awesome, but it cost over $100 and was well out of her price range. So she called me and said, "If I send you some pictures of my kids in superhero costumes, can you make some sort of poster for their wall?" I told her I'd give it a try, and this is what I ended up with.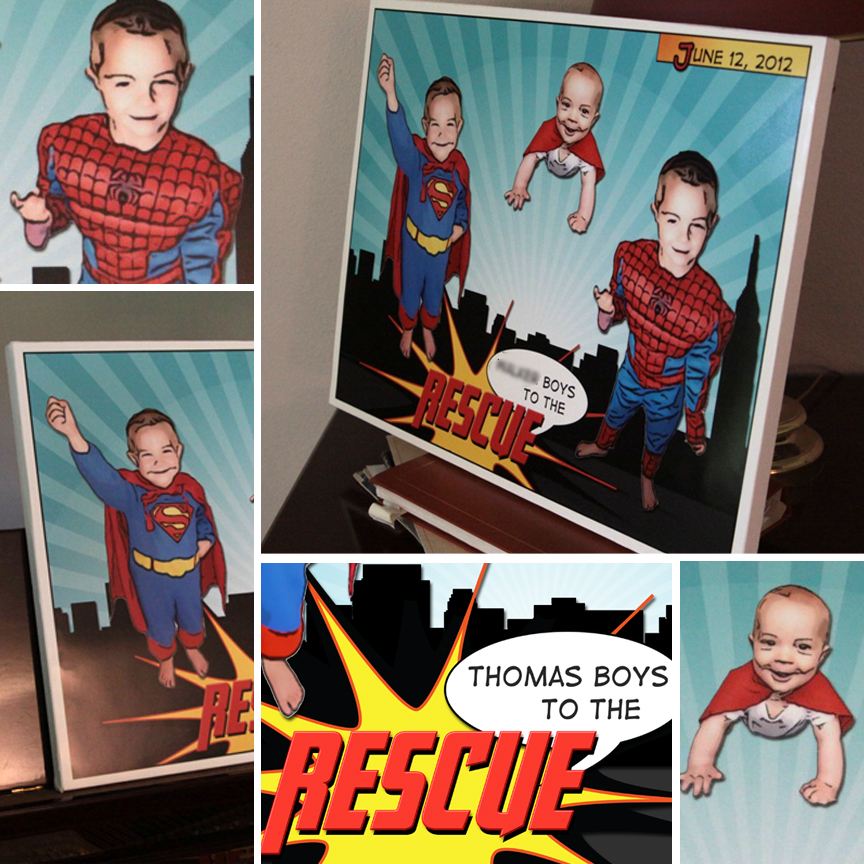 Here's what I did: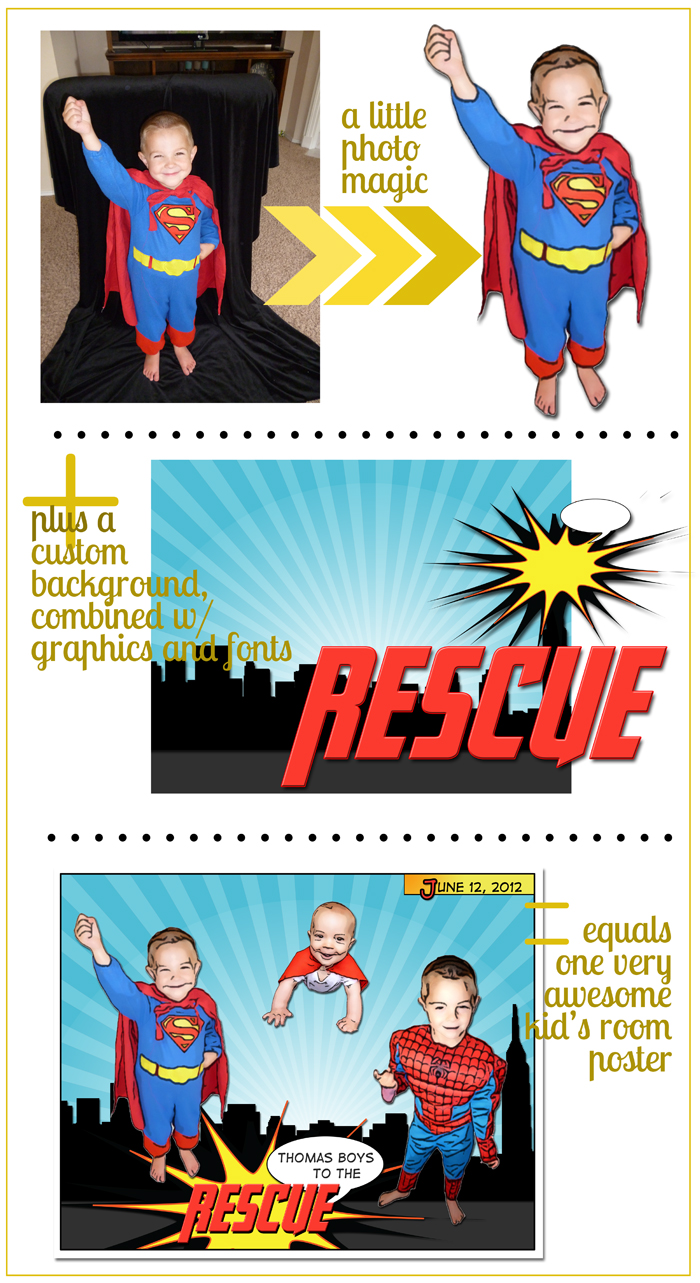 I used Photoshop Elements to extract the boys from the background of their photos, then ran the photos through a free online service that turns a photo into a comic (Cartoon.Pho.to). I created a cool comic book cityscape using a few Photoshop tricks and a free skyline silhouette. I added a few more comic book freebies (cool graphics and fonts), then printed the entire thing out as a 16×20 photo.
Then I adhered the print to a canvas (full tutorial here), sanding the edges of the photograph to help it blend into the canvas. My nephews were unbelievably excited to see themselves on a real superhero poster and my sister is thrilled to have a cool piece of art for her home – all for under twelve bucks.
I was thinking of offering the cityscape background as a free download so you could make your own superhero poster – anyone interested? Let me know in the comments, and if there's much interest I'll pull a little tutorial together. Thanks!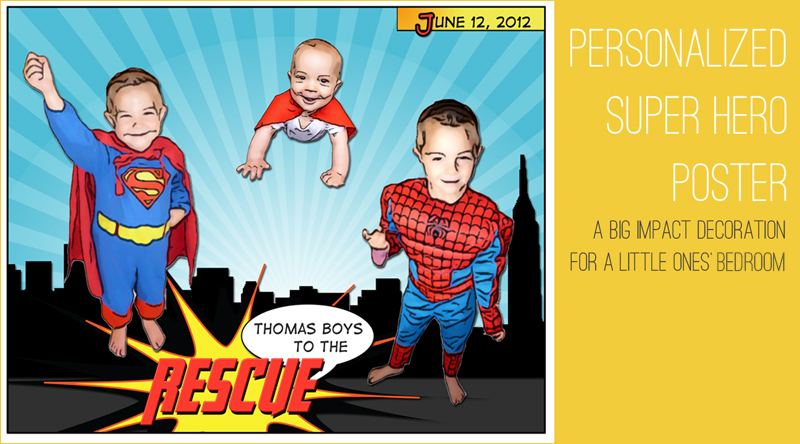 Linking to some of these great parties:
Monday: Craft-O-Maniac | Sew Can Do | Skip to My Lou
Tuesday: Tip Junkie | Ladybug Blessings | Sugar Bee Crafts | The Blackberry Vine | Hope Studios | Funky Polkadot Giraffe | Not JUST a Housewife | Homework Today's Assignment: Be Inspired
Wednesday: Handy Man, Crafty Woman | Southern Lovely | Sew Much Ado | SNAP | Someday Crafts | The NY Melrose Family | Printabelle
Thursday: Somewhat Simple | House of Hepworths | Momnivore's Dilemma | The Shabby Creek Cottage | Yesterday on Tuesday | Fireflies and Jellybeans | The Taylor House
Friday: Chic on a Shoestring Decorating | The Shabby Nest | Stuff and Nonsense | Naptime Crafters | It's a Hodgepodge Life | At The Picket Fence | 504 Main | Blissful Bucket List
Weekend: Tatertots and Jello