Ever asked a three year old to smile? If you have, you know that you generally end up with something more like a grimace than a grin. Toddlers and preschoolers are tough to photograph – getting pictures taken feels like a chore to them. They'd rather be running around and playing, so if you've convinced them to sit still for a minute, chances are you'll end up with a cheesy smile or a grumpy look. Here are five ways to get a great, natural looking smile from your toddler or preschooler.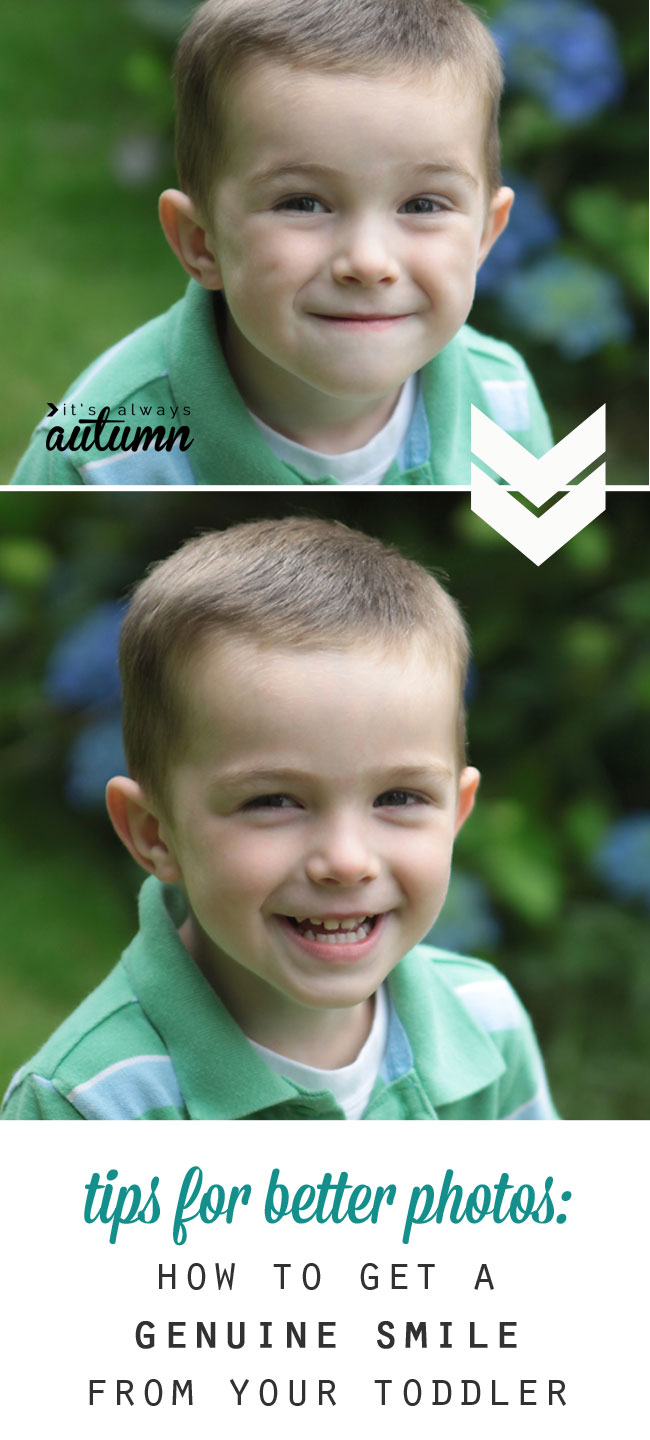 ***My standard photography disclaimer applies: this is not intended as "professional" advice – I'm just trying to share what I've learned to help you get better photos of your children/grandchildren etc.***
1. Start by chatting for a bit. You CANNOT just tell a toddler to please look at you and smile for a good picture and expect it to work. Some young kids are very shy and won't even want to make eye contact with you, let alone smile at you. And believe me, little kids are stubborn – they'll wait forever, looking everywhere except at you, until you're ready to throw in the towel.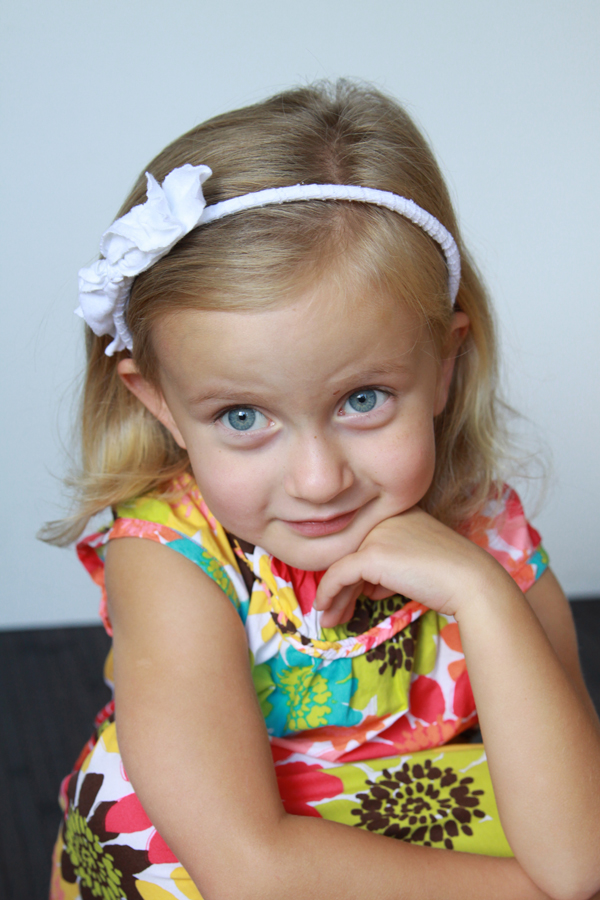 When I have a reluctant toddler or preschoooler, I lower the camera and spend a few minutes making very silly small talk. With this little girl I talked for a few minutes about favorite TV shows and then started snorting like a pig and pretending I couldn't figure out where that noise was coming from. Once you've grabbed the child's attention, you can bring the camera back up and start asking silly questions: "does your Daddy wear diapers?" or "is there an elephant on my head?" or "how old are you? about 25?" Once she's more comfortable you'll be much more likely to get a natural smile from her.

2. Offer a small, tidy treat. If your toddler is on the younger end and talking to her isn't working you might end up with photo after photo that looks like this:
Sometimes a little something sweet can break the ice. I try to always keep Smarties handy when photographing kids – they're tiny, they don't make a mess, and I can dole out one at a time over and over again without giving anyone a sugar high. Hand over the candy and give your child a minute to start eating. Then be ready to snap a shot when she grins in enjoyment.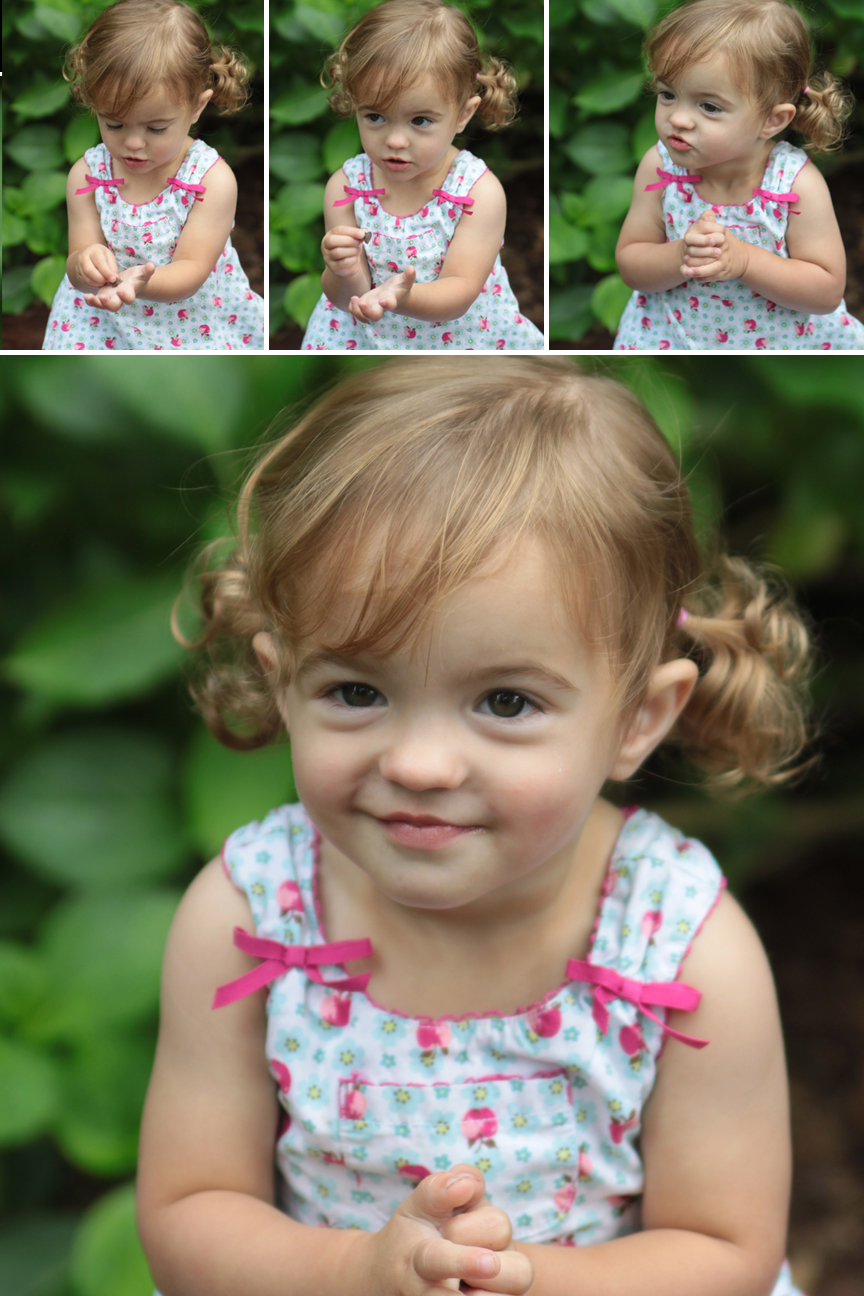 3. Don't ask for a smile – surprise him into one. If you request a smile from an obliging preschooler, you'll probably end up with this: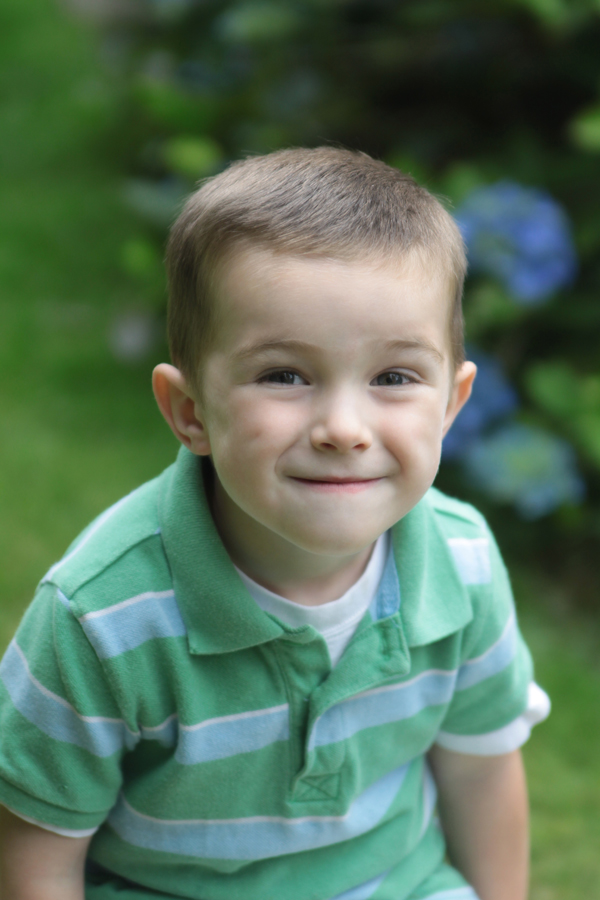 Good try, but not quite what you're looking for. Instead, ask him to close his eyes and then after a minute make a loud sound like a sneeze or a bark. He'll be startled at first, but will probably laugh for a few minutes and maybe even smile at you afterward. (Be careful about using this with very shy kids who might get scared.)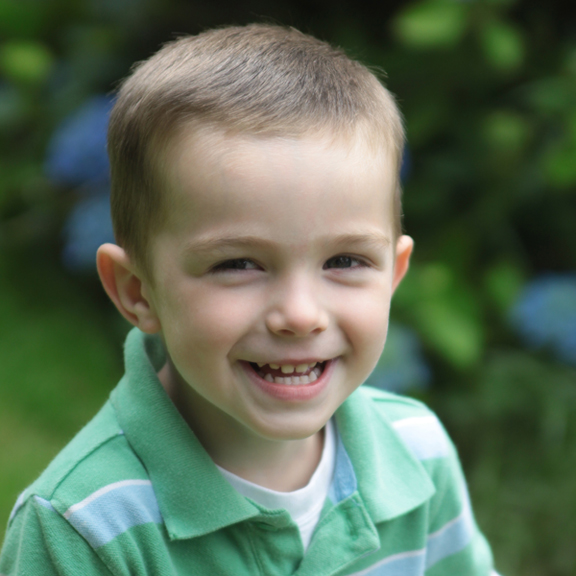 4. Ask for a sad face. When he gives you a look like this: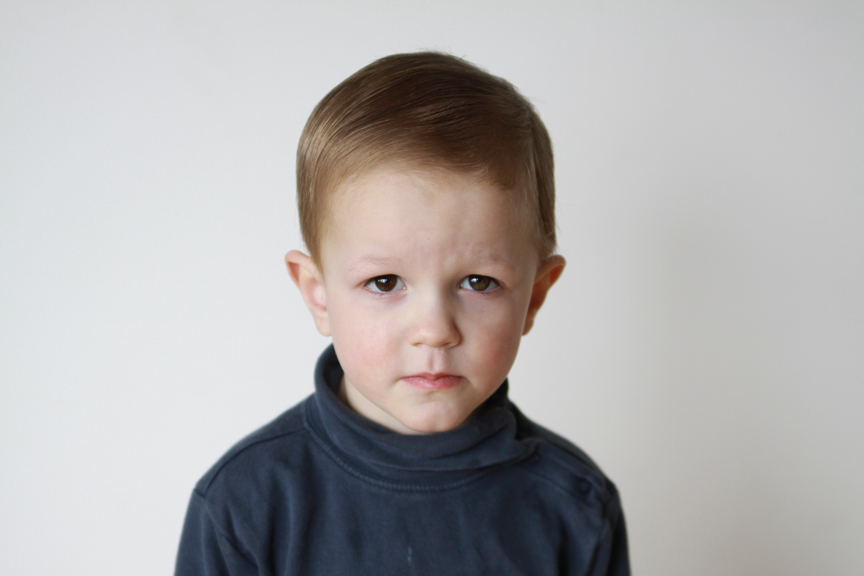 …you can say, "Ok, now don't smile. Don't smile! Not even a tiny bit – no I'm serious, don't smile!" Most kids bust up laughing after a few minutes of trying hard not to smile. (But don't forgot to take a picture of the sad face as well!)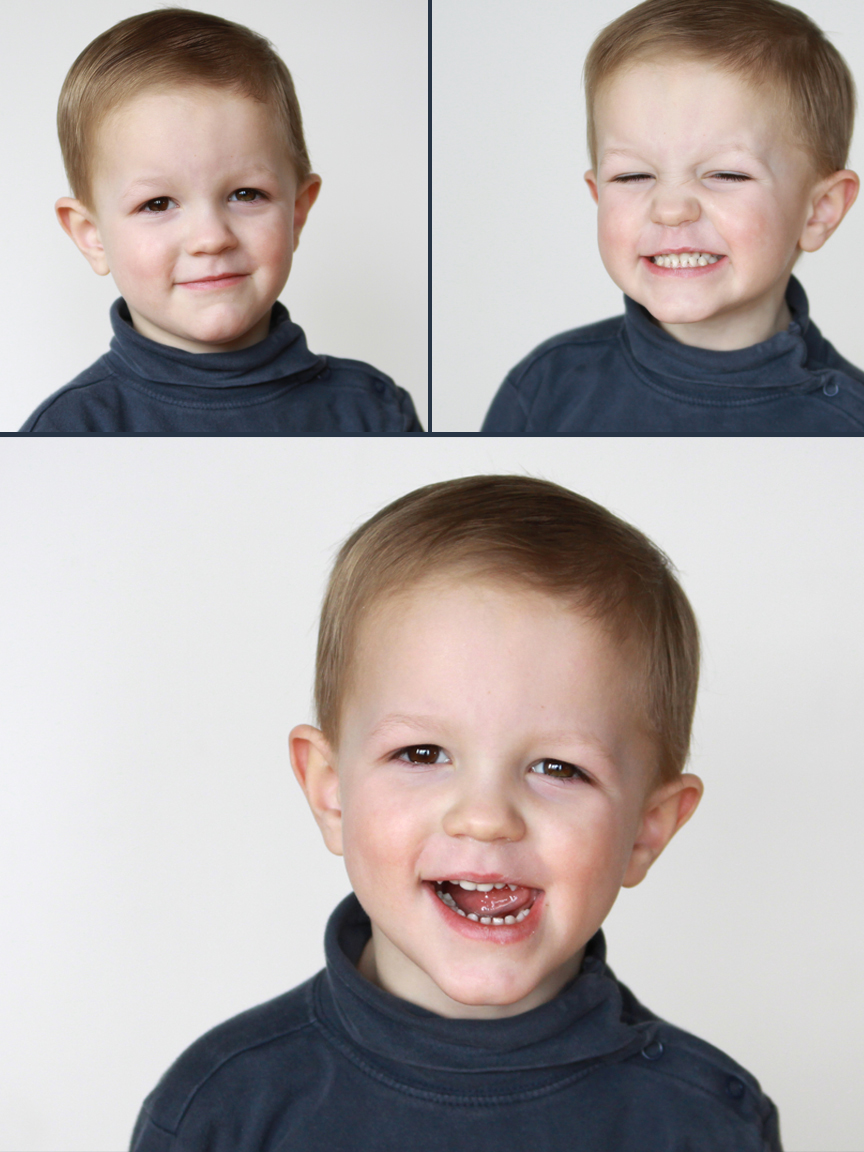 5. If all else fails, ask him to scream as loud as he can. It might take a little encouragement, but most little kids love to scream. And after they do – they'll smile. You just can't scream as loud as you can for no reason and then NOT smile. It's a universal law of nature. Or something like that.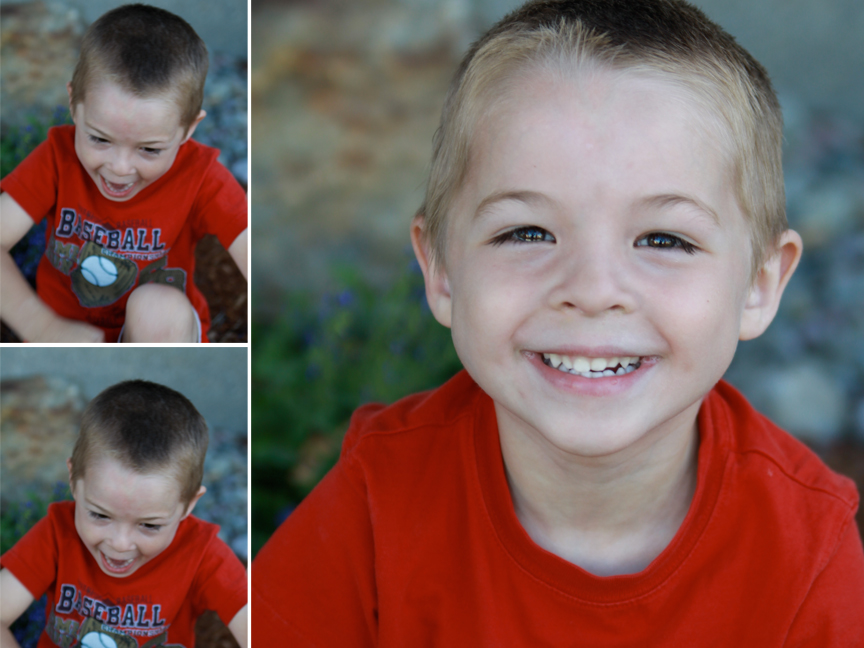 Remember, it's HARD to get a good picture of toddlers, and you can't expect the perfect eye-contact and a cherubic smile every time you try. Some days it just doesn't happen. The good new is that a smile isn't the only expression worth recording. Sometimes other expressions are just as precious: