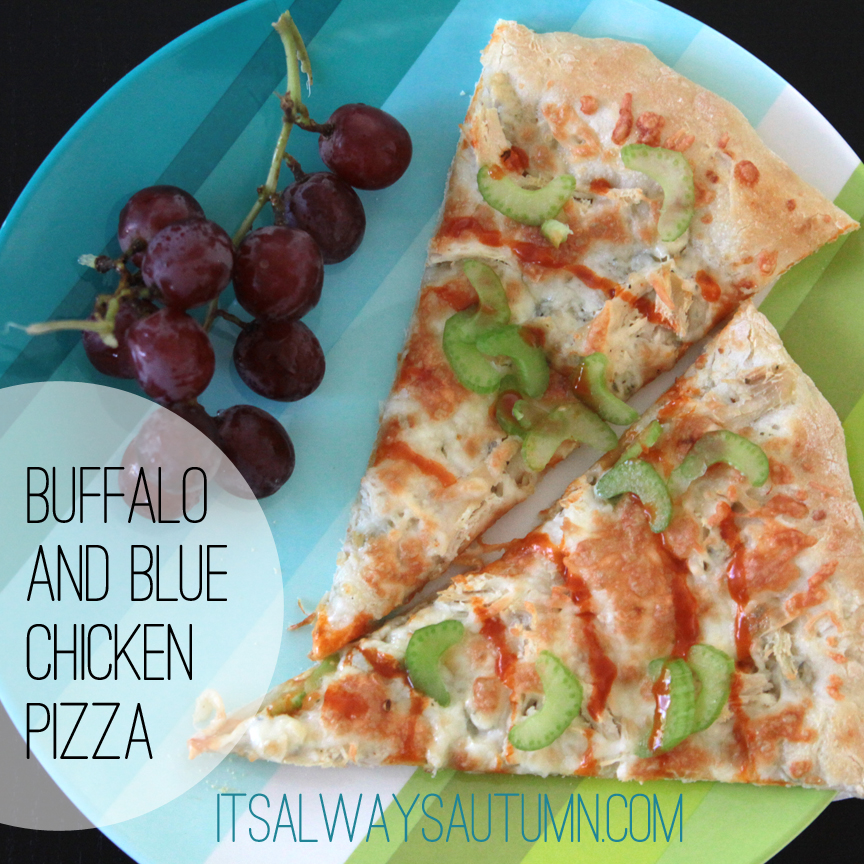 There's a pizza place near the university where my husband works that sells really awesome buffalo chicken pizza. The crust is thin and just barely crispy, the chicken is tender, the sauce is a creamy blue cheese dressing topped with mozzerella, and the entire thing is finished off with a drizzle of hot buffalo sauce and slices of crisp celery. My husband gets this pizza for lunch all the time, but I hardly ever do – so I figured out how to make it at home.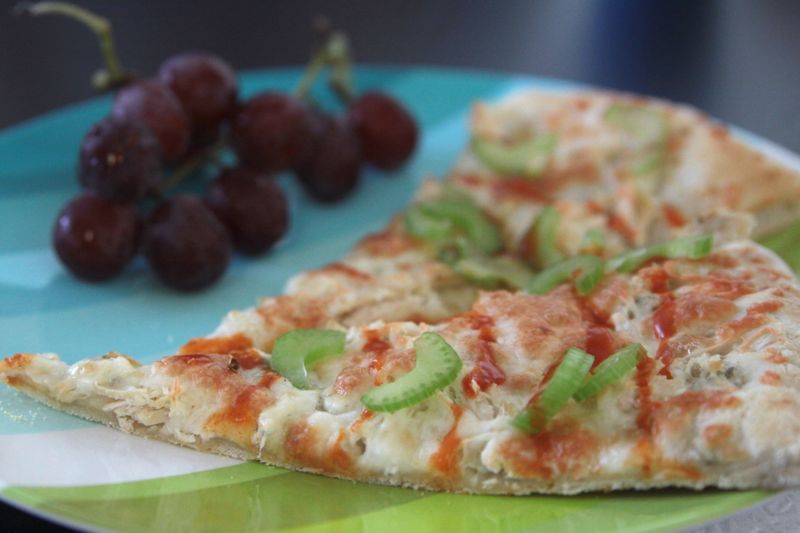 It's really very simple, and super tasty. Here's that you'll need for one pizza:
– pizza dough – homemade is best (I use half of this recipe), but a Boboli crust would work well too and would make this a very quick weeknight meal
– 1 small breast of chicken, cooked and shredded – I just plan to make this pizza when I know I'll have some leftover chicken from another meal, but you could use part of a rotisserie chicken or a package of the fully cooked chicken you find in the refrigerated section at the grocery store
– ranch dressing
– blue cheese (about 1/4 C, I like Gorgonzola)
– 1 C mozzerella
– hot wing sauce
– 1 celery stem
And here's how it goes. Start by preheating your oven to 500 degrees and placing a pizza stone on a rack at the lowest level possible (don't worry if you don't have a pizza stone – you can still make great pizza – the crust just might not get as crispy on the bottom). You can make your pizza and then transfer it directly to the stone, but I find that's a little difficult, so I bake my pizza on a cookie sheet that I place right on top of the preheated stone – it's simpler AND the bottom still gets crisp. I roll my crust out fairly thin, then place it on a cookie sheet tht's been prepped with non-stick spray and a generous sprinkle of cornmeal. Use a fork to poke holes all over the crust so it doesn't bubble when it cooks.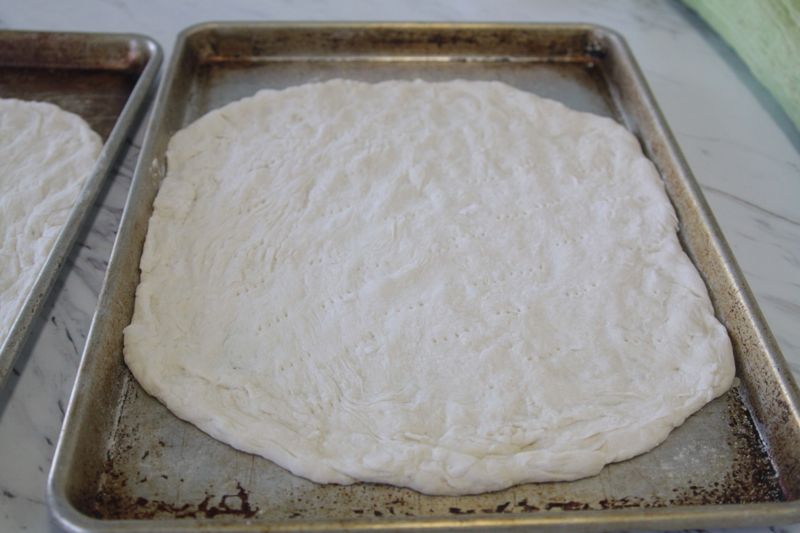 Next, spread a thin layer of ranch dressing over the entire pizza. I never measure, but I'd guess I use less than 1/4 C – just enough so it looks like the photo below.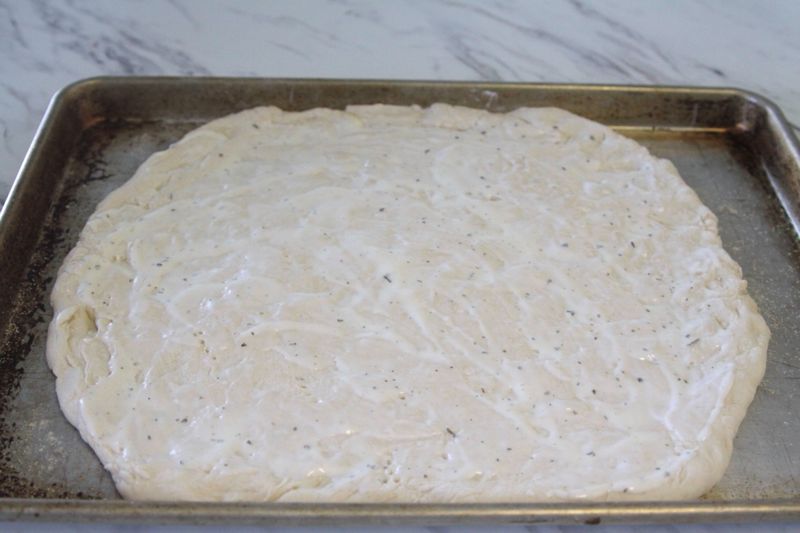 Next comes a sprinkling of blue cheese. You really want to do this according to your own family's taste. I like to sprinkle it as shown below, and you can definitely taste the blue-ness of the cheese in the finished pizza. If you want a more subtle taste, go easier on the blue cheese.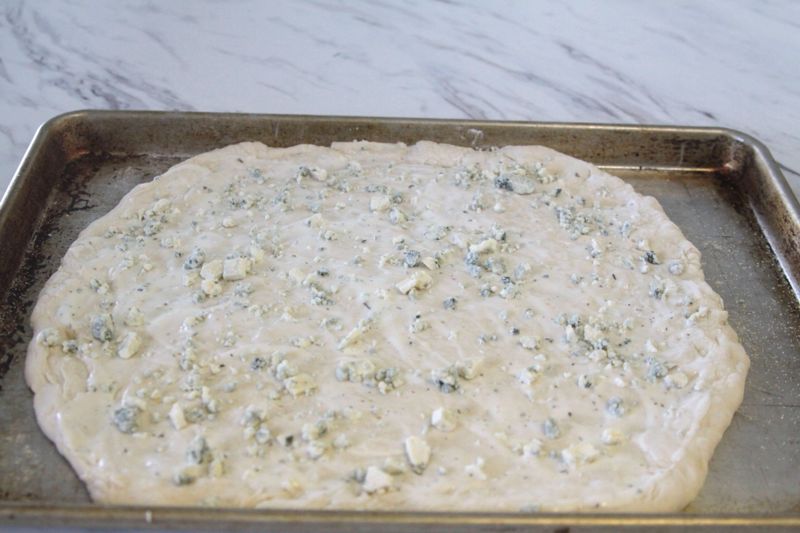 Next comes the chicken…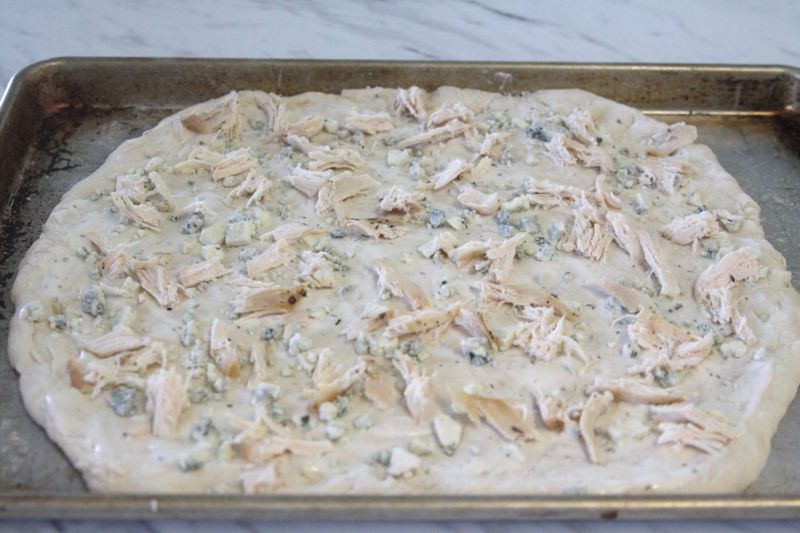 …and 1 C of shredded mozzerella.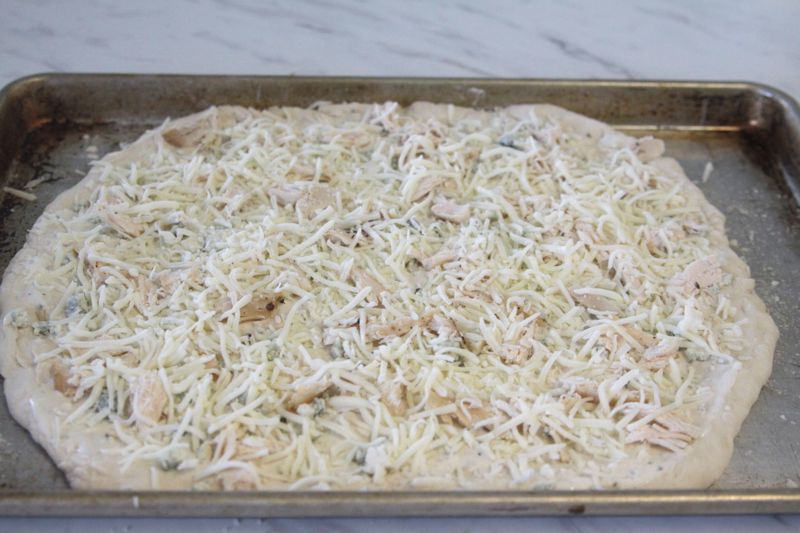 And then the pizza goes into the oven. While it's baking, slice a stalk of celery and pour a few tablespoons of hot sauce into a ziplock baggie.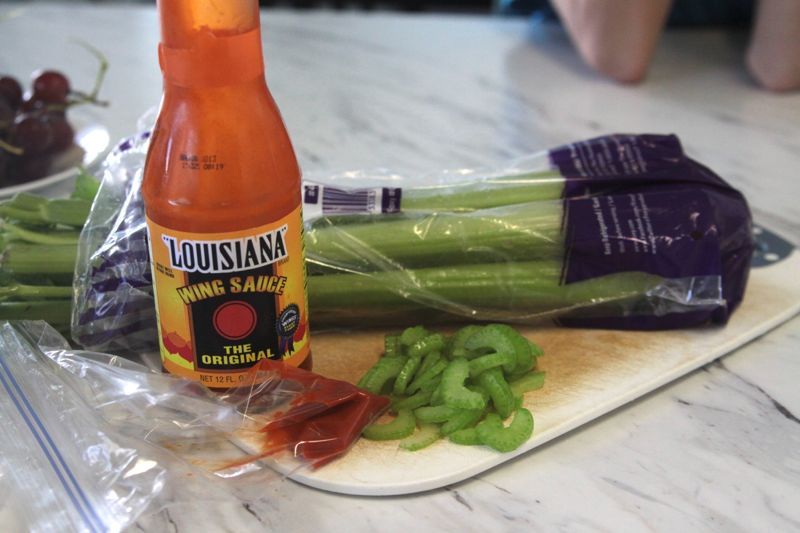 The pizza is done when the cheese is very bubbly and just starting to brown. It should take 10-12 minutes.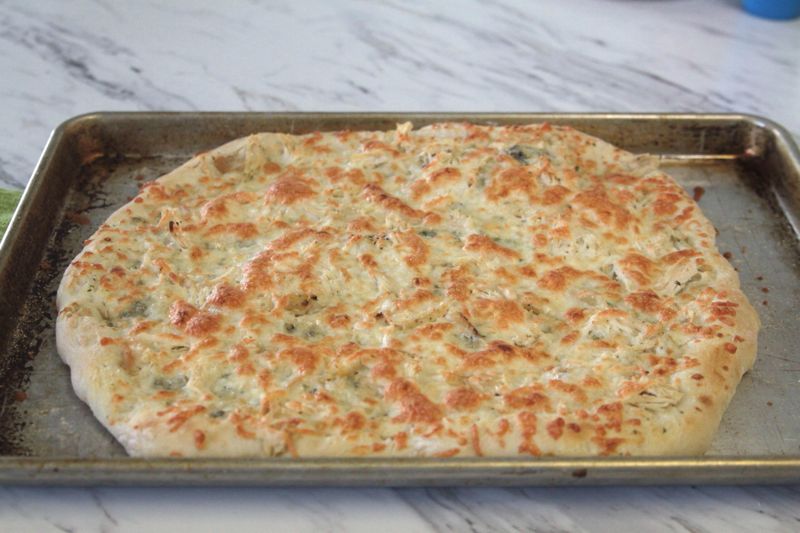 Now you can sprinkle the celery on the pizza, then snip a very small hole in the corner of your ziplock bag and drizzle the hot sauce on the pizza. Go easy here unless you have tastebuds of steel! Just a little hotsauce goes a long way.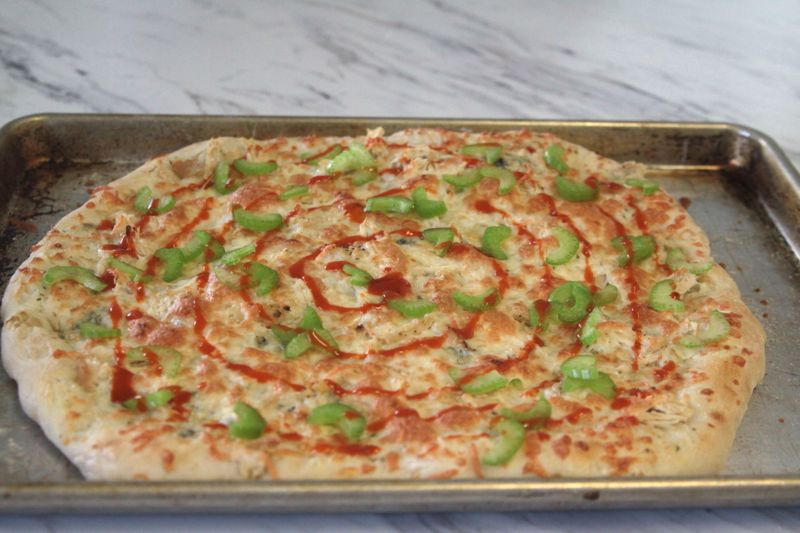 Slice it up and serve with fresh fruit. Enjoy!