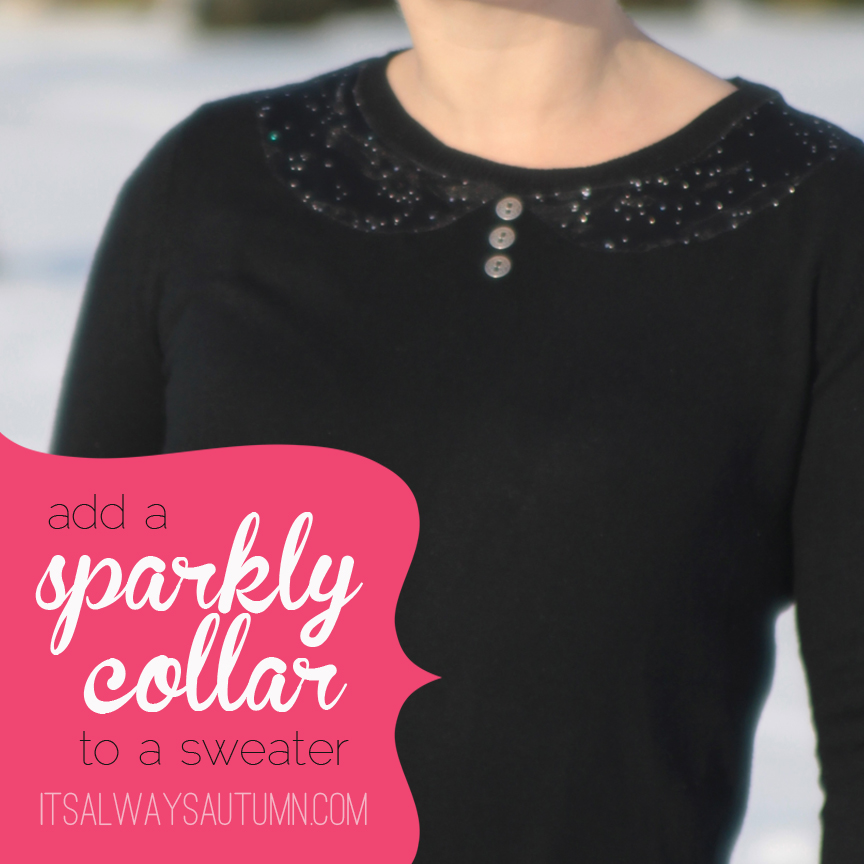 It seems like everything is covered in sparkles these days – shoes, shirts, jeans, everything! It's a fun trend, but sometimes I think I'd feel a little silly hanging out at the park or running to the grocery store in a sweater completely covered in bling. So I decided to add just a little sparkle to a plain black sweater. I purchased an eighth of a yard of sheer black organza with tiny sparkly gems on it and used it to create a peter pan collar on the front of my sweater. Next I added a few buttons, and $3 dollars later I have a sweater that's a little bit special but still casual enough for daily wear.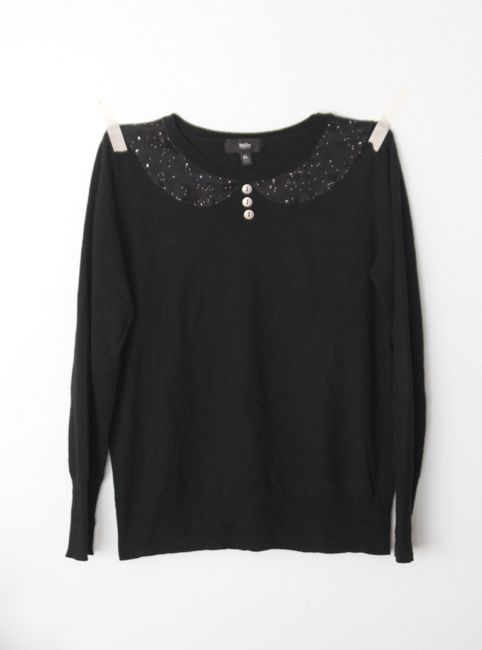 Want to dress up a sweater of your own? It's easy. You'll only need a tiny bit of fabric, so an 1/8th of a yard cut is plenty. I used a sheer fabric from the "special occasions" area that's 100% polyester. Start by making a collar pattern.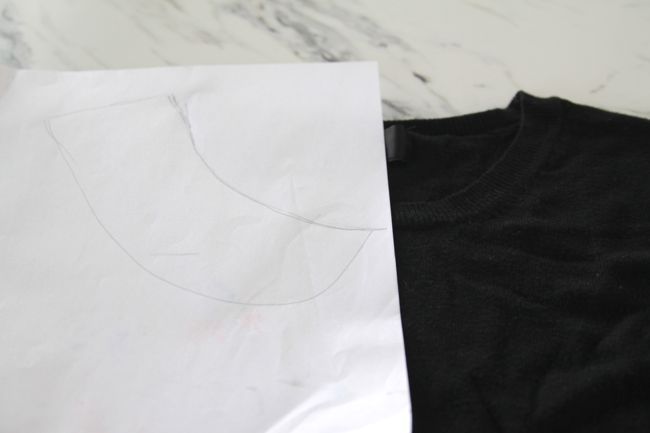 I decided to attach my collar just below the neckline ribbing of my sweater, so I traced accordingly. Also, since my collar material will not stretch, I added the collar just on the front of the neckline – if I'd continued it around to the back the opening wouldn't be stretchy enough to go over my head.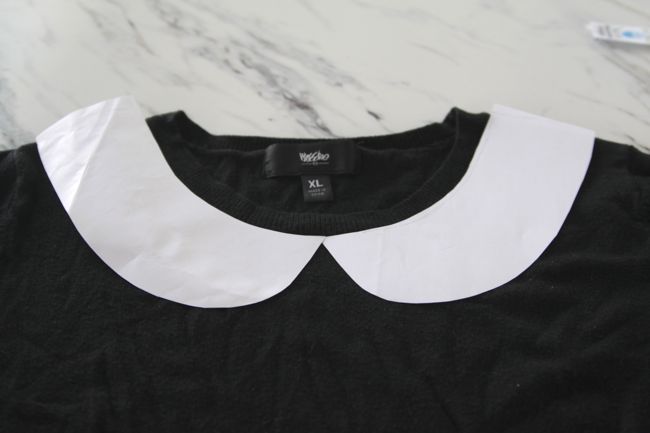 Once the pattern is cut (cut 2), place it on the sweater so you can see if you need to adjust anywhere, then cut the collar out of your material.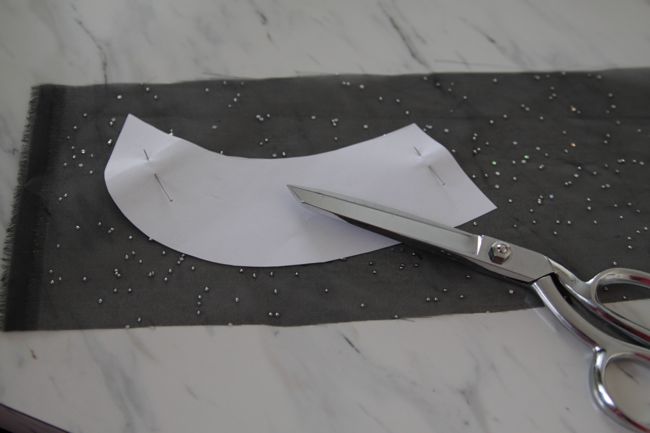 Now, this type of material will fray, but since it's 100% polyester you can seal the edges with heat. Light a candle and hold the edge of your collar close to the flame. Practice on scraps first! It's very easy to melt a huge hole in the fabric, but as you practice you'll get better at figuring out how close the material should be to barely melt the edge. I found that a swiping motion worked best, swiping the material edge near the flame.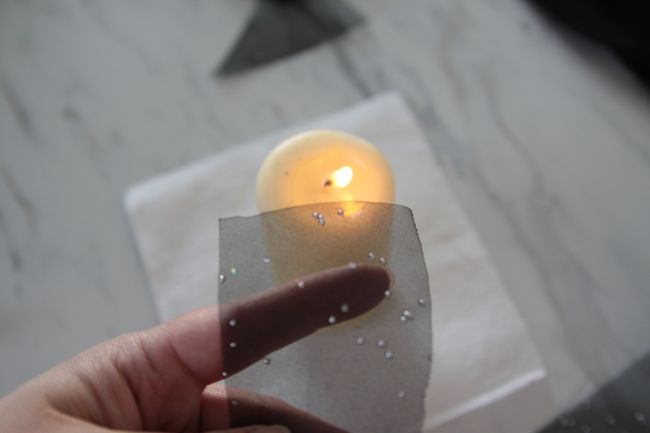 Honestly this is the hardest part, so don't worry if it takes a few tries to start getting it right. You'll know your edge is melted and sealed when you can see that it looks darker right along the edge, like this: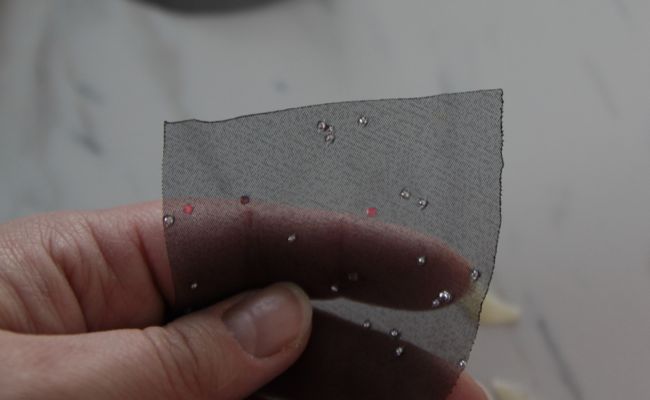 Don't stress if the edge gets a little bit wavy – once it's attached to the sweater you'll never notice. Once all the edges are sealed, pin the collar onto the sweater – and pin it well so it doesn't move around once you start to sew.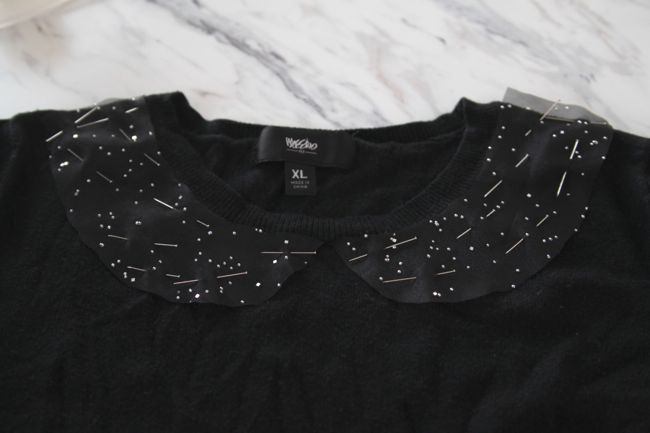 All that's left is to carefully zig zag around all edges of the collar to attach it to your sweater. Go slowly and smoothly and make sure all the edges are covered with zig zag. It will probably look a little puckered when you finish – just turn it inside out and press with a moderate iron to smooth things back out.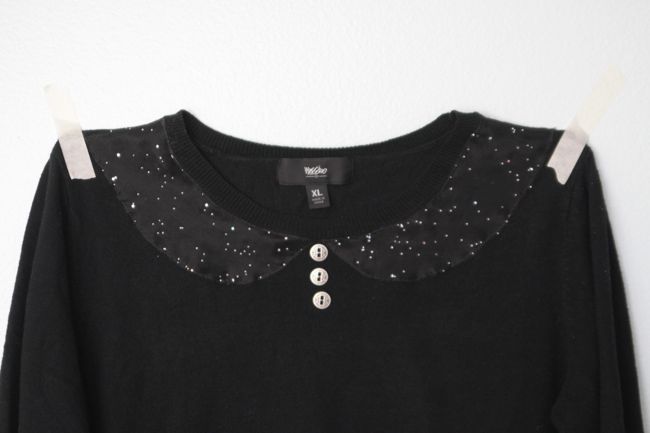 Once finished you can add a few buttons if you wish. The entire process took about half an hour and cost under $4 dollars, and now a boring old sweater feels a little prettier.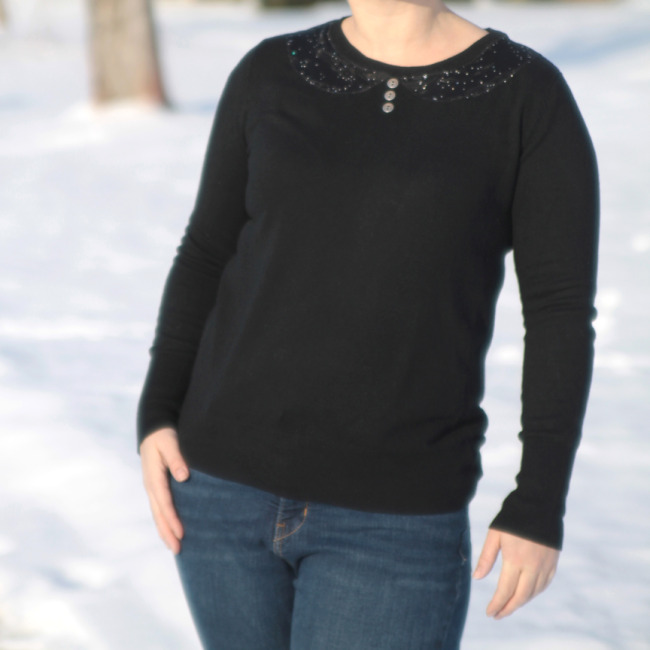 Thanks!
***
Like what you see here? Follow It's Always Autumn so you'll never miss a post!