Today's guest for the Share the Love series is Katy from
No Big Dill
. Katy's blog was one of the first ones I started reading a few years ago when I remembered I could sew and decided to start doing it again (having a baby girl might have had
something
to do with that). I love Katy's blog for lots of reasons: she's very,
very
good at designing and making clothes, her writing is honest and interesting, her photos of the beach make me wish I was there, and her five daughters remind me of me and my five sisters growing up (and she has an adorable little boy at the end of that string of beautiful girls). I think the thing I love most of Katy's clothing designs are the extra little details that I never would have thought to add, like contrasting ribbon and decorative buttons down the back and a keyhole collar, and…(the list goes on – check out her
Fleur D'Orange dress
if you want to see fun details in action.) Anyway, Katy has a fun mom & daugher refashion for us today – showing us even our sewing projects can help bring people together.
Hello, Autumn readers! So glad to be here sharing a simple tutorial today!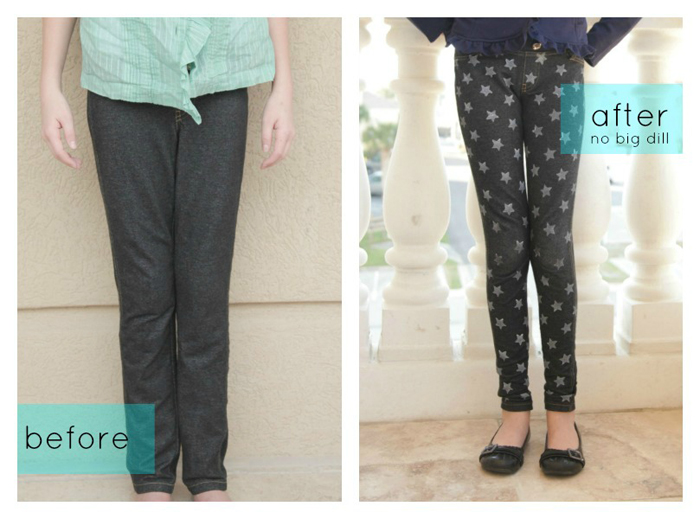 The other day my oldest daughter, Divine, asked if we could get her some new jeans. I was skeptical that she didn't have any. Turns out, I was right. Not only did she have a pair, but she had some of these jeggings. I asked her why she never wore them and she said she just didn't like them. Did I accept that as a challenge? Of course! The great thing about having a mom who sews 😉 I hope to help her learn that by learning to sew, you can not only save money, but you can make things better than store-bought.
//
I had her put them on inside out and pinned the inner seam. Jeans usually have topstitching on the outer seams, so it's always easier to take them in on the inside, if possible.
We are in the middle of moving and so my kids brought home all their school supplies from their old school and didn't need any at their new school. Apparently my kids are the only ones who don't make mistakes, because we had a heaping amount of pink erasers! 😉
If you are making your own stamp, one eraser is big enough for two square-ish stamps, or you could do one longer stamp. Draw your image right onto the eraser. Keep it simple because the paint won't pick up really detailed images like ink would. Cut out half the depth of the stamp around your image.

For the paint, you can use any color regular acrylic paint. Add one part fabric painting medium to two parts acrylic paint. The fabric medium can be found at both craft and fabric stores.
I used a foam brush to coat the stamp for each star. Also. I poured way too much paint. Live and learn.
If your fabric is really thin, you'll want to put a layer of freezer paper or wax paper between to prevent seepage to the other side. My pattern wasn't perfect. Some stars are closer than others, but I think that's part of the charm of a DIY.
Once you do both sides (allow each to dry) check the side seams to see if you need to fill in any stamps. I added a few to keep the pattern relatively even. Allow to dry completely dry for 24-48 hours and then press for 30 seconds to set the paint and it should be wash-proof!
She was so pleased with the results!! She wore them to school the moment they were ready and was asked by friends where got them and received compliments up and down.
And on the back, I broke the pattern just a little bit, to remind her how much she is loved 😉
Thanks, Autumn, for letting me play along!