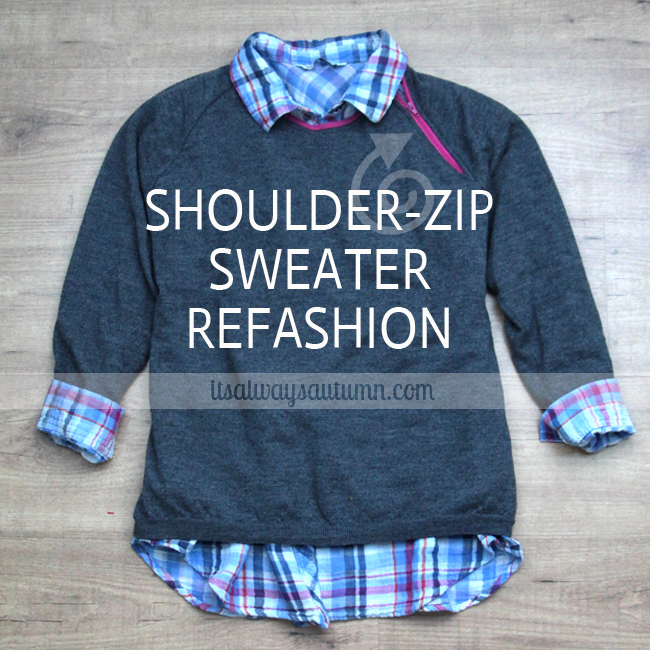 Hello. My name is Autumn and I'm addicting to thrifting. True story. I try really hard to only come home from the thrift store with things that look good on me as-is, but I'm also slightly addicted to refashioning, so sometimes I come home with things like this men's sweater that was boxy and boring but also terribly soft. I figured I'd do something or other with it. And then it sat in my closet for six months until it ended up in the pile heading back to the thrift store.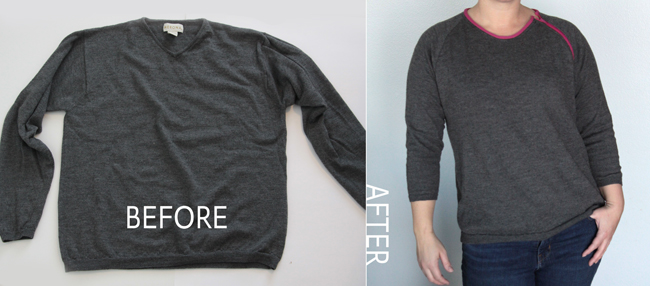 Then I saw an episode of Elementary (love it!) where Watson, the gorgeous Lucy Liu, had a cute sweater on that had a cute zipper going from the neckline across one shoulder where the sleeve was attached. I dug into my donation bag and rescued this sweater.
The short story | I cut off the sleeves and existing neckline, then reattached the sleeves in baseball tee style, adding in a hot pink zipper and matching knit binding around the neck. (Keep reading for photos/instructions)
The long story | I used a sweater, a 7 inch zipper, and a long skinny rectangle of matching pink knit. I was making things up as I went along, so this isn't a complete step-by-step tutorial, but here's what I did: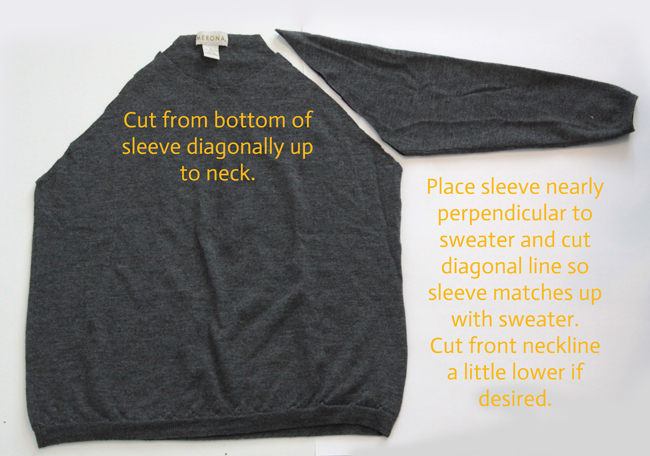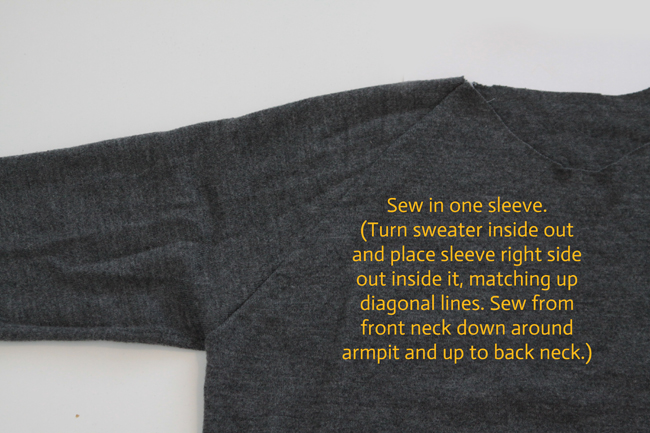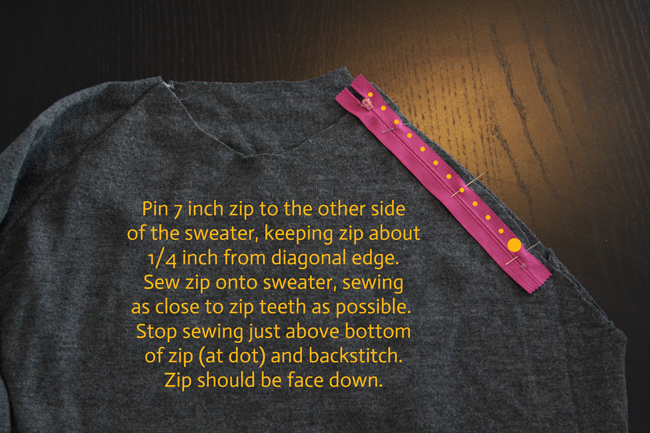 (It's easiest here to start sewing halfway down the zipper and sew down, then stop and unzip the zipper, go back to the middle, and sew to the top.)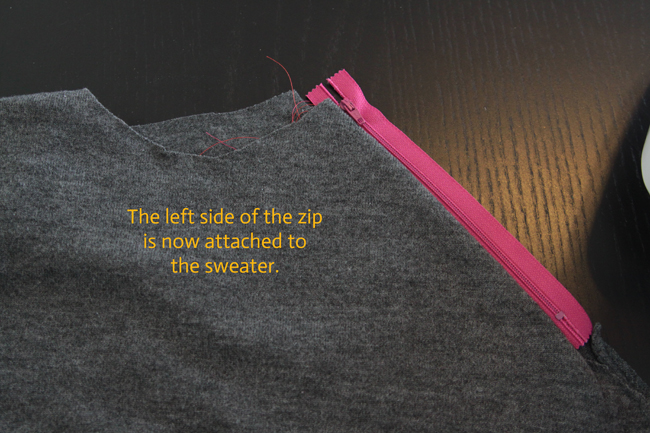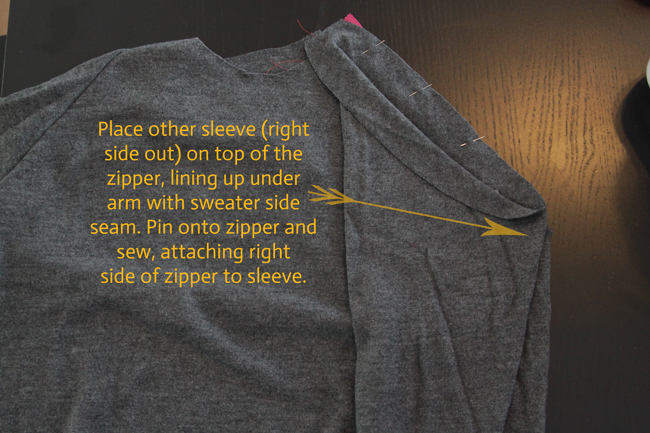 That arrow is showing you how the underarm seam on the sleeve is matched up with the side seam on the sweater. You can see where the pins are – that's where the zipper is now pinned to the sleeve and that's where I sewed.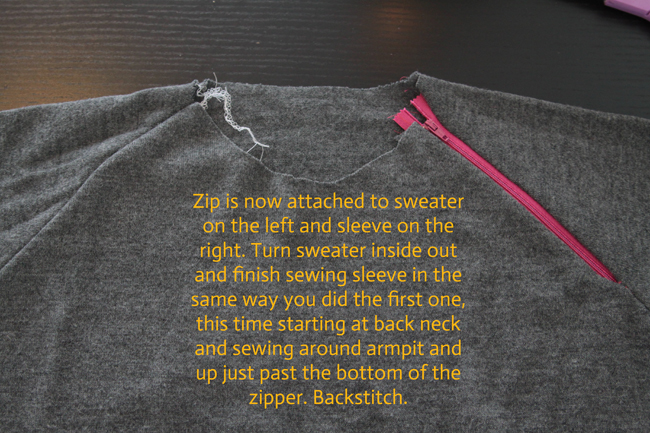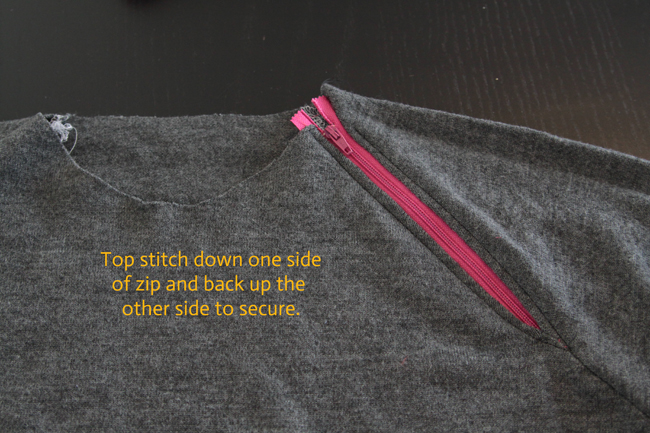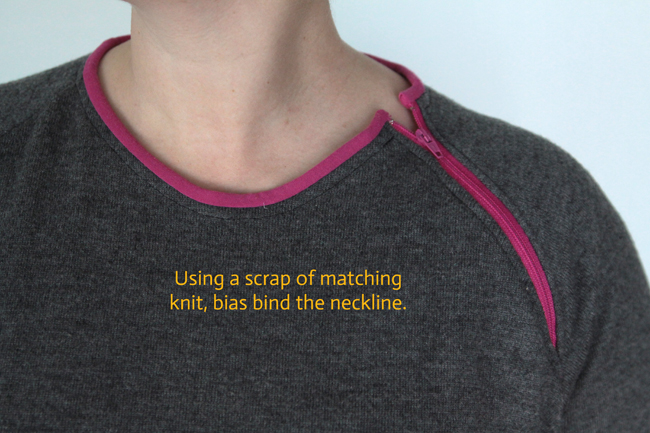 I keep the zipper mostly zipped up – it's more for looks than function, but you could certainly unzip it a bit more if you wanted. I like the pop of hot pink on the dark grey and I love that the sleeves are now 3/4 length since spring is (supposedly) right around the corner.