Toddlers are notoriously hard to get good pictures of. Nothing delights them more than running away when you want them to sit still and they have an amazing ability to look everywhere BUT the camera when they know you're trying to catch their eye. I've already shared on toddler photo tips post – how to get a great smile from your toddler – that will help you replace cheesy grins with genuine smiles. Today's tips focus on how to get that wiggly toddler to stay still long enough for a few photos, and how to convince her to look at you when she's trying her best not to.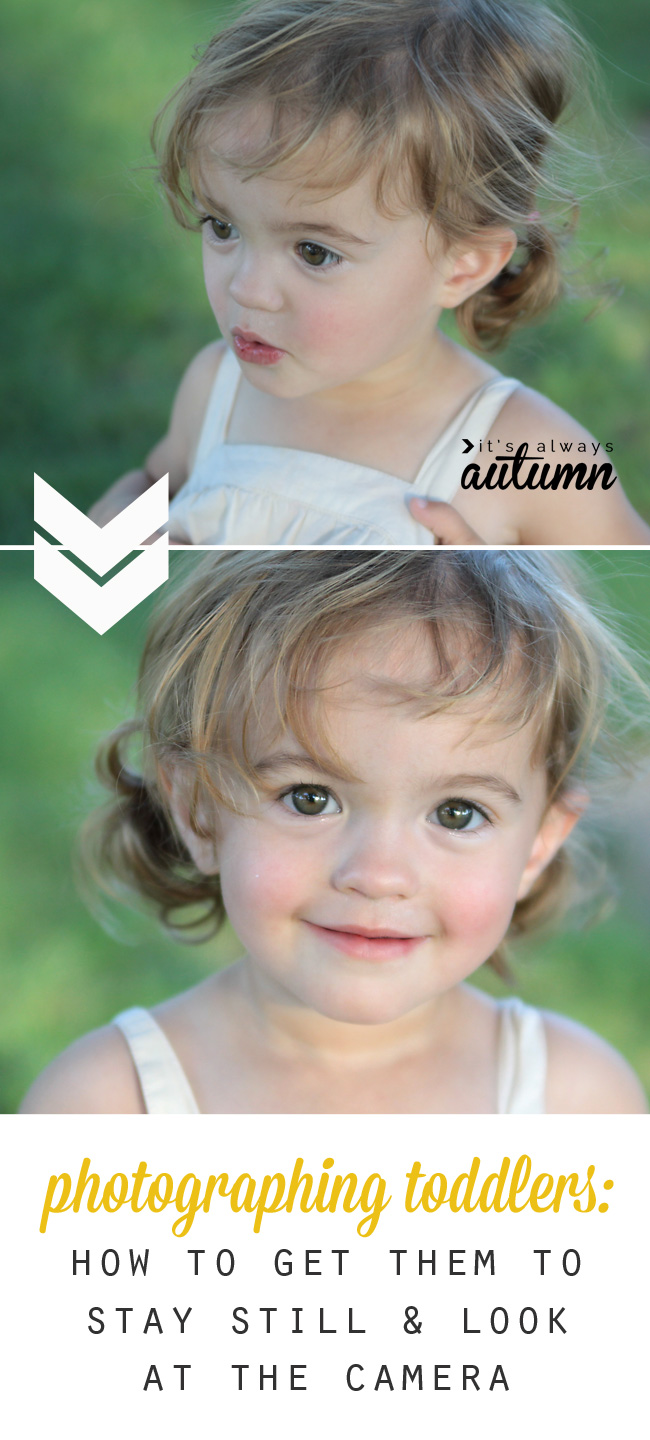 I recently took some photos of my little girl, including the two above, and I got 28 photos of my her studiously NOT LOOKING at me. Luckily, I finally got ONE gorgeous shot after using a few tricks. Here are my top five tips for photographing toddlers:
1. Give them somewhere to sit This is especially important for younger toddlers, who have learned to walk recently enough that they do it every waking minute. It's really hard to chase down an 18 month old and convince him to look in your general direction and get photos that are in focus. It's much simpler if you provide somewhere for the child to sit – a stool, rocking horse, stump, bench, chair, etc. Have your camera out and ready before you sit the toddler down because he may only stay there a moment or two – but even a few moments of stillness is better than running around like a crazy person snapping photos while calling to the kid to please just stop and look! (not that I've ever done that…)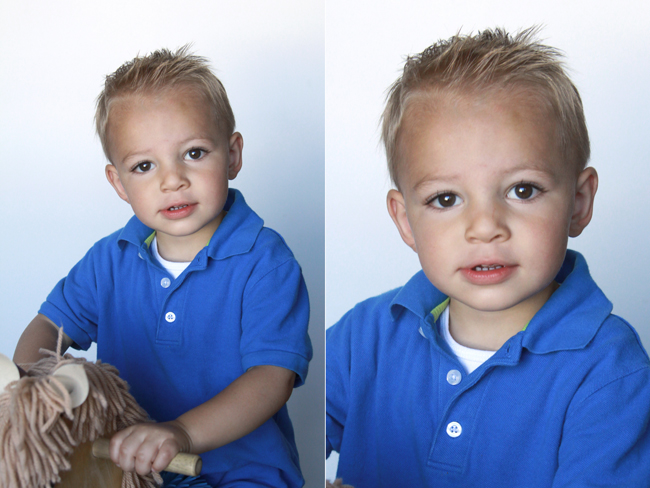 In the photos above I convinced a reluctant toddler to sit on a rocking horse. Wooden items like rocking horses, stools or benches make great seating options for photo shoots because their neutral color means they won't be distracting in the final photo – but if you really don't like how the "prop" looks in the photo you can usually crop it right out.
2. Give them something to hold or something small to eat Again, this is more helpful for the younger set. You might have your daughter trapped on a stool that she can't get down from, but that doesn't mean she's going to look at you or smile at you. Be prepared with a small toy (hotwheels usually work well) or a small tidy treat (Smarties are my favorite at photo shoots). Hand the toy or treat to the toddler and give her a few minutes to look at and play with it (or taste it). Then just wait, camera at the ready, until she looks up at you to share her delight – then capture the expression.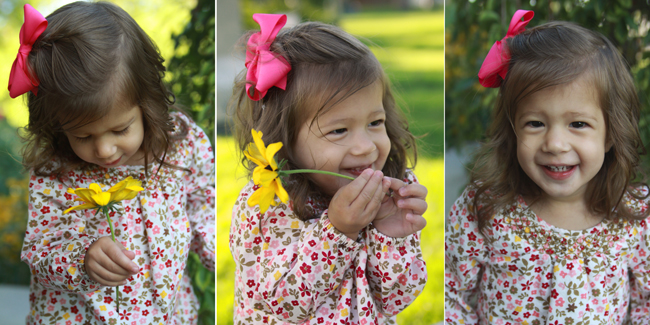 3. Give them something to look at Toddlers seem to know you want them to look at you, but do everything in their power to avoid making actual eye contact. Wheedling, threatening, and bribing occasionally work, but giving them something interesting to look at works better. Did you know that if you file down the feet of a Pez dispenser just a bit it fits into the external flash attachment of your dSLR? No kidding. It's fantastic. Pick a princess Pez or a Lightning McQueen Pez and stick him on top of your camera, then show your child that the Pez gives out candy for kids who look at him. (This works so well I wrote a whole post on exactly how to do it – check it out here!)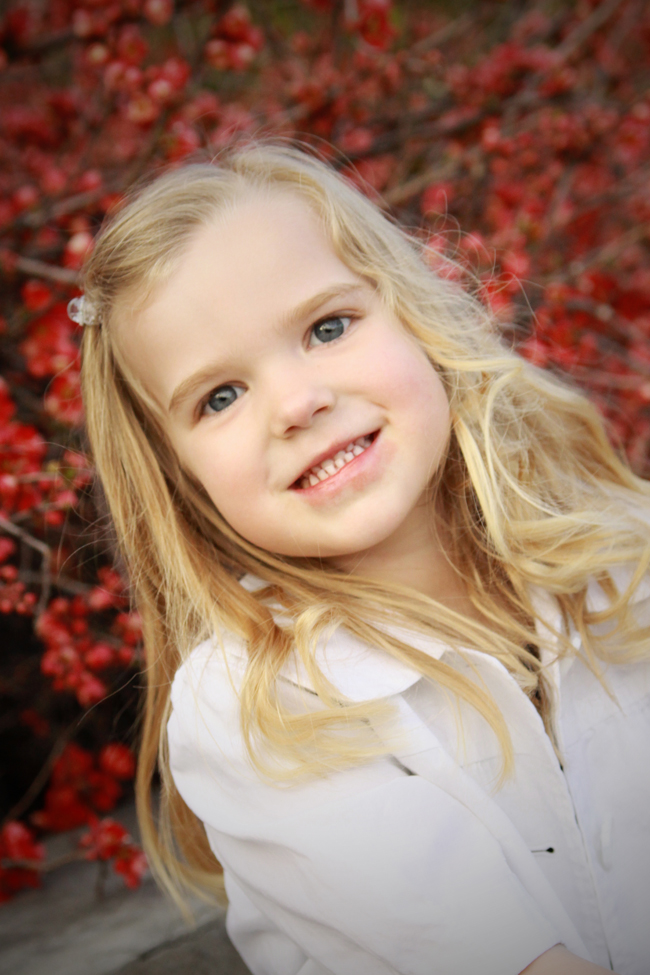 Or, grab a bunny ear headband from the dollar store at Easter (or a Shamrock one at St Patty's, etc) and pop it on your head when the child's not looking. Then keep asking them what's on your head and how it got there. They'll stare right at you, and probably laugh. I've even tied bells to my wrist and jingled them up by my camera to get a little one to look.
Also – move around a bit while you talk to the child – stand up, sit down, lean to the left or right. Your motion will naturally draw her eyes toward you, and you'll be able to get photos from a variety of angles.
4. Let them see themselves inside the camera Getting pictures taken is just a chore to a little kid who'd rather be running around and playing. So snap a few whether she's cooperative or not, then show them to her on the back of your camera. Tell her you got her inside the camera, and she'll immediately be more interested in the camera and more likely to look at it when you start shooting again.
5. Ask them to play copycat This works better for older toddlers (2&3 yr olds) who will be able to understand what you're asking. Sit or lie down and strike a simple pose, then ask the toddler if he can do the same thing. Try a few funny poses first to get him involved and tell him what a great copycat he is when he copies your pose. Them move on to other poses and ask him if he can be a copycat and then freeze in that position while you take his picture. As long as you keep telling him what a great job he's doing, he'll likely continue to copy you for at least a couple of poses.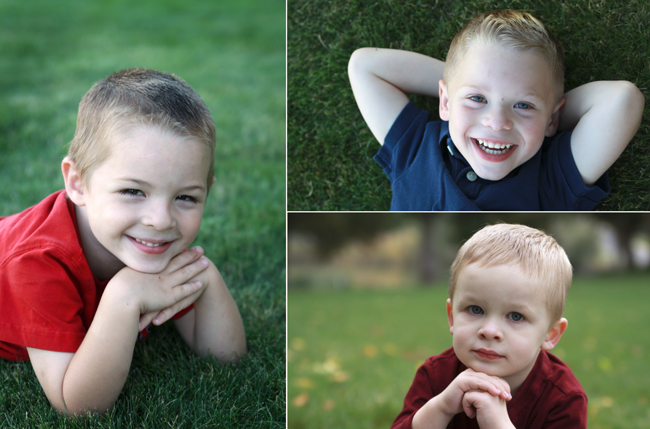 Hopefully these tips make things a little easier next time you want a great photo of your toddler – just remember it's worth it to take a couple hundred so-so photos as long as you get one great one.
***Need tips for photographing older children/teens? For posing ideas for girls click here. For boys, click here.