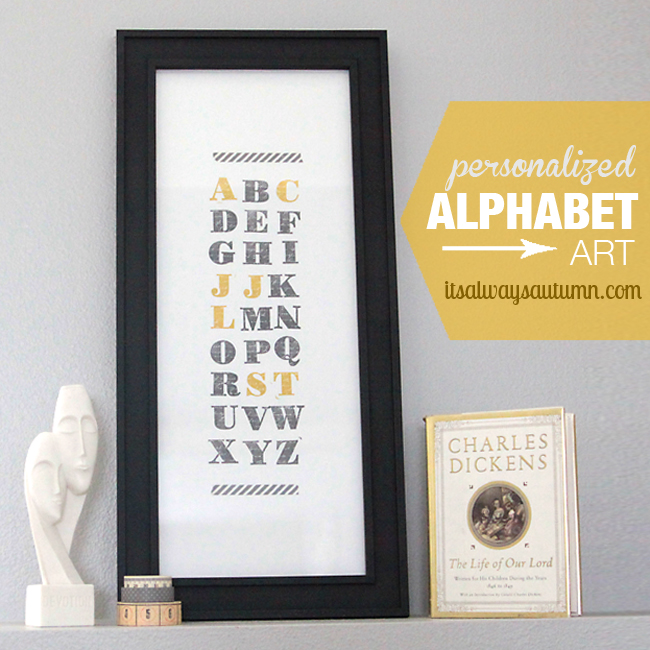 If you saw the ABC stamped t-shirt I made for my kindergartener to wear on the first day of school, you might have been wondering about the awesome stamp set I used. It's the Morning Post alphabet from Stampin' Up! It's a fairly large alphabet stamp set in a classic all-caps font. The coolest part about the stamp set, though, is that there's old-fashioned script running through each letter, which was hard to see on the t-shirt. So I made another project with these stamps so you could see them more clearly: a piece of family initials alphabet art. Keep reading for info on this project and a chance to win your very own set of Morning Post alphabet stamps!
I started with cool frame I've had for a long time – I love the tall skinny shape, but the color and print no longer matches my decor. I needed something a lot more graphic: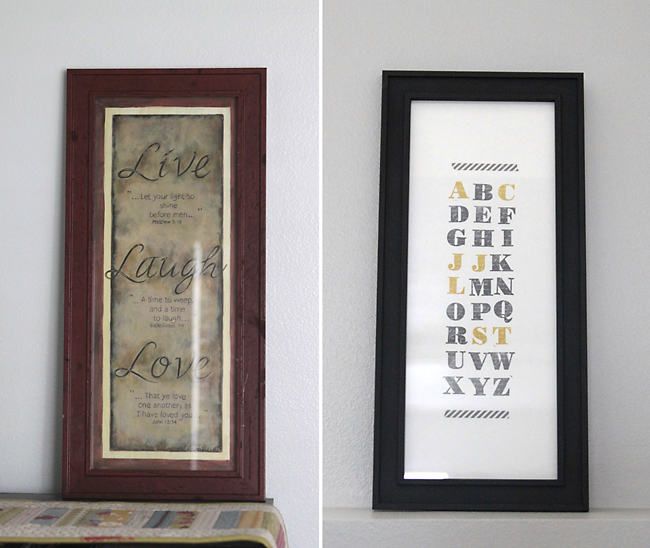 My frame got a quick coat of black spray paint. I used white posterboard as the background for my stamped alphabet, stamping most of the letters in charcoal colored ink, and the first initials of each family member in gold ink (that's why there are two J's). I finished off the project with a strip of washi tape at the top and bottom. Here's a close-up that shows how cool the letters look: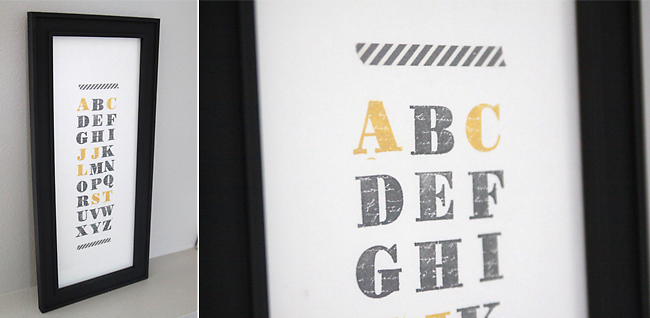 I'm not a stamper, but I can see myself using this alphabet on a lot of projects – this set would make very cute monogram tags for gifts. I've been extremely impressed with Stampin' Up! in general–they have tons of products that are extremely on-trend and modern. Plus I love how cool the wood-mounted version of these stamps look – I requested the wood mounted stamps in particular so I could line then up over my IKEA bookshelf for another pop of ABC decor: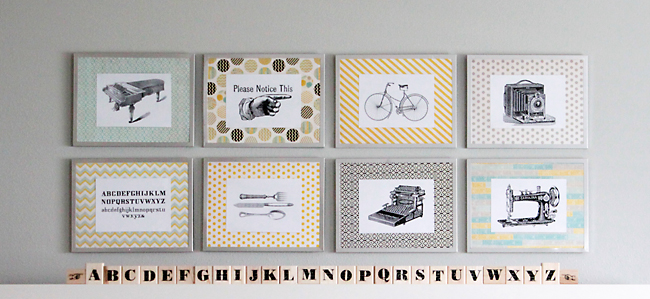 (The stamp set also looks awesome inside a glass vase/hurricane glass. Shown here with my vintage prints scrapbook paper wall art.)
Want to win your very own Morning Post wood mount alphabet set? Since it's such a large stamp set it retails for over $50!
Stampin' Up! provided me with my own stamp set free of charge to try out (thanks!), and they provided a second set for me to give away to one of my readers. Just use the widget below to get yourself entered to win. Please note: giveaway is open to residents with a US mailing address only.