If there's one thing that convinces people to click through and check out a new blog, it's great photos. The exact same project that gets thousands (or millions) of views when photographed well will get completely ignored if photographed badly. Drool-worthy pictures of food, craft projects staged on a pretty mantel, and clothes modeled by super cute kids all make us more likely to check out the actual post. I'm by no means a pro when it comes to product photography, but I've learned a few things in the past year and a half that I thought I'd pass along. Even if you aren't a blogger, chances are you occasionally want to photograph something you've made, whether it's Thanksgiving dinner or a first day of school outfit. Keep reading for 5 ways to improve your food, product, and blog photos.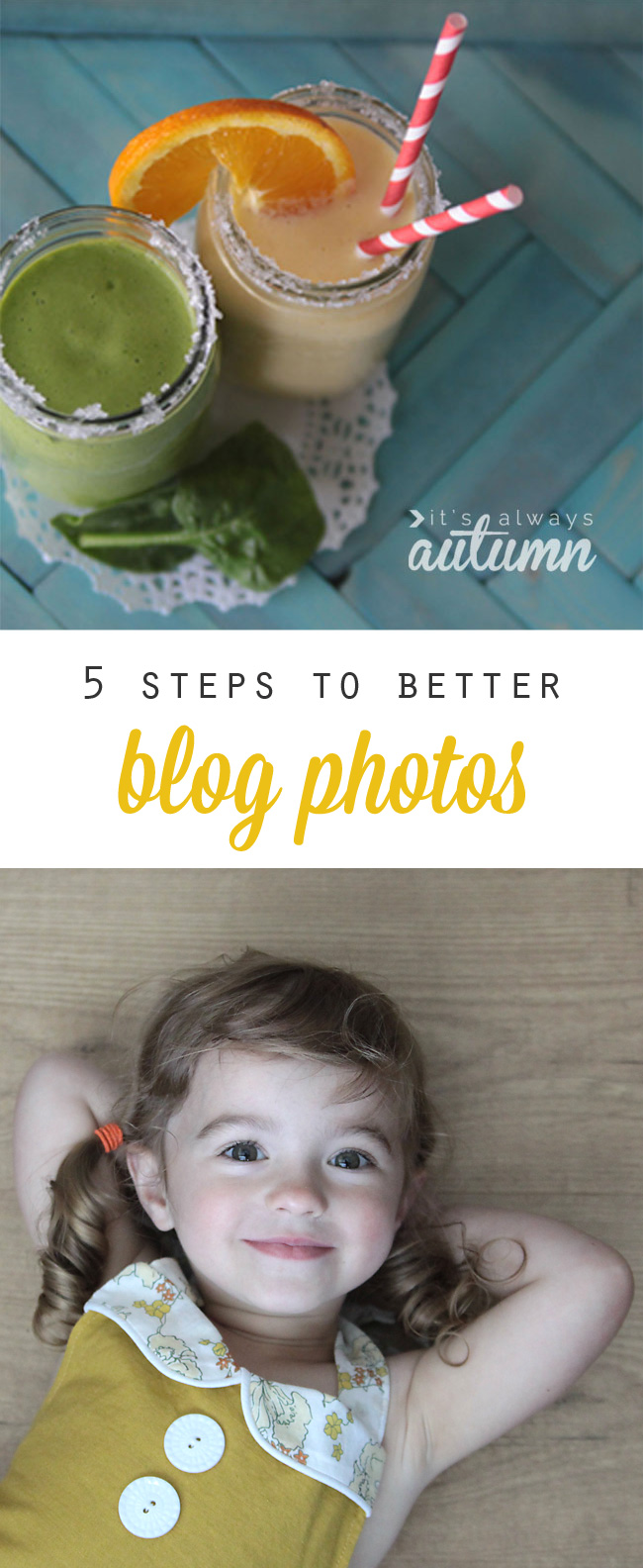 1. Find good light. By good, I mean natural light. Overhead lights make terrible photos, and there's no getting around that. Don't believe me? Which of these cookies do you want to taste?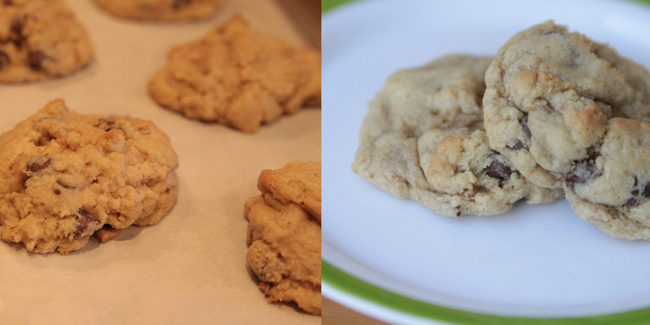 Yup, exact same cookie, different lighting. You want to find a lighting situation where 1) you can turn off the overhead lights and NOT use a flash, and 2) there are no harsh shadows on your photo. I take blog photos in my kitchen near a large window, or in the front room with the door wide open, or occasionally out on the porch or in the garage – anywhere that gives me lots of light. (NOTE: you do not want direct sunlight because that will cast harsh shadows. Read this post for a good explanation of what's direct sunlight and what's indirect.)
This means I never photograph items at night for the blog. Never. It's a hassle not being able to get those pictures after the kids are in bed when the house is quiet, but I know the photos will be so bad it will be a complete waste of time. (This post shows why using your flash is such a bad idea.)
And here's a comparison of a photo taken under artifical lighting in the kitchen and one taken in the light from an open door. They're both kind of pretty, but the bread looks really yellow in the first one and much more natural in the second one (recipe for the bread here – it's delish!).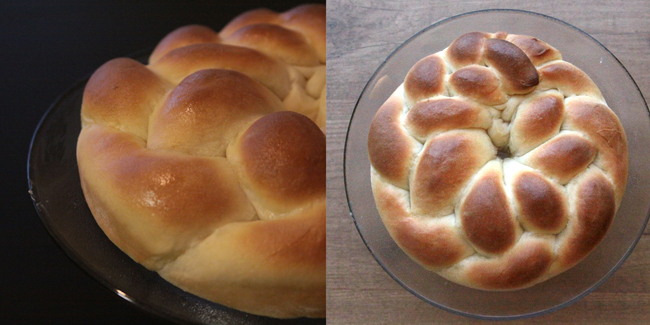 2. Find a nice background. For most of my photos I try to find a plain background because it just looks more professional. Sure, it's easier to take a picture of your finished product as soon as you're done, but it's worth spending a few minutes finding a nice background that won't distract from your photo. Which of these photos does a better job showing off the marshmallow catapult?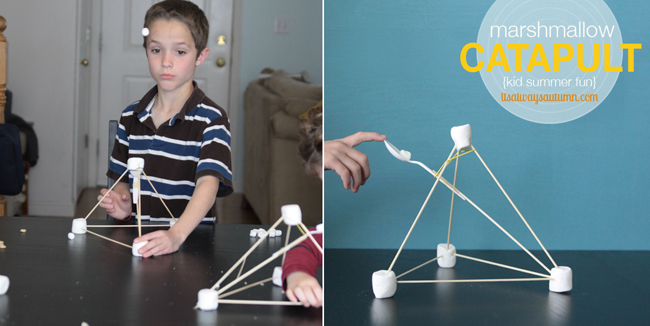 If you're good at shooting on manual mode and blurring the background of your photos, you can make just about any background work. But if you're more comfortable with AUTO, it's a lot easier to get a professional looking shot using a plain background: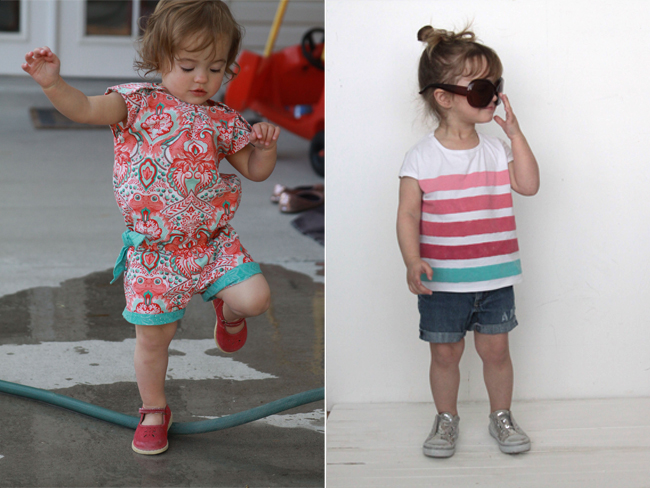 (Runway shortie free pattern, ombre striped tee)
When I'm sewing, it's easiest to photograph items on the carpet or on my bed or on the ironing board – all of which are convenient to where I sew, and none of which provide a nice background for my items. For a better background I use my black kitchen table OR a piece of white posterboard OR a plain colored wall (use masking tape to tape clothing items right up on the wall). If I need a larger plain background and the wall won't work, I pull out one of my DIY backdrop boards, which is what I used for the catapult above.
Look how well a piece of posterboard works for a white background: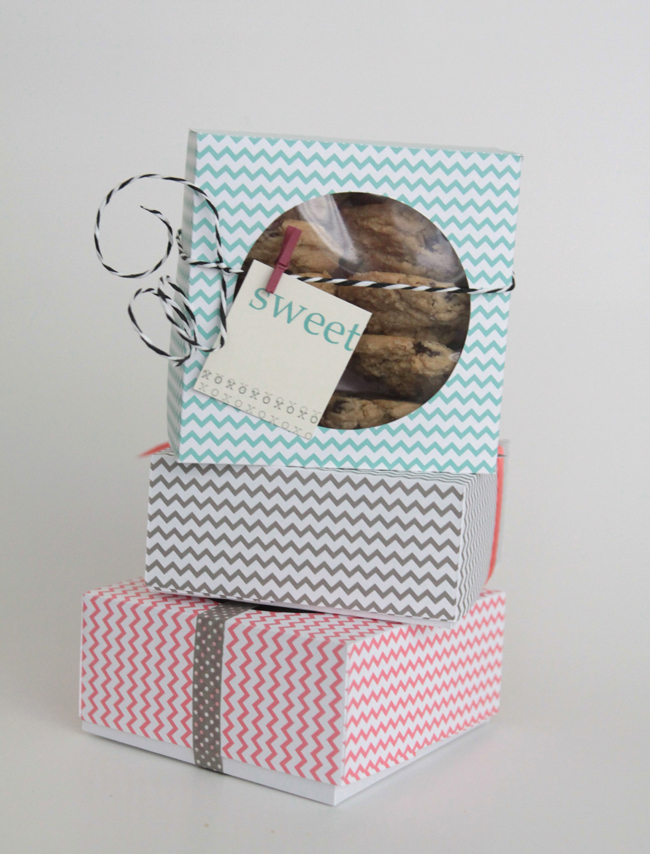 Your background doesn't have to be a solid color – a cool pattern can work well too. Scrapbook paper or fabric makes a great background for food photos or other small items.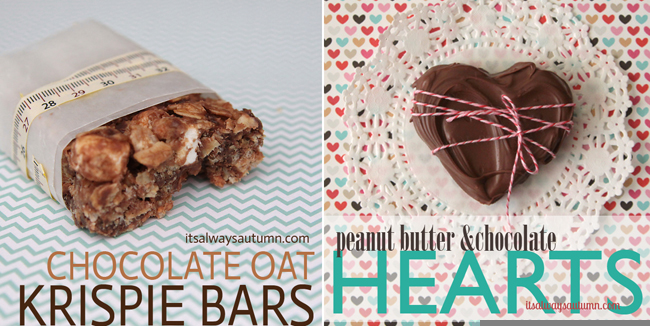 (Homemade granola bars, peanut butter & chocolate hearts)
I also have a couple of large wooden tray/backgrounds that I built (as seen in the smoothie recipe – tutorial here) which look really nice in product photos.
3. Stage the finished product. Look at the difference a little staging can make: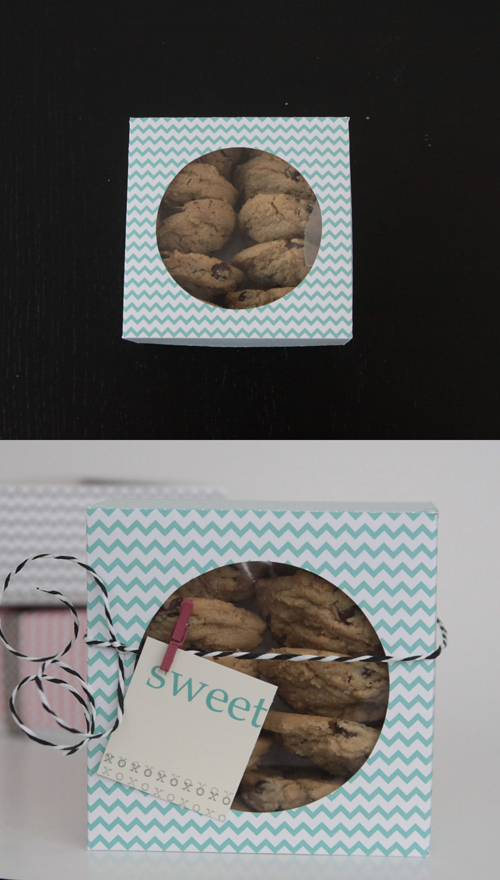 Both photos above are pretty well-lit and have plain backgrounds that don't distract from the product. However, there's no contest between them. Would you even look twice at the first photo if you saw it on Pinterest? I wouldn't. It only took me 5 minutes to make the second photo of the cookie boxes much more inviting. And it only took about 10 minutes to turn this boring orange smoothie photo into a gorgeous Paradise Smoothie: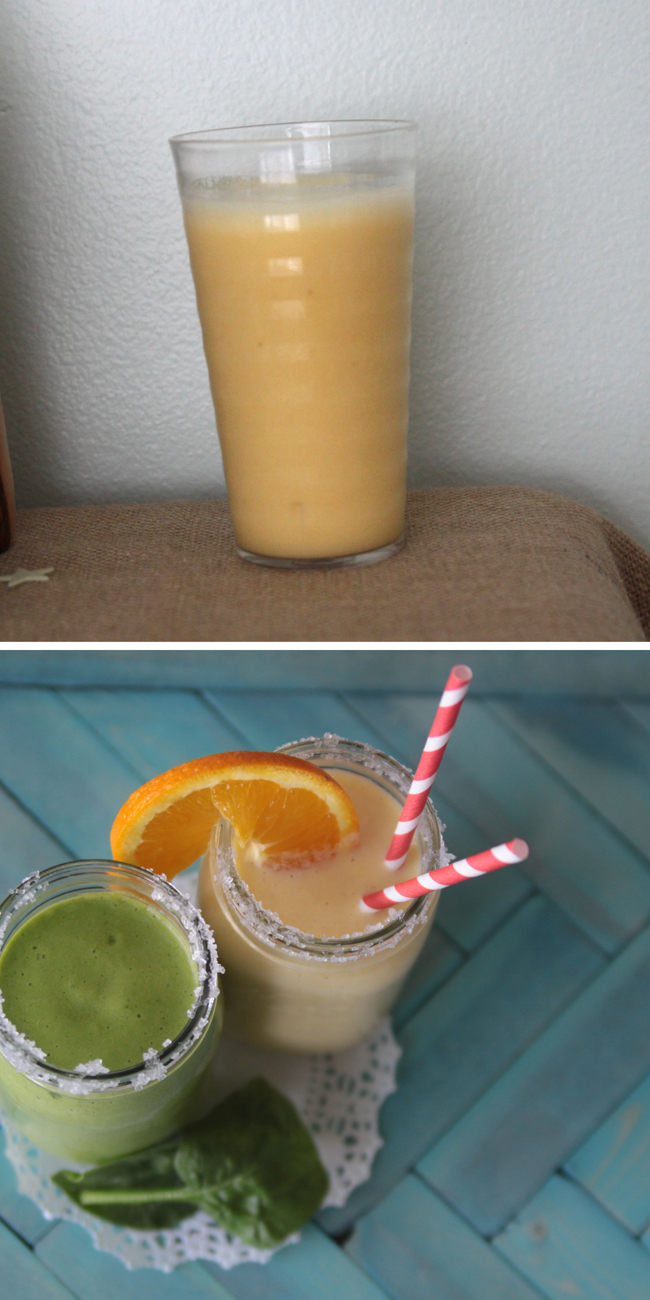 Now, I have a small-ish house, so I don't have room for lots of knick knacks or other items to help stage the things I make, and I still have lots of room for improvement, but I've been amazed at the difference a few extra touches have made in my photographs. Placing the object you've made in context with a few other pretty things can make a huge difference in how it looks, so keep a small supply of ribbon, twine, doilies, paper straws, and tags on hand to dress things up a bit.
You'll also want to "dress up" your food photos a bit. A single food item can look really lonely in a photograph, so surround your finished dish with some extras: add a glass of milk next to a stack of cookies, add lemons and lemons in the background of your salsa photo, or place your shortbread next to a cup of cocoa.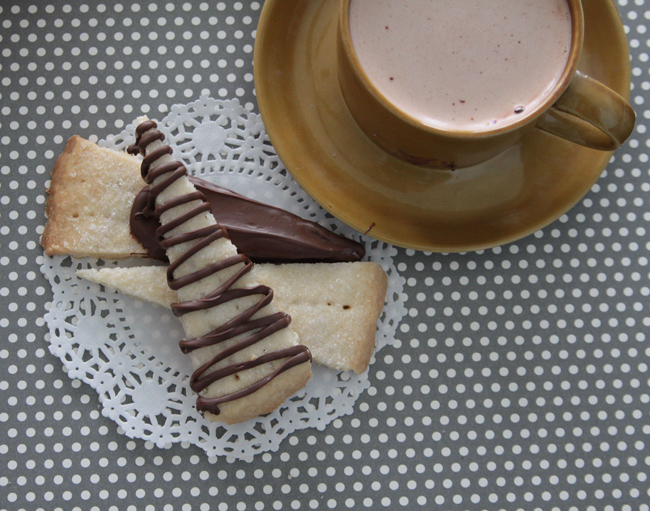 Pretty plates and utensils can help here too, so check the thrift store to buid up a variety of dishes you can use for photography. You might also wants to think about how to make the food look most inviting – look at these ice cream shots. The ice cream is just as delicious in both photos, but it looks a lot tastier when it's drizzled with hot fudge and dotted with a few extra candies.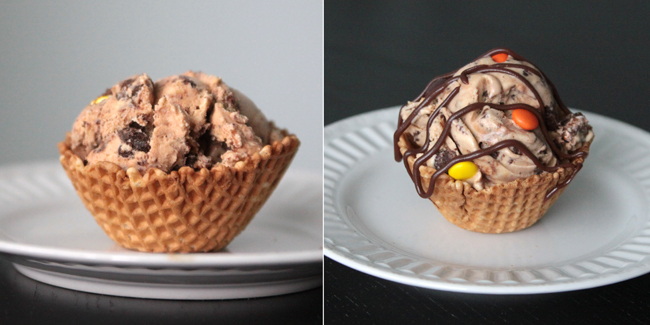 Just remember that more isn't always better. Give staging a try, and if it's not working out the way you want, go with a simpler look instead, like I ended up doing with this printable (I ended up using the second photo here – a more basic shot showed the printable better).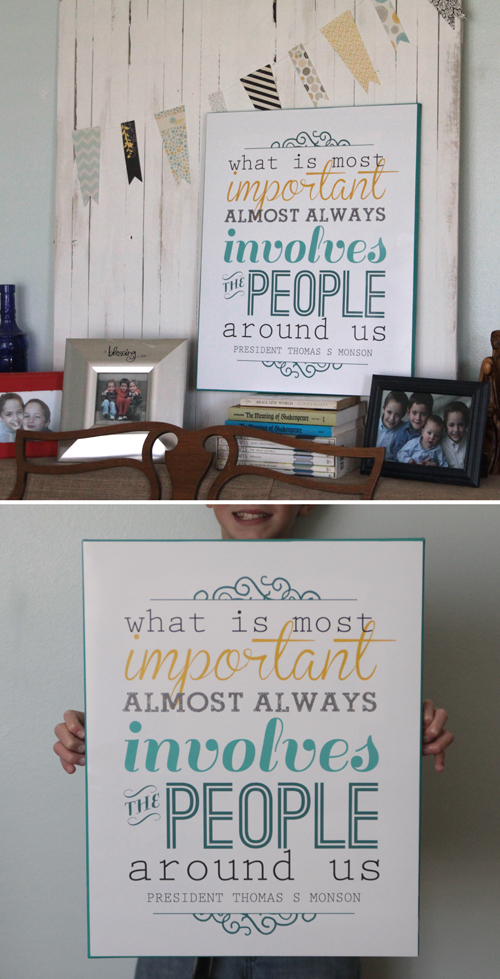 4. Take photos from lots of different angles. Set up your shot, then take LOTS of pictures, moving slightly for each one, to give yourself lots of options to choose from. I think food often looks great photographed from directly above (which means you'll either stand on your table or a chair right next to your table to get the shot). However, that's not a hard and fast rule – look at the photos of these nutella cookies: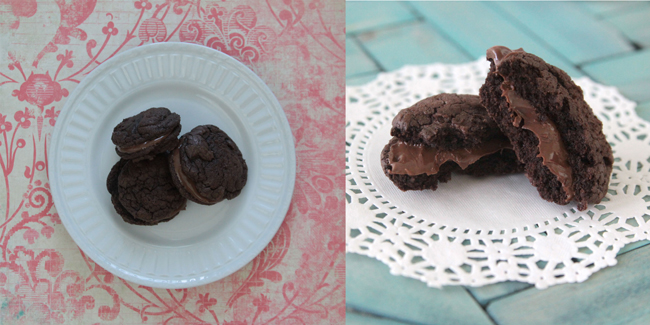 The second one is much better, but it took me some time playing around with positioning the cookies and photographing them from different angles to figure that out.
Here's another example where angle makes a big difference. In the first photo, the photo bulletin board I want to showcase looks small and unimpressive when photographed from above and far away. But when photographed from below it fills up most of the photo, making a much bigger impact: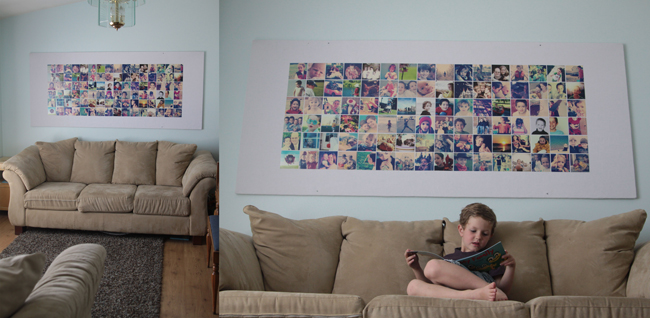 5. Learn to decrease your depth of field (blur the background). Background blur is light a big waving flag that says "this is not just a snapshot – someone thought about this photo!" A blurred background puts the focus squarely on your project, instead of everything around it.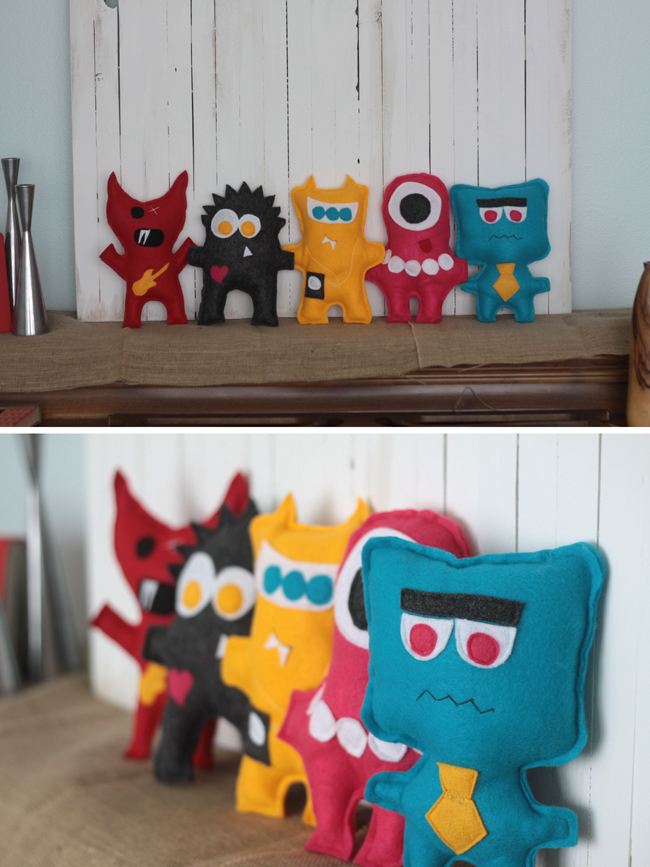 (mix-n-match felt monsters w/free pattern)
A blurred background can look especially cool in food photography. Set food items (like cookies or popcorn) up in rows, then focus on the one closest to you, allowing the rest to go out of focus. It makes a much more interesting photo: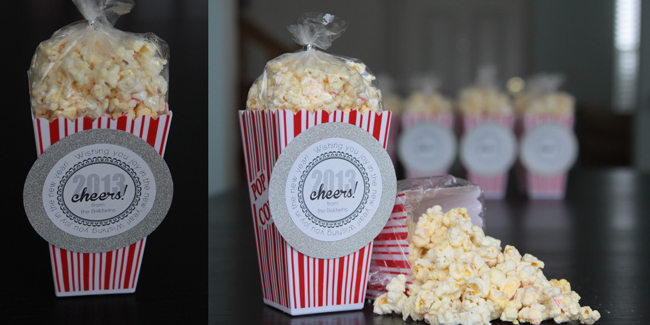 The best way to blur the background in your photos is to start shooting on AV or M modes and open your aperture as wide as possible. If you're not ready to tackle this, however, you can check out this post for some ways to help get that effect even on AUTO.
I'm certainly not a pro when it comes to food and product photography, but these five steps have helped me improve my blog photos and I hope they're helpful to you as well!
Like this post? Follow It's Always Autumn for more:
LINKING Tip Junkie | Sugar Bee Crafts | Today's Creative Blog | Naptime Creations | Lil Luna | SNAP | Someday Crafts | Somewhat Simple | House of Hepworths | The 36th Avenue | Whipperberry | Naptime Crafters | Tatertots and Jello | Little Inspiration | I Heart Naptime