Since it's the New Year and all I decided it was time to get our morning routine a little more organized (and by our I mean mine and the kids'). Here's the plan: I get up a little earlier each morning so I can exercise and shower before the kids get up, then I can focus on helping the big kids get ready for school while keeping the little kids from sitting in front of the TV all morning. Then I made a nifty chart for each older boy so they can see exactly what they need to do before school (including practicing piano and cleaning their room) and checkoff each task as it's completed. I'd wake them up at 7 and there'd be plenty of time to get everything done with no nagging from me. I thought it was going to be great.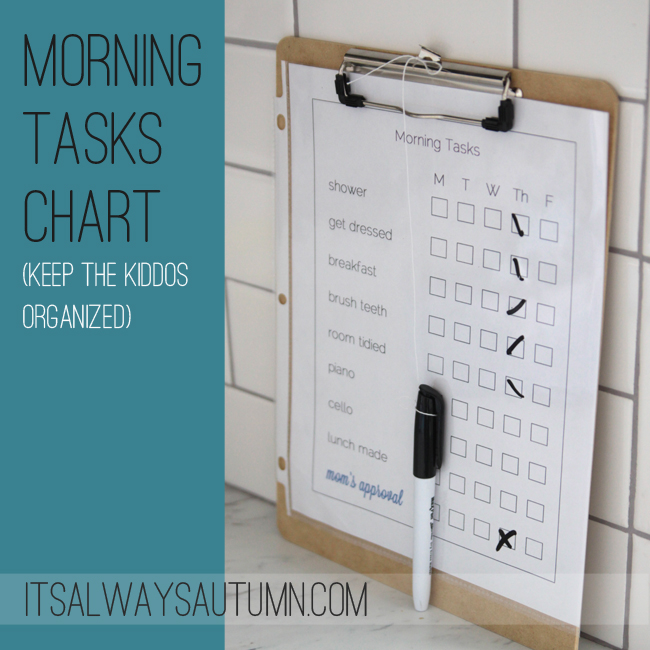 So we tried it today and it turned out to be the absolute worst morning I have had in years. Suffice it to say everything on the list did not get done, and 20 minutes before school started I had three of the kids in tears (two screaming in time out while a third cried because the other two were making him sad), another one in trouble because he'd just hit someone, and the fifth sitting at the piano plunking out "I am a Child of God" while I tried very hard to keep my cool. And no, the irony of this was not lost on me.
I won't bore you with the details; I'll just say that making a change that affects an entire household is hard, and maybe I should have taken it more gradually. Deciding the little kids suddenly can't watch TV in the morning on the same day I try to get the big kids used to a new schedule was probably my first mistake. And I paid the price. We worked it out – I didn't back down – and I'm standing by my guns. But as a result I got to hear my 4 yr old tell me that I had "broken his feelings." That's right, I didn't just hurt them, I broke them. Ouch.
On the other hand, the big kids (who had been ignoring my reminders that they weren't following their schedule all morning) jumped in to help, and when I finished my discussion with the 4 yr old I went to check on the youngest and found this: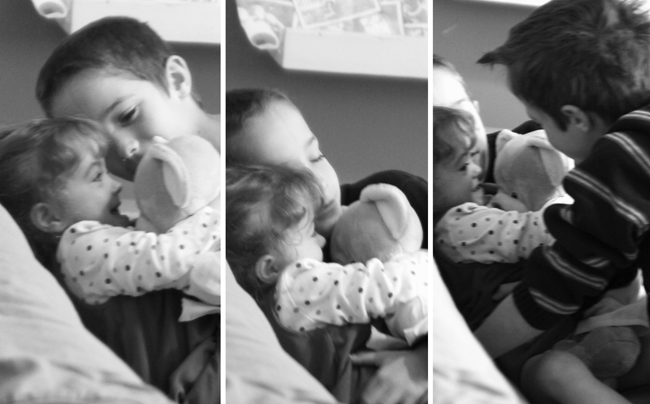 Two very sweet big brothers cheering up their little sister. The day actually ended up getting better from then on out (due in part to a kind friend who called – I think she heard the screaming coming from my house on her end of the street) and we'll try the new schedule again tomorrow – hopefully it will get a little easier every day until we're just a well oiled morning machine.
And I had a chat with the big boys about their "morning tasks chart" (which I still think is a fantastic idea – we'll see if it ever actually works). Here's the deal: I will wake them up in plenty of time to complete everything on their chart, and then I will leave them alone about it. I'll be available to them in the morning if they need help with things (no sewing before school!), but I WILL NOT spend the entire morning reminding them about what they need to do. If their tasks get completed before it's time to go, they get privileges after school (friends and/or electronics). If not, no privileges. And that's just how it's gonna be.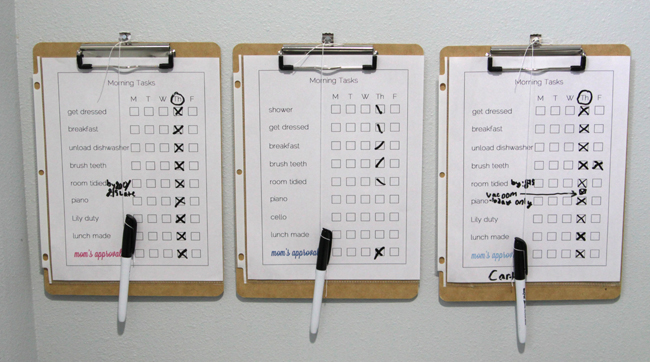 (I hung up their charts right above the toilet in their bathroom, so they should be just about the first thing they see every morning.)
Now please someone give me the will to keep this up. Just getting up a little earlier is going to be hard for me, and I can't tell you how hard NOT reminding the kids to do what they're supposed to will be. Not to mention dealing with one child who doesn't get to play with friends while the others do if some are better at getting things done in the morning. I'm convinced this will make things better in the long run…I just hope I make it through the next couple of days.
***ETA: Our second morning with the tasks charts went MUCH better. Apparently an afternoon without electronics made an impression, and all the boys stayed on task with no reminders from me and had a pretty good time checking off things as they finished them. I know it's not going to work this well every morning, but I think it will help.***
By the way, I printed out the charts and then slipped them inside page protectors so the kids can mark on them with dry erase markers, then erase everything at the end of the week. Some of the kids have even started making notes to themselves on their charts: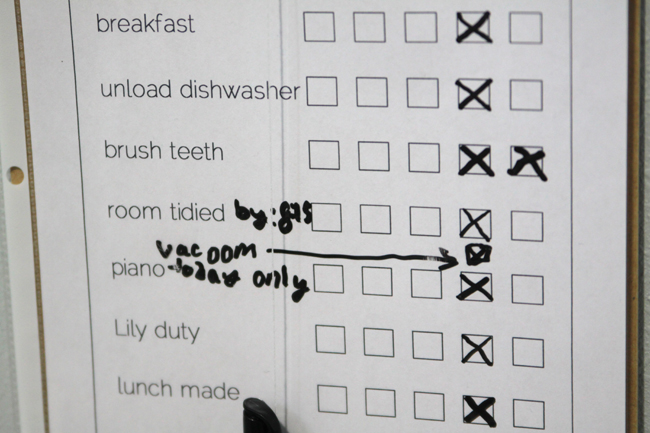 (And yes, that does say "vacoom." Maybe this will work after all.)
Like what you see here? Follow It's Always Autumn to stay up to date:





Linking to some of these parties: