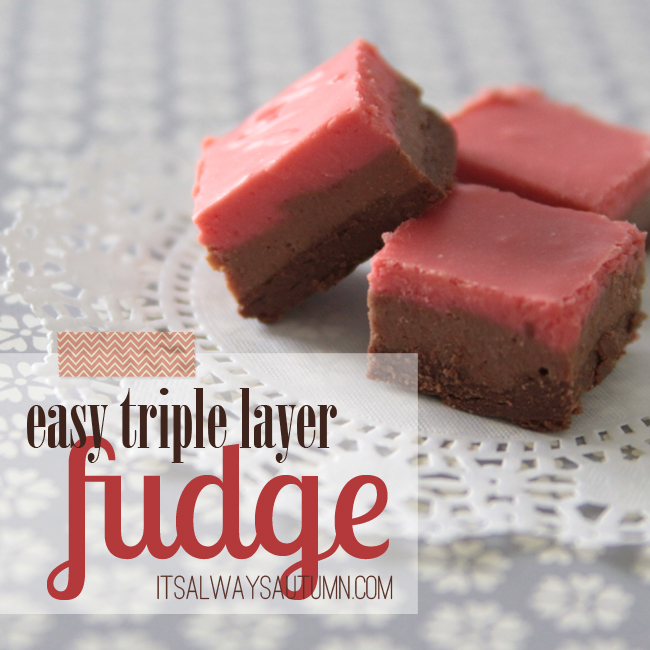 I know, I know, it's still a month until Valentine's Day. But I have a blog series starting next week that will run all the way through V-Day (more info on the series coming Friday!) and so I won't have another chance to post this fun little fudge recipe, so here you go. The basic recipe comes from my mother-in-law's friend, and it's a winner. So easy a four year old could just about make it on his own…which mine nearly did. No need to time anything, or use a candy thermometer, or anything like that. Just one pot and about 15 minutes (plus chill time!) and you've got a pan of creamy, delicious fudge. And with one easy modification you can make triple layer fudge with a pink top for Valentine's Day, or a green top for St. Pattie's Day, or even a blue top for Smurf day. Or something like that. Doesn't it look delish?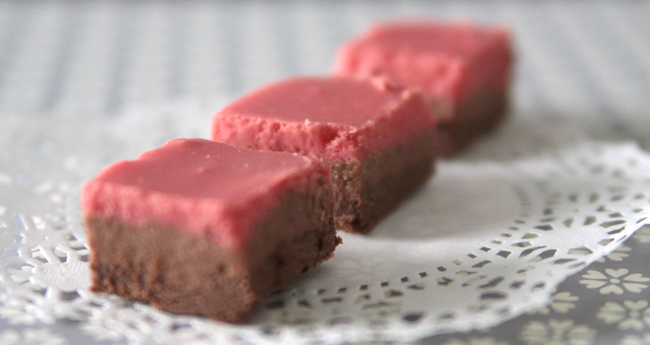 Perfectly creamy and incredibly easy.
The base recipe calls for 2 cups (or one bag) of chocolate chips – semi sweet for a very rich fudge or milk chocolate for a milder, super creamy tasting fudge (I'm thinking half of each would be just about perfect for me). However, if you want to make triple layer fudge, you'll need 2/3 of a cup each of three different kinds of chips. You'll either want semi sweet chips, milk chocolate chips, and white chocolate chips (plus some red food coloring) OR you'll want to pick up a bag of these beauties: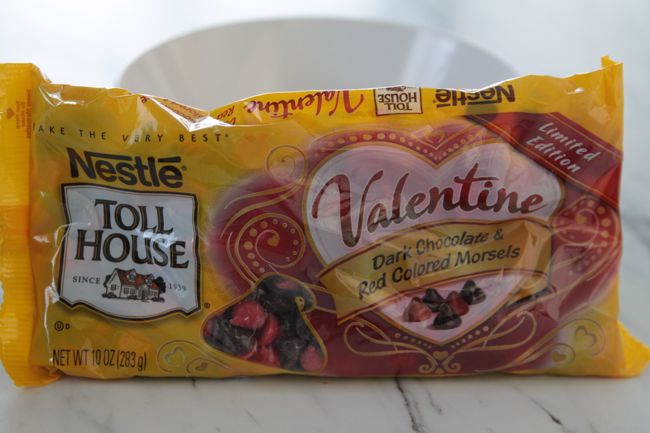 …as well as some milk chocolate chips. We used the Valentine morsels, and my son helped me put all the red ones in one bowl and all the semi sweet ones in another bowl (remember to only use 2/3 C each – you'll have a little extra). Then we put 2/3 C of milk chocolate chips in a third bowl.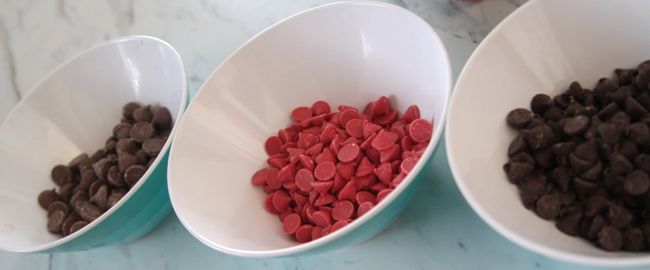 The red chips taste a bit like white chocolate chips – they have a fairly neutral "candy coating" taste. I wouldn't eat them straight, but when combined with the chocolates they give the fudge a nice sweetness which my kids absolutely loved.
Once your chips are sorted out, the fudge is insanely simple. Start by melting marshmallows, sugar, and evaporated milk: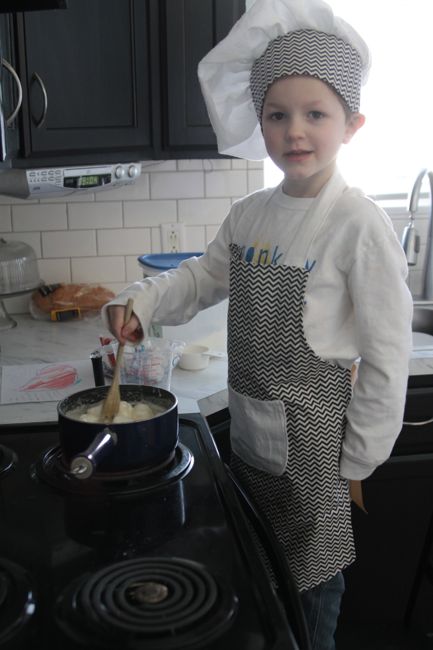 When that's done you stir in butter and vanilla, then evenly distribute that mixture among your three bowls of morsels:

Stir the bottom layer first until completely combined and spread it in a buttered 9×9 pan. Pop it in the freezer for a few seconds while you stir the next layer, then spread that on and repeat with the third one.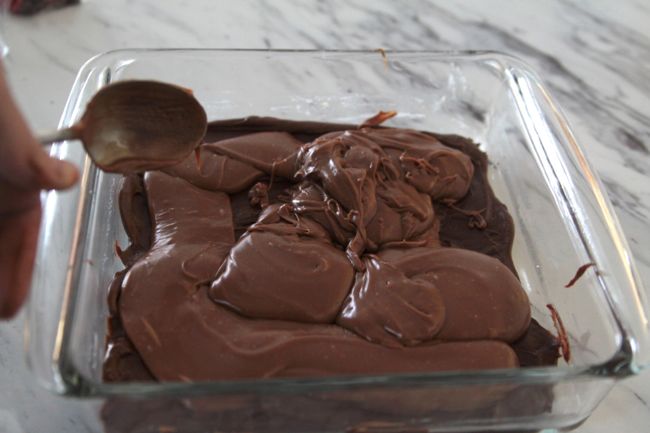 Refridgerate for at least 12 hours, and you've got delicious triple layer fudge.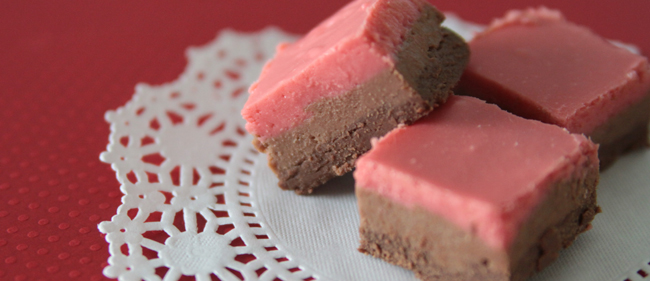 Easy Triple Layer Fudge Recipe
2 C sugar
1 small can evaporated milk (5 oz)
10 large marshmallows
1 cube/stick of butter (1/2 C)
1 t vanilla
2 C chocolate morsels (divided if desired)
Butter a 9×9 inch pan and set aside. In a saucepan over medium heat, mix together the milk, sugar, and marshmallows. Stir until marshmallows are melted, then remove from heat. Stir in butter until melted, then stir in vanilla. Add chocolate chips and stir well until completely combined (mixture will be thick). Pour into buttered pan and cover tightly with plastic wrap. Chill at least 12 hours before cutting. [To make triple layer fudge, divide chips into three bowls, 2/3C of each color. Evenly distribute heated mixture among three bowls of chips. Stir bottom layer together and spread evenly in pan. Place in freezer for 1 minute while stirring middle layer. Remove from freezer and spread middle layer evenly. Repeat for top layer, then cover and refridgerate.]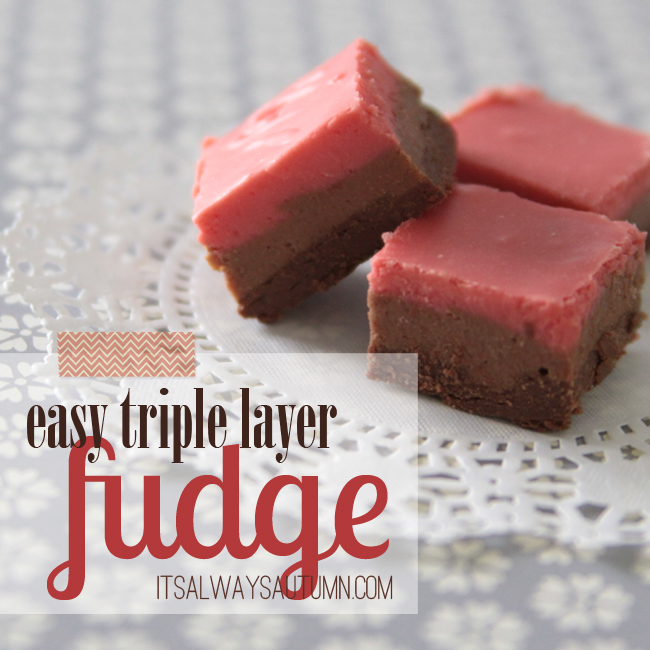 Like what you see here? Follow It's Always Autumn to stay up to date:





Linking to some of these parties: