***Links to all STL posts below!***
I don't know what the weather's like where you live, but here it's cold. Like below zero in the mornings and nowhere near freezing in the afternoons. Add in a depressing smoggy haze and I hardly even want to leave the house. I always find this time of the year to be the hardest: the excitement of the holidays is long gone but spring is still months away. It's the most lonely, isolating time of year, and that's why I decided to host a blog series for the next four weeks all about projects that bring people together.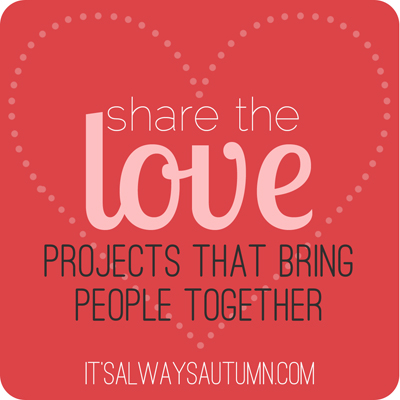 I have twelve guest posters and four great giveaways lined up, along with a few posts from me, all designed to give you ideas for projects that will help you make connections with the important people in your life. The next four weeks might be the coldest ones of the year, but the don't have to be the loneliest. I'll hope you'll check back everyday and share the love!
Projects so far:
Chocolate covered peanut butter hearts by Autumn
Felt fortune cookies by Elizabeth from Simple Simon and Co
How to host a morning get together and breakfast casserole recipe by Autumn
Freezer cookie dough gift packages by Melissa from No. 2 Pencil
Stamped jeggings by Katy from No Big Dill
Mix-n-match felt monsters w/PDF pattern by Autumn
DIY fascinator by Stef from Girl. Inspired.
Mom&Me Journals by Delia from Delia Creates
Candid photos by Kristen from Capturing Joy
CS Lewis book quote printable & book recommendations by Autumn
Memories Gift by Kimbo from A Girl and a Glue Gun
Fingerprint family tree canvas by Autie from iCandy handmade
Use your talents to help others by Andrea from The Train to Crazy
Photos that celebrate relationships by Autumn