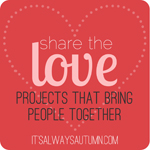 We're starting this week off with a clever tutorial from Elizabeth, who blogs along with Liz at Simple Simon and Co. (It's share the love time, remember? Projects that help you connect with people during this chilly and often lonely time of year.) I've been clicking over to Simple Simon and Co every couple of days for at least a year to check out both ladies' gorgeous sewing projects (have you seen the Audrey Hepburn outfits they made for their girls? to die for adorable!), read their awesome "The Art of Homemaking" posts, and see if we agree on who should win this current season of Project Runway. Today, Elizabeth has a simple and sweet way to let the important people in your life know you care about them: felt fortune cookies with a sweet sentiment inside.
Step 1: Hot glue pipe cleaner into middle of felt circle.
Step 2: Fold in half
Step 3: Squish the middle as shown
Step 4: Pull edges of circle down to form the fortune cookie. (The pipe cleaner will hold it in place.)
And you are done! If you need to spread a little love this season—fortune cookies may be the simple solution!
Thanks Autumn for having us today!!!! I absolutely love the idea of this series…..
~Elizabeth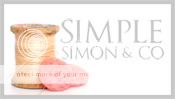 Thanks so much Elizabeth! I love projects I can work on with my kids – and I bet my big kids will want to make these for their classmates or teachers next month. Check back tomorrow for another sweet way to share the love.