Anyone else still figuring out Halloween costumes? If you're still looking for a costume for your little girl, this princess dress is perfect. It's easy to make (you'll use an old shirt as a pattern) and pretty inexpensive ($7 should do it!). It's made with long sleeves to provide a little extra warmth during trick or treating. If you have basic sewing skills, you can do this! Keep reading for lots more photos and step-by-step tutorial.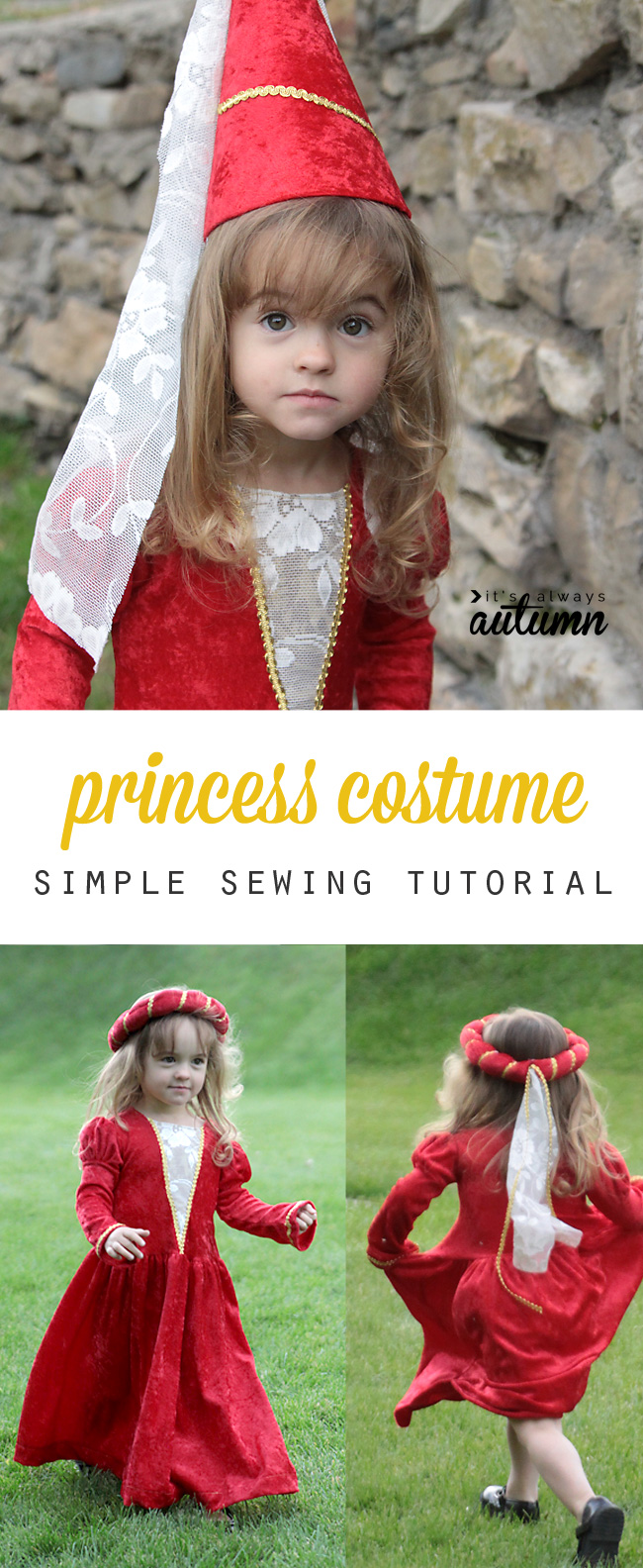 My daughter has been insisting for months that she's going to be a princess for Halloween, but her princess vision (a pink Cinderella) didn't match up with my princess vision (something a bit more medieval). We may or may not have had an argument in the parking lot of Joann's ("I don't want a red princess – I want a pink princess!). As you might have figured out by now, I won.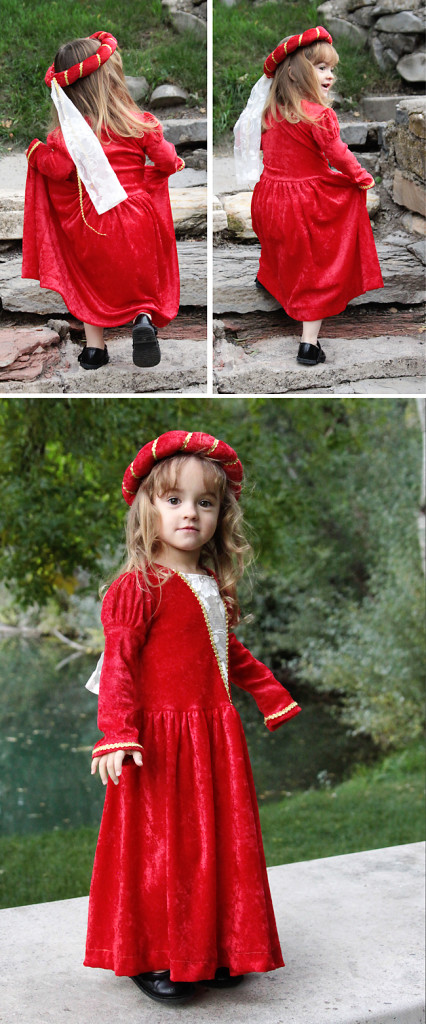 (Don't worry – I didn't ruin Halloween for my daughter. She's THRILLED with her dress, even if it isn't pink.)
Since I have 5 costumes to figure out each year, I knew this one needed to come together quickly, so I chopped up an old t-shirt to make a quick pattern and had the dress cut out and sewed up in about 2 hours. (If you don't want to sacrifice a long sleeve tee you could probably figure this out by tracing one, but cutting one up makes the process much simpler. Find a shirt with stains, or one that's too short, or one you bought at a garage sale and was never that cute to begin with. You just want to be sure it still fits.)
Chop it up as shown below: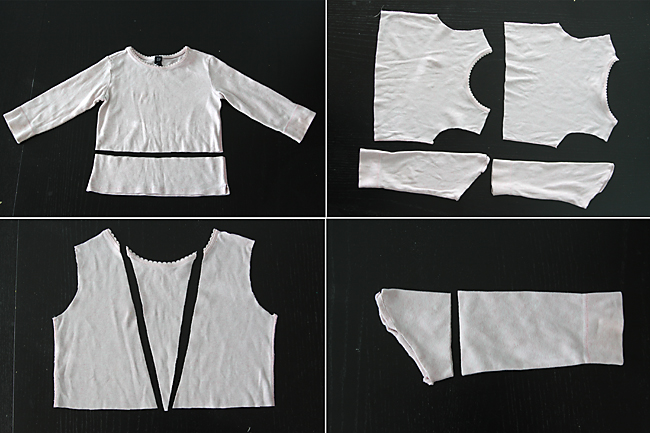 1 – cut it off at the child's natural waist | 2 – cut off the sleeves, then cut the front and back apart at the shoulders and side seams | 3 – Cut a v-shape from the front  to make 3 front bodice pieces| 4 – Cut the sleeve apart about an inch and a half below the underarm to make an upper arm piece and a lower arm piece
You'll use these as your pattern pieces as shown below. I used crushed panne for my daughter's dress because it's cheap (I got it on sale at Joanns for $3/yd) and it's stretchy, which means the fit doesn't have to be perfect. I used exactly 1 yd for a dress for a 3T size dress. You'll also want a little bit of contrast fabric for the "V" piece in front, and 2 yards of cheap trim.
Remember to add 1/2 seam allowance around all cut edges. Cut out the 3 front pieces and 1 back piece.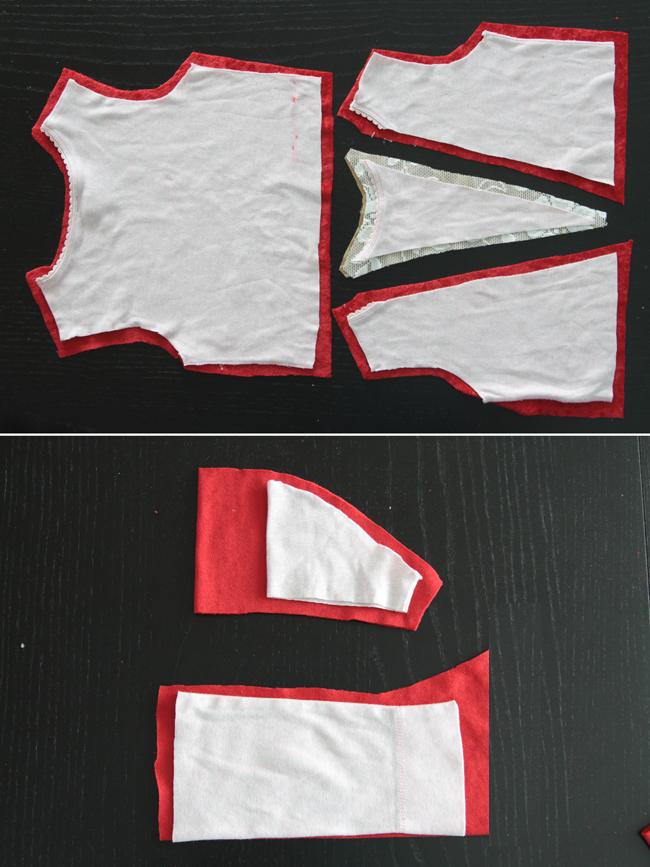 To make a princess sleeve, you'll want to add width to the top part of the sleeve. You'll need to cut your sleeve pieces on a fold, but instead of lining up the upper sleeve with your fold, move it about 2 inches away from the fold and then cut around it as shown above. For the lower sleeve I just widened it at the bottom and added a little extra length for a hem (as seen above).
Your first step will be to assemble the front bodice. Place the V piece RST with one side of the bodice and stitch. Then open it up and lay on the other side of the bodice and stitch that. Press both seams and your front piece will look like this: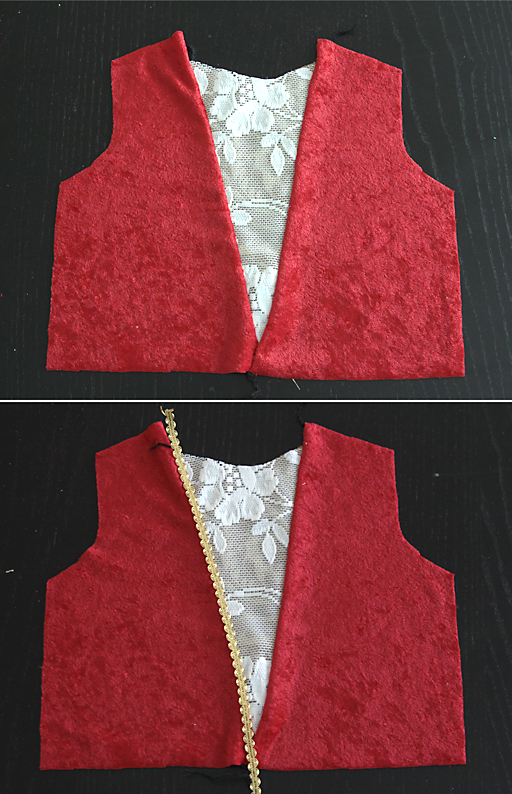 I added gold trim down the side of each V. I just pinned in on and sewed over it using gold colored thread (don't stress if you don't have thread that matches exactly – no one's going to be looking that closely).
Now you'll place the front bodice down on the back bodice, RST, and sew the shoulder seams (not pictured).
Now it's time for the sleeves. Sew a gathering stitch along the top and bottom of the upper sleeve, as shown below. (A gathering stitch is just a straight stitch at a low tension – after you sew it you can pull on the bottom thread to gather.) Gather it up until it's the same width as the lower sleeve, as shown below right.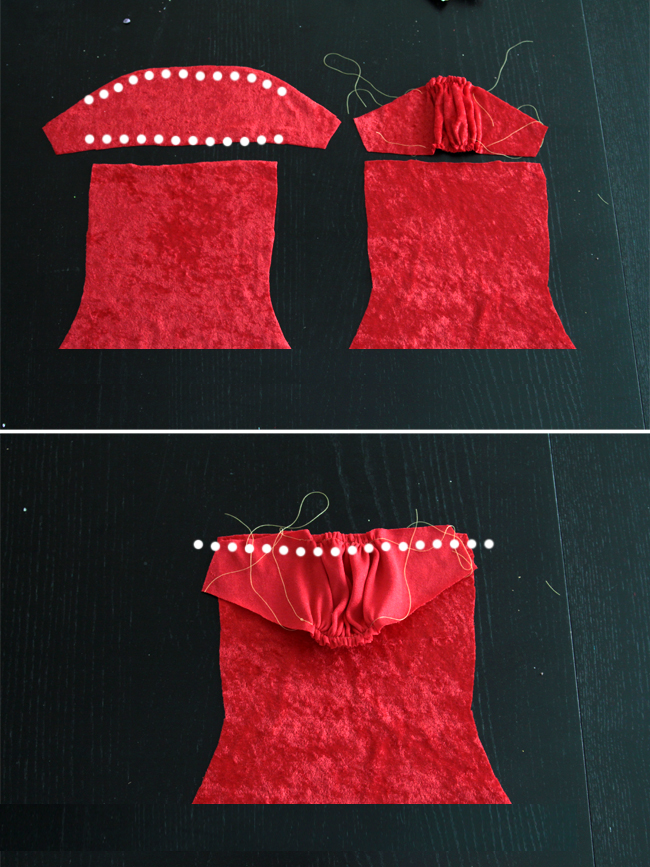 Next you'll flip the upper sleeve down onto the lower sleeve and sew straight across.  Repeat with other sleeve.
Next you'll attach the sleeve to the dress. In the photo below you can see the bodice is sewn together at the shoulders and laying opened up on a table. One sleeve (with the gathered portion at the shoulder) is placed near the armhole.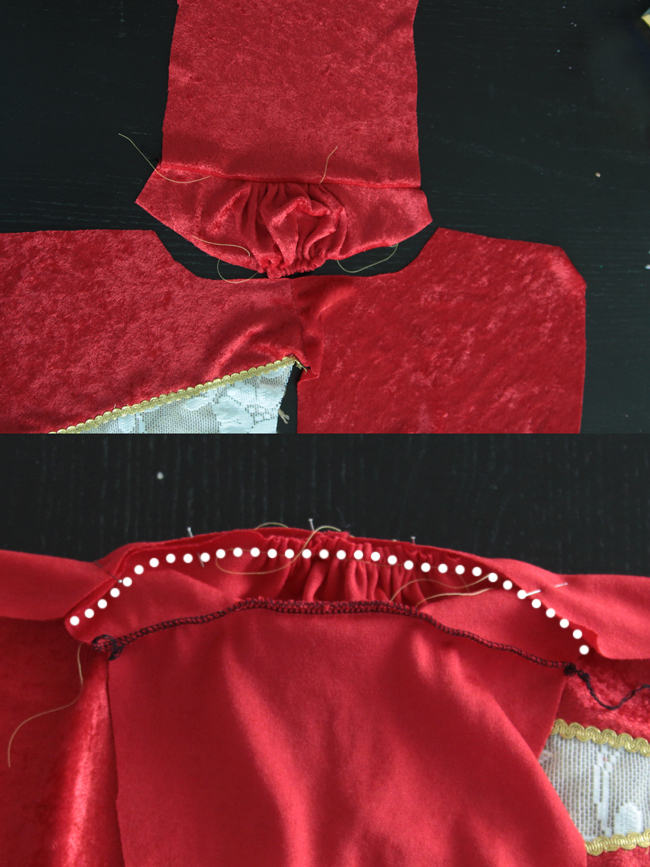 Flip the sleeve down so it's RST with the bodice and pin the sleeve into the armhole, pulling gathering stitch tighter or looser as needed to fit. Sew in. Repeat with other sleeve.
Now you can sew up the sleeve, around the underarm, and down the side.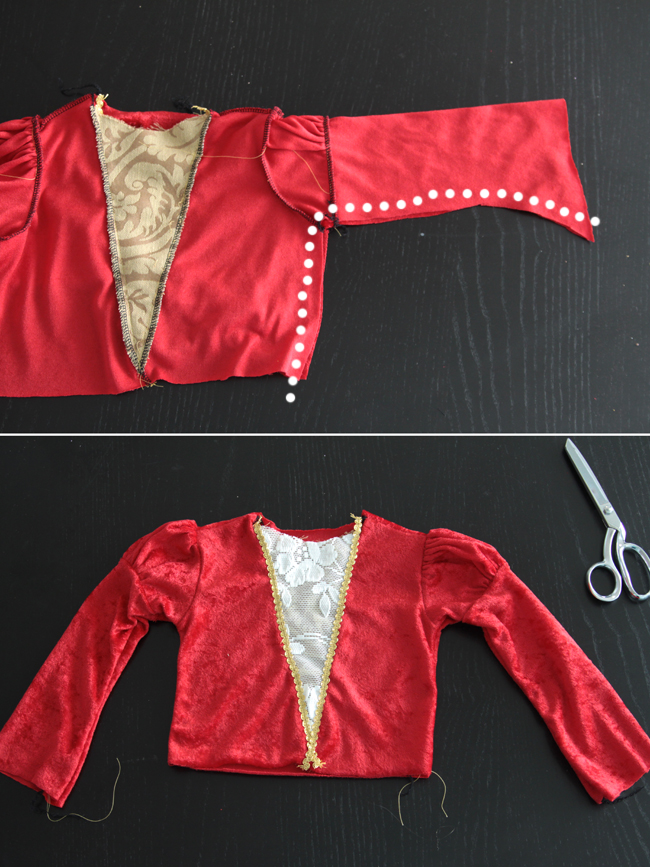 And it's starting to look like a princess dress! Try it on and take it in down the sleeves/sides if needed.
For the skirt you just need a big rectangle. I used the entire width of the fabric (about 58 in) and cut it about 22 inches long – which was long enough to go from my daughter's waist to the ground + an inch or two for seam allowance and hem. Sew the rectangle into a tube, then sew a gathering stitch all the way around the top. Gather it up until it's the same width as the bodice, then place the bodice inside the gathered skirt RST. Even out your gathers and pin together well, then sew. You'll want this seam to have some stretch, so either serge or use a narrow zigzag.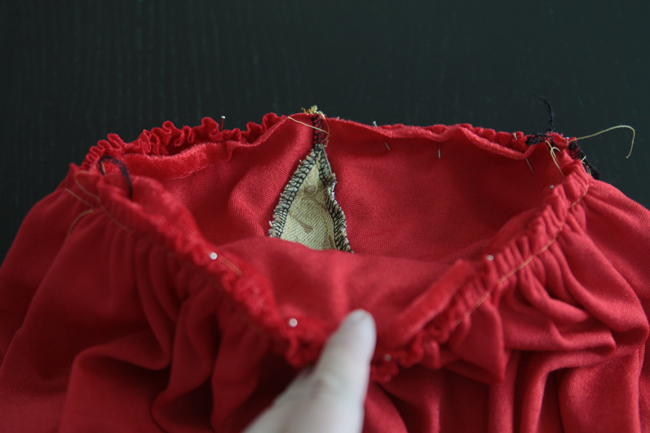 Nearly finished! Try it on and mark your hem, then just turn it up and hem with a straight stitch. Turn up the sleeves and hem as well. For the neckline I just turned it under, pressed, and sewed along it using a zig-zag so it would still stretch over her head.
As a final step you can add trim around the sleeve hem and even around the neckline as long as the trim stretches OR the neckline is big enough to fit over her head without stretching.
I made two different matching hats – she liked the look of the tall pointy one at first, but it's kind of hard to run in. And running is apparently a very important activity when you're wearing a princess dress. Or when you're trying to avoid your mom who is trying to take photos of you while wearing said dress.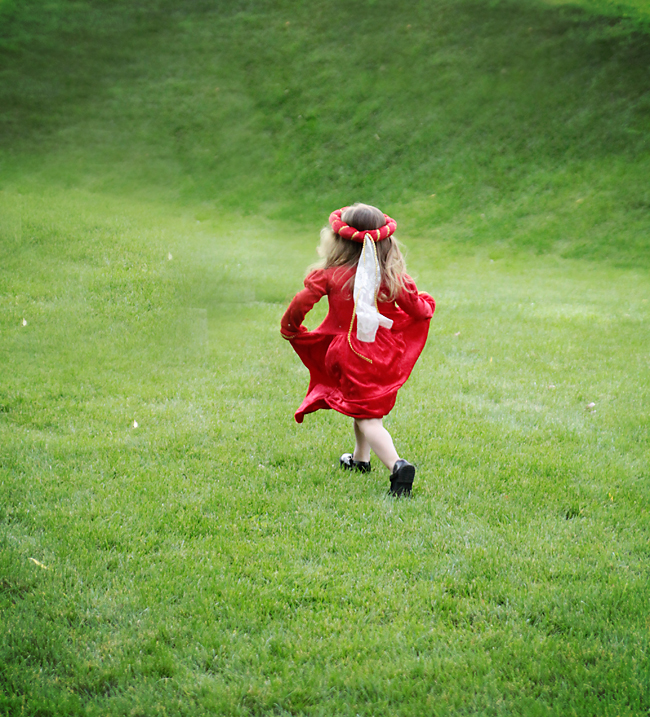 One costume down, four to go…
Never miss a post:  f a c e b o o k   |  p i n t e r e s t  |  t w i t t e r  |  e m a i l   s u b s c r i p t i o n
LINKING  Tip Junkie | Sugar Bee Crafts | Today's Creative Blog  | SNAP  | Somewhat Simple | The 36th Avenue | Whipperberry | Naptime Crafters | Tatertots and Jello | Little Inspiration | I Heart Naptime