Hi all! Today's post is a two-parter. Here you can learn to turn two t-shirts into a simple t-shirt dress for a little girl. Once you have that part down, you can click through to this post to find out how to customize your new dress with a contrast neckband and sweet tie-back.
A t-shirt dress is the perfect compromise between cute and comfy for little girls, and it's also a great way to get extra mileage out of shirts that still fit width-wise but have gotten a little too short thanks to one too many spins in the dryer. All you do is cut off the shirt under the arms and add a gathered skirt made from another old shirt. Both of mine were thrifted, as usual!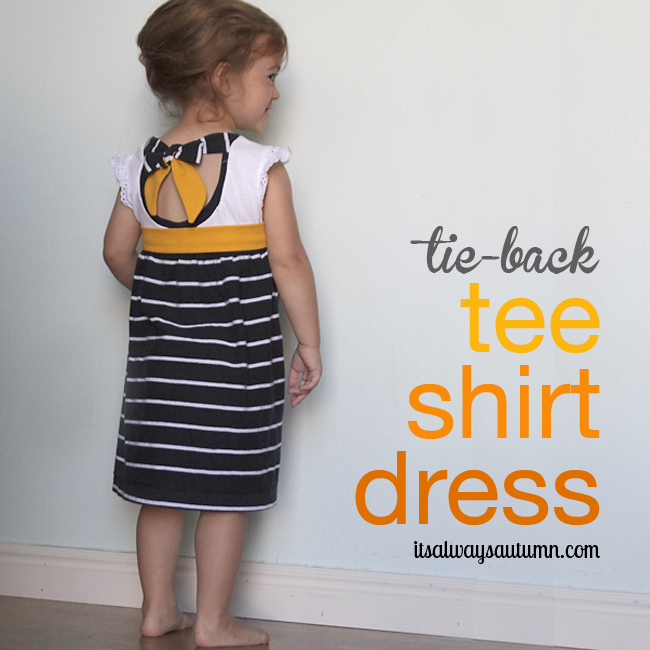 Keep reading for more photos and the tutorial.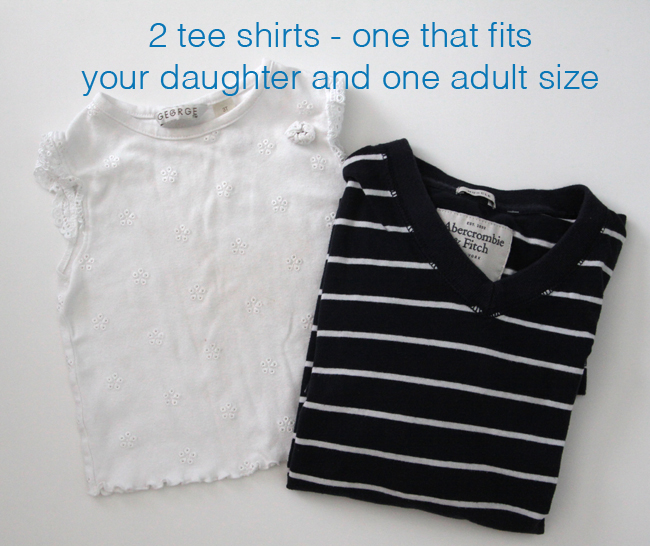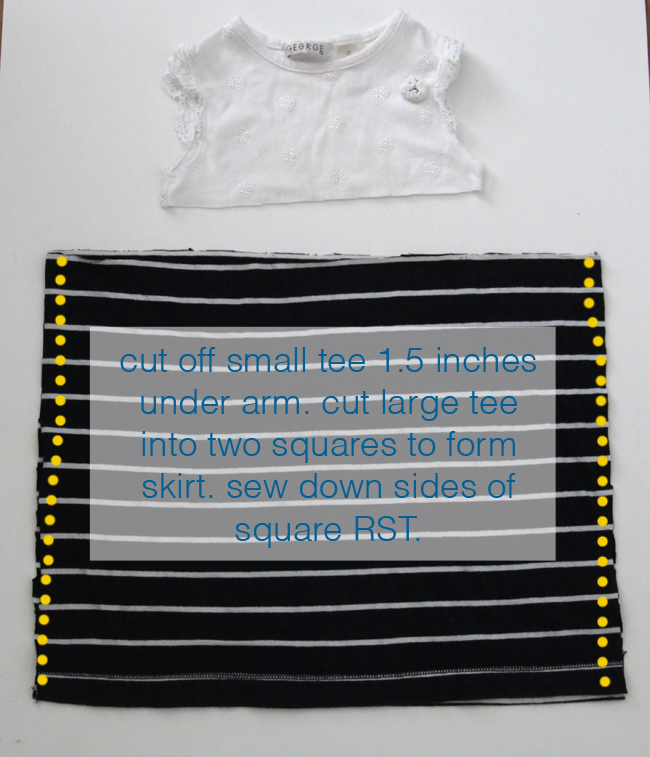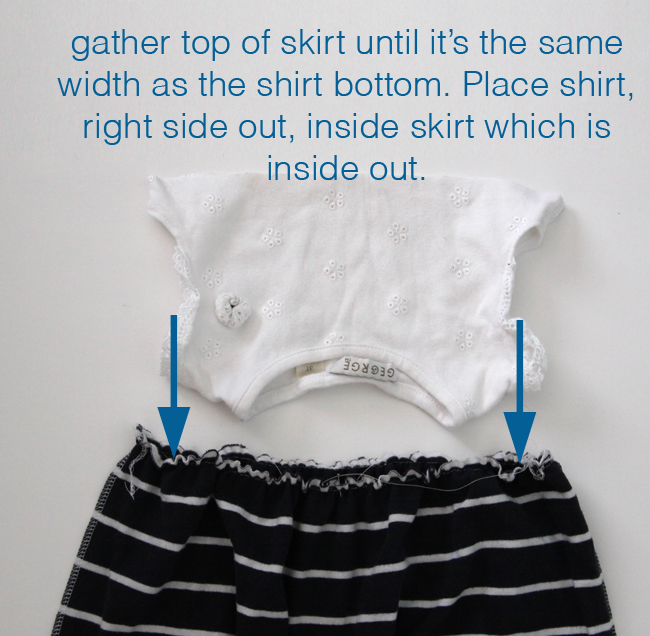 (To gather, sew a straight stitch with a long stitch length and a low tension setting 1/4 inch from the top of your skirt. When you get back to where you started, stop sewing, and then pull on the lower thread to gather up the top of the skirt. Keep pulling that thread and moving the gathers along the top of the skirt until it's the same size as the bottom of the shirt.)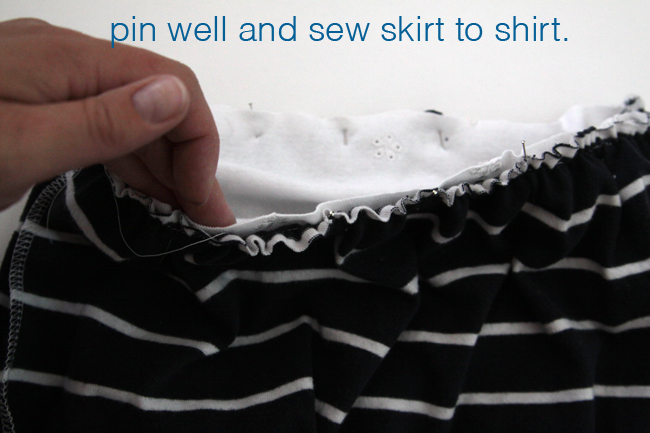 You'll want this seam to be able to stretch, so either serge this or use a narrow zigzag on a regular sewing machine.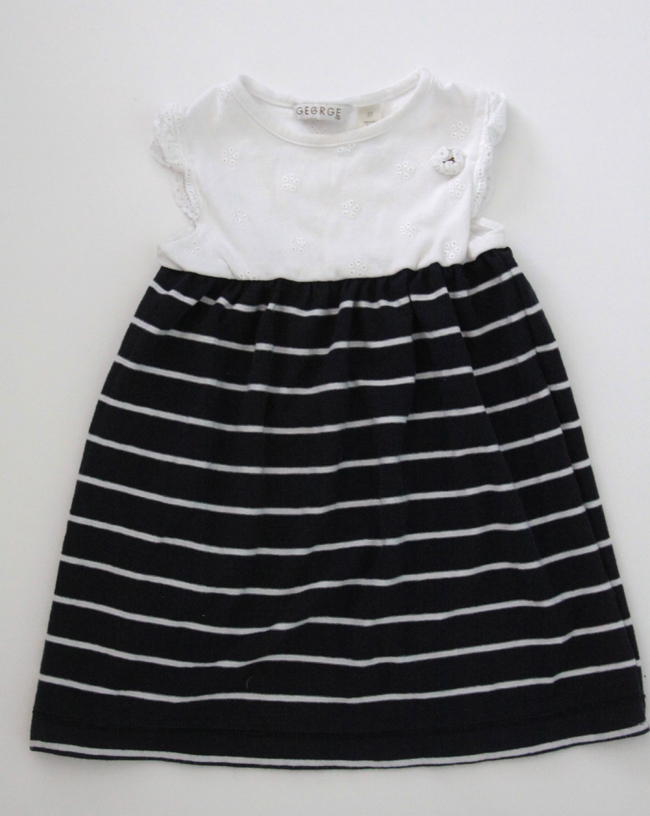 And you're done! You now have a cute, comfy t-shirt dress instead of two unwanted tees. Pretty cool.
Now, depending on the relative weights of the shirts you used, it's possible that where they come together at the top of the skirt will look stretched out. You can either sew narrow elastic into your seam where the shirt and skirt come together, or tie a ribbon around your girl's waist, or make a cute little "belt" out of contrasting knit, like I did: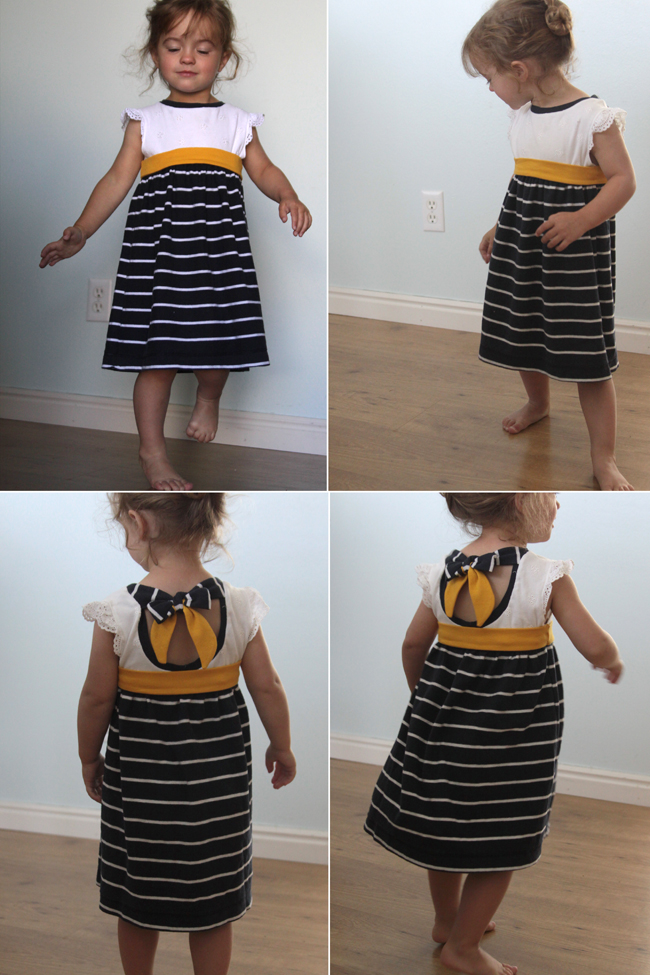 Remember, to get the rest of the tutorial (how to make the cute cut-out back with a tie) click over to Crazy Little Projects and check out the shirt you see below. Thanks for visiting!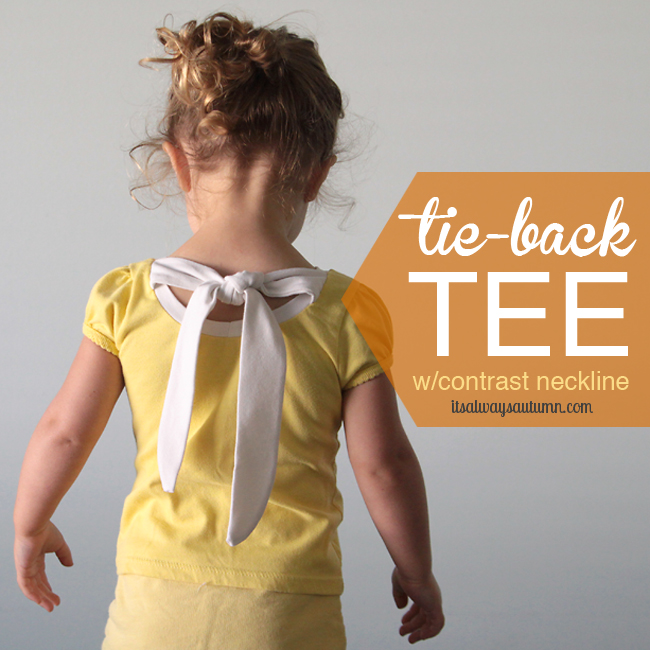 Like this post? Follow It's Always Autumn for more:
LINKING Monday: Skip to My Lou | Brassy Apple | Craft-o-Maniac Tuesday: Tip Junkie | Sugar Bee Crafts | Not JUST a Housewife | Homework Today's Assignment: Be Inspired | Shwin and Shwin | Today's Creative Blog | Naptime Creations | Chef in Training | The Winthrop Chronicles | Lil Luna Wednesday: Handy Man, Crafty Woman | Southern Lovely | Sew Much Ado | SNAP | Someday Crafts | The NY Melrose Family | Printabelle | Simply Kierste Thursday: Somewhat Simple | House of Hepworths | Momnivore's Dilemma | The Shabby Creek Cottage | Yesterday on Tuesday | The 36th Avenue Friday: Chic on a Shoestring Decorating | The Shabby Nest | Stuff and Nonsense | It's a Hodgepodge Life | At The Picket Fence | 504 Main | Whipperberry | Naptime Crafters Weekend: Tatertots and Jello | Little Inspiration | I Heart Naptime