One of my favorite things about summer is getting up in the morning and having nowhere to go. We don't sleep in much, but I love the feeling of having the whole day ahead of us. This morning all of us but the 12 year old were up, fed, and dressed by 7:45. We were heading to the reservoir later on, but we decided to make the most of our lazy morning with a little family movie watching. The show of choice? The Many Adventures of Winnie the Pooh.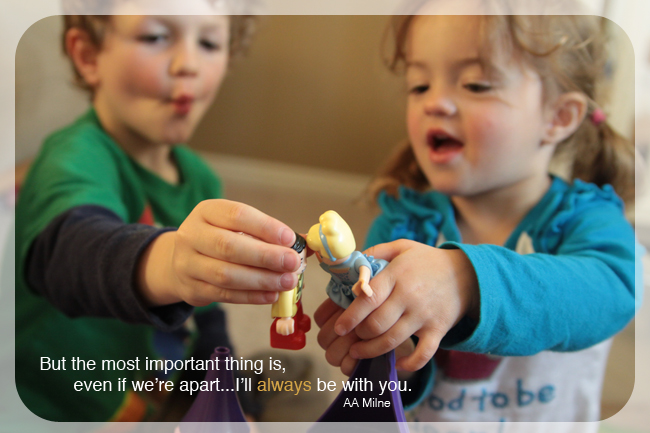 I knew my little guys would love Winnie the Pooh, but I wasn't sure whether the 10 year olds would be interested. Turns out everyone loved it as much as I remember loving it when I was a kid. I remember watching Winnie the Pooh and the Blustery Day in a room at church with a bunch of other kids as our moms worked on crafts in the room next door. All of the Pooh movies are so sweet– everyone still loves them. The stories are timeless tales about a group of friends, their adventures, and the ways they help each other out. (Keep reading to enter to win $50 plus The Many Adventures of Winnie the Pooh blu-ray combo pack)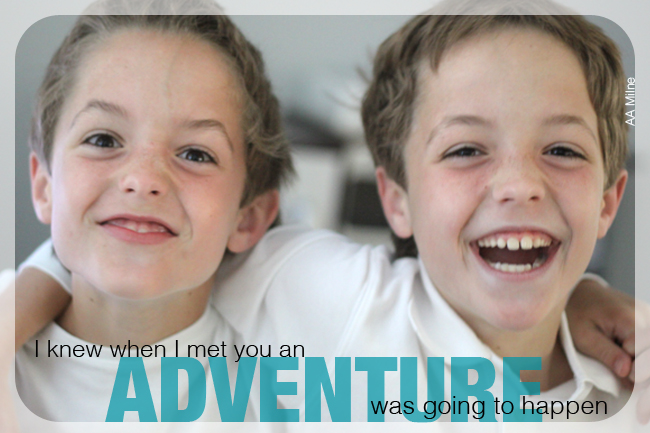 When I think of my childhood adventures I actually don't think of friends. I think of my sisters. Sure, I had other friends, and sure, my sisters and I didn't always get along, but I think each of my five sisters was one of my first and closest friends. After all, they were the ones I played school, princess, and orphanage with on a daily basis (why we couldn't come up with any make believe scenarios other than those three I'll never know.)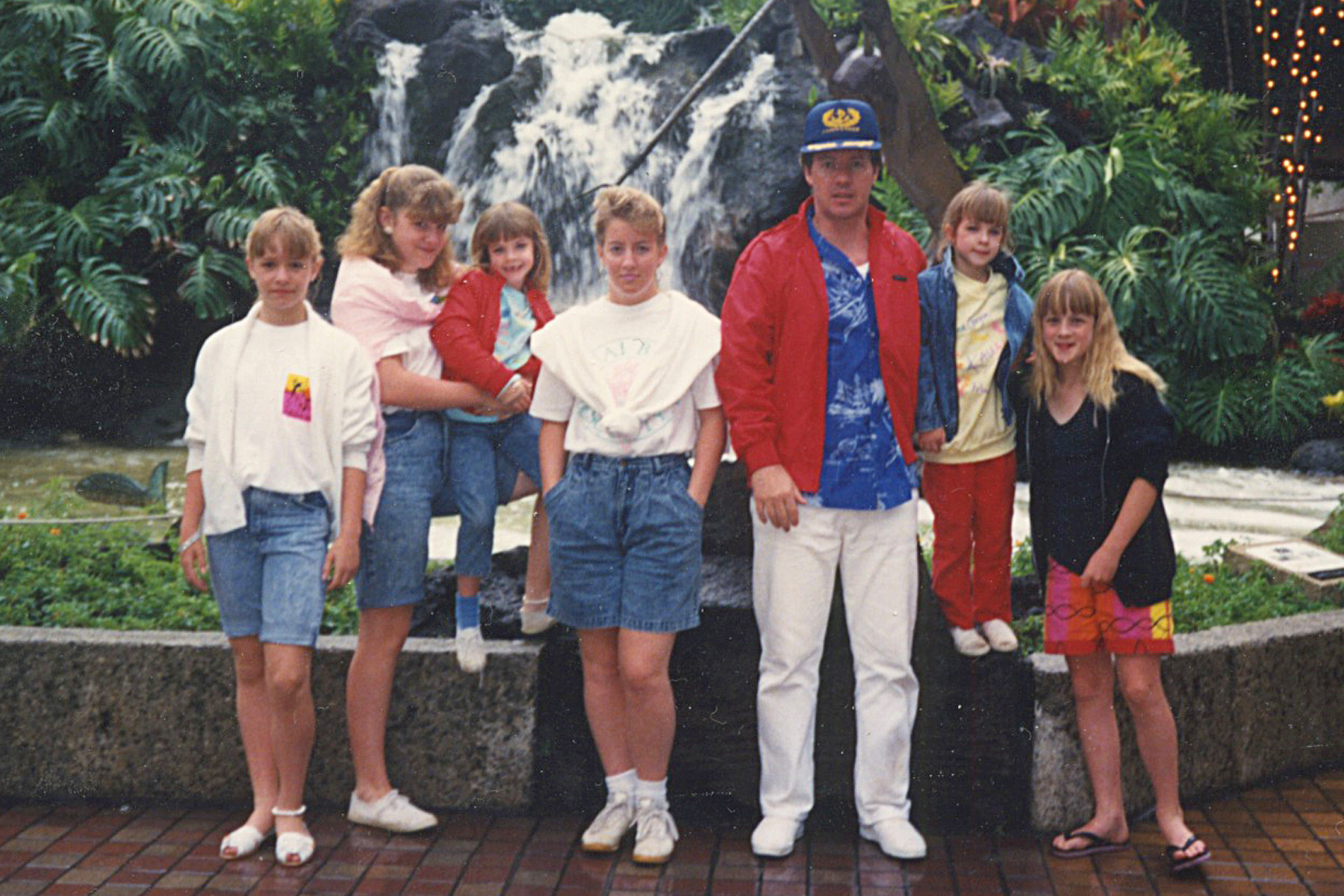 All the sisters and Dad circa 1989-ish. I'm on the far left sporting the awesome anklet.
My older sister Shelby was the one who walked me to the bus stop. She teased me the whole way there, but I knew if she was around I didn't have to be scared of the bigger kids. My oldest sister Lisha was the one who fixed my hair for me one day when she was in high school and I was in 5th grade, and you wouldn't believe how proud I was of those feathered bangs. My little sister Monique was the one who didn't hold it against me (too badly) when I broke her wrist two weeks before the family trip to Hawaii. Brittany, who's the closest to me in age, was the one who lived next door to me in college and helped me figure out what I actually thought of this Scott guy (now my husband). And Caprice, the youngest, was the one who used to scratch my back for what seemed like hours just because she knew I loved it.
I hope all my kids will grow up knowing they can count on each other, and knowing that family can be your best friends.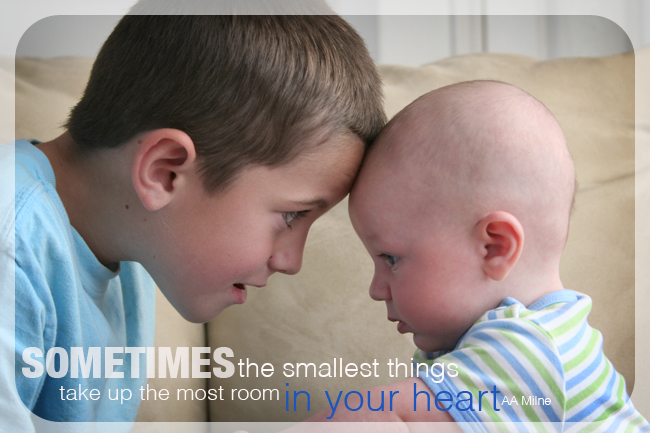 If you remember loving Winnie the Pooh as much as I did and want to share it with your kids, look for the The Many Adventures of Winnie the Pooh available for the first time on Blu-ray Combo Pack and HD Digital on August 27th. Or join the 7.7 million people who follow Pooh on Facebook for more updates.
Now, to enter for a chance to win a $50 Visa Gift Card and a Winnie The Pooh Blu-ray Combo Pack, share with us the importance of friendship, imagination and adventure in your child's life…
Rules:
No duplicate comments.
You may receive (2) total entries by selecting from the following entry methods:
a) Leave a comment in response to the sweepstakes prompt on this post
"b) Tweet (public message) about this promotion; including exactly the
following unique term in your tweet message: ""#SweepstakesEntry""; and leave the URL to that tweet in a comment on this post"
c) Blog about this promotion, including a disclosure that you are receiving a sweepstakes entry in exchange for writing the blog post, and leave the URL to that post in a comment on this post
d) For those with no Twitter or blog, read the official rules to learn about an alternate form of entry.
This giveaway is open to US Residents age 18 or older. Winners will be selected via random draw, and will be notified by e-mail. You have 72 hours to get back to me, otherwise a new winner will be selected.
The Official Rules are available here.
This sweepstakes runs from 8/1/2013 – 9/3/2013
Be sure to visit the Winnie The Pooh brand page on BlogHer.com where you can read other bloggers' reviews and find more chances to win!