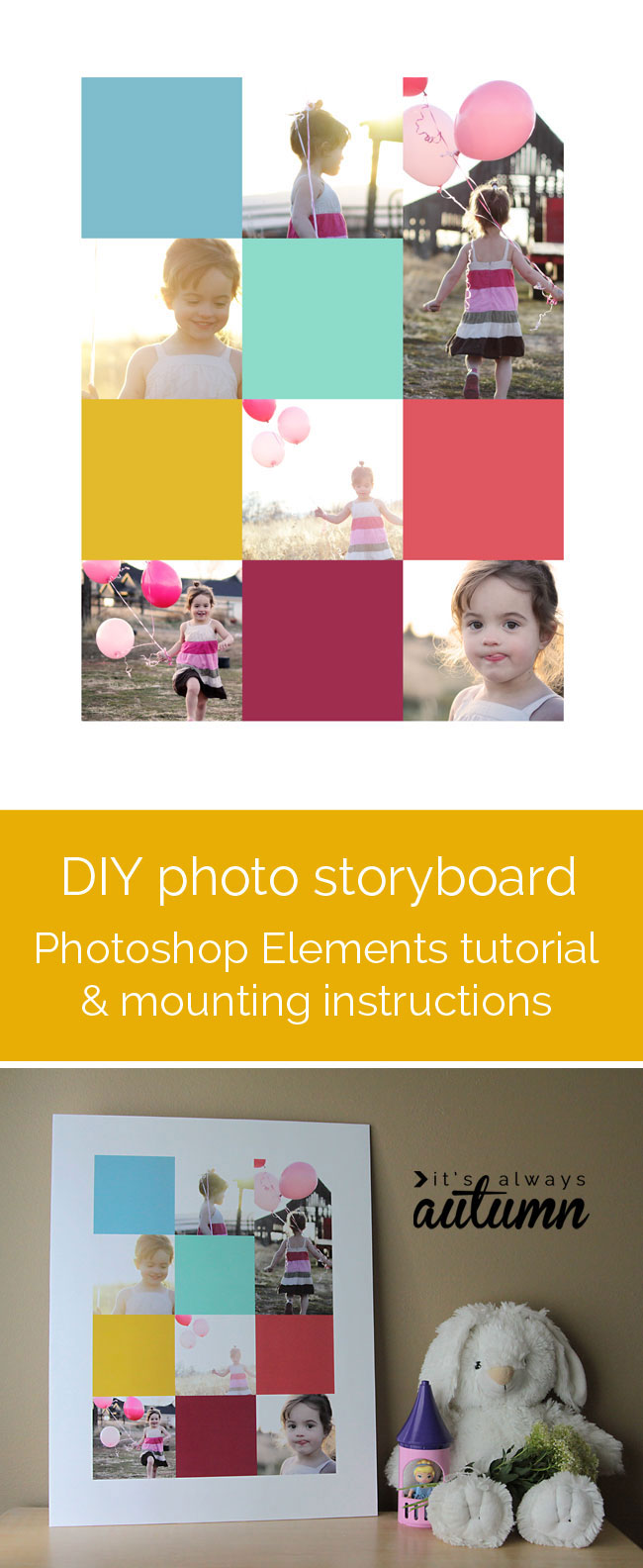 Whenever I have a great photoshoot of one of my kids I end up with a problem: I can never choose just one or two photos to print out and frame. It's impossible to choose a favorite! Since I don't have room to frame all my favorite, I often end up doing the opposite – not even printing out any. How lame is that? I really wanted to find a good way to showcase multiple photos from a photoshoot without having buy (and hang) multiple frames. So I created this "storyboard" instead.
I used Photoshop Elements to design the storyboard, aka photo collage, and printed it out as one 16×20 print, which I then mounted on cheap foam core board from the dollar store (which is pretty cool, seeing as photo mounts from print shops cost waaaay more than a dollar). I love how it turned out! Clean and modern looking and lightweight enough to hang on the wall with just a poster strip: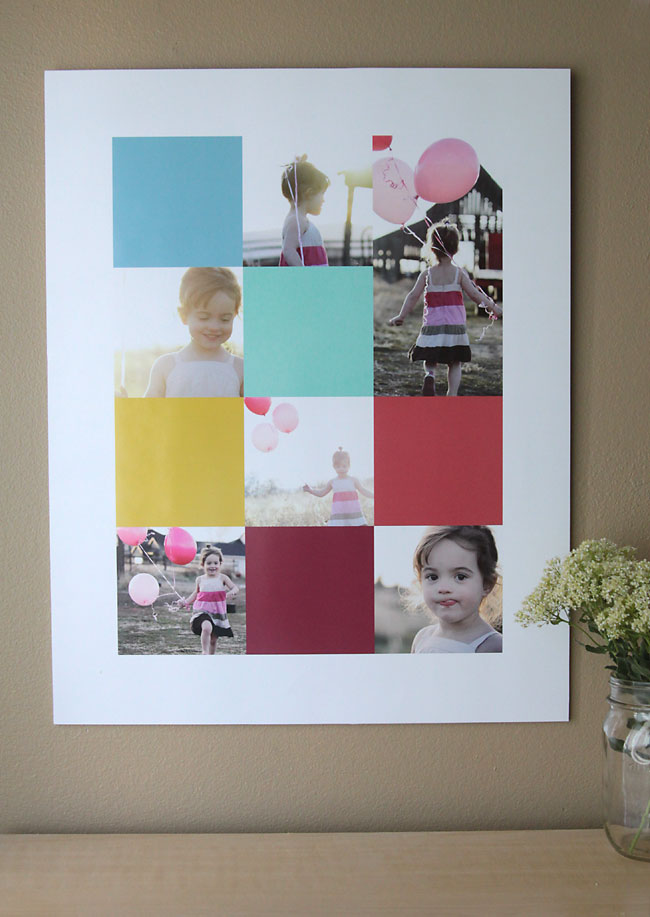 Because the foam core is about 1/4 inch thick, it looks great without a frame and can stand alone on a shelf if you don't want to hang it. And assuming you have adhesive on hand, the whole thing only costs about $7.
Like I said, I created my storyboard in Photoshop Elements, but if you don't have Photoshop Elements or just don't want to worry about creating it digitally, you're in luck! I'm guest posting over at It's Overflowing today, showing how to get the same look with 4×6 photo prints and cardstock – check it out!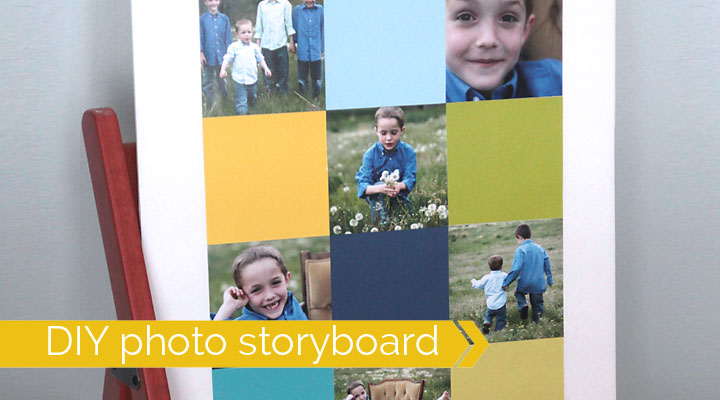 To make a storyboard in Photoshop Elements, create a new document sized at 16×20 inches. Create a 4×4 square and then copy it to make 12 squares arranged as shown below, with a 2 inch border all the way around the edges.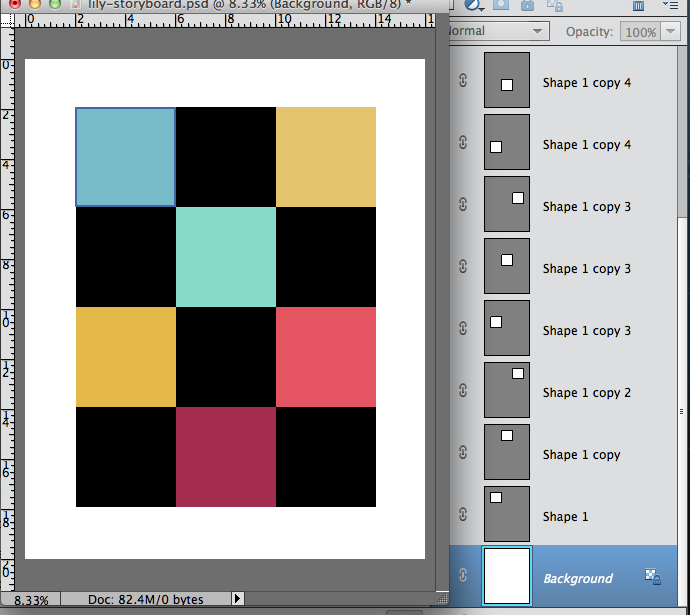 Open 6 photos and clip them into alternating squares. If desired, merge 2 squares together to make a rectangle to hold a larger photo. Change the color of the squares that don't have photos in them, then flatten and save as a .jpg.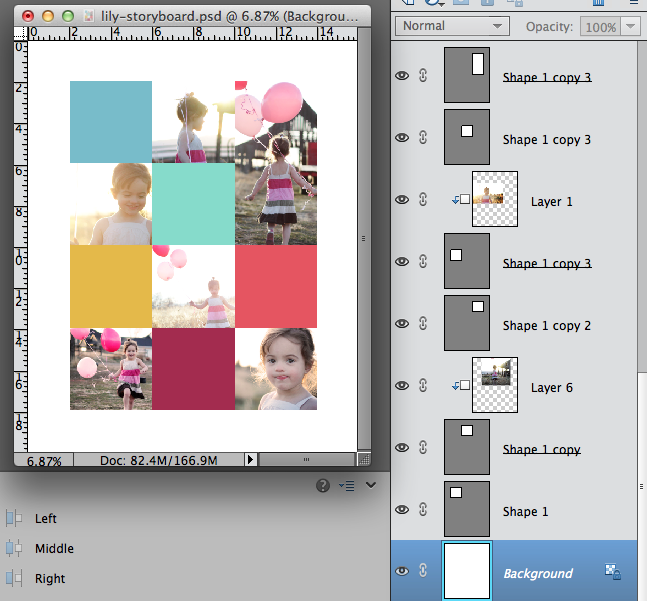 (Was that totally confusing? Don't worry! If you need a primer on these techniques, watch: How to make a photo collage in Photoshop Elements part 1 and How to make a photo collage in Photoshop Elements part 2).
Once you have your storyboard printed out (I print at Costco and always choose lustre instead of glossy), you just need to adhere it to a piece of white foam core. I like to use spray adhesive.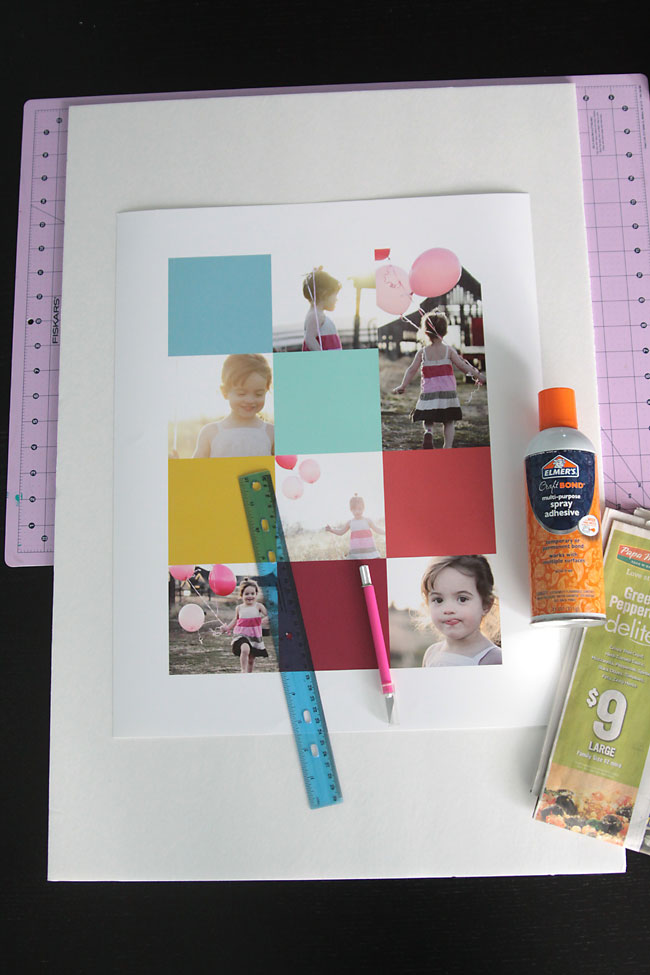 Place your storyboard print face down on a surface covered with newspapers. Cover with spray adhesive, then turn it over and carefully place it in the middle of a piece of foam core. Use a soft cloth to smooth the print down, making sure there are no bubbles. Handle the print carefully so you don't end up with wrinkles (there's one in mine, care of my daughter):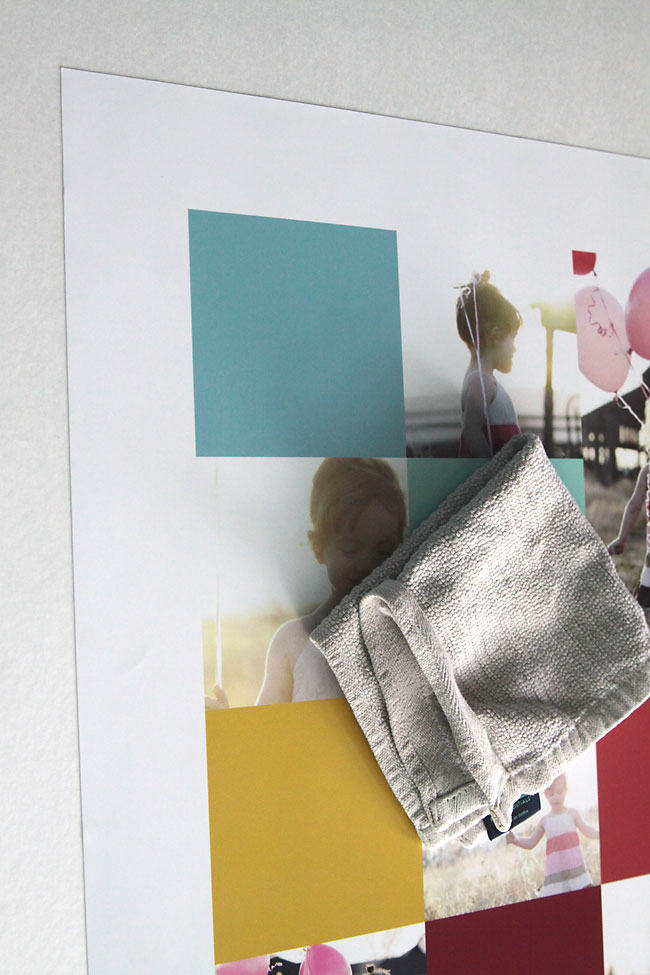 Use a long ruler and an exactly knife to trim away the excess foam board. I like to score through just the top layer of foam board first, then go back over it for a clean cut.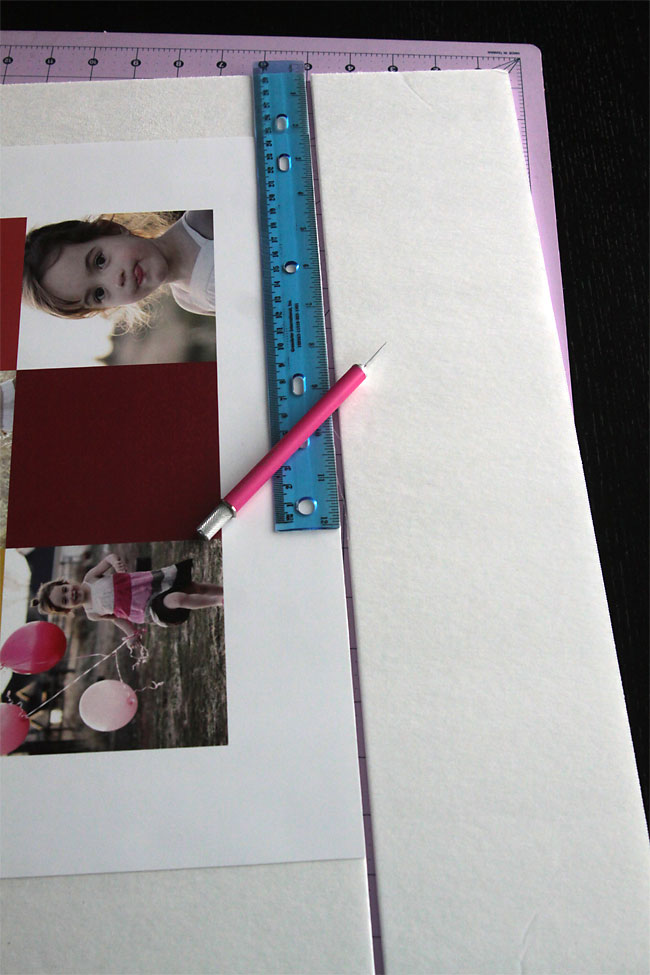 Now you have an inexpensive, modern way to display a collection of favorite photos.
A few last tips!
– When choosing photos to use, try to use some that are very close-up, some taken from far away, and some in between. The storyboard won't look as good if all the shots are very similar.
– Photos that have some white in the background look especially cool since they fade right into the white border.
– When choosing colors to use for the squares, start by grabbing a few right from your photos. The dark burgundy and pink came from the balloons in the photos. Then mix in a few colors that aren't in your photos. I like to start with 3 main colors, then fill in the other squares with lighter or darker versions.