One of my very favorite side dishes to take along to barbecues or potlucks is a big plate of apples with creamy homemade caramel sauce. Everybody loves it (and I mean everybody!), it's great for kids who might be a little picky, it's inexpensive, and best yet it's SO EASY to make! My favorite homemade caramel sauce is technically not actually caramel – rather it's dulche de leche – but it tastes just like the most sinfully delicious caramel sauce you've ever had and you only need one ingredient to make it: sweetened condensed milk.
Now, I wasn't sure whether to even post about this because using sweetened condensed milk to make caramel sauce has shown up on lots of blogs over the past year or so. However, many of those blogs instruct you to cook the milk in the can (or in a closed canning jar), which can be dangerous. I cook it in the oven instead, which is super simple and totally safe, so I thought it was worth sharing this method.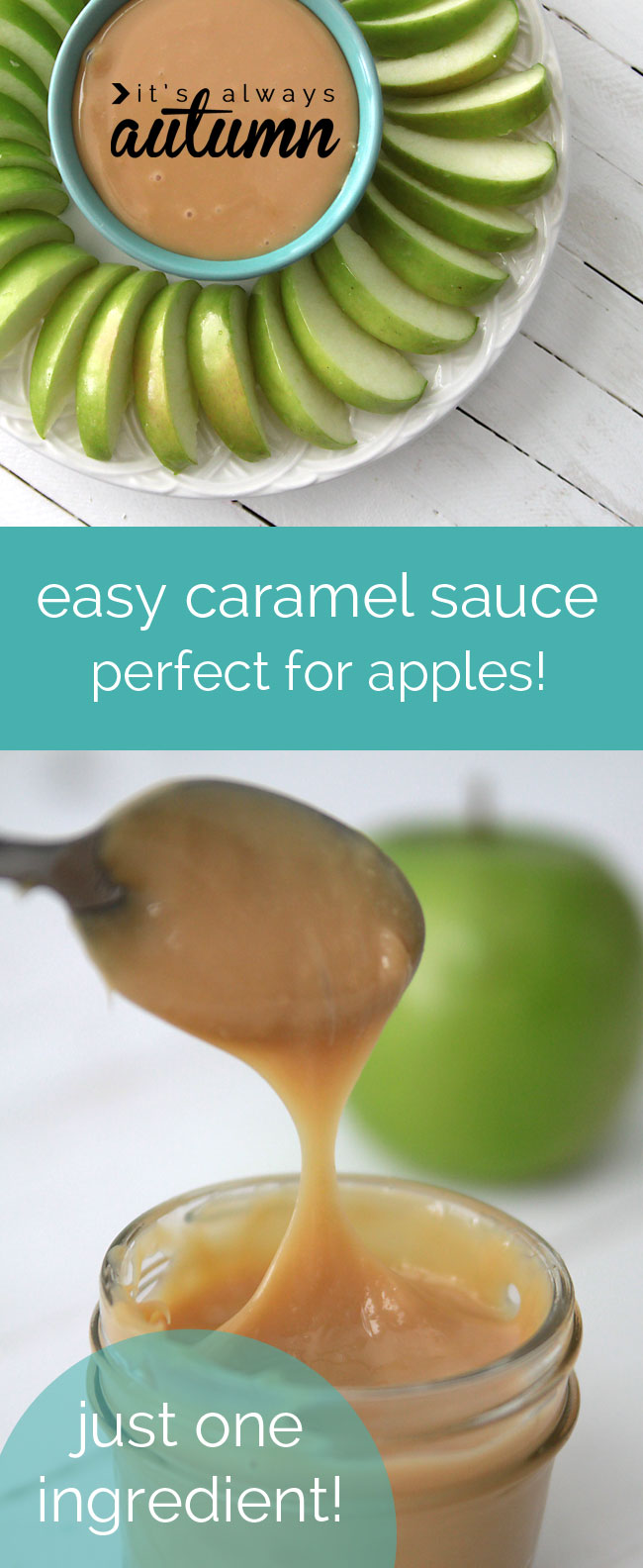 You may have seen pinterest pins showing sweetened condensed milk cooked right in the original can, which is super cool because when it open it you have caramel inside! (And yes, I know it's technically dulche de leche, but I'm just gonna call it caramel.) The only problem is that you have to simmer the can on the stovetop for a few hours (or cook it in a crock pot for 8 hours) and it must stay covered with water the entire time. If you remember to check it regularly to ensure the water hasn't boiled off it's probably perfectly safe, but if (like me!) you have a tendency to get distracted, you run the risk of letting the water boil off –  and that can cause the can to explode, shooting hot caramel and sharp pieces of can all over the place! Using a crockpot is a better bet than simmering on the stove because it's much less likely to boil dry, and if you watch the water level I'm sure you'd be fine, but comments like this one make me a little wary:
"I blew up a crockpot and covered my kitchen in caramel and glass doing this recipe(a few years ago now), the pan was on very low with a lid on but over the hours the steam escaped and it still boiled dry as I left it overnight! If I had been in the kitchen I would have been very badly burned and cut as glass, bits of pot and caramel went everywhere! We had to repaint the walls and roof once we had scraped off the caramel, not fun 😛 Please can I warn your lovely readers to use LOADS of water and check it/top up if needed!"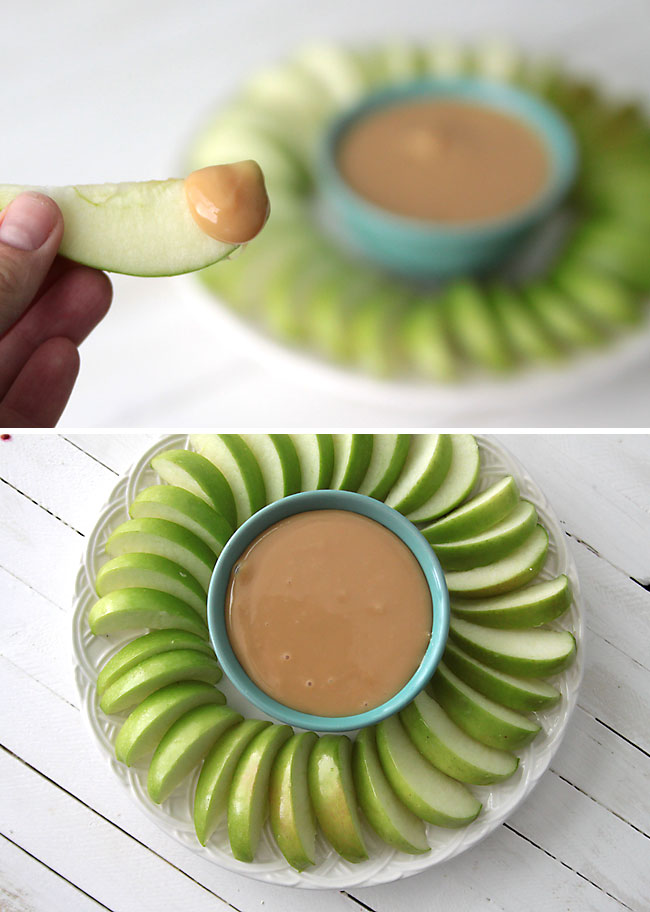 This caramel sauce is delicious, but nothing's delicious enough to risk life and limb! So, cook it the safe and easy way instead. Here's how: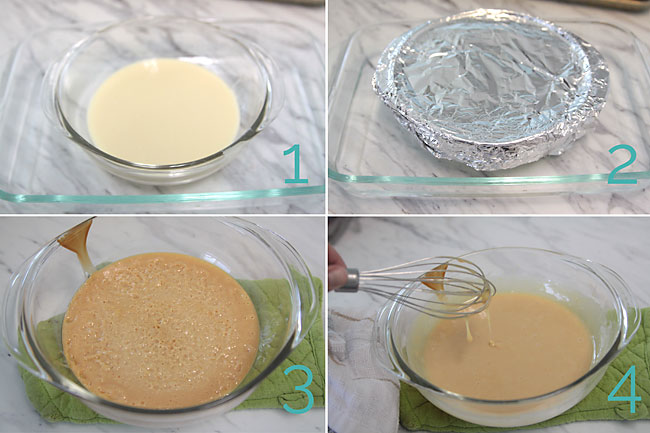 1 – Pour a can of sweetened condensed milk (NOT evaporated milk) into a pie plate or wide glass dish, as shown. Place that dish inside a larger baking dish. 2 – Cover the milk tightly with foil, and then pour in enough water in the larger pan to come 1 inch up the side. 3 – Place in a preheated 400 degree oven and bake for approximately 75 minutes, or until it's as dark as you'd like. When you take it out of the oven it will look a little clumpy. 4 – Give it a quick whisk and it will smooth right out. Serve immediately or store in the fridge.
I like my caramel sauce a little on the light side – it stays very smooth and doesn't get too thick to scoop up with apples, but if you want a slightly stronger flavor you can cook it up to 2 hours – just check it at 90 minutes to be sure there's still water in the pan and add a little if needed. When I want to make this in the summer I do it first thing in the morning, so the oven can be on and off again before it starts to get hot. It keeps beautifully in the fridge – probably for a few weeks – but it's never lasted more than a few days at our house.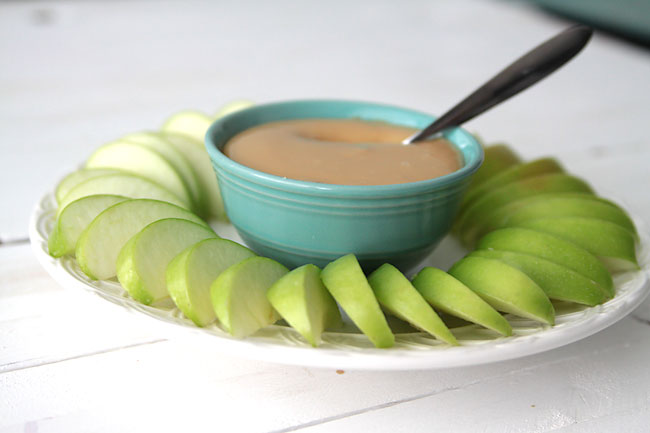 Little pots of caramel and a few apples would make a lovely gift – just remind people it needs to be refrigerated.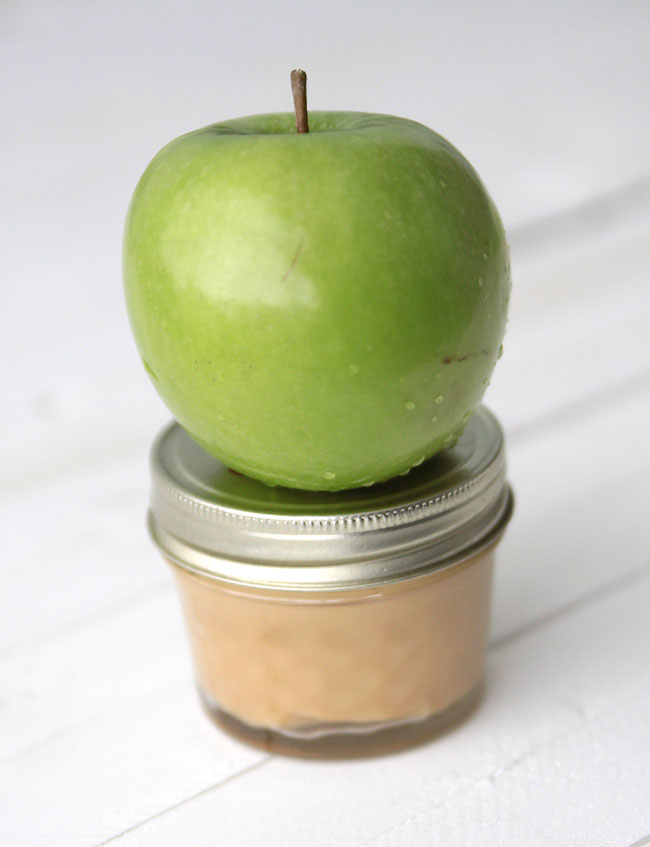 You can also use this sauce on ice cream or brownies. It will get a little thick in the fridge, but it loosens up nicely when microwaved for a bit. When I serve it with apples I usually cut up 7 apples to go with 1 can's worth of caramel (you end up with about 1 cup of sauce). It's always a hit!