Alright, so I've written and deleted the text to this post twice now. It was supposed to be one of those "I found a dress I liked but it was totally expensive so I just made my own version and it looks exactly the same and I saved a thousand dollars!" type posts (not that I've ever written one of those, right? 😉
But I deleted all that because that's not quite how it went down. The true story goes more like this: I found a dress I liked that looked easy enough to knock off, but I forgot that I don't look like a model and so the style that looks great in the catalog doesn't look quite as awesome on me, plus I tried to make pockets and they just looked stupid so then I had to take them out which made the skirt a little too tight so I'm not sure I can wear the dress for longer than I can walk around with my stomach sucked in. So instead of saving 50 bucks I probably actually wasted eight. And two hours.
I was actually so disenchanted with the awkward photos of myself wearing this dress that I nearly didn't post about it. So why is there a picture of me wearing it right here?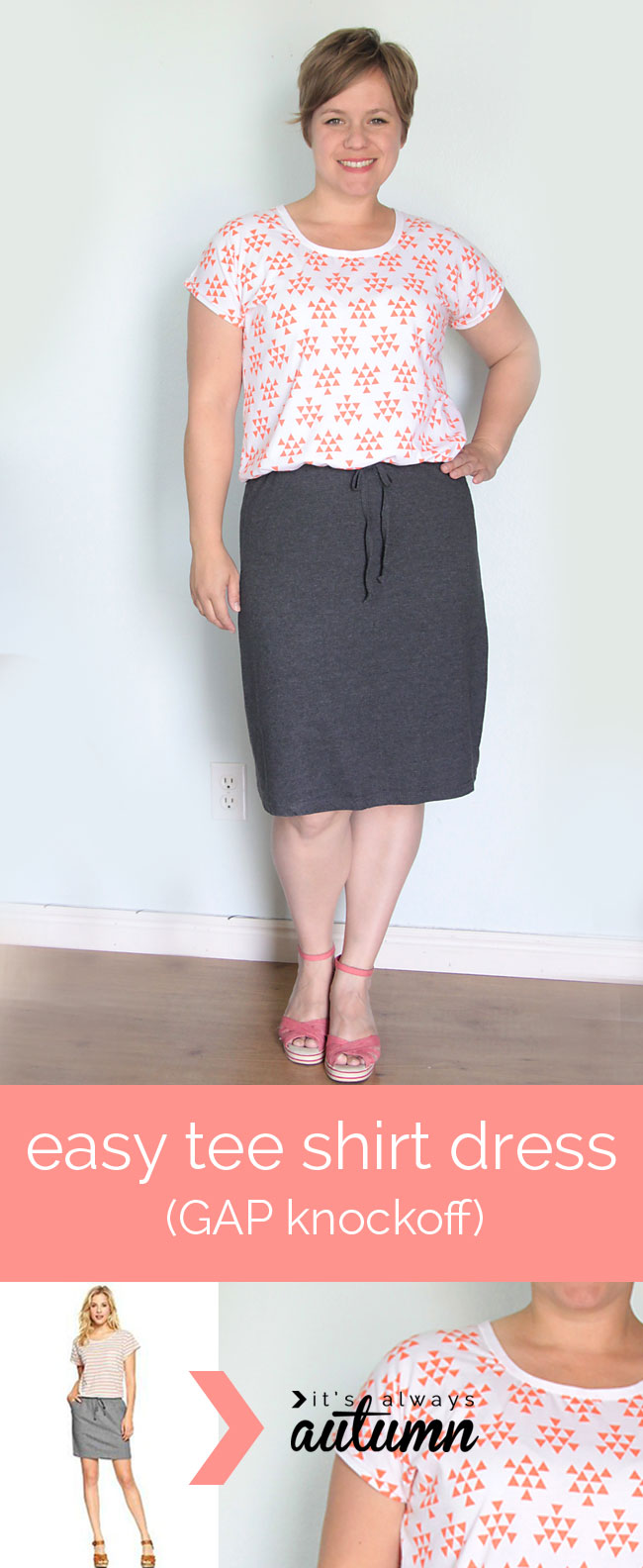 Well, this is why: sometimes sewing is so much fun, but sometimes it's frustrating, maddening, and demoralizing. I make mistakes, I think things will work out and they don't, and sometimes things actually work fine and the dress still just don't look good on me.
The good news is that the longer I've been sewing, the less often I end up with complete fails. I don't have to reach for my seam ripper quite as often and I have a better idea of what will work on my body, so I'm better able to choose styles that will be flattering. But I've come to realize that (like just about anything else in life) sewing isn't so fun if the result is the only thing that matters. Obviously, it's much more enjoyable when you end up with a great new item of clothing, but even so-called fails are worthwhile – you get to spend time creating and you really do learn more from your mistakes than your successes. And yes, I have to remind myself of both of those facts regularly.
Anyway, I guess I'm just trying to say: don't get too frustrated when sewing seems hard and things aren't working out. Sewing isn't about churning out perfect projects; it's about developing a skill you can use and enjoy your entire life.
Ok, enough of all that – back to the dress. I don't love how my version works on me – you're seeing the one photo (out of 40) that I'm not too embarrassed to share – BUT it was a super easy sew and someone with a  little more waist and a little less mommy tummy could totally rock this. So I'll give you a quick rundown on how to make one if you're interested.
Here's the side by side comparison of the GAP inspiration dress and my version: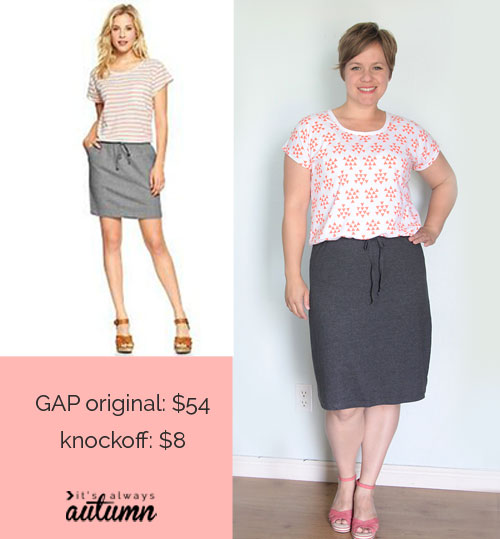 I added some length to my version because I always wear skirts down the the knee, and I used a cute triangle print for the top instead of a stripe, but I think I got close to the feel of the original.
I started by making the top using my easy tee pattern and cutting it off about 2 inches below my natural waist. (Get the free pattern in size L in this post and read this post for construction tips.)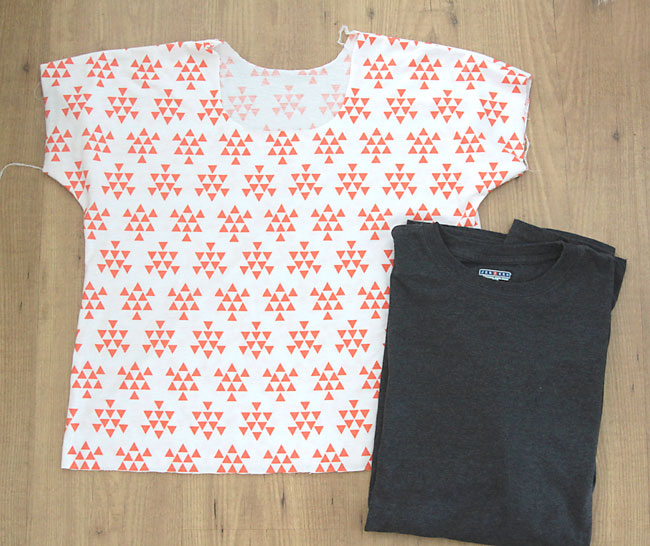 Then I used a XXL men's t-shirt from the thrift store to make the skirt.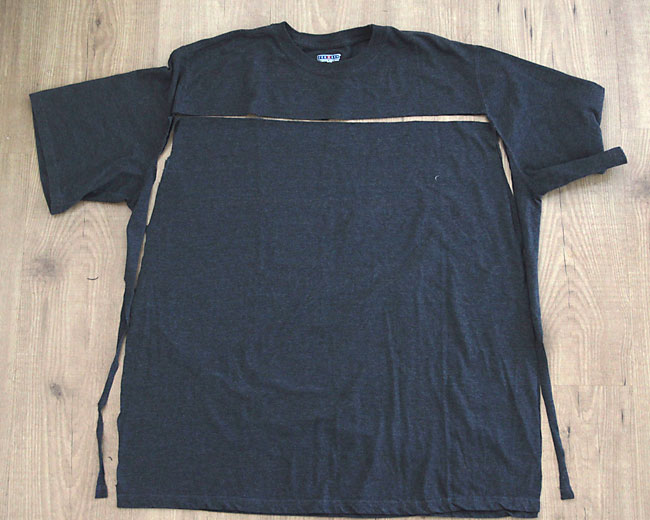 I just cut the shirt as you can see above, then sewed down each side to create a skirt. I tried it on and took it in a little on the sides to make it fitted (of course you know that actually means I tried to add pockets and they bulged in bad places so when I cut them out I didn't have quite as much material left as I wanted so I had to sew it kinda tight up at the waist). You can see that the bottom of the tee is wider than the top of the skirt – this creates the blouse-y effect you see in the original GAP dress.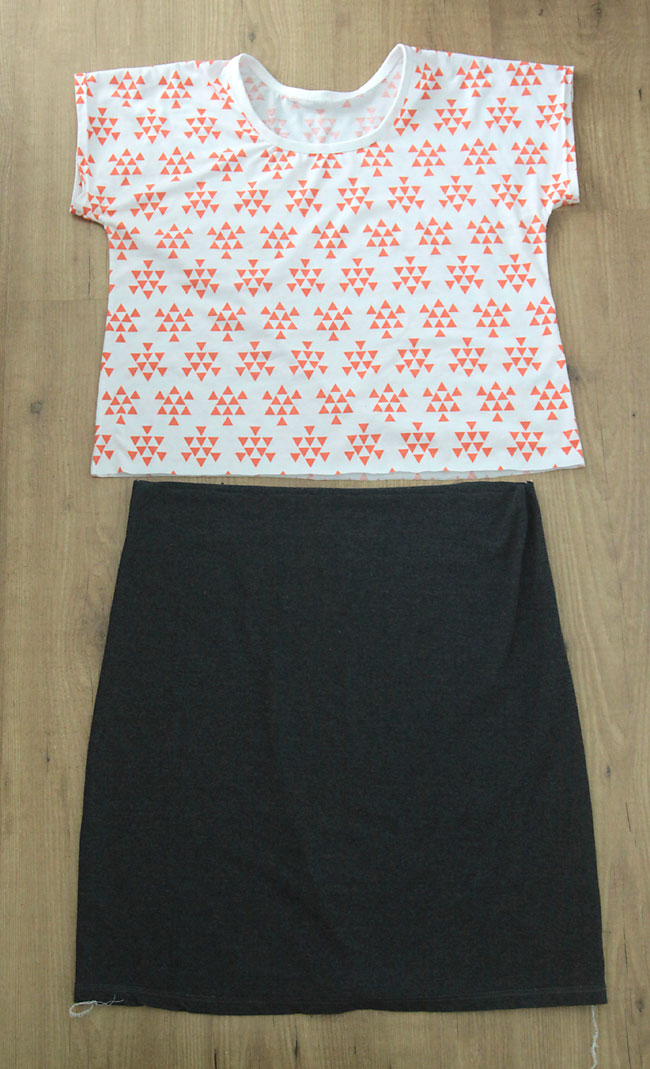 I sewed the top and skirt together as shown below: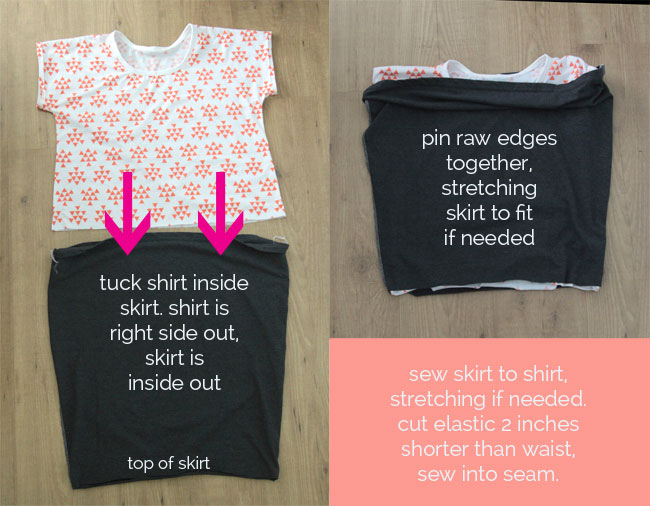 I cut a length of narrow elastic just a bit shorter than my waist measurement, then sewed that right along the top/skirt seam, stretching it to fit. That's the easiest way to gather up the middle of a dress; however, it's not the most professional looking way to do it. I knew that the top of this dress would blouse down and cover the waistline so I didn't worry about it. If you know the waistline will be visible, it's better to add a casing for the elastic like I did in the easy tee maxi dress tutorial.
I finished the neckline with fold over elastic, then added a little bow at the waistline to make it look like there's a drawstring at the waist. Because the skirt was made from a tee, I just left the existing hem. It actually sewed up really quickly, which was great since I don't know if I'll ever wear it again. Chances are both the fabrics will make their way into clothes for my daughter, which, by the way, are WAY easier to sew.
Thanks so much for reading and I hope your current sewing projects are going well!