This time of year the weather makes it hard for the kids to play outside on a regular basis. Since we limit screen time we always ends up with lots of extra time to fill, especially when school is out and everyone's home. So I'm always on the lookout for easy indoor activities and holiday crafts that can be made with things I already have on hand ('cuz the last thing I need right now is another errand to run!). These simple snowmen can be made with just construction paper, string, and foam plates (we used Hefty Everyday foam plates). It's a great, easy kids' craft that will keep little ones busy on a cold afternoon.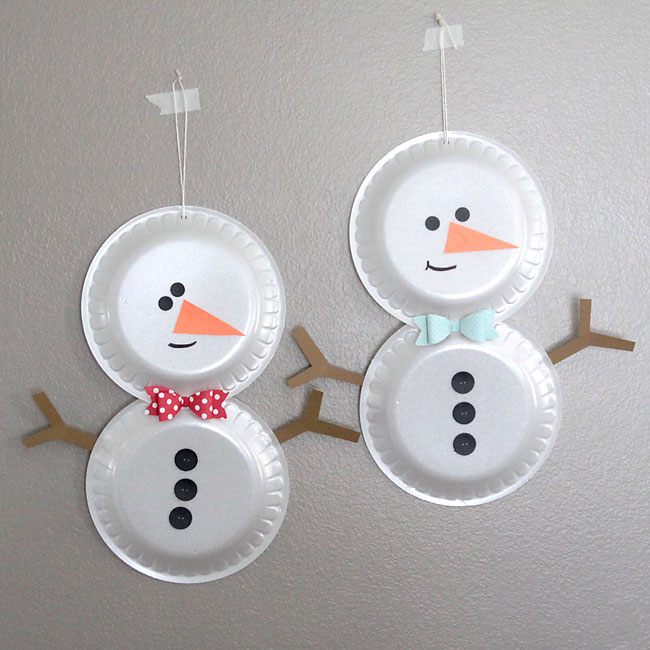 These guys are so easy to put together, I'm sure you don't really need instructions, but here goes: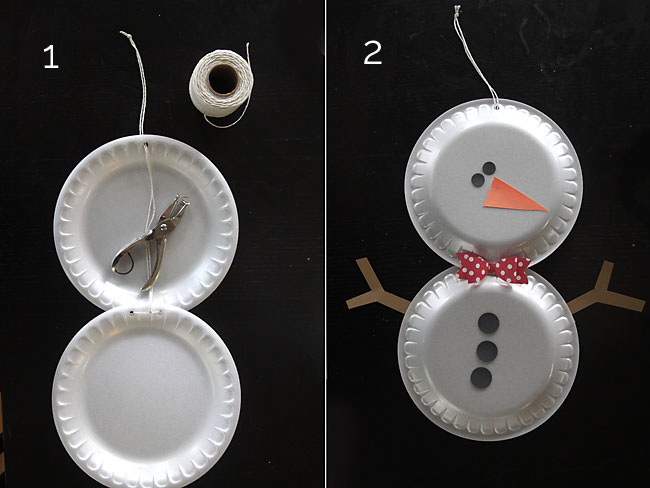 1. Punch two matching holes in two paper plates, then thread string through them both and tie. Punch another hole at the top on one plate and thread the strings up through it, then tie at the top to form a loop. 2. Flip the plates over and decorate your snowman as desired using construction paper. If you like, you can add other items you have on hand: buttons, scrapbook paper, ribbon, googly eyes, etc. (Click here for an example of an adorable plate Santa!)
If you have a couple of circle punches to make the eyes and buttons, getting things ready for the kids to assemble goes really fast. Younger kids will enjoy gluing on all the items, while older kids can have even more fun cutting out their own noses/arms/etc in whatever shapes they like. Let kids finish off the snowmen by drawing in a smile and other decorations: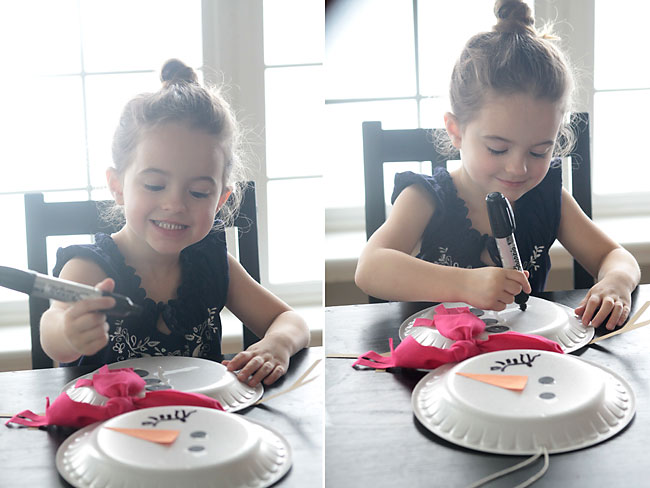 My daughter wanted her snowman to have a scarf, so I cut a scrap of fabric about 4 inches wide and 24 inches long and cut fringe into each end. I decided our other snowmen needed bow ties, so I googled "printable paper bow template" and used an image found online to cut out these cuties from scrapbook paper: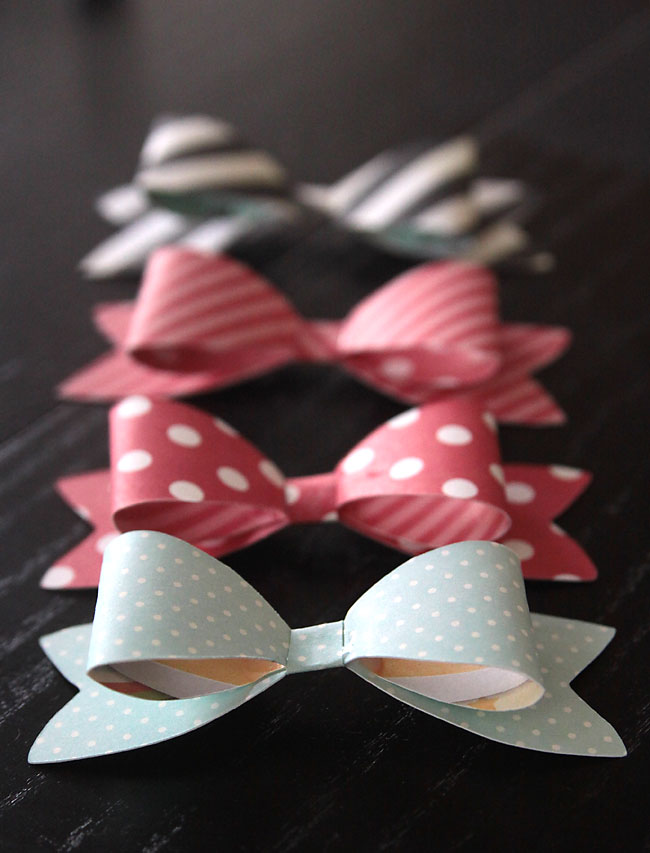 Easy and fun. My daughter loves her finished snowman: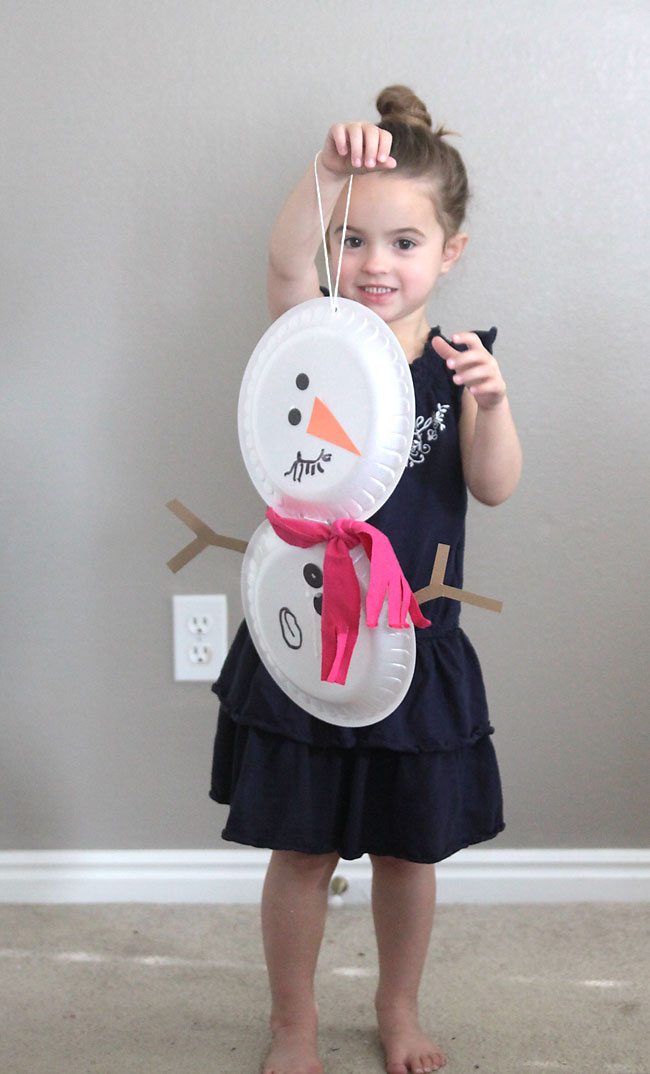 You can use foam plates to make Santas, too! Click here for an example. You can also use Hefty foam plates to make snowflake Christmas ornaments (click the link to get free templates).
You may also be interested in these tips: the best ways to freeze cookie dough for holiday gifting |  free printable treat bag toppers | how to store ornaments so they won't get broken before next year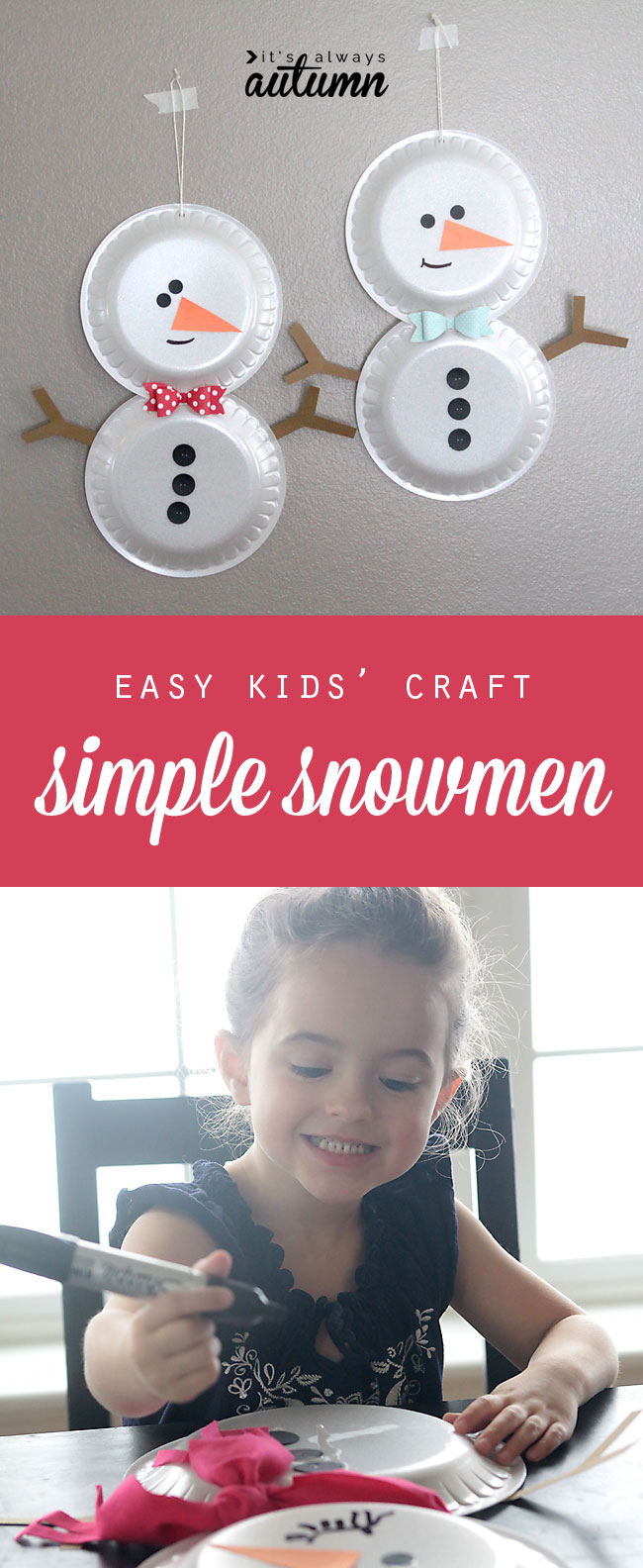 #HeftyHoliday


Post sponsored by Hefty.