When I was a teenager, we used to make giant candy bar cards for our friend's birthdays, with the names of the candy bars standing in for some of the words in the note. It was so much fun! Plus, it makes for the coolest card ever. Today I have a free printable for an easy back to school version, which any kid will love (I know because my kids are already asking if they're going to get one the day they go back to school). It's not as giant as the ones we used to make, but I figure 5 candy bars is plenty.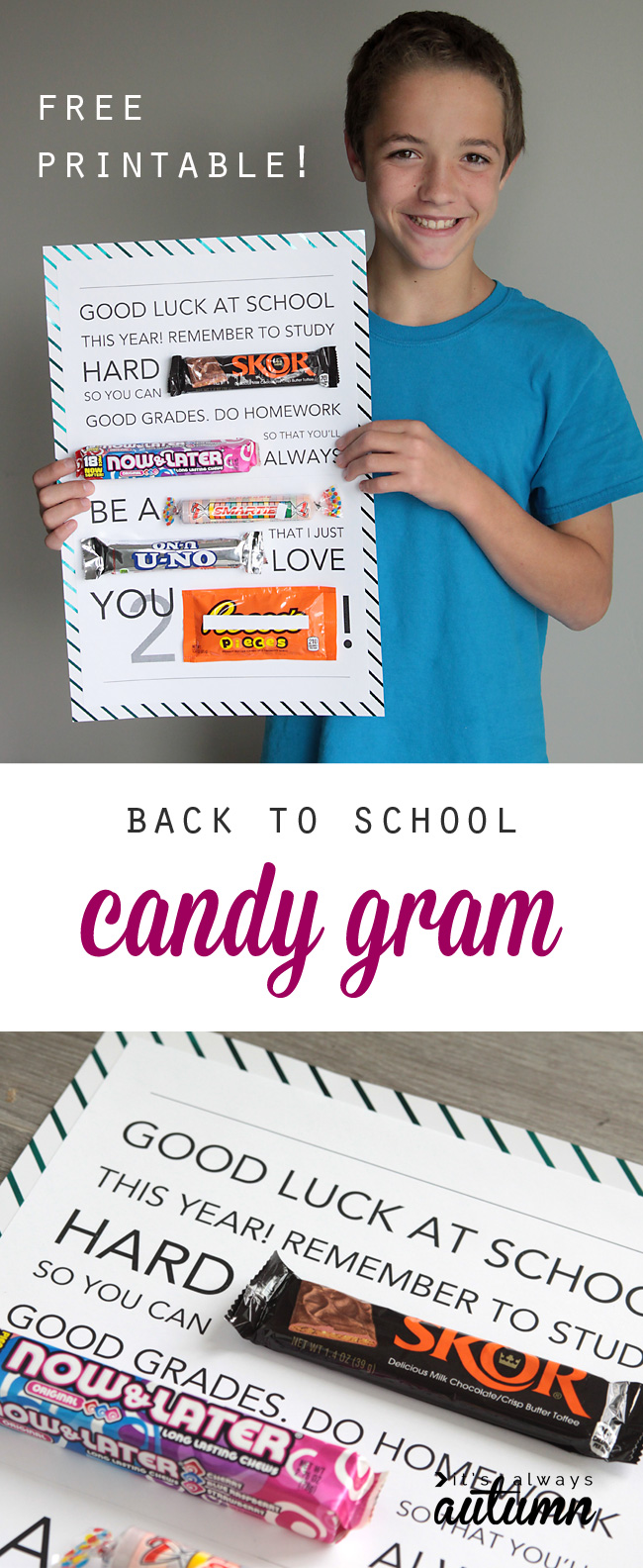 This is a fun way to make back to school a little more special and exciting, or a good way to make up for not buying the designer jeans or super cool shoes your kids really wanted. Have one of these waiting for your child on the first day of school and you'll be the coolest mom ever.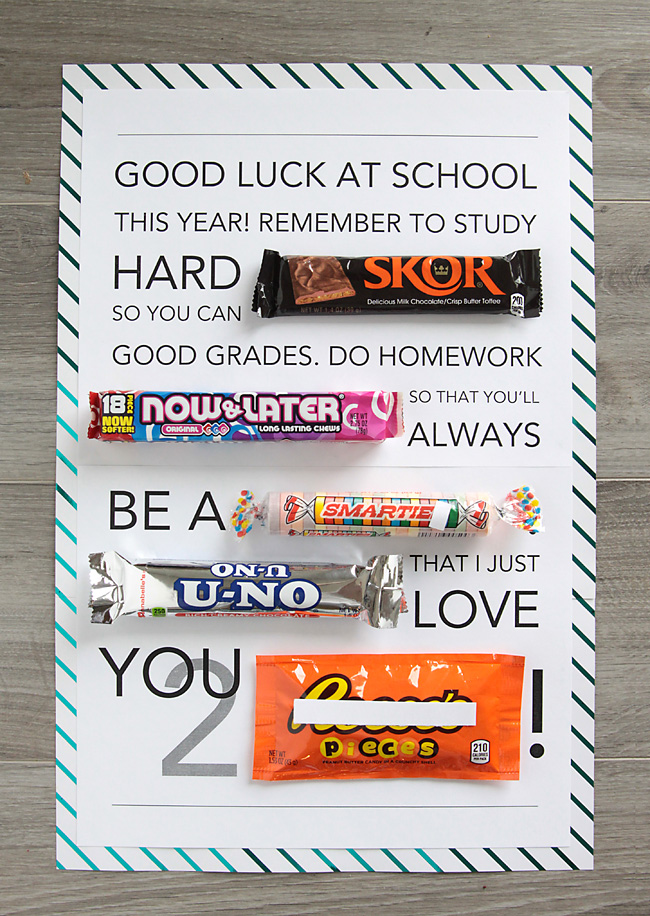 You can download the free candy gram printable by clicking here. It's two landscape 8.5×11 pages. Be sure to print it out at 100% or actual size. It looks like what you see below, except without the candy bar names.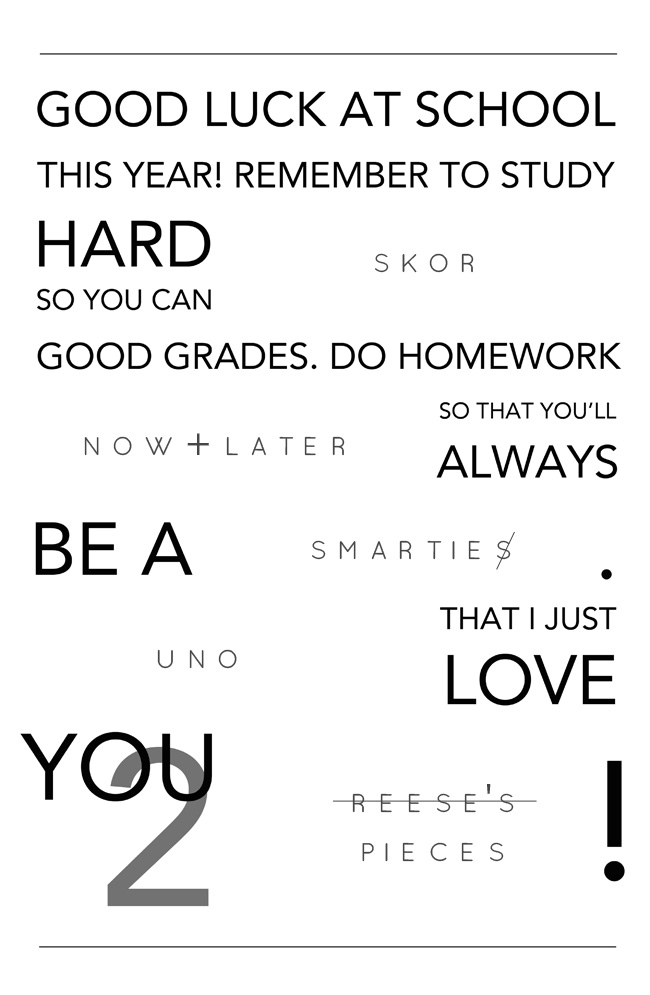 Print it out, and go get the following candy bars: Skor, Now&Later, U-NO, Reese's Pieces, and a giant roll of Smarties.
I used small pieces of white paper to cover up the "Reese's" and the "S" at the end of the Smarties. The final message reads:
"Good luck at school this year! Remember to study hard so you can Skor good grades. Do your homework Now&Later so that you'll always be a Smartie. U-NO that I just love you to Pieces!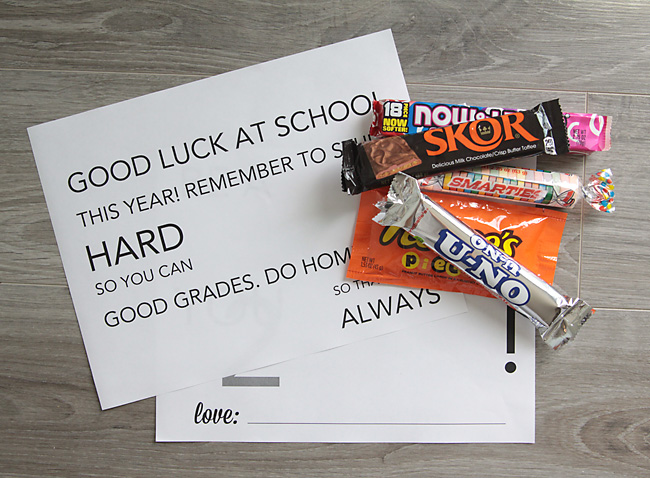 Glue or tape the two pieces of paper onto a trimmed poster board or foam core board, or onto two overlapped pieces of 12×12 scrapbook paper like I did. Then attach the candy bars in each spot to complete the message. I found double sided tape was an easy way to attach the bars.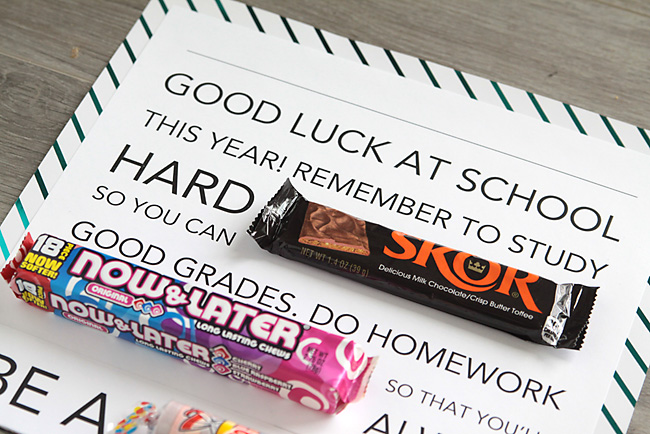 Then wait for the smile 🙂