Kids have an amazing ability to lose stuff. They lose everything: books, backpacks, lunches, assignments–everything! And, contrary to popular belief, just because I'm a mom does not mean I have a locating lost-possessions superpower. I wish. Although to be perfectly honest I'd prefer a noise reduction superpower if I had the choice. Anyway, I had this crazy idea this year: maybe if I label my kids' stuff they'll have a harder time losing it. Sure, they'll still leave their lunch in the coat room and their notebooks in the gym, but at least if everything has their names on it they might eventually find them without my help, right?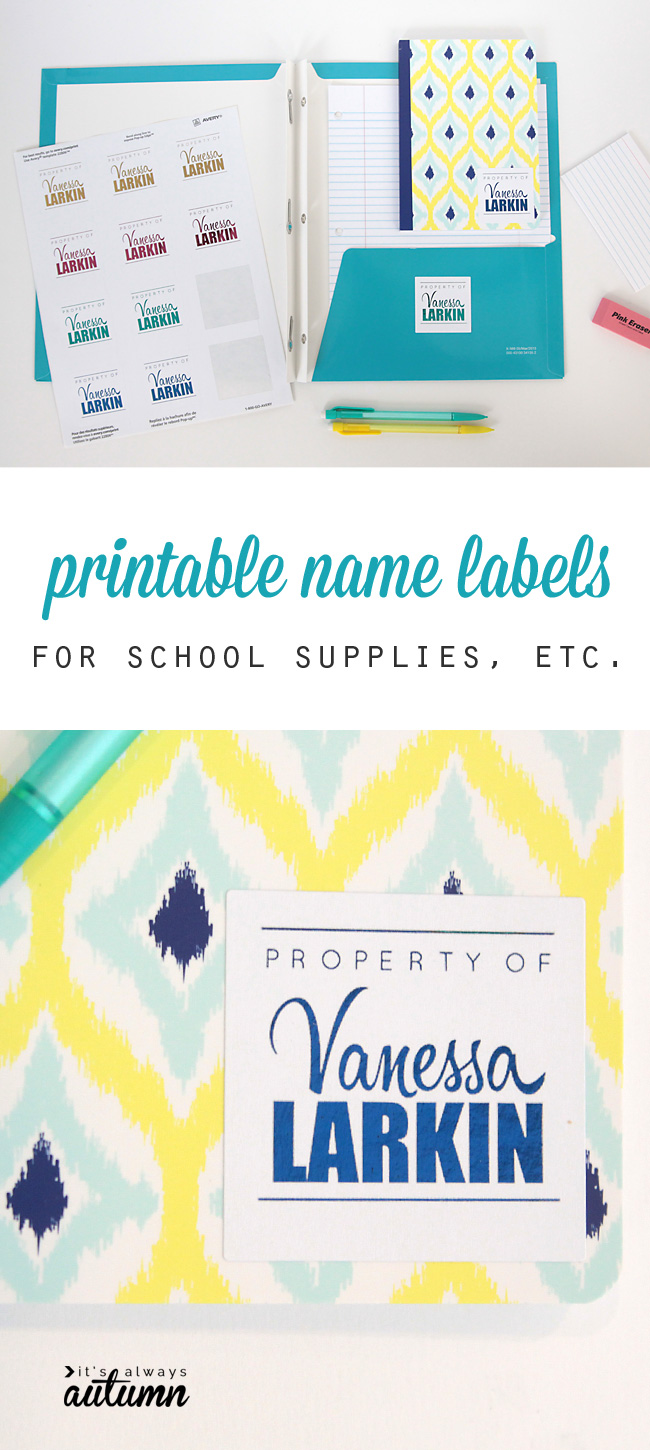 I can try. I give you: printable name labels for school supplies + other stuff. And yes, all the example name labels in this post are for a mythical child named Vanessa Larkin, mostly because I thought that name looked pretty, and because I figure Vanessa Larkin is probably better behaved than most of my children and so she deserves some name labels. And also because even though I'm sure you could all figure out my children's first and last names if you tried hard enough, I'm not going to make it easy by putting them in a blog post. So there.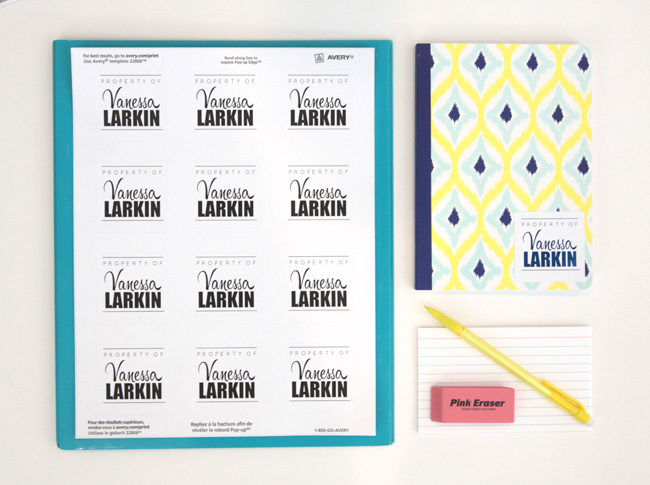 And so, Avery labels. I've never considered myself a label maker – I'm not nearly that organized – but I have to admit it's kind of fun to print out a whole page of perfectly spaced little labels on their nice squares that you can pop off and stick on anything from notebooks and lunch bags to t-shirts and foreheads.
And it's extra fun when you turn them all bright and sparkly and colorful and such.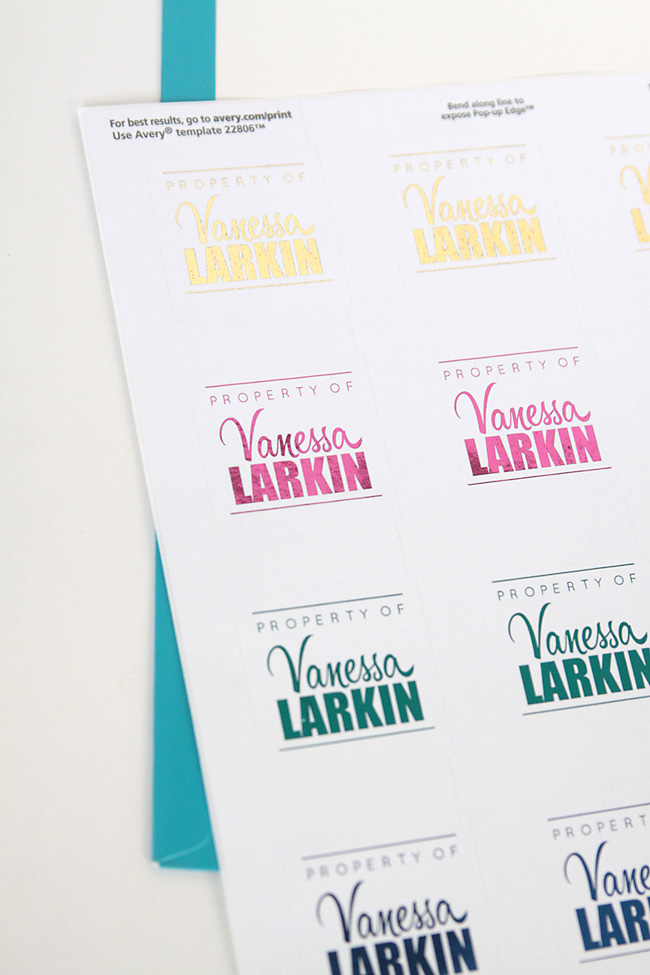 Hi! Have I introduced you to my Minc yet? Why yes, I have, repeatedly. Probably often enough that those of you who are jealous you don't have one are getting annoyed and those of you who don't care aren't even reading this post!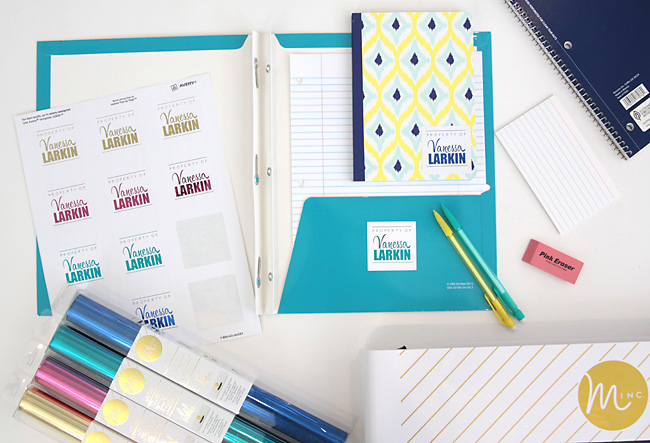 But hey, plain black labels are still pretty cool, and would still be pretty useful. Plus my junior-high-school-aged boys aren't going to be caught dead putting shiny labels on anything. NOTE: I just asked my 14 year old if he'd ever put labels on his books. He said maybe, but that most boys wouldn't because they are too busy throwing their books across the classroom. Not sure what's going on at that school of his…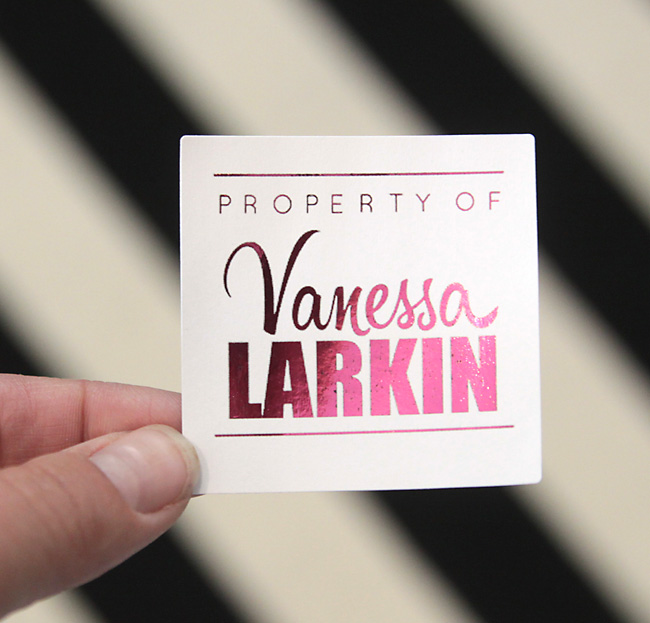 However, mythical Vanessa Larkin is extraordinarily happy with her labels. She's going to use them to close the notes she writes to the boy she likes that say: "Who do you like? Check one…"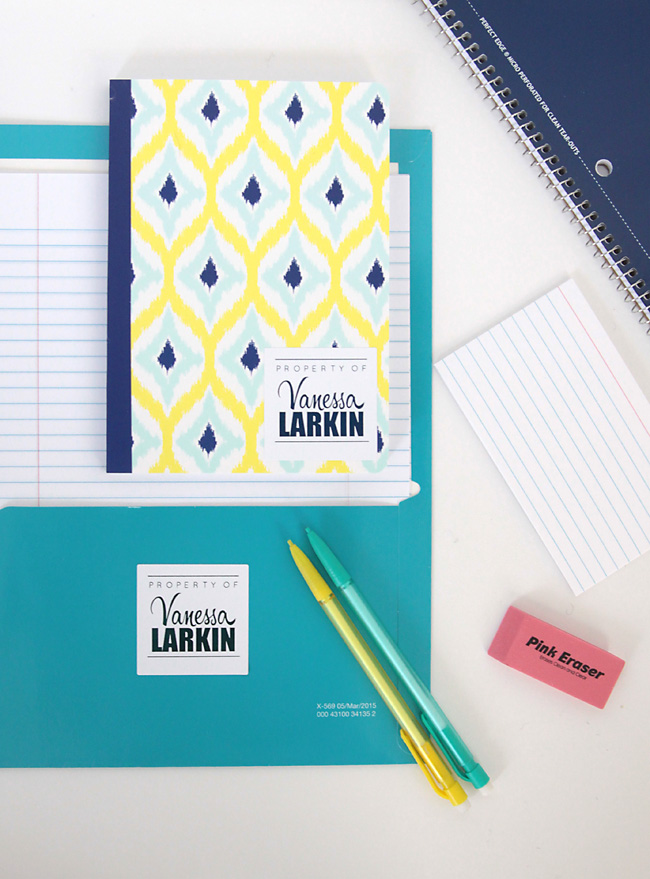 If you want to make some cool "property of" labels for your kids, you can download the template by clicking here. Then use the software of your choice to add your child's name (i.e. Photoshop Elements, picmonkey, etc.). I think it's fun to mix up fonts for things like this: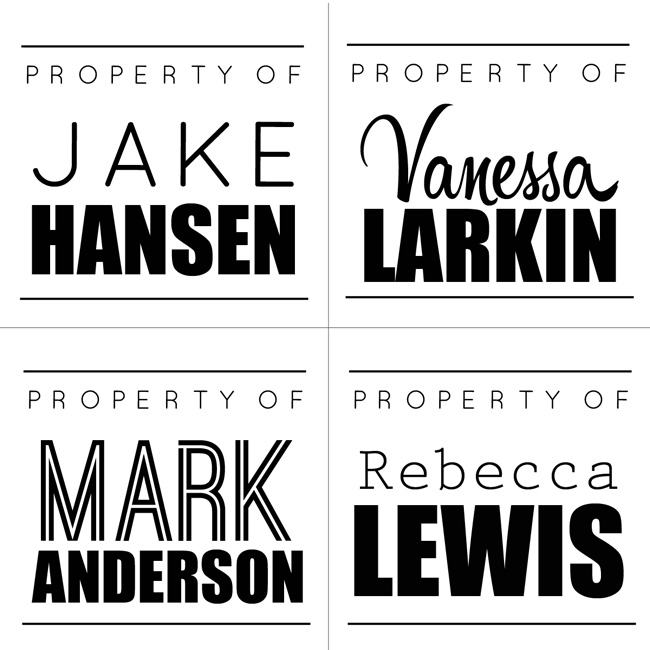 Save your finished label as a .jpg, and go to Avery Design & Print Online. You'll want to select product 22806, which is 2×2 inch square labels (you're going to need to buy some of those too…). Hit next for Select Design, where you'll choose Blank & Text Only. Hit next for Customize, and under Images on the left choose Add Image Saved to your Computer. Then you can choose your name label, resize it so it looks good, and send it to the printer to get a whole page of nifty name labels.
If you want them to sparkle, be sure to print them out using a laser printer, then run them through a Heidi Swapp Minc Foil Transfer Machine. Remember, the Minc machine and accessories are available at Hobby Lobby and Jo-Ann, as well as a number of local stores and online shops (get the best price right here on Amazon <— affiliate link). There are many ways to apply foil to projects, but none are as easy and consistent as using the Minc.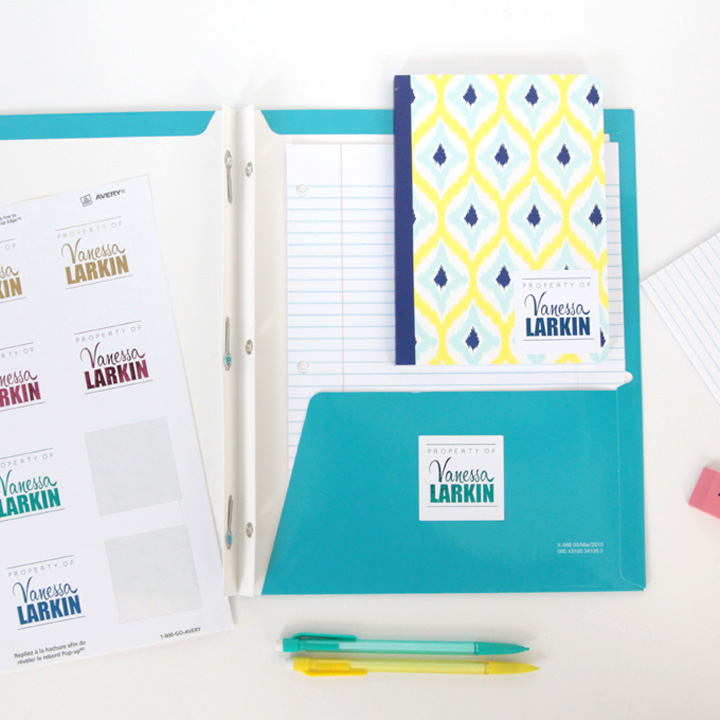 Fonts used in example labels: Jake – Franklin, Vanessa – Hipster Script, Mark – Ostrich Sans (bold), Rebecca – Presitge Elite Std. Last names all are in Impact.
Thanks to Heidi Swapp Minc for sponsoring this post. All opinions are my own.