This post is part of a social shopper marketing insight campaign with Pollinate Media Group® Elmer's and Wet Ones, but all my opinions are my own. #pmedia #CraftandCleanUp http://my-disclosur.es/OBsstV
Years ago my kids collected a bunch of small seashells on a trip to the beach and they've been saving them ever since. While cleaning out the disaster they call their closet recently, we happened upon the bag of shells and I told my kids it was time to toss them. They reminded me I had promised we could "do something" with the shells as a way to remember our beach trip. While I'm not really sure I'm obligated to honor promises I made three years ago, I figured we better use at least a few of the seashells in a craft project so we could dispose of the rest. Since it's the end of summer and my "creative mom" energy is running a little low, I picked a super easy craft: beach photo frames made with glue and twine.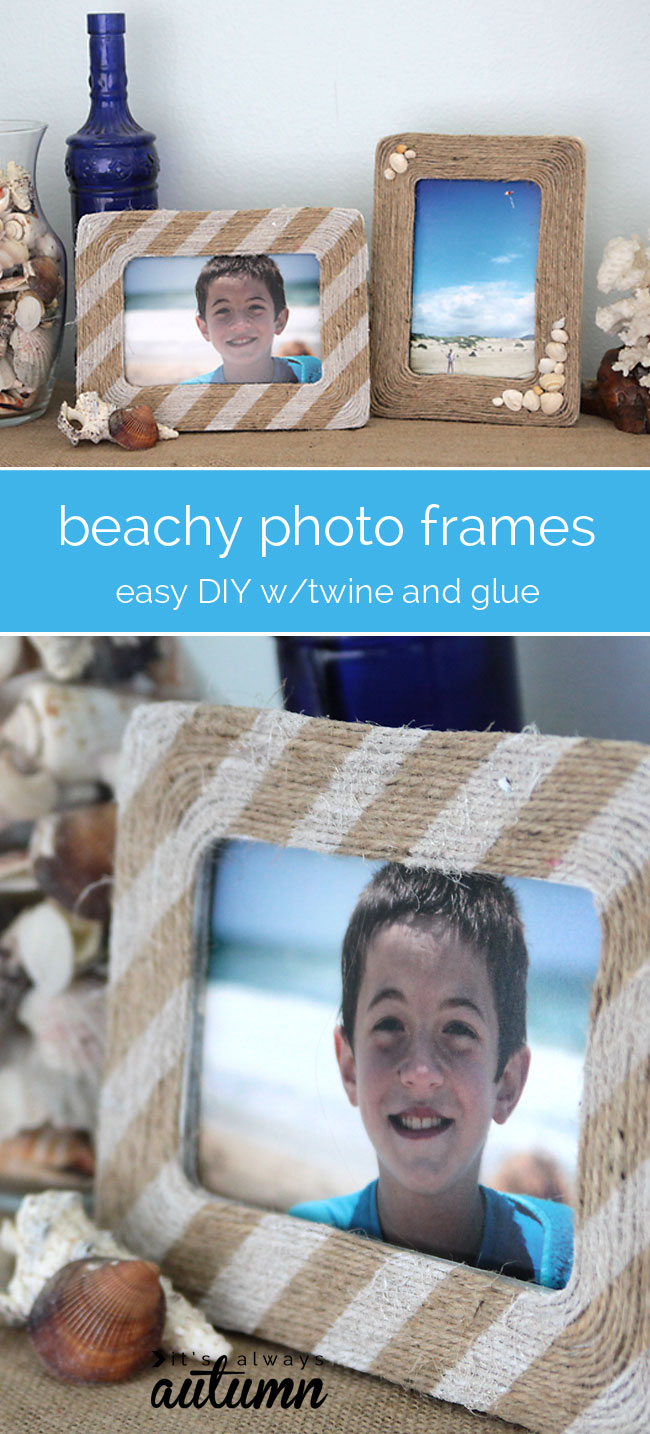 I started with a couple 4×6 wood frames with rounded edges, a roll of twine, and our seashells. I grabbed some trusty Elmer's glue from the Back to School Section at Target and a pack of Wet Ones wipes because I knew we'd need some way to clean up the glue that was invariably going to end up all over the place. Crafting with the kids is fun, but the mess can get out of control really fast, so it's good to be prepared!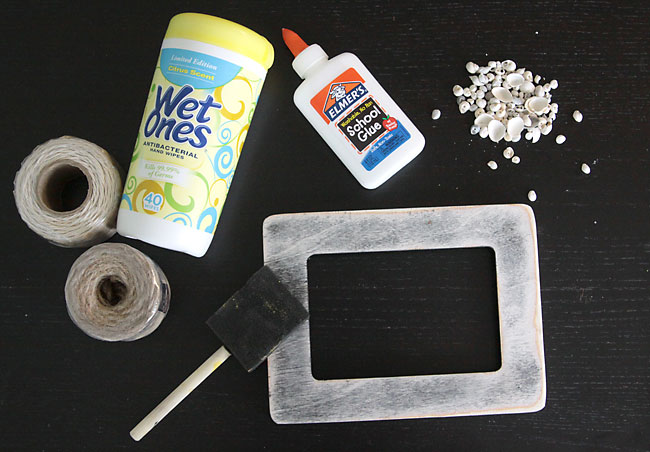 At select Target stores you can find Elmer's glue and Wet Ones bundled together in a combo pack in the back to school section – great idea, right? I might send a combo pack in to school with each of my kids – I'm sure their teachers would appreciate it!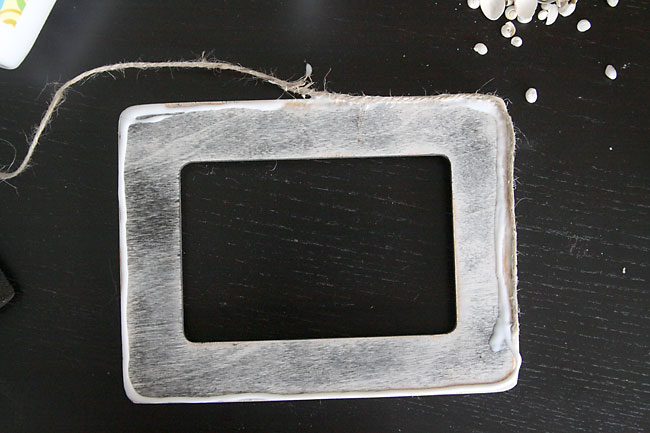 To cover the frame with twine I started by applying a line of glue all the way around the outside edge of the frame and placing the twine down on it, then wrapping the twine around again working inward. Getting the first two or three rows of twine down is the only difficult part of this craft – you kind of have to hold the twine in place at the corners for a few minutes to let the glue dry a bit. (Hot glue might be a bit simpler because it bonds immediately, but Elmer's glue is so much safer when kids are involved.)
You'll want to clean the excess glue off your fingers pretty regularly – if the glue starts to dry on your fingers the twine will stick to them and lift off the frame. Just keep the Wet Ones handy!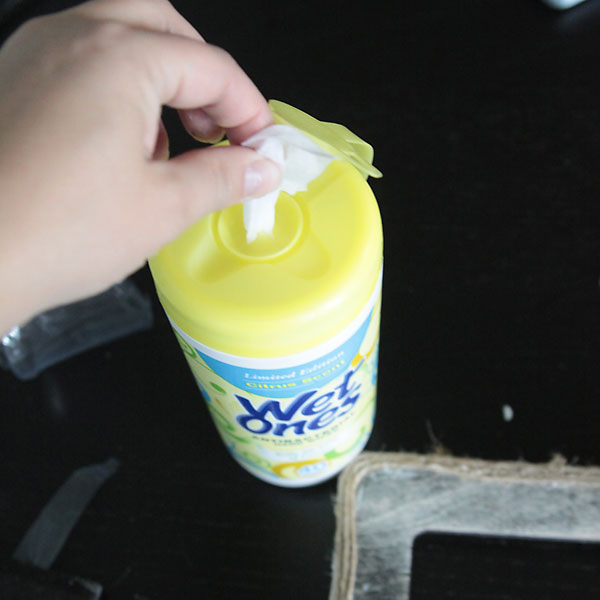 Once you have two or three rows of twine down the process is very simple: put plenty of Elmer's glue on the rest of the frame, and use a foam paint brush to spread it out evenly. Continue placing the twine down very close to the row before it, slowly working inward and pressing the twine down into the glue (keep wiping off your fingers!). Add more glue as needed and continue until the frame is completed covered.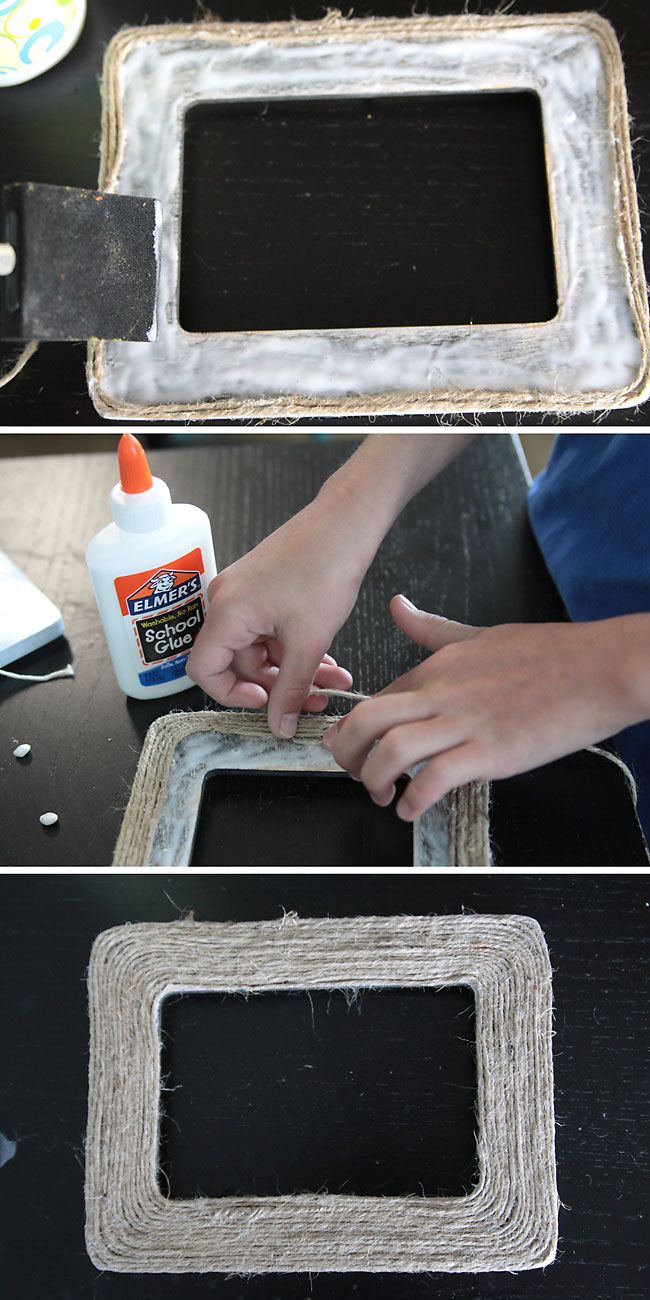 Once the frame was completely covered with twine, the kids picked out a few seashells and decided on an arrangement on the frame, then used the Elmer's glue to attach them. We added a little extra glue in between the shells to make sure they'd be securely attached – since the glue dries clear you can hardly see it on the finished frame.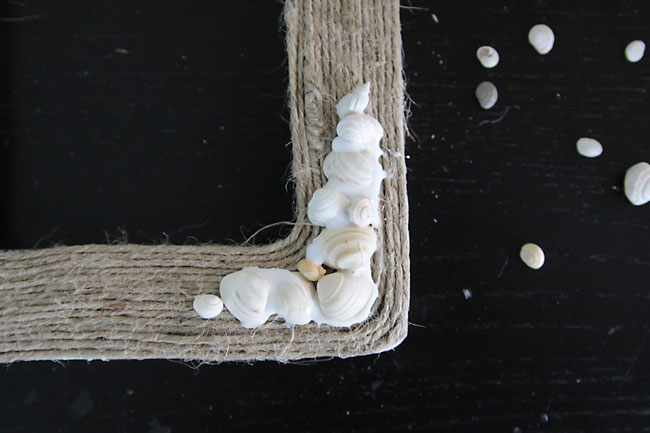 I made a second frame and used masking tape and spray paint to create diagonal stripes on it for a more modern look. The twine gives the frames a natural, beachy feel – perfect for photos of sea and sand!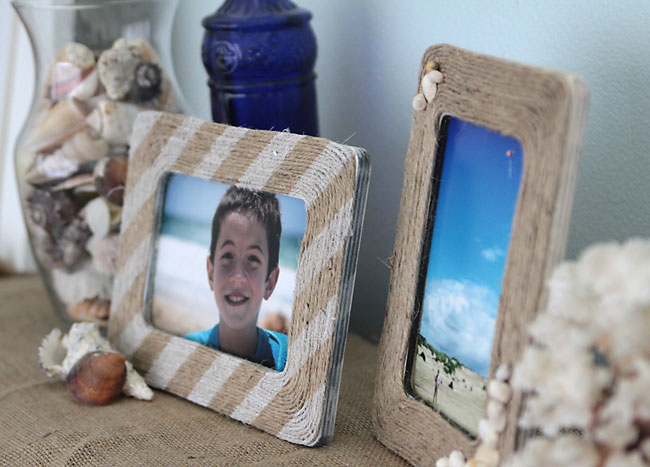 Be sure to look for the Elmer's glue and Wet Ones combo pack the next time you're at Target!