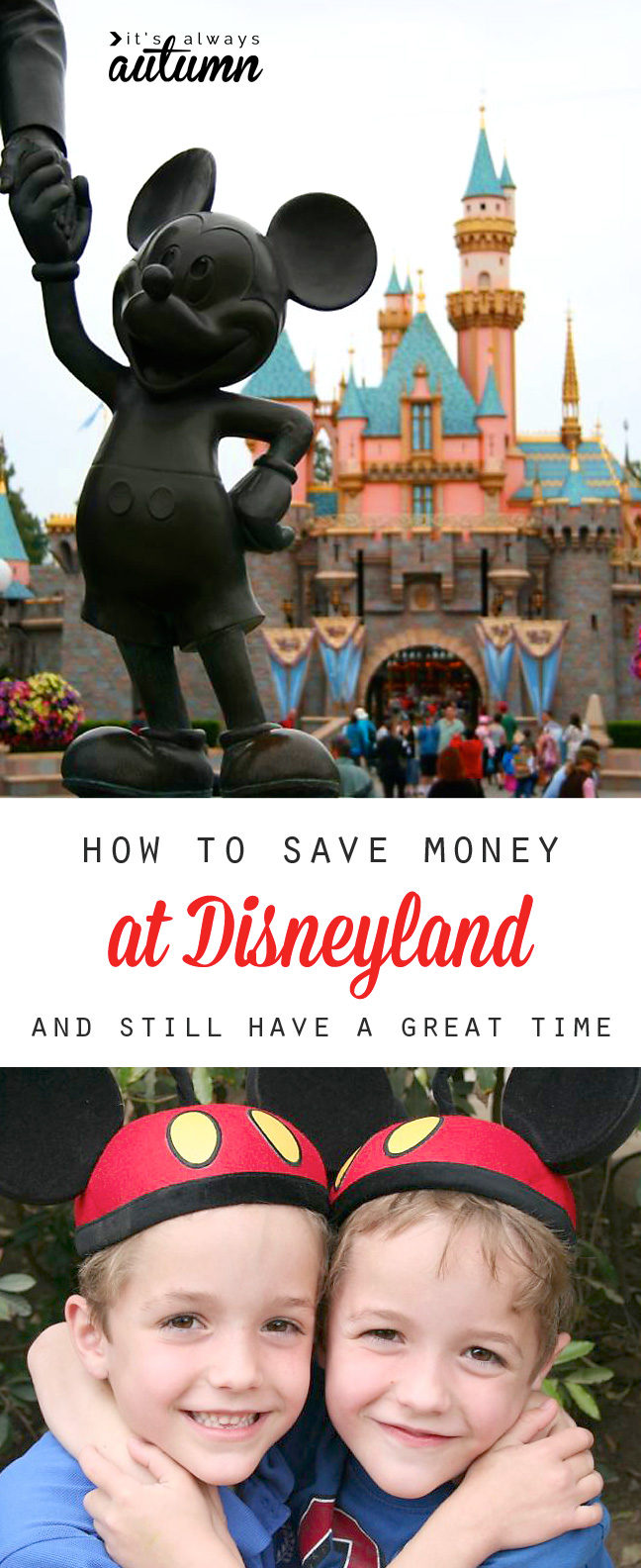 Yesterday I shared tips for beating the crowds at Disney, and today I'm sharing budget tips for your Disney trip. The main cost of your trip will be Disney tickets, and there aren't many ways to save on those since Disney controls the prices pretty closely. By far the best deal I've found on tickets is through Park Savers (affiliate link) where you can save up to $14 per ticket. I haven't seen anywhere else that can save you that much per ticket. (BTW, people used to buy 5-day hopper passes, use a few days, and then sell the tickets with the remaining days on them for cheap on ebay. This won't work anymore, as Disney now photographs you the first time you use your hopper pass.)
The other main cost will be accommodations, and you'll just want to shop around to find the option that will work best for you (although I do have one suggestion at the end of my post). After you have tickets and accommodations paid for, you'll still need to factor in food and souveneirs, which can get EXTREMELY expensive. I like to save money, but my husband doesn't like to be so worried about not spending anything that we can't enjoy our vacation, which means we do buy some food at the park for convenience' sake. We still save a ton of money by using these tips:
1. Bring snacks in with you. Disneyland technically has a no outside food policy, but as long as you're not trying to bring in a large cooler they pretty much let you bring whatever you want. We have always had someone in a stroller, so I fill up an entire reusable grocery bag with food and stash it beneath the stroller. Cut up fruit in tupperware and sandwiches made on bagels so they won't squish are great choices. Each child also gets their own fanny pack (find them cheap at a thrift store) and before we leave for the park in the morning he can stuff his pack full of snacks (granola bars, raisins, applesauce, cheese&crackers, pretzels, trail mix, frozen gogurts, dry cereal, apple slices, etc.). Then the kids can snack while they wait in line and they won't be asking you every five minutes for one of the treats they see everywhere. Which brings us to the next tip…
2. Talk to your kids in advance about what food you'll be buying at the park. Food is super expensive at the park. Plan on $5 for each treat, $6.50 for each kids' meal, and $10 for each adult meal (drinks are extra for adults, another $3 at least). If the kids know they will get one meal and one treat per day, for example, then they'll be able to plan when they want it and won't ask for more stuff each day. It will also help them be sure to pack enough snacks to get them through the day.
3. Carry water bottles and find drinking fountains. It's amazing how much money you can spend on water bottles throughout a day at Disney, especially if it's hot out. It costs about the same for one bottle of water in the park as an entire case of 24 water bottles at the grocery store, so it's worth bringing your own. One per person is plenty as long as you pay attention to where drinking fountains are and refill your bottle. Many popular rides have drinking fountains near the exit (Space Mountain, Toy Story Mania), so it's easy to get a drink and refill your bottle on your way out.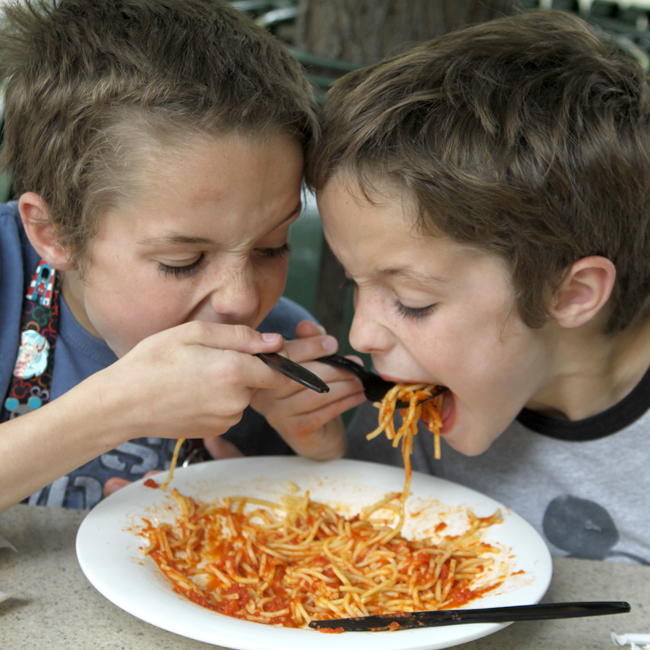 4. Consider having kids split an adult meal instead of getting separate kids' meals. (And then let them eat like animals off the same plate like I did…oops.) The kid meals at Disney are all about $6.50 and usually come with a small main dish (like 4 nuggets or a tiny cheeseburger), carrots, apple slices, and a small drink. My kids don't get too excited about the carrots and apples, and we usually pack our own juice boxes, so it makes more sense to get an adult meal and let two of them split. They get a lot more food and it's a few bucks cheaper. One more meal tip: if you're in California Adventures you can get salads in a bread bowl from the Boudin Bakery – you get a whole loaf of bread under your salad which usually just gets thrown away. Instead, order the bread sliced on the side. You can eat the salad and few pieces of bread, then grab some butter and share the rest of the loaf with the kids instead of throwing it away.
5. Take the monorail from Tomorrowland to Downtown Disney for lunch at Earl of Sandwich. The monorail, which picks up just above the submarine ride, zips you out to Downtown Disney in no time. Most of the restaurants there are just as pricey as eating in the park, but an Earl of Sandwich has just opened up. It has tons of different sandwich and salad options that are cheaper and MUCH tastier than what you'll get in the park, and it's right across from the monorail stop. Just get your hand stamped when you exit the monorail, have a nice lunch, and let the monorail zip you back into Tomorrowland when you're done.
6. Consider a private condo rental instead of a hotel. We've been to Disneyland four times and stayed in four different places. Most recently we rented a private condo near the park and it was by far the most comfortable we've been while at Disney. For about the same price as a two room hotel suite (we had 9 people going) we were able to rent a three bedroom, three bathroom condo. We had a full kitchen, a living room, computers we could use, and a patio with a grill and a little playhouse. It was wonderful! There were beds for everyone, and plenty of room to spread out. I LOVED sitting down at a real table for dinner instead of eating take-out balanced on the edge of a hotel bed. We could put the little kids down to bed earlier than the adults, which was really convenient (that's hard to do when you're all crammed into the same hotel room). AND there was a washer and dryer there we could use for free – no getting quarters for the laundromat. We got up and had cereal or made pancakes for breakfast every day, and cooked dinner there a few nights, which saved quite a bit of money. Even if the adults want to eat out since you're on vacation, you can make mac-n-cheese or frozen pizzas for the kids. It was fanstastic. Check sites like flipkey.com or homeaway.com for rental info.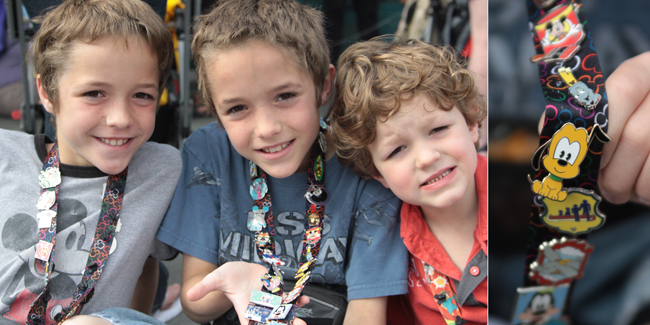 7. Order pins to trade in advance. Walking around with a lanyard full of Disney pins around your neck is just plain fun when you're at Disneyland, especially if you're in the older elementary age range. Nearly all Disney employees wear pins and will trade with you – usually giving you whichever pin you want from them for whatever you'd like to trade away. The only problem is that each Disney pin costs between $8 and $16, which makes it a pretty pricey hobby. However, we found that you can order bulk packages of older Disney pins online from Amazon for about $1 per pin. I ordered a package of 30 before we left home, but once we got there and the kids realized how much fun it was to trade, we ordered 60 more and had them overnighted to the condo we were staying in. All four boys ended up with a lanyard chock full of pins and had a fantastic time trading. It's a fun thing to do when you're standing in long lines for rides. (Note: a few of the reviews on the bulk package of pins I ordered said they were not genuine Disney pins – however they look genuine to me, are stamped with the Disney seal on the back, and none of the Disney employees had any problem with them, so I think they are just older pins.) We have also purchased Disney t-shirts and stuffed animals in advance for much cheaper than you can get at the park (check Walmart, disney.com for clearance, even thrift stores).
***ETA: A reader has commented that most of these cheaper packs are fakes, so it looks like it might be a morally grey area here trading them at Disney. Maybe they'd be better to purchase as souveniers only, since the kids don't know the difference…
Any other fantastic money saving Disney ideas out there? Leave them in the comments so we can all benefit from everyone else's experience. Remember there are more Disney posts from last year – find them here, here, here, and here.