I don't often make special clothes just for holidays – you all know I'm cheap, so I don't like the thought of investing time and money into an outfit that will only get worn once or twice. But seeing as I have this little girl at the end of my passel of boys, I thought I just might need to make her a Valentine's Day shirt. (For some reason, none of my boys have wanted a shirt that says "LOVE" across it in big letters – wonder why? 🙂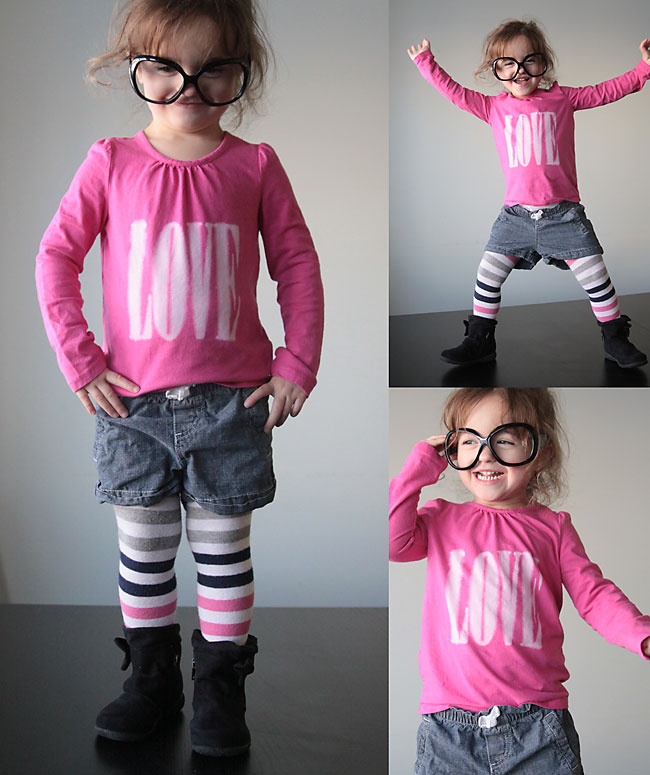 I kept the design on the shirt simple enough that she can wear it whenever, not just on Valentine's Day. I started with a plain long sleeve tee (this one is from Target) and I used bleach pen to add the letters to the shirt because I wanted the word to look like it was part of the original shirt instead of painted on. The bleach did leak out around my freezer paper stencil a little, making it look a little blurry. I'm ok with that because I think it still looks intentional and like the shirt just came that way, but if you'd prefer crisp letters you'll have better luck using craft paint mixed with fabric medium.
Here's how I made this freezer paper stencil Valentine's Day shirt: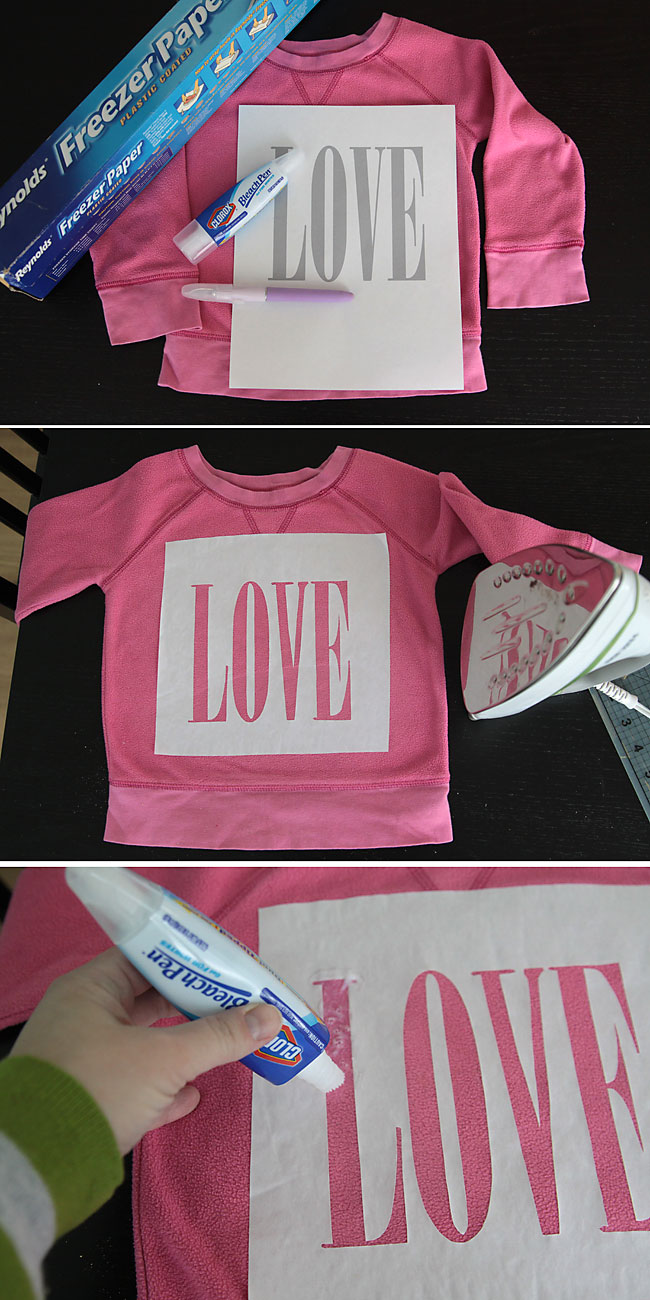 1 – I printed out my design on normal paper, then layered that over a sheet of freezer paper (shiny side down) and used an exacto to cut out the design. You can certainly using a cutting machine to make this step faster, but I find it really doesn't take too long to cut simple designs by hand. Remember to keep any pieces like the inside of the "O".
2 – I ironed the freezer paper onto the shirt, which makes it stick temporarily so it will act as a stencil.
3 – I used the wide tip end of a bleach pen to spread bleach inside my template. I knew I wanted it to go completely white, so I used quite a bit. After all the letters were covered I used my finger to smooth out the bleach, then carefully removed the freezer paper.
4 – I let my shirt sit for a full 24 hours before rinsing and then throwing in the wash.
NOTE: If you use bleach, you may want to test your fabric first by putting a small dot of bleach on the inside hem and waiting to see what happens. T-shirts usually bleach very well, but I first tried this on a sweatshirt (which you can see in my photos) and the bleach hardly made any color change at all, even after 24 hours. So I tried again on a tee and got great results. It's a fun, easy way to add a little personality to a plain t-shirt.