Hey everyone! Today's post is packed with Halloween fun – I'm sharing some Halloween cupcakes and linking you up to nine other Halloween tutorials in a blog hop. There's also a link party at the end of the post where you can share your Halloween projects and find lots of inspiration. So it's a long post, but it's packed with ideas, so keep on scrolling!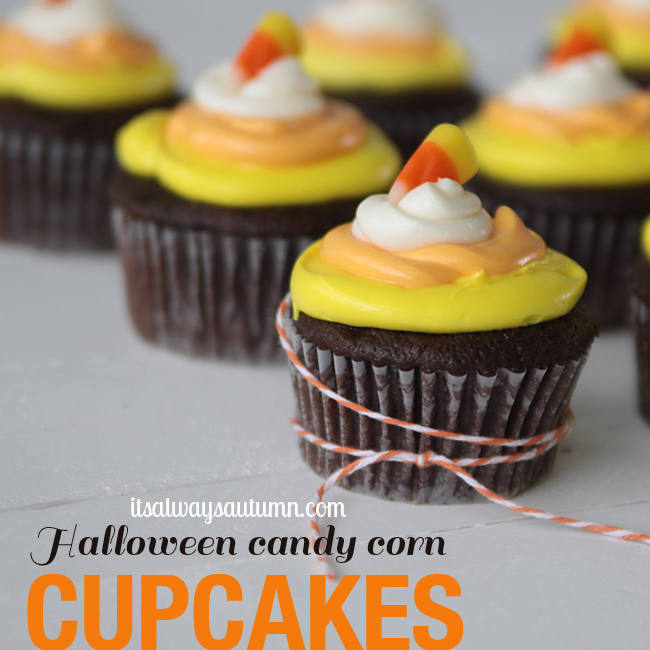 One of my favorite things about being a mom is when my kids get over the top excited about something that didn't really take much time or work at all (it helps to even out all the things I do that take tons of time – like laundry! – that no one even notices). These cupcakes = very excited kids.
I've seen lots of candy corn cupcake variations, but most of them require dying the cake mix different colors and layering it, which seemed like a little more work than I was willing to put in for an (albiet super cool) afternoon snack. Instead, I stuck with plain old chocolate cupcakes and added some candy corn flair by coloring the frosting instead. It's super easy and you don't need any special equipment like piping bags and tips – just a couple of ziplock baggies and you're ready to go. These would be perfect if you've been volunteered to bring treats to one of the many Halloween parties that will crop up between now and the big day.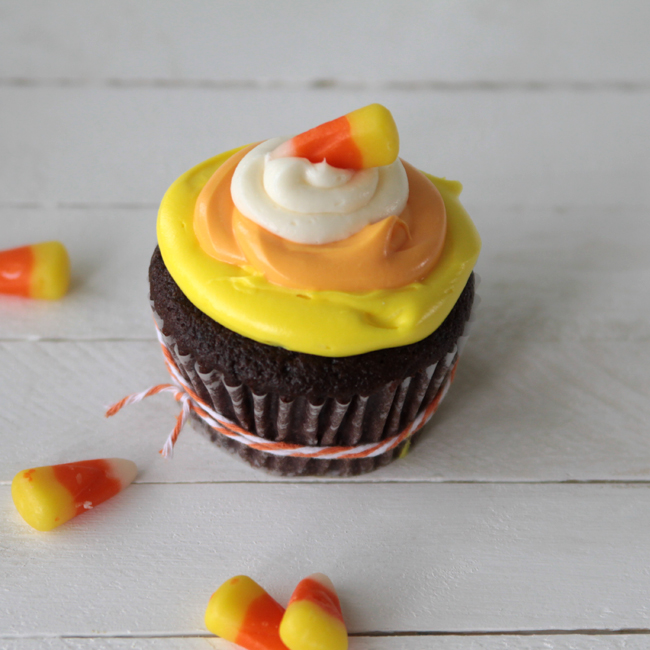 I used store bought frosting in an attempt to keep myself from eating too many 😉 and it worked well (it worked well for making cute cupcakes, but unfortunately not so well at convincing me not to eat any). Plan on using 2 cans of white frosting for 24 cupcakes.
Mix one full can with yellow food coloring – you'll need quite a bit for a bright yellow color. Mix up about 2/3 of the second can with lots of yellow and a little red coloring to make orange, and leave the last bit white.
Scoop some of the yellow frosting into a sandwich sized ziplock bag, and clip off one corner. Cut about 1/4 inch from the corner, as shown.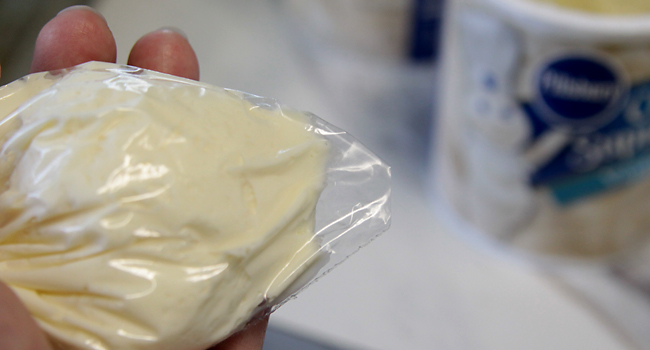 Squeeze the frosting out of the bag onto a cupcake, going all the way around the outside of the cupcake and ending in the middle, as shown below. Use a knife so smooth the frosting slightly, then pipe on orange frosting (using a second sandwich baggie), spiraling in a slightly smaller circle.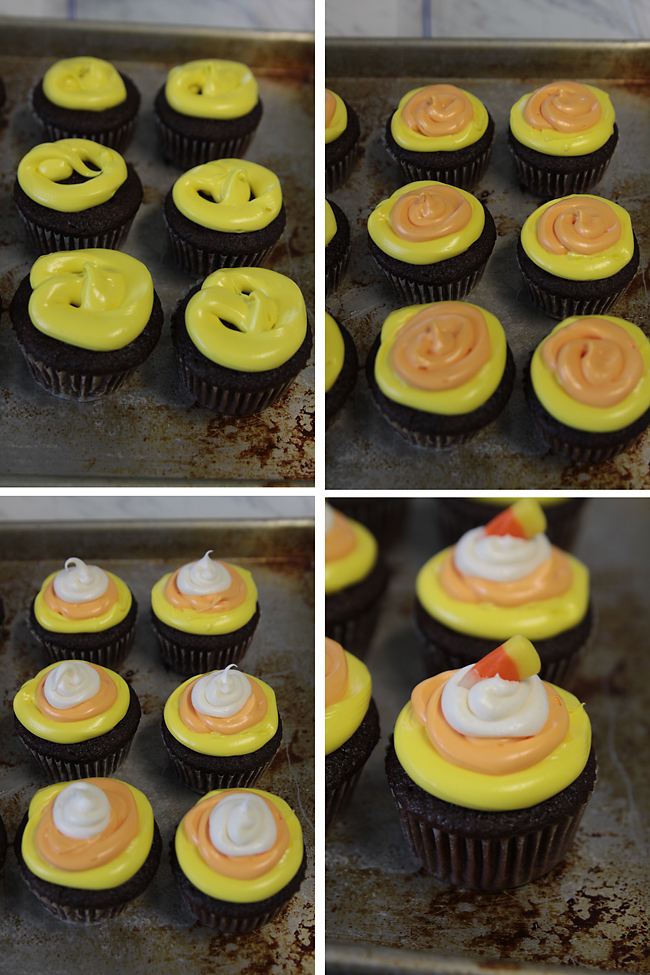 Again, use a knife to gently smooth the top of the orange frosting, then pipe on white frosting (using a third sandwich baggie). Remember, each time you pipe on frosting you want to start at the outside of the circle and spiral inwards. Top each cupcake with a candy corn and you're all set.
And now for the Halloween Project Parade Blog Hop & Link Party!
Let's get hopping with these fabulous Halloween Projects below! Stop by and follow along with these creative projects and inspiring blogs! Show us what you have been creating by joining in the Halloween Link party below. We will be showing and sharing them on social media – so link up!
Celebrations Copper Glitter Pumpkins | Homework – Follow her on Pinterest and Google+
Spider Garland | Oh My! Creative – Follow her on Pinterest and Google+
Mummy Wrapped Utensils | Lemon Tree Dwelling – Follow her on Pinterest and Google+
Candy Corn Cupcakes | It's Always Autumn – Follow ME on Pinterest and facebook
Chevron Jar Lantern | twelveOeight – Follow her on Pinterest and Google+
Thrifted Halloween Chevron Spider Art | The Happy Housie – Follow her on Pinterest & Google+
Owl Wreath | Persia Lou – Follow her on Pinterest and Google+
Apothecary Style Trick or Treat Jar | My Love 2 Create – Follow her on Pinterest and facebook
Simple Straw Vase | Daisy Mae Belle – Follow her on Pinterest and Google+
Embellished Paper Mache Witch Hats | Pink When – Follow her on Pinterest and Google+
LINKING  Tip Junkie | Sugar Bee Crafts | Today's Creative Blog | Naptime Creations | Lil Luna | SNAP | Someday Crafts | Somewhat Simple | House of Hepworths | The 36th Avenue | Whipperberry | Naptime Crafters | Tatertots and Jello | Little Inspiration | I Heart Naptime