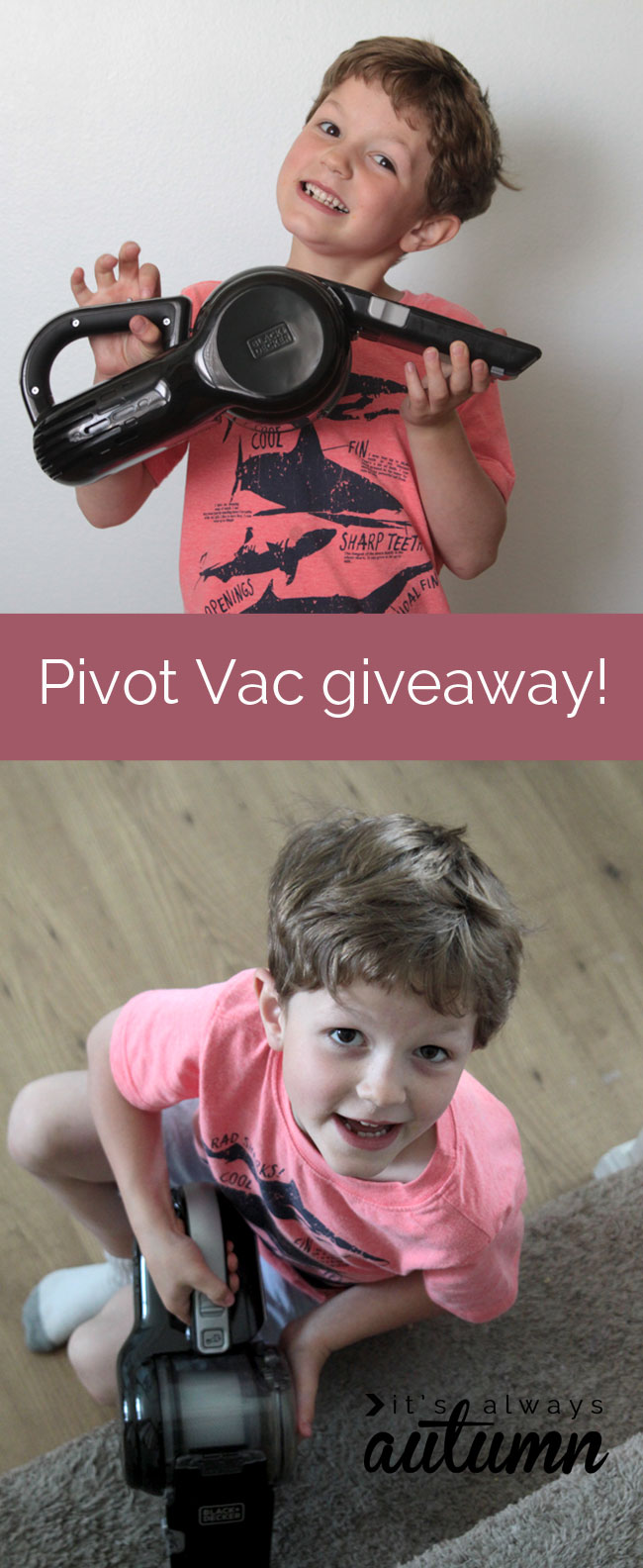 This post is sponsored by BLACK+DECKER. Anyone else doing some spring cleaning at their house? We've cleaned out the basement, switched out winter clothes for summer clothes in the closets, and have organizing the garage on the docket for next week. It feels great to get big cleaning jobs done, but the ones that I really dread are the constant, daily messes that you just can't escape when you have multiple kids living in one house. (Keep reading to find out how you can win a brand new BLACK+DECKER Pivot Vac – the Best Handheld Vacuum.)

I am not a happy housekeeper. In fact, I'm kind of a grumpy cleaner. I get it done, for the most part, but I'm usually not very happy about it. There are just SO MANY other things I'd rather be doing than cleaning, and yet cleaning up is this never-ending cycle. As soon as I sweep out the pantry a box of Cheerios gets knocked over again. As soon as the breakfast crumbs are cleaned up, the lunch crumbs appear. And the day after I take the car to the carwash to vacuum it out, it's somehow full of an odd assortment of papers, wrappers, and goldfish that I swear I never even saw enter the vehicle!
Of course, there's a simple solution to my cleaning grumpiness, which is getting my kids more involved in taking care of the daily messes around here. My older kids are actually a big help. But it's hard to explain to younger kids what to do and have their "help" actually be, well, helpful. This week I got the chance to try out the BLACK+DECKER Pivot Vac, which is a cordless handheld vacuum. It's perfect for cleaning up small messes and it's perfect for small hands as well.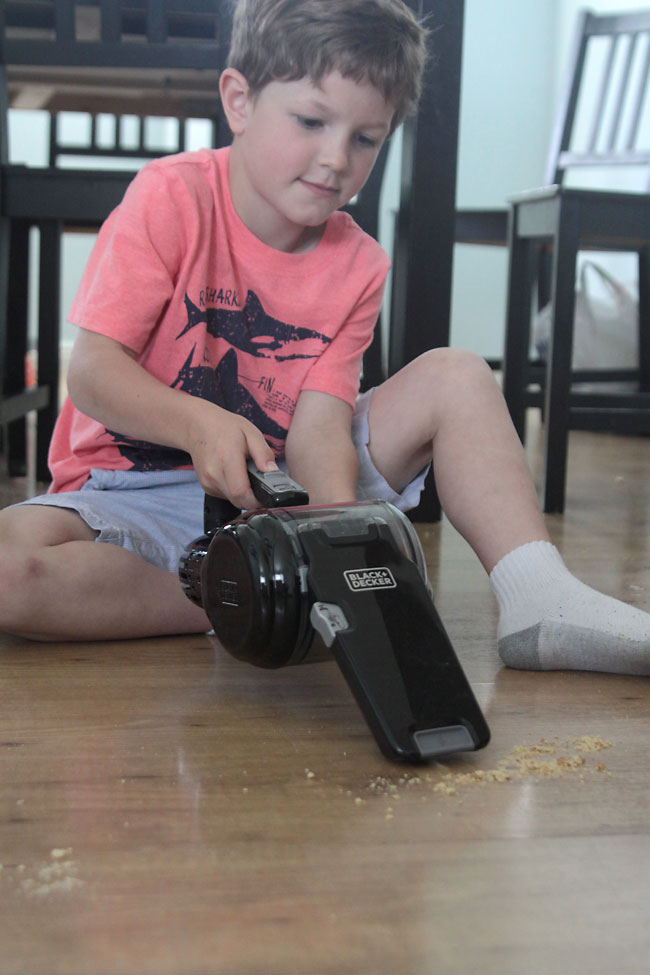 My 5-year-old son was thrilled when I handed him the Pivot Vac and asked him to vacuum up some crackers crumbs for me. He had a blast watching the crumbs disappear, and he quickly figured out how to empty the chamber into the trash and how to pivot the head to make holding the hand vac easier for him.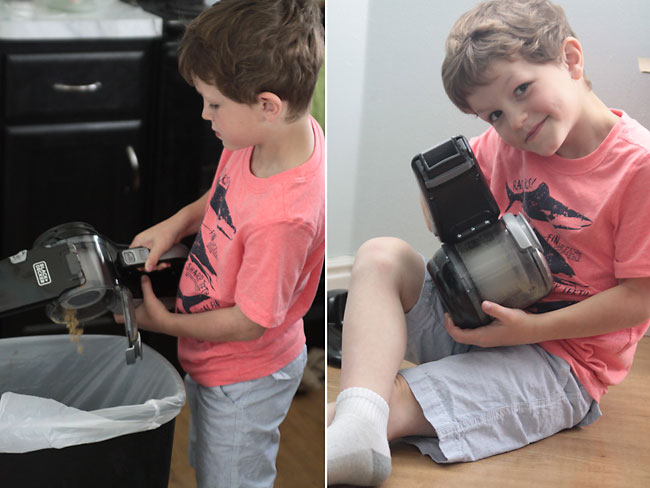 After he finished cleaning up the cracker crumbs, he moved on to the stairs, telling me "These stairs sure are dirty, Mom!" and "I'm the vacuumer of the family now." In fact, he had so much fun that he spent the next half hour finding small messes to clean up, only stopping when the hand vac needed recharging.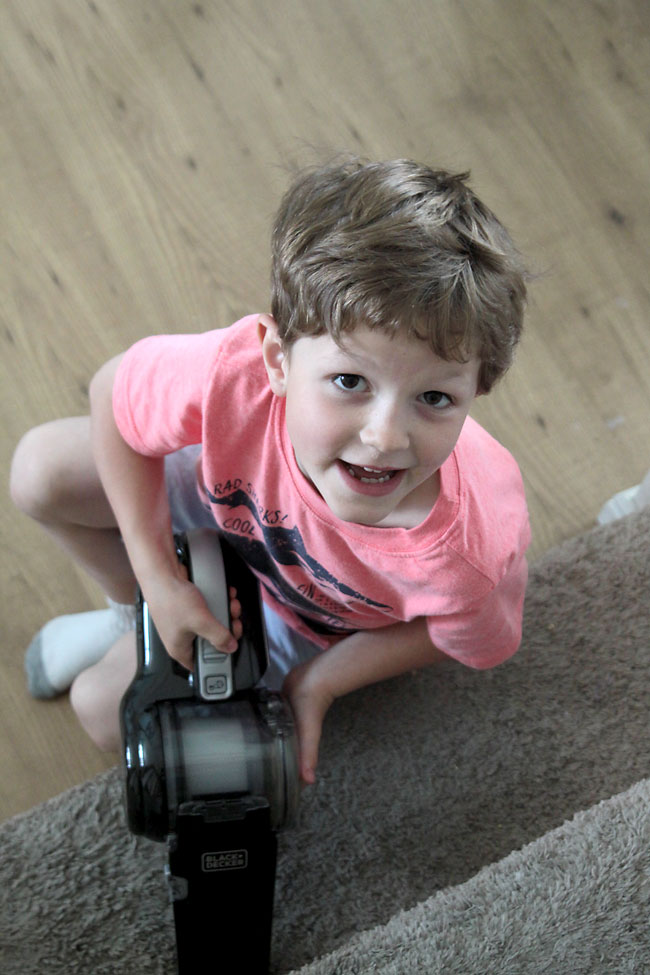 Pretty awesome, right? After watching her brother, my 3-year-old decided to get in the game, too. Once we showed her how to turn it on and off she was able to clean up a little mess of her own: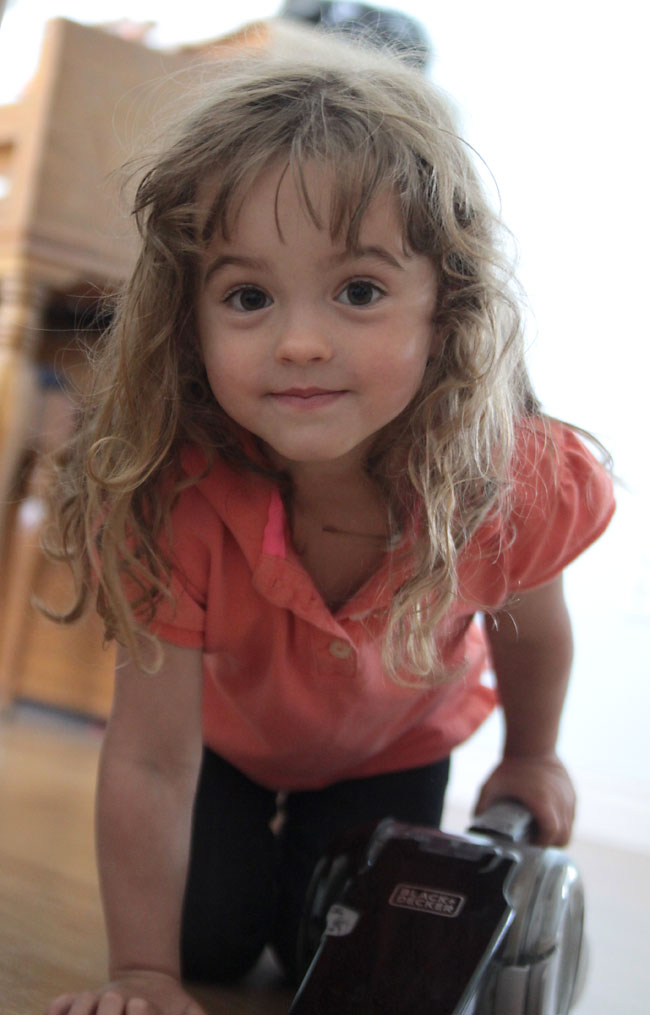 I'm pretty happy that now even my youngest kids can help clean up. If you'd like to win a BLACK+DECKER Pivot Vac of your own, a $79.99 value, click here to learn more about the Pivot Vac, then come back and leave a comment telling me what you (or your kids) would like best about owning this hand vac. (You must click through link to be eligible to win! For an extra entry, tweet or Facebook share the giveaway and leave the link to your share in a second comment.) Winner will be chosen by random draw on May 16th, 2014, and will have 24 hours to respond to an email notifying them of their prize. Must be 18 years or older and have a US mailing address.
Happy spring cleaning!