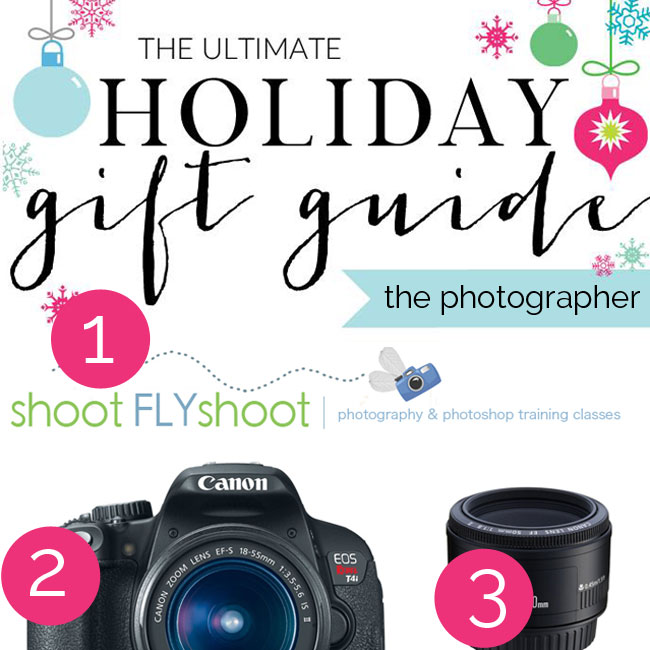 If you're looking for the perfect gift for everyone on your list this year, you've come to the right place! A great group of bloggers have teamed up to offer themed gift guides for everyone on your list. We have over 450 fantastic gift ideas in 23 different categories like the baker, the DIYer, teens, big kids, little kids, the art lover, the entertainer, the bling lover, men, and more! My gift guide is for the aspiring photographer. Use these guides to make your holiday shopping easy AND to decide what to put on your own wish list. In addition, each blog involved is offering a giveaway to go along with their guide. Every giveaway is valued at least $50, and some much more – the photography lover's giveaway at the end of this post is worth nearly $400!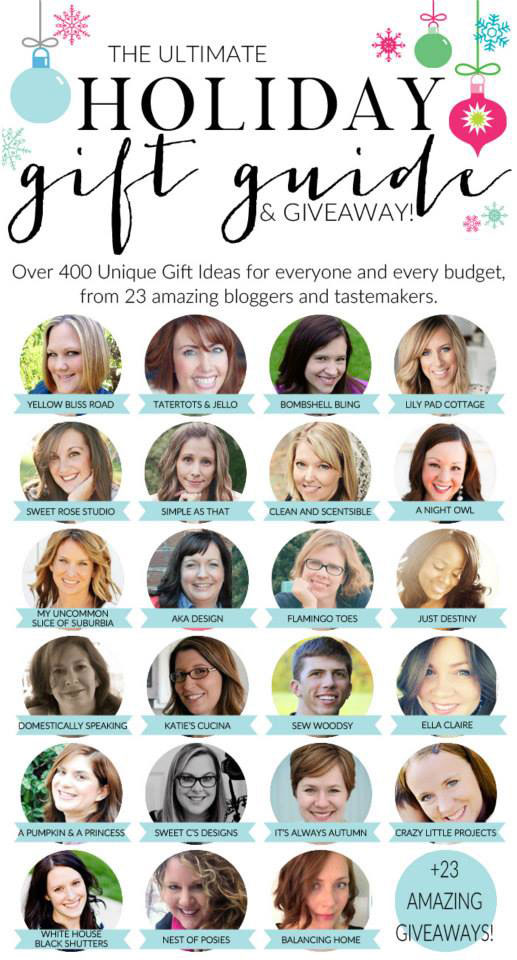 Keep reading for the best gift ideas for the aspiring photographer (or anyone who wants to learn or improve their photography), a chance to enter to win the photography lover's giveaway, and links for 22 more gifts guides and giveaways! (Please note, some links are affiliate links.)

1. There's lots to learn when it comes to photography, and it can be overwhelming. Make it easy with an online course from Shootflyshoot, the simplest way to learn to use your camera. Photography 101 ($67) is designed for beginners who own a dSLR camera but don't know how to shoot on manual yet. In 3 hours of instruction (broken down into 11 manageable chunks), you'll learn all about exposure, ISO, aperture, shutter speed, metering, portraits, and more. I just wish I'd taken a course like this when I was getting into photography – it would have saved me hours spent scouring the web for understandable photography explanations. (Shootflyshoot also offers Photography 102, Lightroom, Photoshop Elements, Photoshop touchup, and Room Makeover classes.)
2. Any photography lover who's still working with a point and shoot will love the chance to upgrade to a dSLR, like the Canon EOS Rebel T4i DSLR
. Currently priced at $850 on Amazon, it's a huge step up from a point and shoot, with one of the most important factors being the ability to use different lenses in different situations. The Rebel is the entry level dSLR; if the person you're buying for already has one and would like to upgrade (or is interested in starting a photography business), the Canon EOS 70D
is the next step. It's considered the "pre-pro" model and does an amazing job.
3. A 50mm f/1.8 Lens
is the very best lens to invest in for people who already own a dSLR. The 1.8 aperture number means it performs fantastically in low light and gives stunning background blur. It's very reasonable price (~$125) makes it a great choice as the first upgrade from the kit lens that came with your camera. Be aware that it has a fixed focal length, so you cannot zoom in or out with it (without moving your feet!). (Above link is for a Canon version; find the 50mm f/1.8 Lens for Nikon cameras here
.
4. Another fantastic lens is the Tamron AF 28-75mm f/2.8 lens
. It's super versatile, perfect for everything from portraits to landscapes to group shots. The fixed 2.8 aperture means you can get great background blur. The Tamron is a great budget friendly option at about $500 and a wonderful gift for anyone who's interested in starting a photography business. More serious photographers often invest in the Canon EF 24-70mm f/2.8L lens
version at about $2100. (Lenses linked above are for Canon cameras; find the Tamron AF 28-75mm f/2.8 lens for Nikon cameras here
.)
5. If the photography lover in your life is interested in taking portraits, a backdrop stand and various backdrops would all be fantastic gifts. The Impact background support system is lightweight and portable, but when set up can accommodate rolls of 11ft wide seamless paper or 12ft wide muslin backdrops. It runs $99 at B&H photo and gets great reviews.
6. Muslin backdrops come in a wide variety of colors and prints, ranging from about $20 up to a few hundred. Find a wide variety of muslin backdrops of Amazon (including the one pictured)
and B&H Photo. You can even use a length of black stretch velvet from the local fabric store. Seamless paper rolls make a fantastic, professional looking background that you never have to steam or iron! Rolls that are 107 inches wide run about $45, while 53 inch wide rolls are $25 (plenty wide for photographing 1-2 people). Seamless paper is available in a wide array of colors for lots of background options.
7. A bamboo area rug
is a great complement to many backdrops, and because it acts as the "floor" in the photo, allows photographers to take full-length photos. The 4×6 size is plenty big enough for single portraits, and it rolls up for easy storage.
8. For amazing instruction in digital photography in book form, nothing beats Scott Kelby's Digital Photography books Boxed Set
 ($62). The books start with the top 10 things Kelby wished he'd learned when he was starting out and go on to provide over 800 tips and tricks to improve anyone's photography.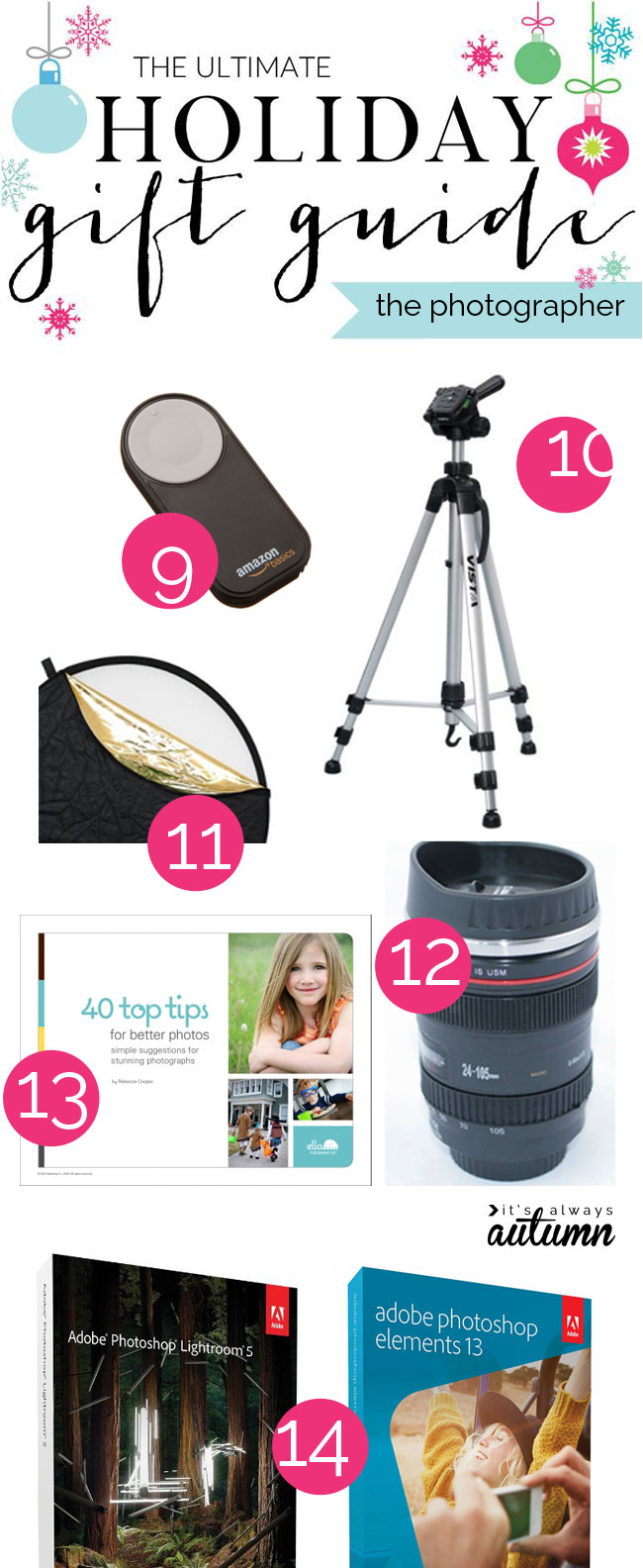 9. A wireless remote shutter
(just $8) makes a perfect stocking stuffer for any aspiring photographer because it allows him or her to take the photo without having to push the button – perfect for self portraits, low light situations, and photographing babies and kids. (Link above is the Canon version, find the Nikon version here
.)
10. For those interested in landscape photography, this 60-Inch Lightweight Tripod with Bag
 ($26) is a must-have. A tripod comes in handy for portraits as well, and is especially nice in low light situations.
11. The 5-in-1 Collapsible Light Reflector
is a handy, inexpensive ($18) photography tool that makes it easy to take photos in a number of lighting conditions. The reflector helps light your subject more evenly, eliminating dark shadowed eyes even on cloudy days, while the diffuser makes it possible to get great photos even in very strong lighting conditions.
12. Let your aspiring photographer show off his/her hobby with a Camera Lens Travel Coffee Mug/Thermos
 ($8). What looks exactly like a 24-105 mm lens is actually a stainless steel thermos complete with travel lid.
13. Full of practical, easy to understand tips for photography lovers of all ability levels, Rebecca Cooper's photography ebooks make great gifts. Choose from 40 Top Tips for Better Photos, Don't Say Cheese!, and Real. Life. Photography ($6-$13).
14. Once you start taking photos, you'll want to be able to edit them. The most common software options for photo editing are Adobe Lightroom
 ($130) and Photoshop Elements
 ($90). Lightroom has amazing capacities for editing photos, including adjusting exposure and color and making unwanted objects disappear from the photo. It's great for making slideshows and photo books as well. Photoshop Elements is fantastic for manipulating photos: adding text, creating photo collages, and much much more.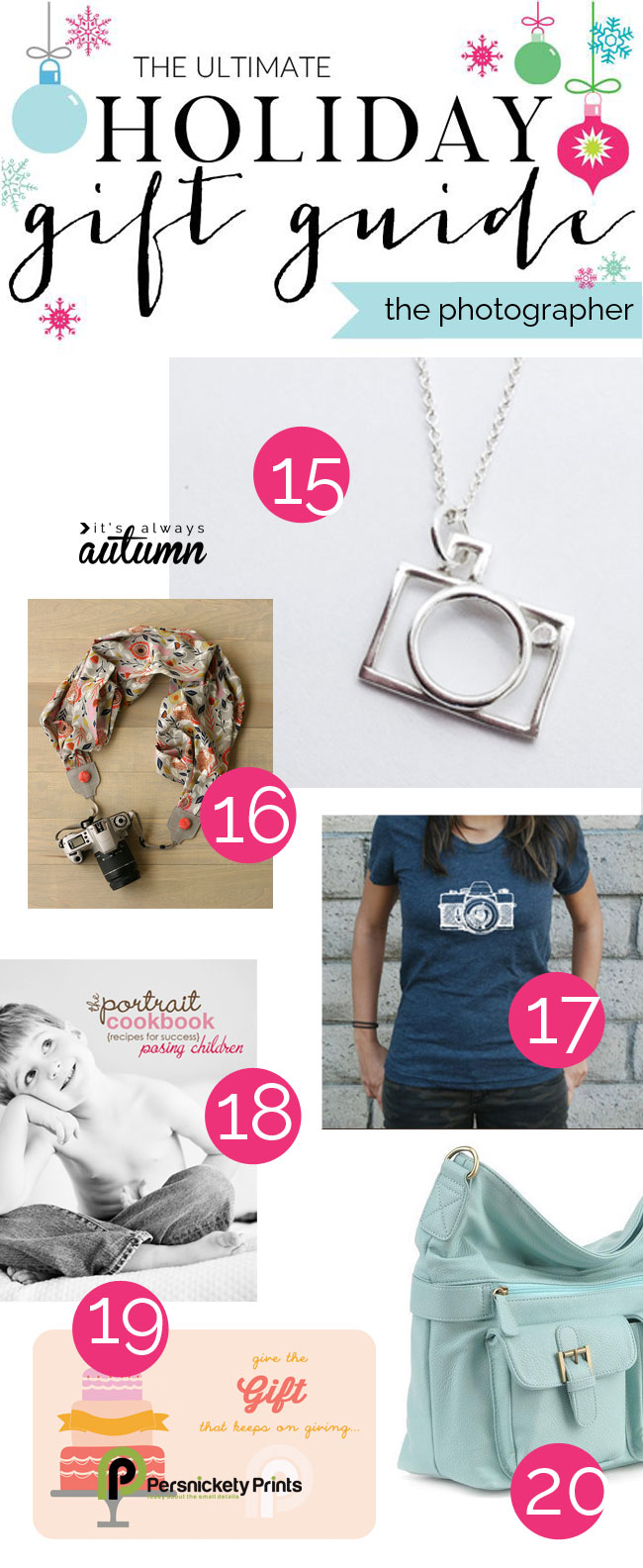 15. Another great gift for the photography lover in your life is this gorgeous sterling silver tilted camera necklace ($40) from alwayzwithlove on etsy.
16. If you know someone whose camera is around her neck at all times, she might as well turn it into an accessory with a gorgeous handcrafted camera step from Bluebird Chic ($35-$75). This shop offers a wide array of camera straps, including ruched fabric straps and gorgeous scarf camera straps. Straps are created with premium quality cotton fabric and are finished with a hand cut, genuine leather tab.
17. Any photographer would love one an embroidered camera tee from TheRareOnesLA on etsy. Available in a wide range of colors and sizes for both men and women ($24). Instead of being printed on the shirt, the camera design is actually embroidered onto a super soft American Apparel tee. Made & embroidered in the US.
18. Help take the guesswork out of posing and make photoshoots more enjoyable with posing guides from Willette photography ($10 each). Each guide shows 25-50 example poses and allows you to create a streamlined portrait session in a matter of minutes. 10 different guides are available, covering families, children, siblings, babies, and more.
19. Great photos deserve great prints, and the more you learn about photography the less likely you'll be to be satisfied with grocery store photo processing. Persnickety Prints offers amazing quality photos that are completely archival – they'll never fade and they can even survive getting wet with no damage (see my review here)! Easy online ordering and delivery make a Persnickety Prints gift card a fantastic gift idea for any photographer.
20. The last great photography gift idea is a gorgeous camera bag that looks like a designer purse. I love my Jo Totes bag, which makes it easy to take my camera and extra lens anywhere. The style I bought even accommodates a laptop! (check out my full review here.) Lots of color and style options make it easy to find a bag to suit anyone (from $79).
I've bundled up some of the items on the list into an amazing photography lover's giveaway worth nearly $400! Here's what you could win:
All you have to do is use the rafflecopter widget below to enter. But don't forget, there are 22 more giveaways going on right now! Click through the links below to find all the other gift guides and giveaways, and get a jump start on your holiday shopping.
Gifts for the Baker | Stocking Stuffers | Gifts for Jewelry/Bling Lovers | Gifts for the Cook |Gifts for Little Girls (Ages 0-6) | Gifts for the Little Artist | Gifts for Ladies | Gifts for Little Boys (Ages 0-6) | Gifts for Big Boys (Ages 7-12) |Gifts for Big Girls (Ages 7-12) | Gifts for Teen Girls| Gifts for The Decorator | Gifts for the DIYer | Gifts for the Foodie | Gifts for Men | Gifts for the Host/Hostess | Makeup/Beauty Gifts | Gifts for the Entertainer | Gifts for the Aspiring Photographer | Gifts for the Crafter | Non-Clutter Gifts | Gifts for the Blogger |Health/Wellness Gifts