Recently I've been sharing sewing tips for fabrics you may not have sewn with before: last month it was stretch denim, and the month before that it was sweater knit. Today I'm talking about another fabric you may have have sewn with before: vegan leather. So, obviously, vegan leather is faux (fake) leather, but it's nothing like the thick pleather you've seen before. Girl Charlee carries vegan leather is about 15 different colors and it's gorgeous! At your local fabric store you may be able to find similar soft faux leather fabrics near the holiday/costume section. Keep reading for everything you need to know about sewing with vegan leather AND another giveaway from Girl Charlee. NOTE: this post is sponsored by Girl Charlee, but all opinions shared are my own.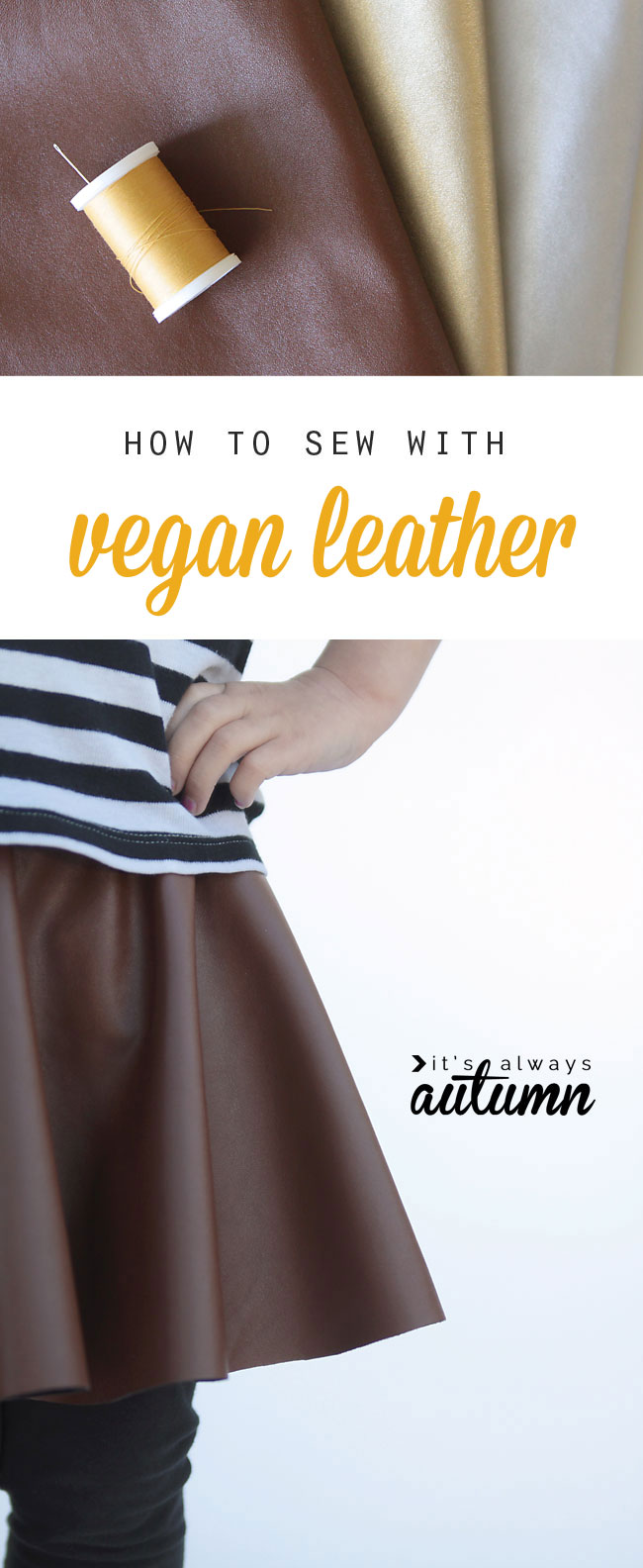 So what's vegan leather like? Well, Girl Charlee's vegan leather is a 12 oz weight, which is similar to a mid to heavy weight knit, so it's much lighter than you'd expect from leather or pleather. Most pleather I've used before would be suitable for bags or jackets, but not apparel. The vegan leather from Girl Charlee is soft and flowy and drapes beautifully, making it perfect for skirts, tops, or accent pieces on items made from other material. It also has a small amount of stretch to it, which means it would work well for slim pants (not sure I'd try any for myself, but they'd look adorable on my little girl!)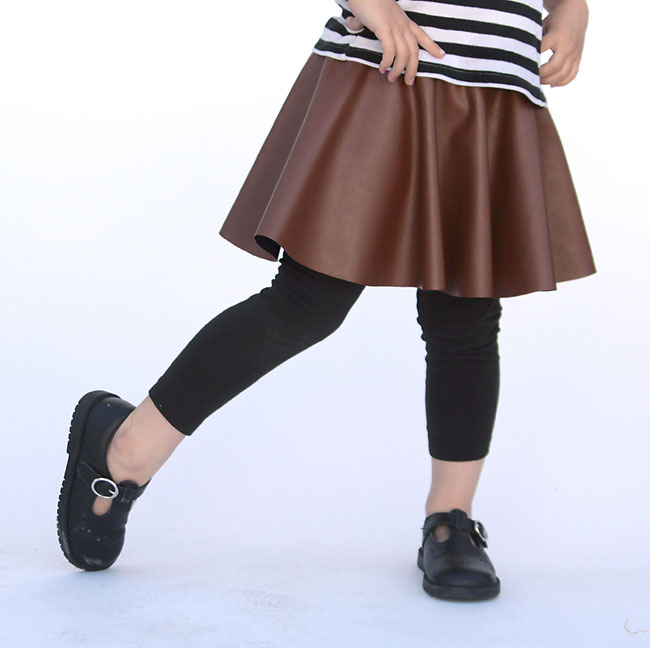 And it comes in just about any color you want! Everything from standard leather colors like brown, black and white, to pink and mint and even metallic gold and silver.

The front of the vegan leather has a small pebbled texture that looks genuine. The back is a soft spandex knit, so it's comfortable against your skin.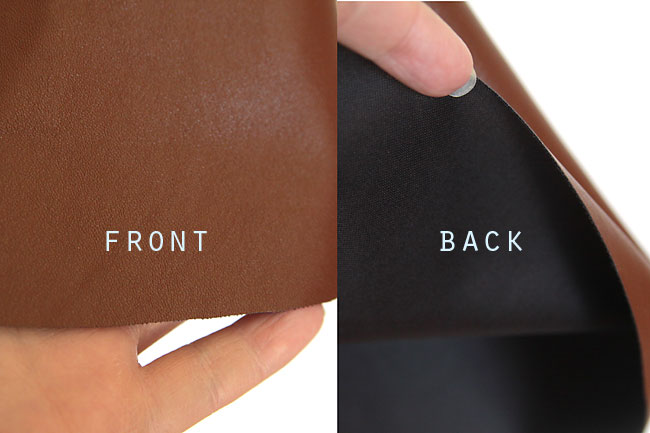 Want to know my favorite part about this faux vegan leather? You can wash it! I've washed my daughter's pleated flutter sleeve dress three times already with no adverse effects. It doesn't seem to shrink and none of the color or shine is washing off. (Since I only made it a few weeks ago I cannot vouch for continued washing, but I'm just excited to know it can go in the machine at all!)
Here's what you need to know about how to sew with vegan (faux) leather:
First, you don't need a special needle. Most leathers/pleathers are thick and require a special leather needle, but I used a mid-weight all purpose needle on the vegan leather and it worked perfectly! In addition, you can't usually pin leather because pins will leave visible holes, but I poked pins all through this vegan leather and couldn't see any holes afterward.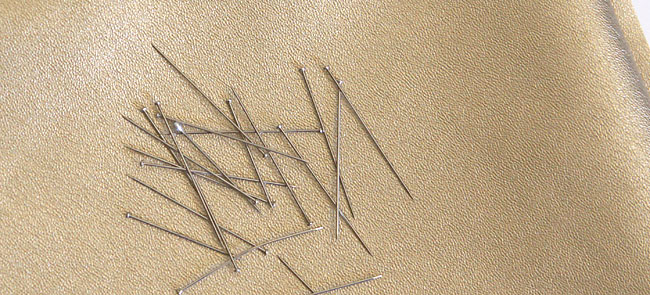 When you're sewing on the backside of this fabric, it sews like a dream – it feeds evenly and doesn't get stretched out. However, when I sewed on the top (or right side) of the fabric, the fabric would stick to the presser foot and bunch up. You have a few options to take care of this: 1) You can try lining the bottom of your presser foot with scotch tape. I didn't have much luck with this but I've seen other people recommend it. 2) You can invest in a teflon presser foot, which, due to it's nonstick properties, should feed the vegan leather more evenly. 3) Cut strips from a plastic grocery bag and layer them over the vegan leather and under the presser foot as you sew. This worked great, and the plastic bag tears out of the seam quite easily (some people use tissue paper, but it can be a real bear to pick out of the seam afterward).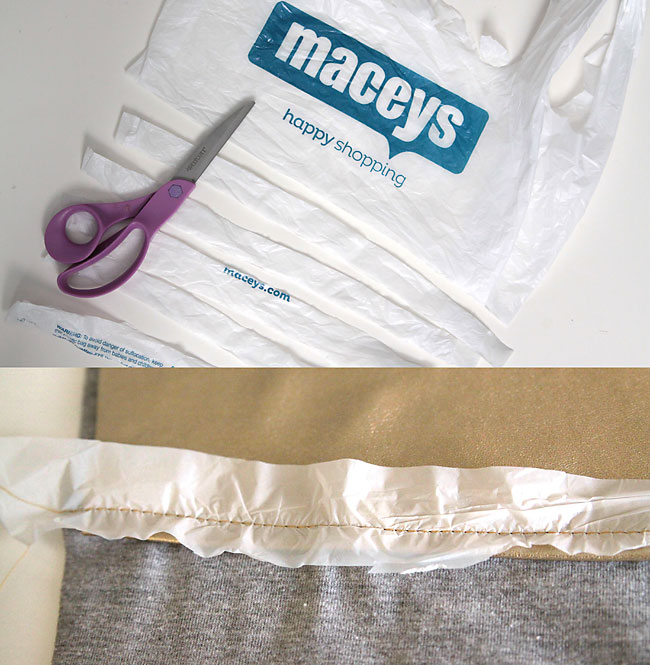 This does mean vegan lather is a little more finicky to sew on than, say, a quilting cotton, but once I got a few projects under my best I didn't find it too difficult. And since it doesn't fray, as long as you cut the edges cleanly there's no need to hem, which can make up some time.
As for ironing, you should either iron from the backside or use a press cloth. If you touch a hot iron directly to the right side of the fabric it will melt right onto your iron. Trust me on this one. With a press cloth you can iron seams open, but it's hard to get a super crisp crease, so I found that my seams looked much tidier with a row of topstitching.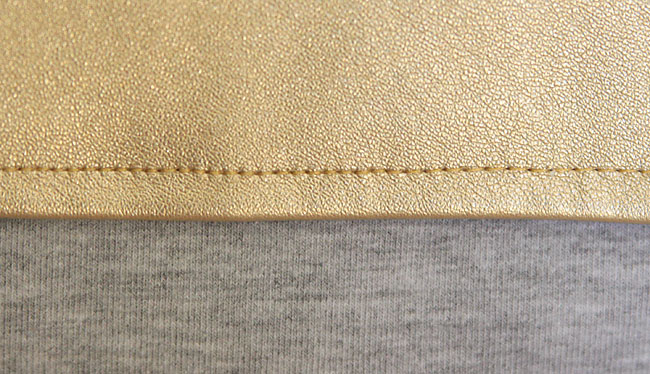 I used some of the vegan leather as the accent material on the Shwin Designs Carol Tee. It's a great pattern for a basic cap sleeve tee – it's actually quite similar to my free Easy Tee pattern – but it has some fun details, like the contrast back yoke and split neckline, which I think is really pretty. I sewed up the XL because I like my tees quite roomy, but I think I actually could have use a little more room in the shoulders. It's plenty roomy around the waist/hips, however. I used this metallic gold vegan leather and this grey spandex knit. In retrospect, I wish I would have used the brown vegan leather instead of the gold, which was actually my original plan. I think the detail at the neckline would have popped a lot more with a color that isn't so close to my skintone. Oh well…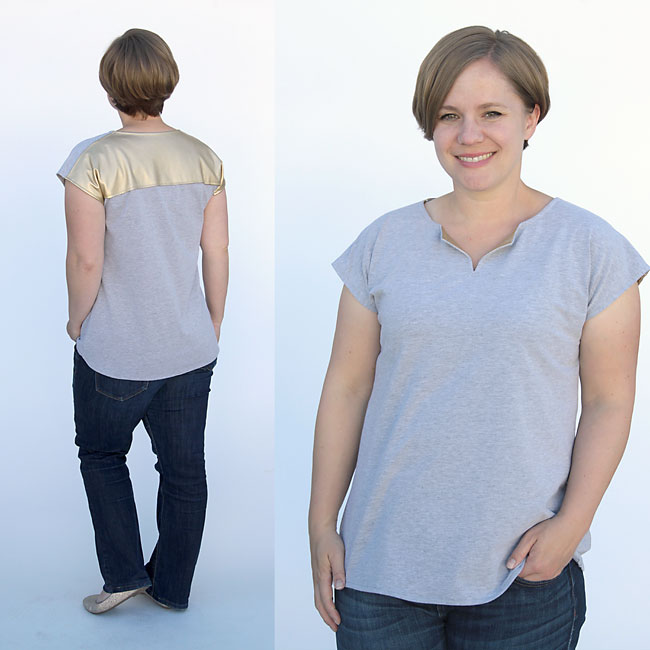 I used brown vegan leather and silver vegan leather to make a few 20 minute circle skirts for my daughter – but I'll tell you more about those on Wednesday!
Now, on to the giveaway. Once again Girl Charlee is giving away a $25 gift certificate to one lucky reader. Just use the widget below to enter – good luck!