You may have seen this project up last week at So You Think You're Crafty – scroll down for the full tutorial!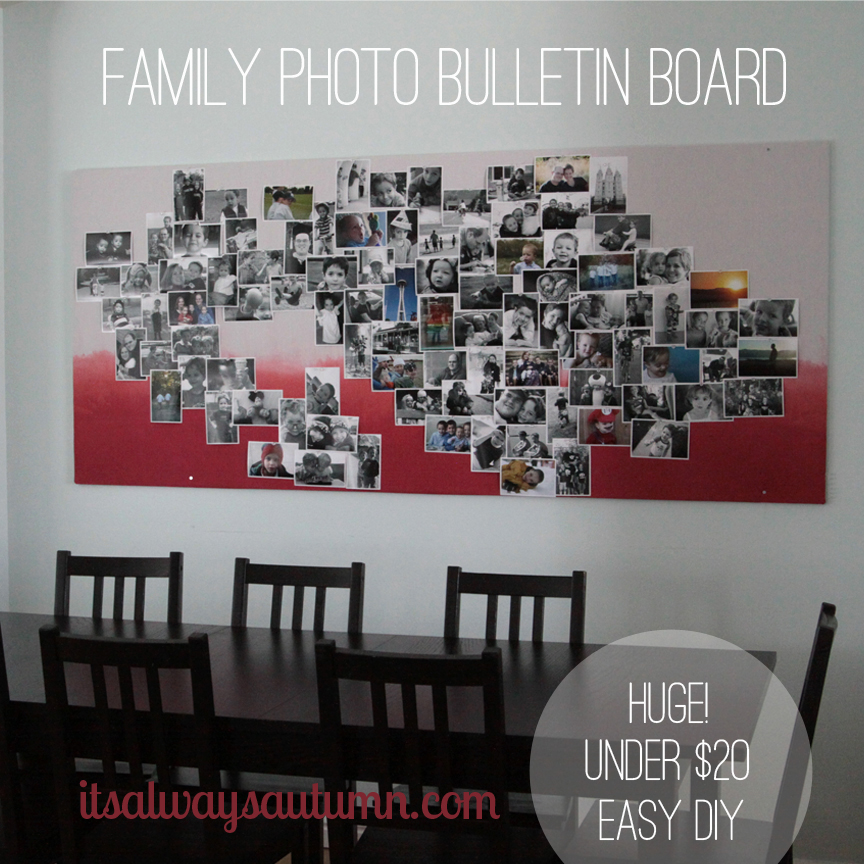 Years ago (when digital cameras weren't the norm and we actually printed out all our photos) my husband bought a bulletin board and covered it with photos of the the two of us and our son as a birthday gift for me. He made a collage with the photos, covering every inch of the 2×3 ft board. We hung it up in our apartment and I loved looking at it. Ten years and four moves later and I have no idea where that bulletin board has gotten to, so I decided to recreate it, on a supersized scale.
My bulletin board is three feet high and seven feet across, and fills up most of the wall behind our kitchen table. It's huge, but the board itself is made from a lightweight building supply you can find at any hardware store and it only cost $11.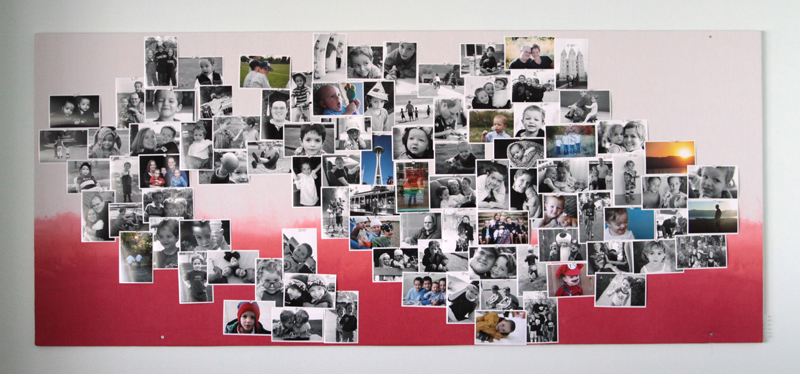 Interested in the full how-to? Read on.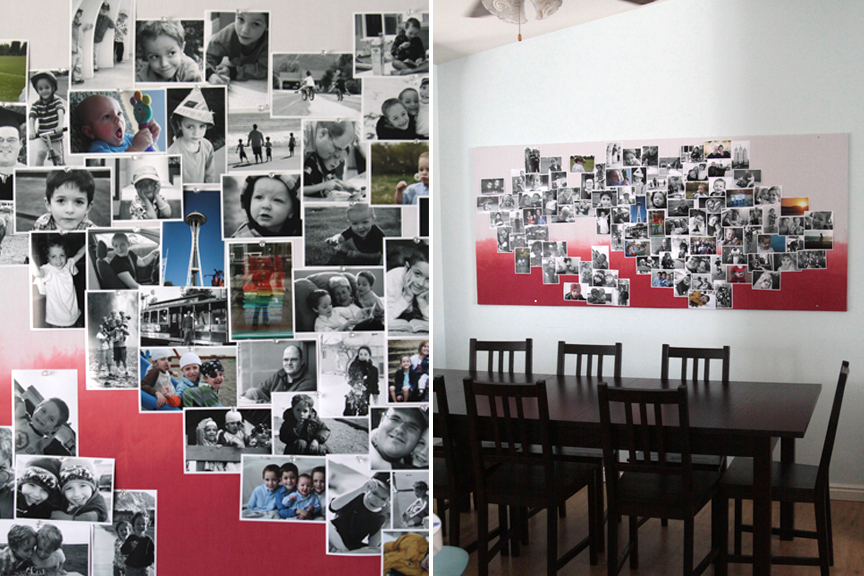 When I first searched the internet for large bulletin board ideas, I found out about a product called "Homasote" which I was supposed to be able to find at any Home Depot type store. Well, after getting blank stares from employees at Home Depot, Lowes, and another building supply store, I realized "Homasote" may only be regionally available. A nice Lowes employee helped me figure out that what I needed was Soundboard, which comes in a 4×8 ft sheet for about $11.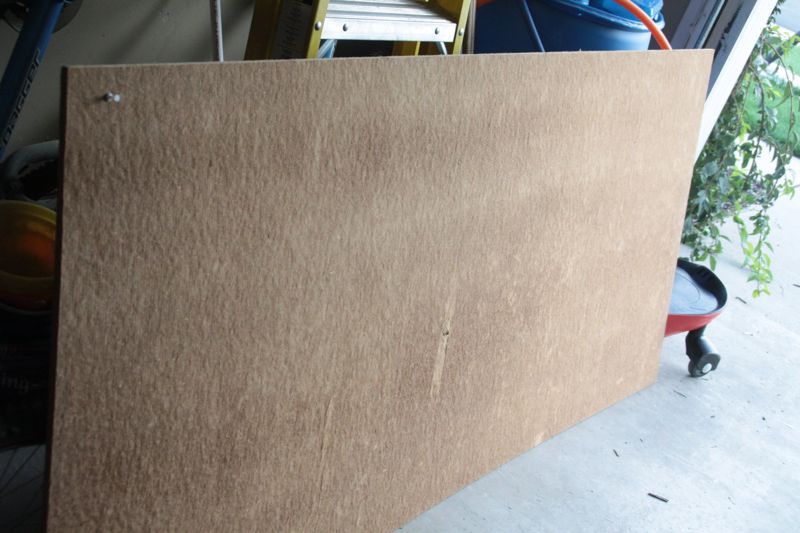 It looks a little like fuzzy plywood. It's extremely lightweight, about 1/2 inch thick, and slightly flexible. It holds push pins beautifully! I had the employees at the store cut it down for me to 7×3 feet. It probably wouldn't be too hard to cut at home with a utility knife, but it makes a mess! so just have them do it for you at the store.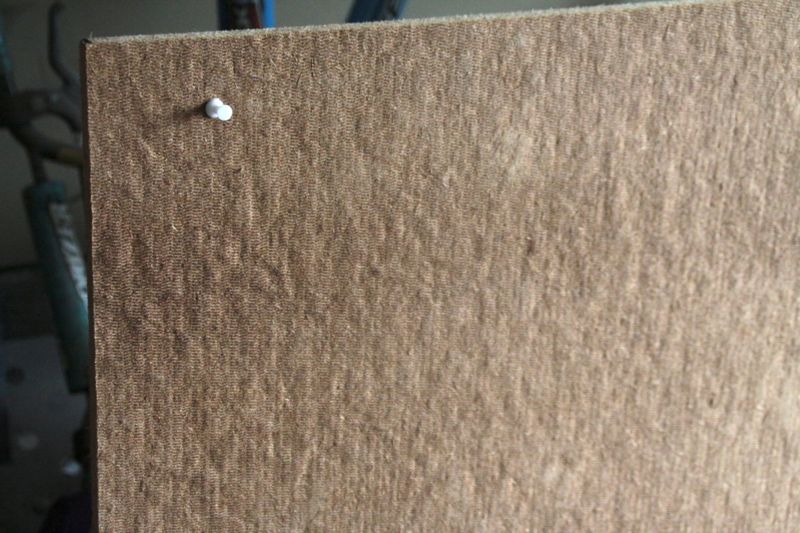 You'll want to cover the soundboard with some type of material since it's not the best looking thing in the world on it's own. I used a cheap white twin sheet from Walmart which I dip-dyed for a more dramatic look (white on top, red on the bottom).
Dip dyeing sounds really easy – just dip the part you want colored into the dye – but it's actually a wee bit more complicated. It's important that the part of the sheet you don't want dyed stays covered up completely during the dye process so drips and splatters of dye don't touch it. I prepped my kitchen sink like this: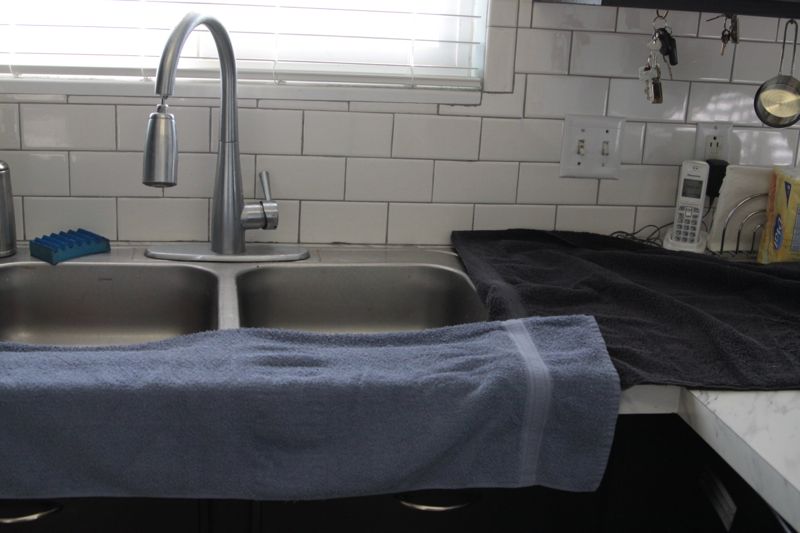 Then I mixed up my dye in the sink itself. I used RIT scarlet the first time around, mixed with a couple gallons of water like the instructions tell you. It didn't come out nearly dark enough, and was much too pink. So I did it one more time, this time only using one gallon of scaldling hot water (I heated it up in a pot), and threw in a little yellow dye as well to be sure I got a true red, not pink.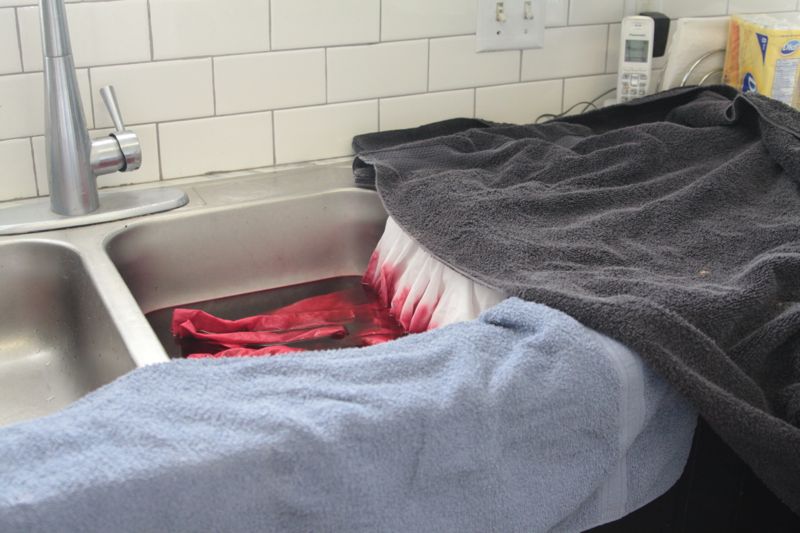 I folded up my sheet accordian style so I could fit one side of it in my sink. I gently placed that side in the water and immediately covered the rest of the sheet with another towel to prevent any dye splatters on the white portion. (Note: try to fold the sheet so it lays very flat to get a straighter line of color.) I used my hand to gently move the portion of the sheet in the dye around for about 15 minutes, then left it alone for another half hour. Then I rinsed and rinsed and rinsed and rinsed and rinsed…
I hung the sheet up over a ladder to airdry. I would not recommend washing your sheet if you're going to dip dye it because dye often runs a bit in the first wash.
After it was completely dry, I ironed it to get the worst of the wrinkles out and spread it out on my kitchen table, like so: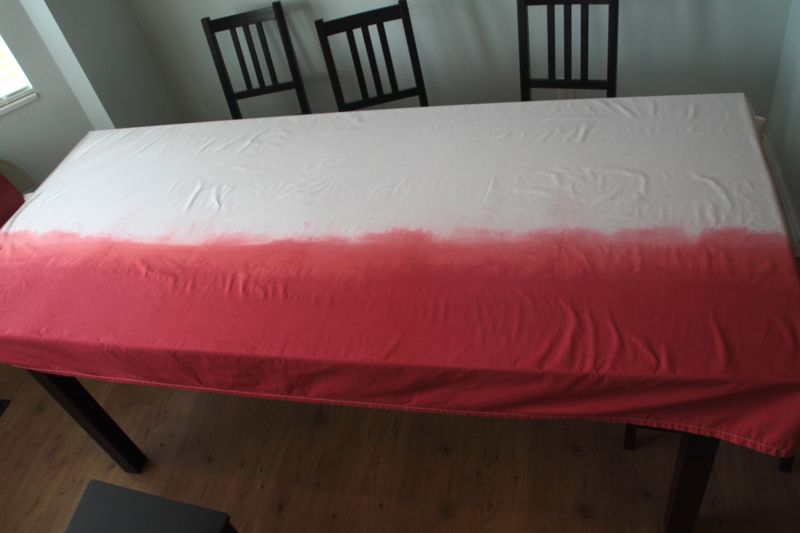 I worked to smooth out as many wrinkles as possible, then laid the soundboard on top. Then it was just a matter of pulling the sheet taut and using a staple gun to secure all four sides to the back of the soundboard.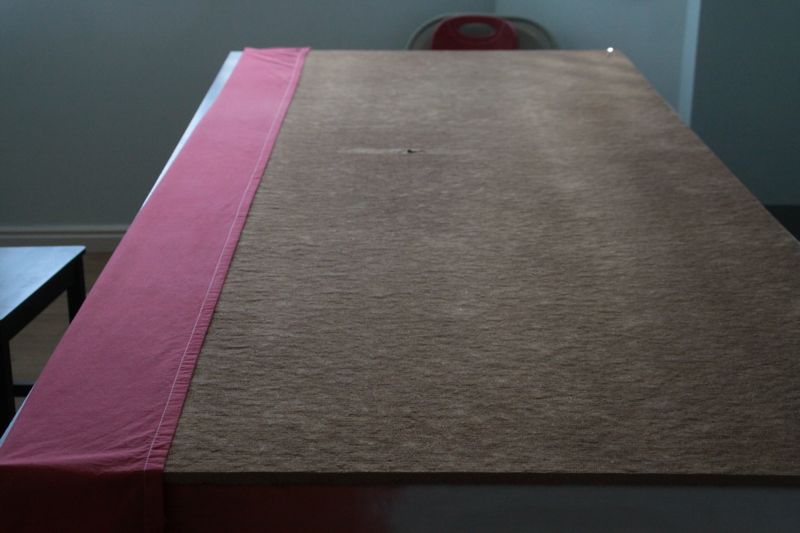 Once my new bulletin board was ready, I needed to attach it to the walls. I found and marked studs in the walls on either end of where the board should go. Then I pushed my table up against the wall and used books to hold the bulletin board in place while I sent screws right through the bulletin board into the studs (I didn't predrill at all – but I did make a small x-shaped hole in the sheet using an exacto knife so the screw wouldn't catch and twist the fabric). Using this method allowed me to hang the bulletin board without any help.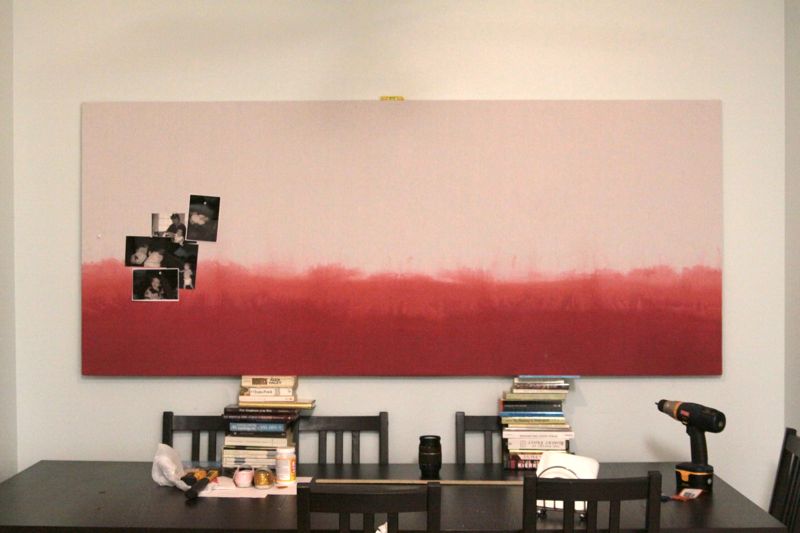 I covered the board with about 100 of my favorite photos from the past ten years. Most are printed in black and white for a streamlined look, but I printed a few favorites out in color to keep things interesting. I chose candid photos that might not be considered "wall-worthy", but each one has a story and memory attached, so we've already sat together as a family talking about them. I'm really happy to have these pictures printed out and displayed instead of sitting on my hard drive – and since they're just pinned on I can swap out pictures or rearrange them at any time.
The board is so huge that everyone who comes into my kitchen stares at it, pointing out their favorite photos and asking questions. It's fantastic!