After the lazy days of summer I sometimes have a little trouble transitioning back into school year mode. Specifically, I find it much more difficult than it should be to start planning for 20 packed school lunches each week. (20!) Seriously, why is it so difficult to simply put together lunches for 4 kids each morning? Well, mornings are always a little crazy: I'm usually busy having an internal argument over whether I'm going to exercise or not while trying to comb hair, ensure teeth are brushed, and make sure everyone leaves the house with appropriate jackets, homework, and permission slips in hand. So putting together four lunches every morning just seems like overload. My solution for simplifying the situation? At our house,
kids make their own lunches.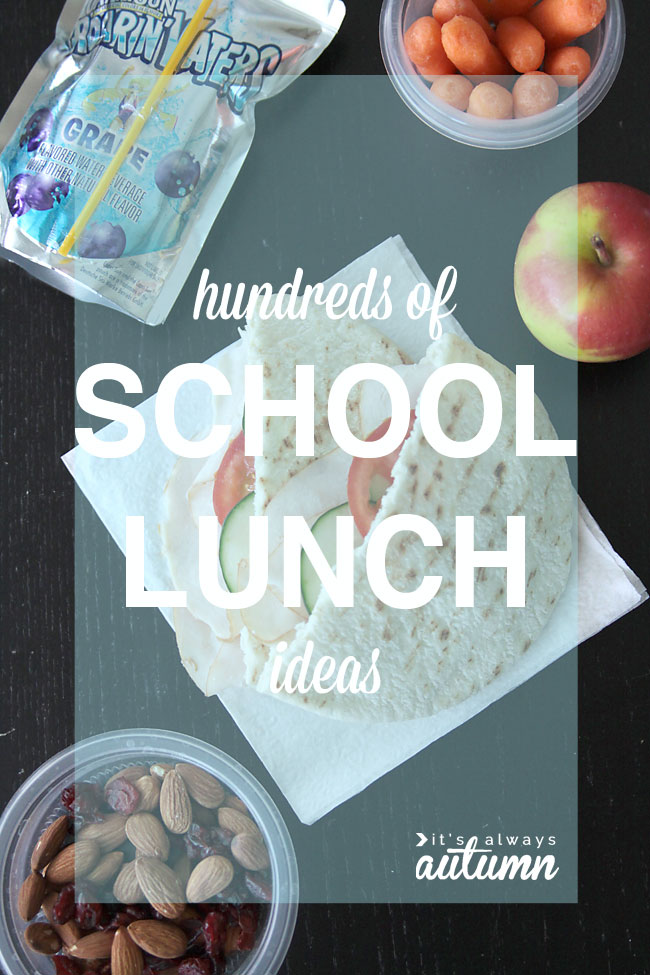 It's great. The kids learn a little responsibility and I have one less thing to worry about on our busy mornings. However, it's not perfect: I've caught children trying to sneak past me with nothing but popcorn and fruit snacks in their lunch bag. Not gonna happen. One of my goals this year is to help the kids branch out with some new, healthy school lunch options that are still easy enough for them to make without help. This turkey pita is one we'll be trying: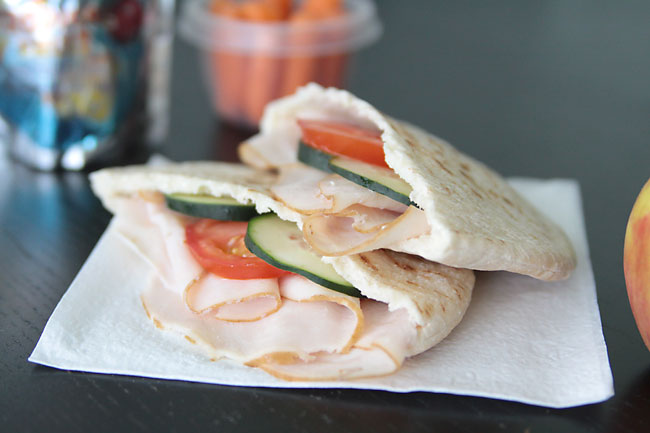 Just spread a pita with vegetable flavored cream cheese, then tuck in turkey slices, cucumber, and tomato. The flavored cream cheese gives it a nice kick, while the pita bread stands up to morning prep time better than normal bread, which can get soggy by lunchtime. It's quick, easy, healthy, and a nice change from the old standby. Paired with some almonds, carrots, and a fruit, it's a great lunch for the kids that works well for adults, too.
I've been searching for more new lunch ideas and I've found HUNDREDS! Here are some great posts if you need a little school lunch inspiration:
25 quick and easy school lunch ideas from bon appetit
20 non-processed lunch ideas from 100 Days of Real Food
30 healthy ideas with links to recipes from Good Housekeeping 4 bento-style lunches from Family Fresh Meals
20 make ahead school lunch ideas from Spoonful
200 lunch ideas rounded up by Hill House Rock
5 simple and healthy school lunch ideas including amazing-looking pizza buns! by Simple as That
Star Wars lunch from Mom Endeavors
25 gluten and allergy free lunch ideas from Keeley McGuire
School lunch menu board idea from RobbyGurl's Creations
19 peanut free lunch ideas from One Crafty Place
Mega school lunch roundup including easy lunches, gluten free, vegan, paleo and more at Modern Parents Messy Kids
One of my kids' favorite things to add to their school lunch is Capri Sun Juice Drinks. They love the fun, portable pouches, and I like the fact that the Capri Sun lineup now includes low calorie flavored water beverage as well as a fruit and vegetable juice drink. In addition, all Capri Sun Juice Drinks contain no artificial colors, flavors, or preservatives.
Our favorite variety is the Capri Sun Roarin' Waters Flavored Water Beverage, which has just 30 calories per pouch. We also really like the taste of the Capri Sun Super V Fruit and Vegetable Juice Drink – fruit punch is our favorite flavor. Capri Sun Super V Fruit and Vegetable Juice Drink contains 1 combined full serving of fruit and veggie.*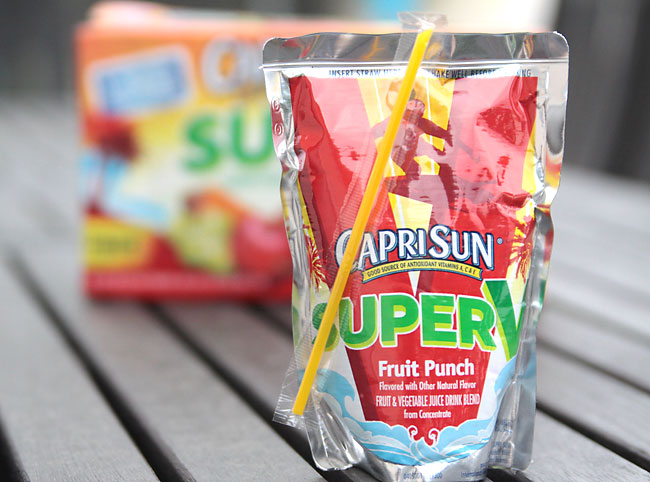 Capri Sun 100% Juice and Capri Sun Juice Drinks are also available in the clear bottomed pouches. Visit the Capri Sun website for more info, or find them on Facebook.
What are your family's things to pack for school lunch?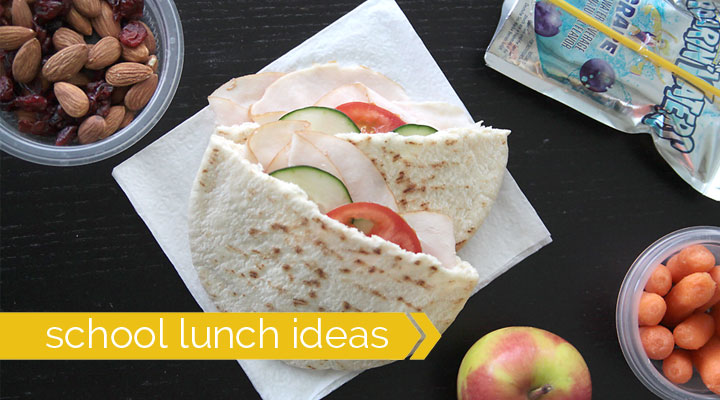 * Each pouch provides ½ cup fruit and vegetable juice, which is one combined serving of fruits and vegetables according to the U.S Dietary Guidelines (3/4 from fruit juice and ¼ from vegetable juice). Be sure to make most of your fruits and vegetables whole fruits and vegetables.