It's taken years for me to get my kids eating real food for dinner. It used to go down like this: Whenever I made something other than chicken nuggets or spaghetti there would be a fight. They'd say they couldn't eat it, I'd say they'd better try it because that's the only food they'd see until breakfast tomorrow…half an hour later a bite would be taken, gagging would ensue, and we'd end up with vomit all over the dinner table. So gross. So I stopped forcing them to try a bite, instead just telling them they'd need to finish or go to bed hungry. I'd leave the kitchen because I was frustrated, and a while later they'd tell me they were finally done. And then a week or two later I'd find petrified food stuffed in a kitchen cupboard, or in the shoe closet, or somewhere else. Fun times, right? After years of consistently introducing a variety of dinners and allowing the kids to choose to eat them or not (with the caveat that they could only eat fruit or yogurt if they chose not to eat dinner), we've finally built up two weeks' worth of dinners that all my kids like. It's a HUGE improvement, but frankly, it still gets pretty boring eating those same dinners over and over again.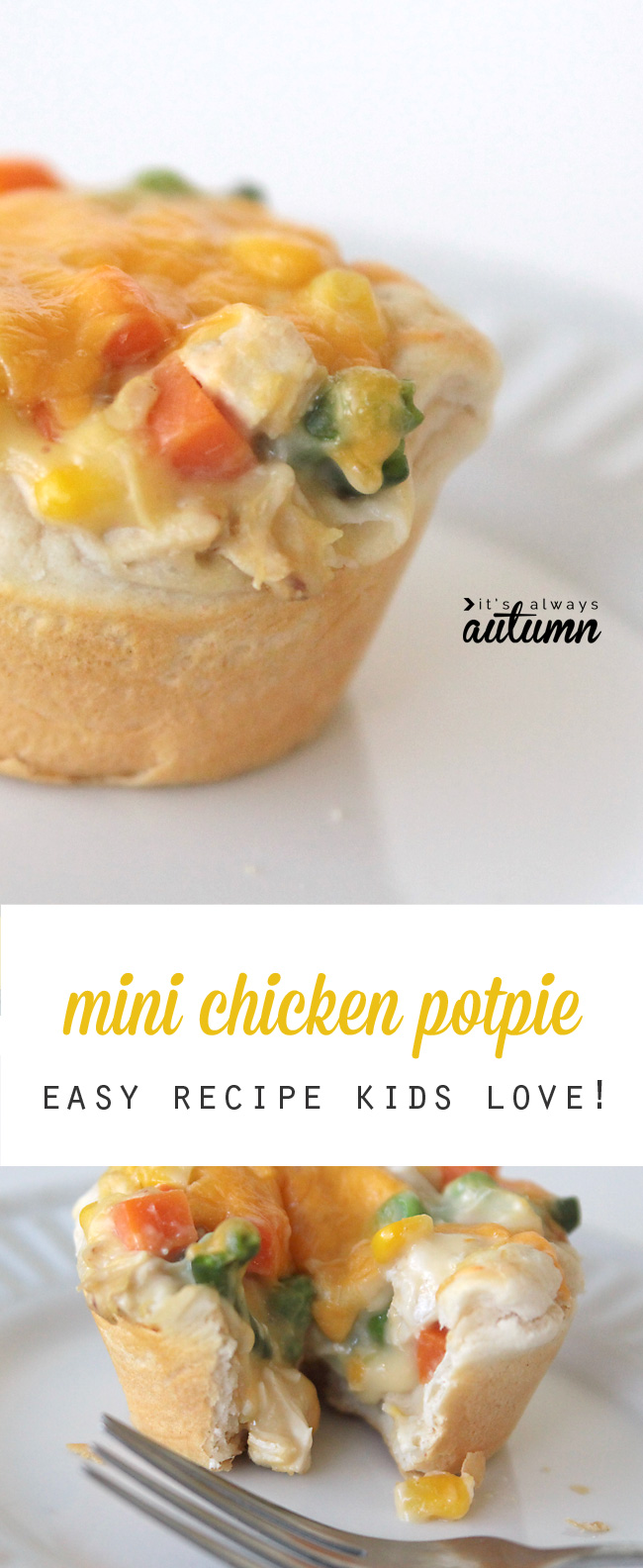 These little pot pies are super easy to put together, especially if you have leftover cooked chicken, and with the addition of a little pepper I thought they tasted great! My 5-year-old pronounced the mini pot pies delicious, and my 2 year old kept asking for another "muffin". The older kids did ask that next time I customize the recipe a little, using only their favorite veggies instead of a veggie mix, but, all in all, it was pretty successful. And I have a new easy recipe to throw into the dinner rotation, plus a few more ideas to try (mini mac and cheese cups and mini cheesy chicken enchiladas will be next).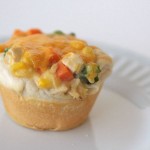 Print Recipe
Campbell's Soup Mini Chicken Pot Pies
Ingredients
1.5

cups

Cooked Chicken

cubed

1

can

Cream of Chicken Soup

10 & 3/4 oz

8

oz

Frozen Veggies

about 1.5 cups

1

package

Refrigerated Biscuit Dough

10 biscuits, 12 oz

1/2

cup

Shredded Cheddar Cheese
Instructions
Preheat oven to 350 degrees.

Thaw frozen vegetables completely (defrost in microwave if desired).

Mix chicken, vegetables, and soup together.

On a floured surface, roll or pat biscuits to flatten, then press each biscuit into a greased muffin tin, covering the bottom and sides of the tin.

Top each muffin with about 1/3 cup of chicken mixture and 2 teaspoons of shredded cheese.

Bake 15-20 minutes until cheese is melted and biscuits are lightly golden brown.

Allow to sit in muffin tins for 5 minutes before serving.